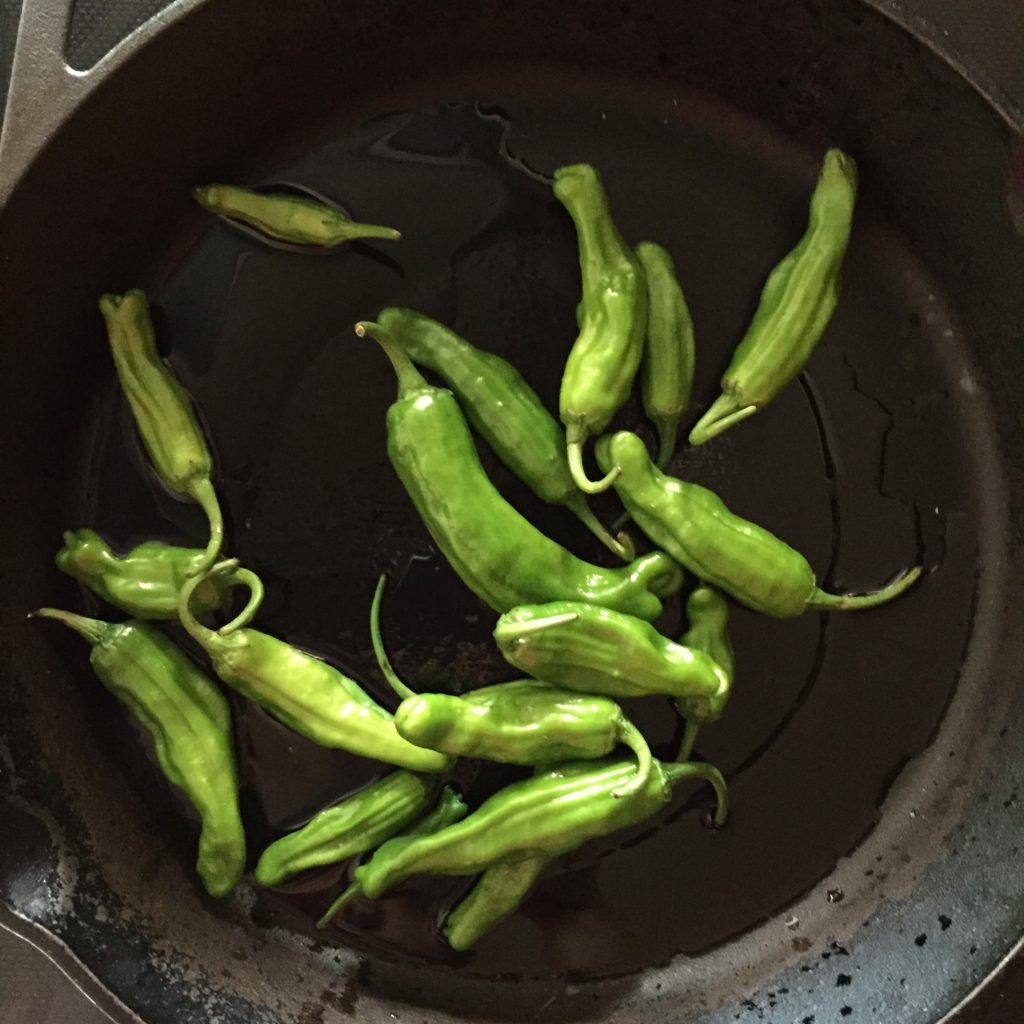 Oh you blink and then the summer is gone! The manuscript is done (at least for now), and you've barely swum in the river but you did manage a few glasses of pink wine in the backyard here and there and one of your children just might have nearly inched taller than you. And then you drove halfway down the east coast with a case full of squash and a whole lot of two-toned carrots to come meet new lovely people who will, if all goes well (and oh it is! Going well, that is), help to put pictures to that manuscript. Because who cooks a recipe without pictures? And now you're a stranger amongst the breweries and unfamiliar mountains of Asheville, walking the neighborhoods and loving to see new people so different, but a little bit the same. But you have your nights to yourself which mean that finally, FINALLY, you can write that shishito pepper post you've had on deck since the beginning of August. Fortunately for your schedule, but unfortunately for the earth, there is quite a horrid draught, and there are still shishito peppers to be had.

Or maybe that's just me? I think that might be just me. But how are you?
(Sometimes I really wish this were a conversation and I could hear your answer, in real words in real life. But this will do, if you'd like to answer here. It's nearly as good.)
I'm not sure if I've said it here but this book is about vegetables. I've been wanting to write this one since the beginning because I really got excited talking about food when I got to talk about vegetables at the market so many years ago, and if it wasn't for the creative challenge of the white turnip or the tender cabbage, I probably never would have gotten here. And the book, as of now, will be be called Eating From the Ground Up, which is a nice thing too. The focus really is about those simple basic recipes that can really make vegetables sing in the best way, and this whole shishito pepper thing, while not in the book (I have to keep some secrets), is absolutely in that spirit. I feel like chefs got excited about shishitos a few years ago, and you see them overpriced on appetizer menus, but so many farmers are growing them and they're so easy to cook–it's much better to eat them at home. You might see big baskets of them and wonder: do I have to roast them? Are they supposed to be chopped up? Or seeded? But the best thing is the answer to all those questions is no. They need just to be fried whole, and then I like to do a little lime and salt, and then they're as fun to eat as potato chips. Maybe even more so.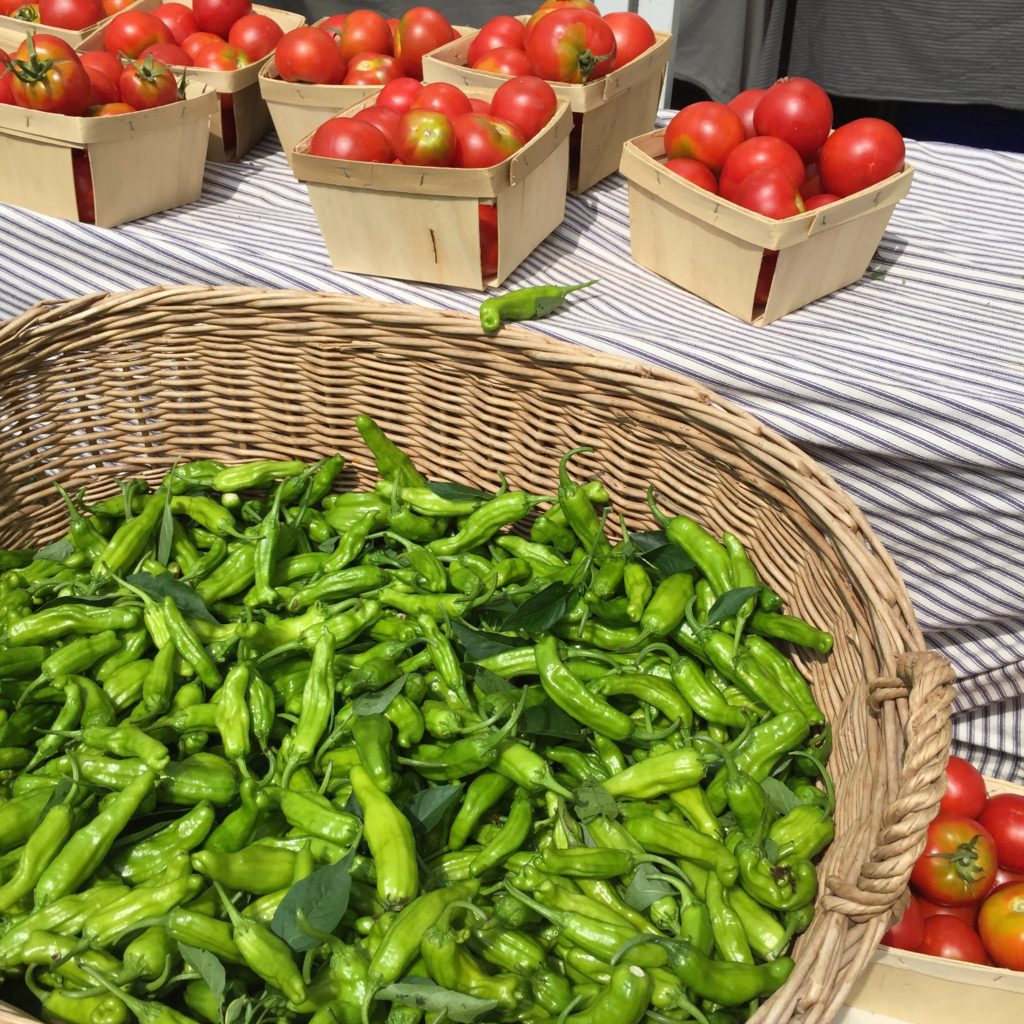 Here's how you do them: Start with a large skillet, and a few glugs of peanut oil over medium-high heat. (You can of course use other oil, just make it a good high heat contender.) Add the peppers and fry them, stirring often, until they're blackened and blistered and beginning to collapse. Transfer to a bowl, squeeze a lime over them, and sprinkle with salt. Serve them whole in a bowl for snacking, with a little dish for stems if you're more civilized. Otherwise the stems just go in a pile on the table.
That's it. SO GOOD.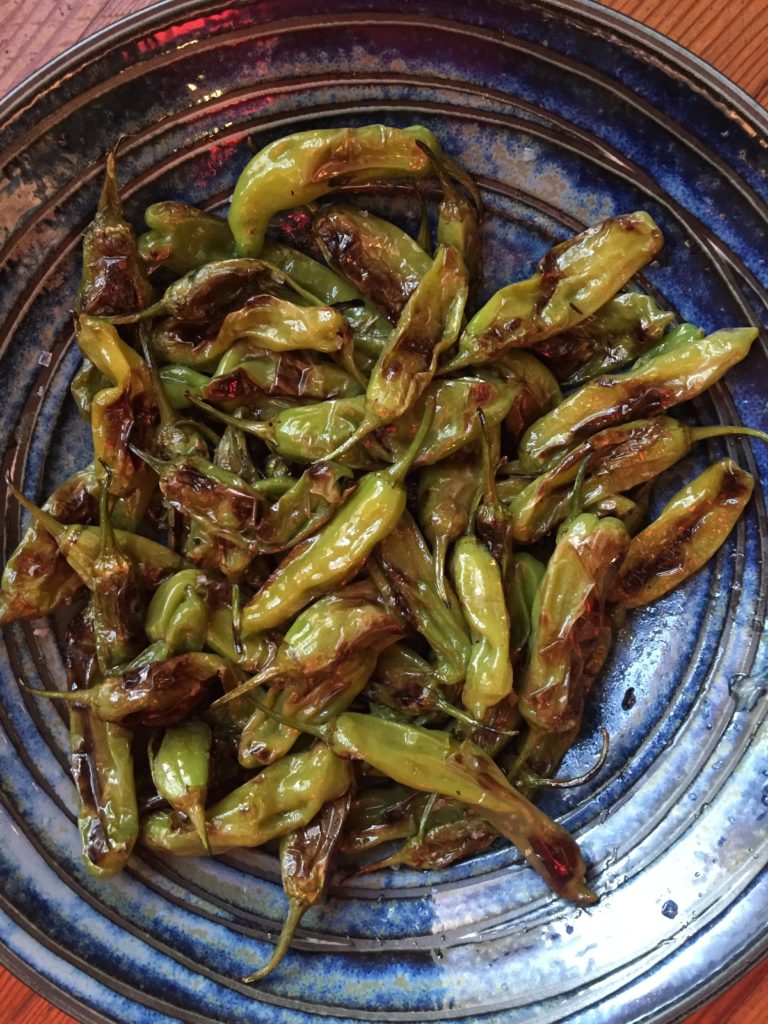 I'm here in Asheville for another 8 or 9 days, and if you like the whole behind the scenes thing then definitely follow along on instagram, where I'll be posting a few times a day at least. And, AND…
I have a favor to ask!
My wonderful and amazing recipe tester has done her work so well, and I've decided to support all that good work I'd like to do a round of reader testing, if you're willing. If you're a fan of vegetables and you'd like to be involved in this little book, I'd be so grateful. Send me an email through the contact link up top there, and I'll send over the details.
Tell me how you are. Write to me if you'd like to test. And happy happy September. xo