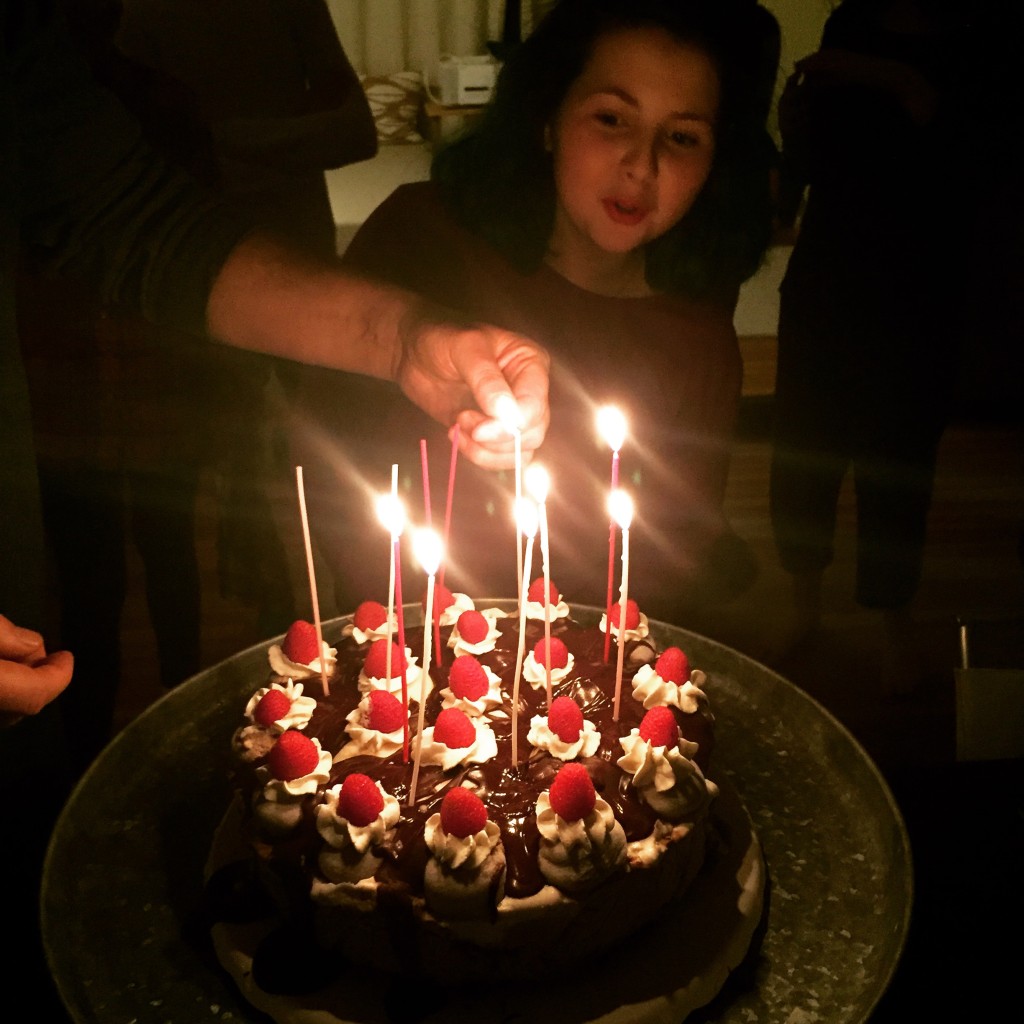 Last week as I was making Rosie's requested birthday dinner, I did the thing I often do: I made some very strange mistakes.
At first, years back, it seemed like a fluke. Maybe I was tripling a recipe when I shouldn't have, or (as usual), I was crushing under a time pressure. But at this point it's become part of my personal place within the family mythology. It's not even as if I'm making anything new or complicated. It just goes funny.

Take this particular dinner. An odd combination, but the birthday girl always gets a yes. Luisa Shafia's Turmeric Chicken (a very regular player around here for the last two years), popovers, and steamed broccoli, with brownies for dessert. In short, all things I've made a thousand times. Besides tripling the chicken and layering it too deep to cook evenly (to which I say to everyone "there's plenty of chicken! If something is raw, put it back and get another one), it was all fine, fine, until Joey looked at the unbaked popover batter in the muffin tins and asked me if I forgot the flour.
Oh, the flour!
We hadn't baked anything yet, so it was easy to save them. Easy-ish, although there's nothing easy about pouring batter out of a filled muffin tin. Still, we added flour then and baked them as usual. But popovers are a funny scientific thing, and now I can tell you for sure that if you blend all the ingredients for a popover and THEN add the flour, what you get is a gorgeous huge popover for 2 seconds that quickly turns into something that resembles one of those tiny collapsible camping cups (while collapsed, to be clear). So now you know.
As we were talking about my strange habit of birthday mistakes and how it was better than when I almost set the house on fire making Sadie's birthday dinner last year, Sadie made a comment that struck me.
But the cake! That always works out okay.
This made me laugh right there in the moment, because it's not true. I have a food blog to remind me of that. There are some good ones there: the Egg-free-not-so-sweet birthday cake, that great little mini buttermilk spice cake we ate at a rest stop on the way to Montreal, and that dark chocolate ricotta number. There was the day I learned how to make frosting roses, and a very wonderful lemon raspberry thing I made from the Flour cookbook.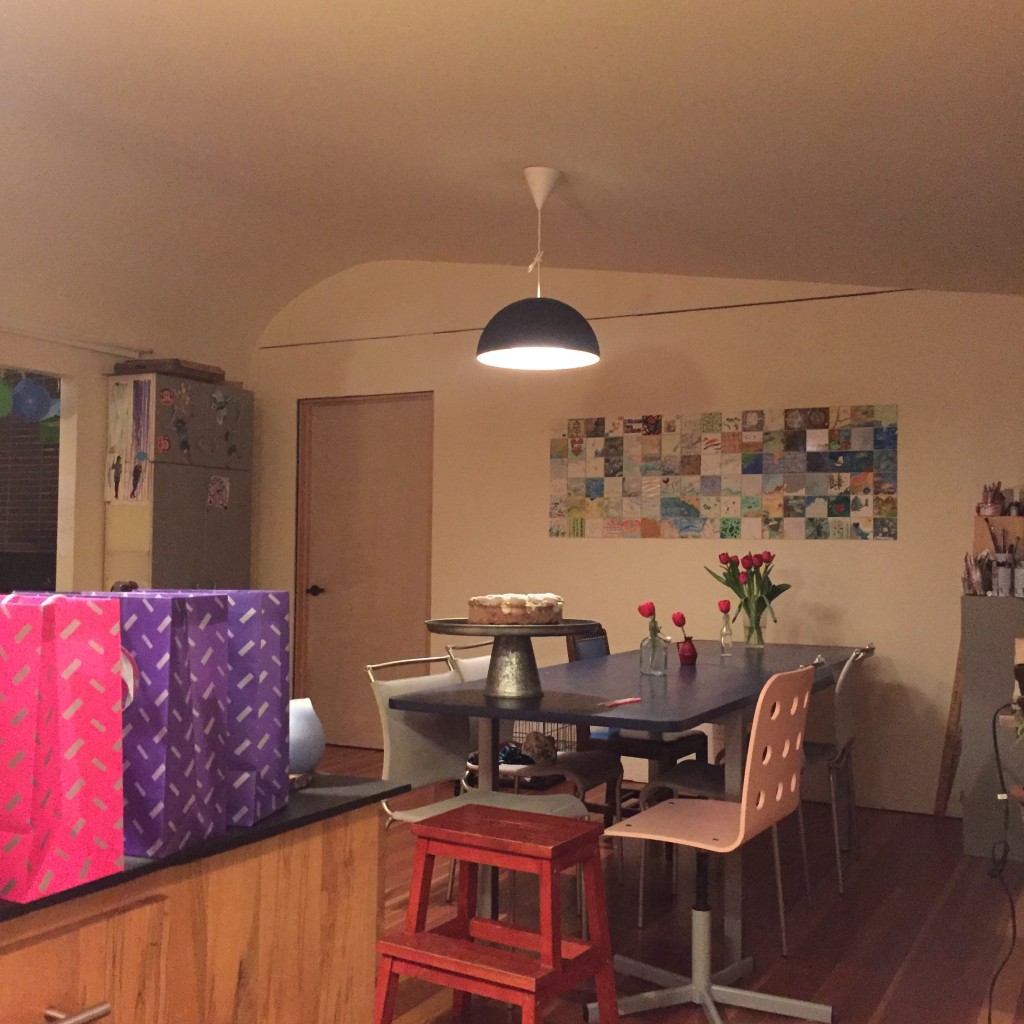 But then there was that whole eclair fiasco that resulted in my first store-bought birthday cake. There was a horribly weepy chocolate meringue pie that still occasionally comes up in conversation. And there were a good number of things that never made it to the internet, including this gem from Joey's birthday several years ago, which I'm now confident enough to share with the world. Here we go: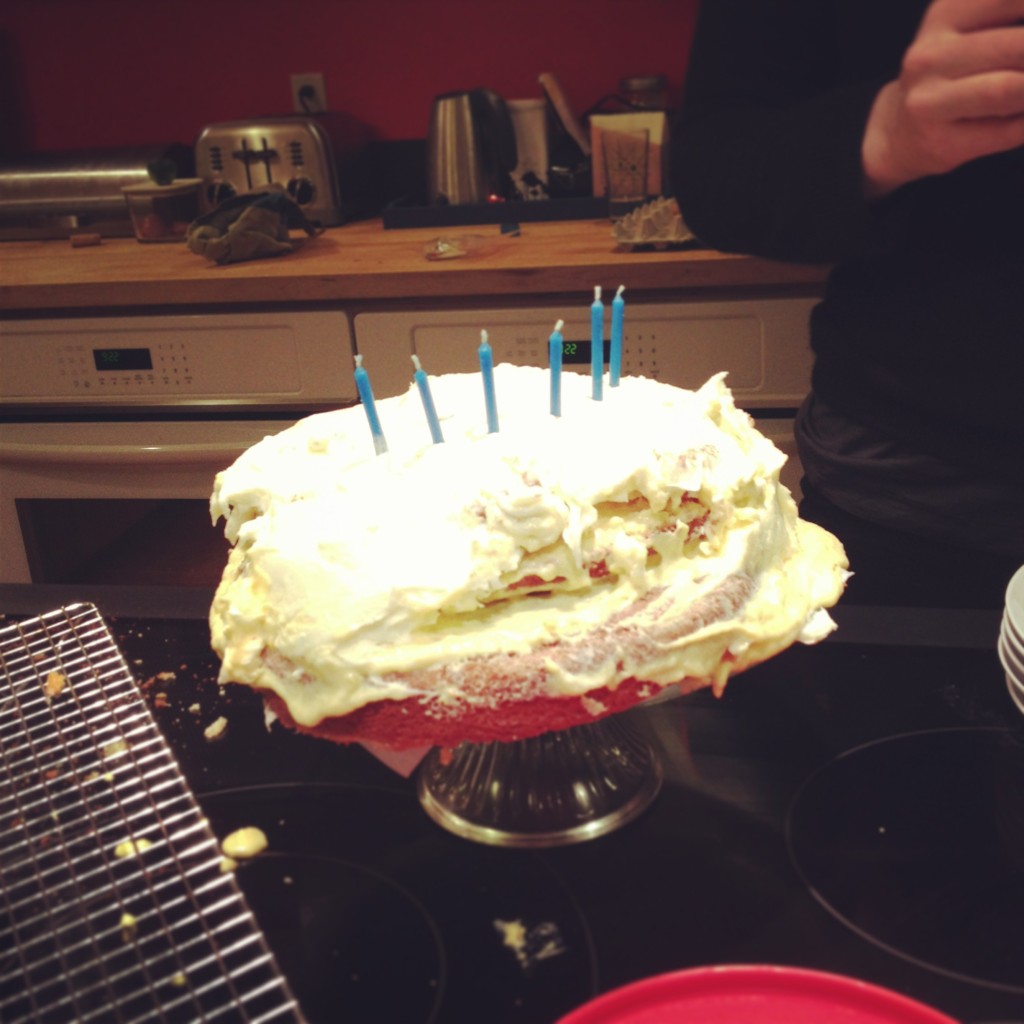 I promise that one won't make it into any cookbook, although I seem to remember that once we called it a trifle and scooped it into bowls it was really good. But we'll leave it there. Because the truth is–it doesn't matter how the cake really goes. It just matters to me that Sadie remembered all these cakes as good things.
The girls are now 11 and nearly 13, and I've found myself pulling back the curtain more as I bumble through this parenting stuff. Are you happy? Do you feel like you have what you need? How do you think you'll remember this? And in the especially hard moments: I'm so sorry if I'm messing you up. I'm trying, TRYING not to, I promise. It's coming from a kick from this inevitable adult-ness. These are the years of becoming, and every day I see more of what they have become, all the work they each do to find that new self. It's wild process to watch, and I still like parenting more with each year we gain. And the little part that I have in all this becoming feels more dear to me than it ever has. The smells, the attention, the time, the cakes–these are the bits I can contribute. And their experience and memory of these things will stay with them. I know that, because I carry my own memories with me in such a fundamental way.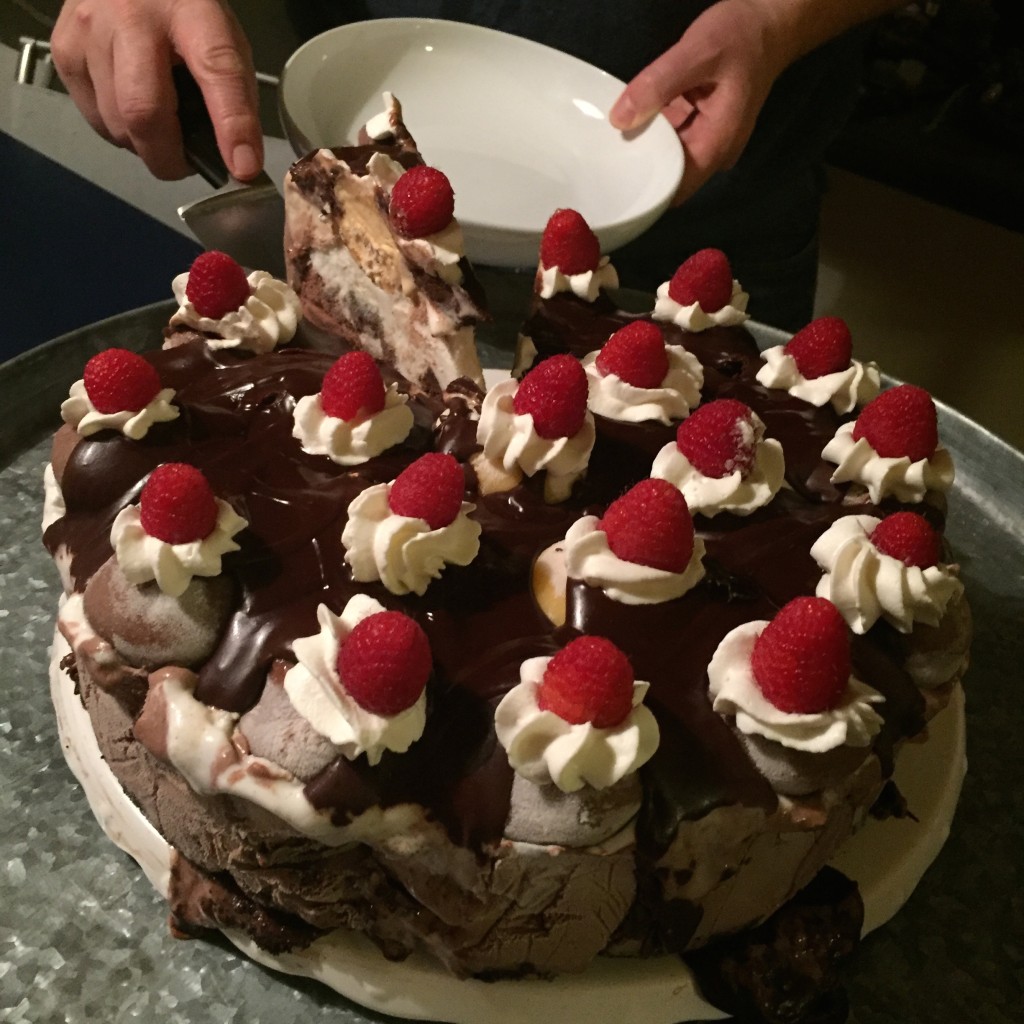 And the cakes! They keep happening. In the last few years there have been several ice cream cakes, and that was Rosie's request for the big eleven. We did a redo of something from two years ago, a mochi ice cream cake. Mochi is just one of many treats you get to bite into here, and that's really the joy of the situation–you can make an ice cream cake with whatever you like. Even more, you can make all the components from scratch, or buy everything (and still get credit for making a cake), or some combination of the two, which is where I usually land.
I thought maybe we'd make one together here? It will be a will nilly recipe, filled with all sorts of choices and reassurances, because that's why I make ice cream cake in the first place.
The important piece of equipment to have here is a springform pan. I tend to use a deep 11-inch pan, which is pretty big, and that makes enough cake for 18 to 20 people. This is a lot of cake. It fills the pan nearly to overflowing, and makes A LOT OF CAKE. You could also just use an 8 or 9-inch pan, and halve all the ingredients. That would make enough for a nice rational birthday dinner or party.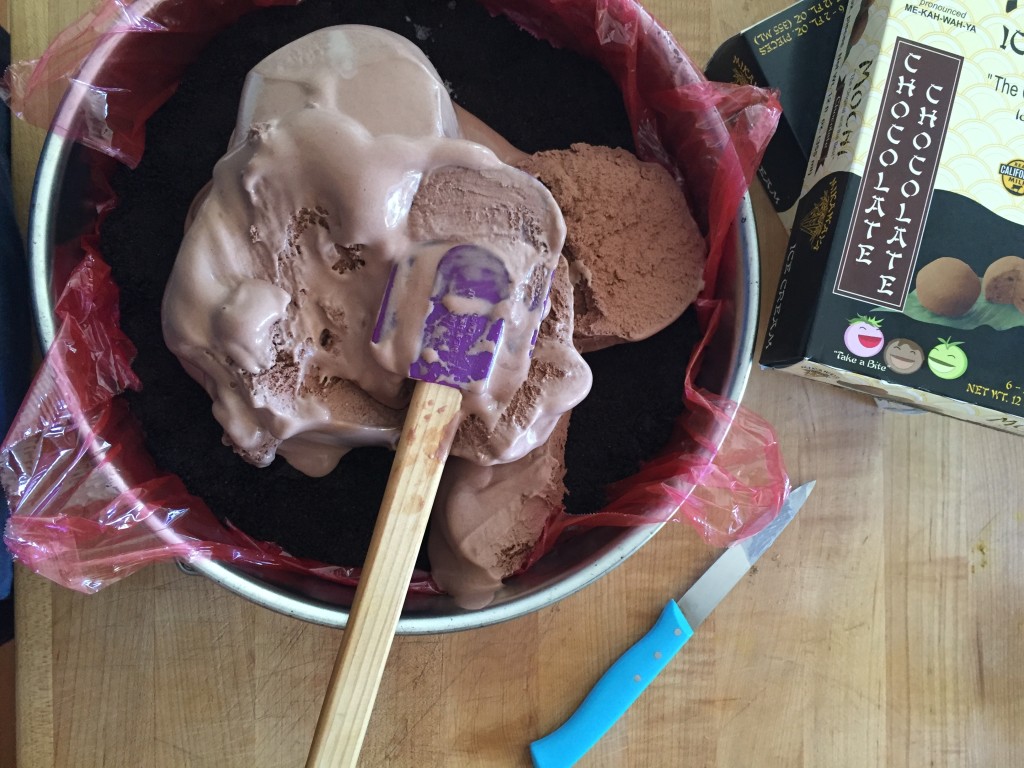 So for a 11-inch round springform:
 Before you begin, take out your ice cream to soften for about 30 minutes. You're going to need 3 quarts of ice cream for this big cake, divided between two flavors. (If you're buying ice cream and trying not to spend lots of money, this works out to 2 boxes of Breyer's, which is a pretty good deal. And of course you can make your ice cream! See both of my books, among many others on your cookbook shelf, I'm sure.)
Line the pan with a good heavy duty plastic wrap. (Glad press and seal is great for things like this. This is not what I had on hand, and I ended up pulling a lot of bits of plastic wrap out of my finished cake.) Then put an entire package of Oreo cookies into the food processor. No need to remove the filling, because you have better things to do with your time. Blend until you have fairly fine crumbs, and add 6 ounces (3/4 stick) melted butter. Pulse to combine, and press the mixture into the bottom of the lined pan. It will be crumbly. (You can also make your oreos, of course! I've got a recipe in my first book, but leave out the filling and just blend the unfilled cookies.)
Now add your first layer of ice cream. For me, this was chocolate. This should be a quart and a half (3 pints). Be patient and kind with yourself. If you have an offset spatula, use it. It's a good tool for this job.
Now, brownies! Crumble them over the ice cream. This is my favorite brownie recipe at the moment.
5. Now another pint and a half of ice cream. This was vanilla for me. Again with the spatula. And now, the mochi ice cream. (Trader Joe's, Asian markets, or homemade.) Press the mochi balls into the upper layer of ice cream. Now the whole thing goes into the freezer for at least several hours, but up to a day.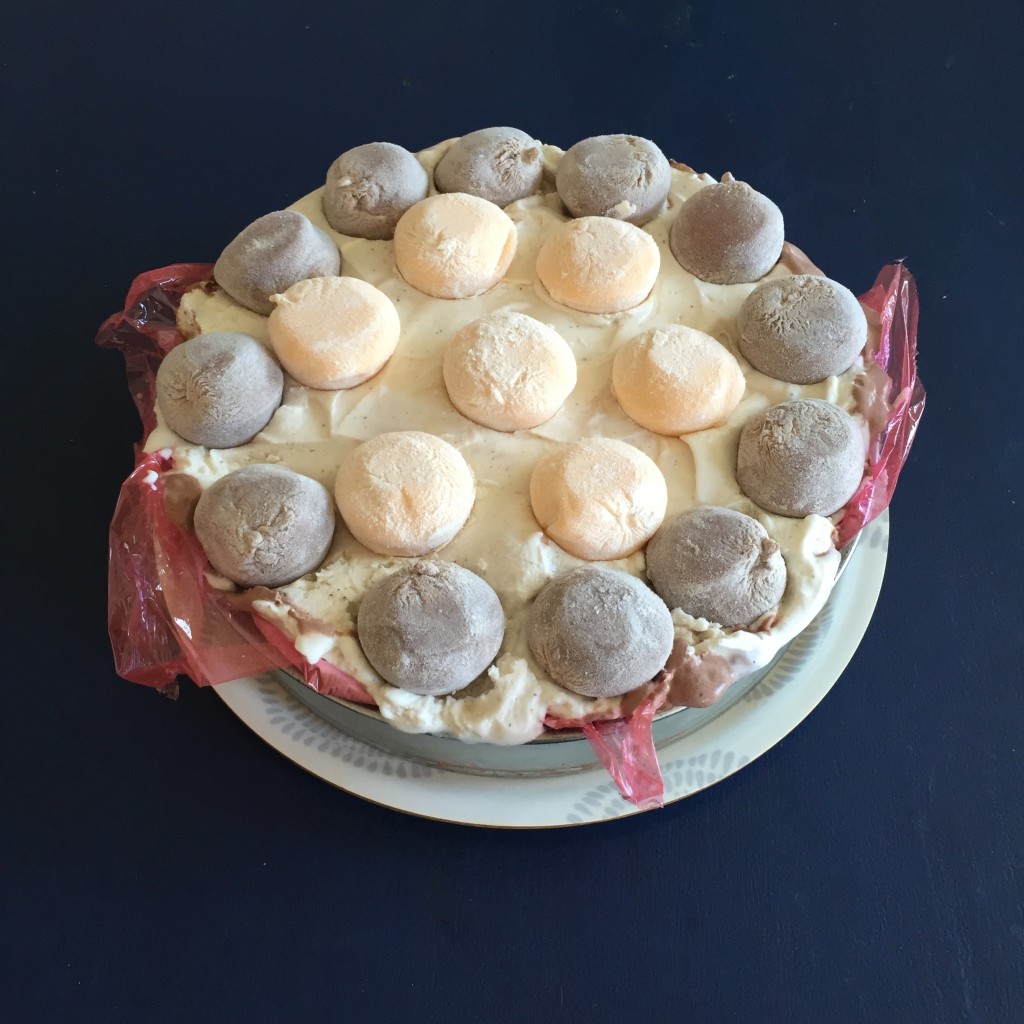 6. Take the cake out of the freezer 15 to 30 minutes before you're ready to serve. (Mine was in the chest freezer in the basement that freezes HARD so it needed a bit more time.) Undo the springform. If it gives you any trouble, lay a few warm cloths over the joint of the pan. That will loosen it up. While the cake sits, make hot fudge (Or buy it and warm it up. I'm not judging.) My standard is still the sauce from my first book, which is: 6 ounces chopped bittersweet chocolate,  4 tablespoons butter, 2/3 cup heavy cream, 1/4 cup maple syrup, 1/4 cup unsweetened cocoa powder, and 1 teaspoon vanilla. Combine these all the top of a double boiler over medium low heat and stir until smooth. This recipe will make more than you need for the cake. Put leftovers in the fridge and gleefully find them later.
7. Make whipped cream. I advocate for making here. (cream! maple syrup! whip!)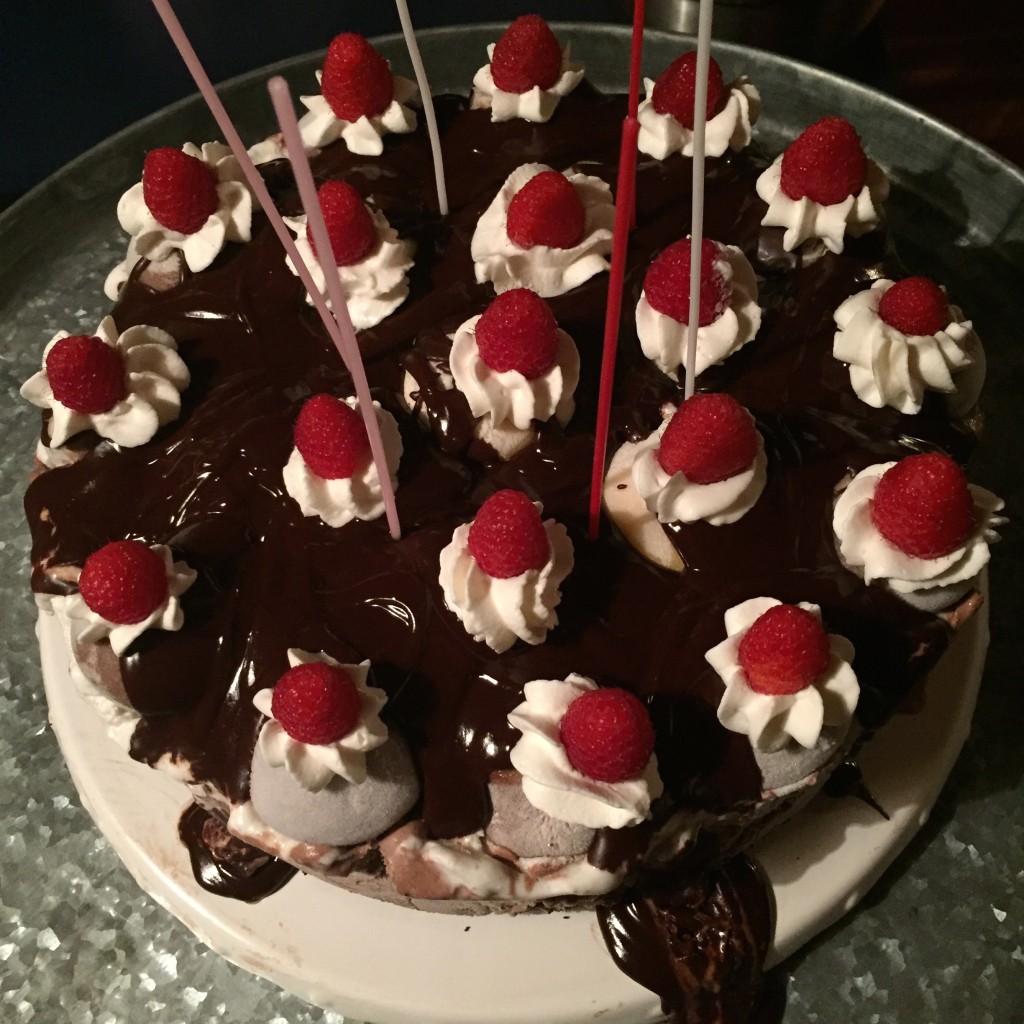 8. It's good to have a partner in crime for this next step, as it might feel a bit chaotic and you'll need the support. Also, do it right where you plan on serving the cake, so you don't have to carry this crazy messy thing across the kitchen. Pour the hot fudge over the cake. Then pipe or glob whipped cream. Add something pretty, like raspberries. Move fast. Light candles. Sing the song. Cut the cake!

Leftovers can go right back into the freezer. You can eat them as is, or do our favorite things with ice cream cake leftovers, which is to throw a piece in the blender with some milk for an ice cream cake milkshake.