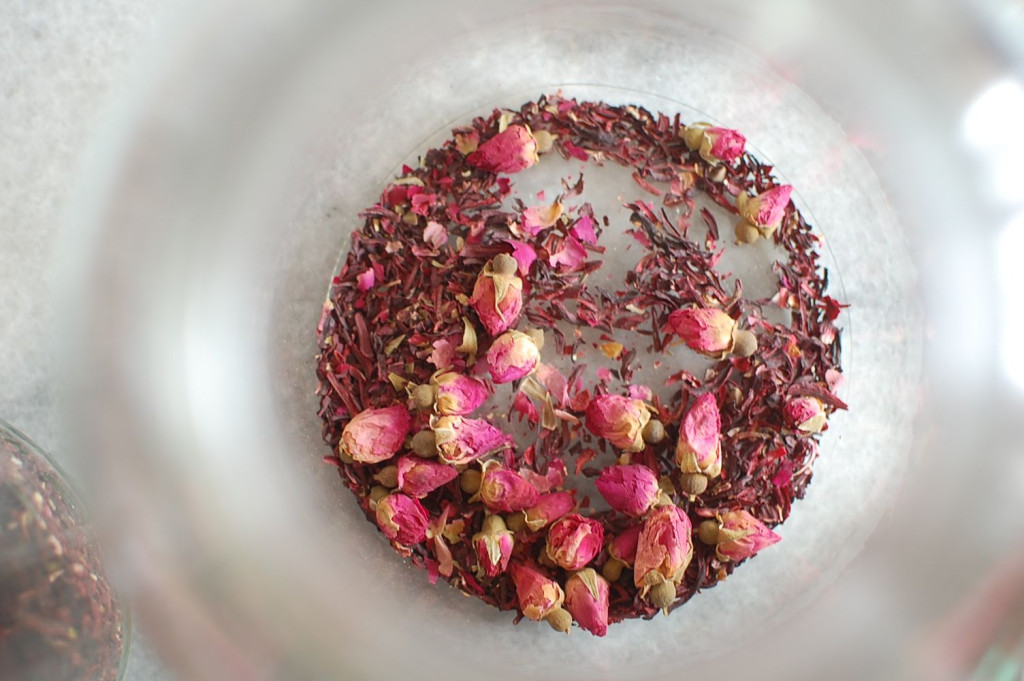 Here in our house, the symbol of Valentine's day is not the heart, but the scissors.
When Joey and I had been together just a few weeks, he gave me a case of phone books for my birthday. He'd stolen the box from the mailroom at our college, and, although at first look all of the phone books looked untouched, a deeper search revealed hundreds of tiny cutouts and notes all throughout the twelve books. I carted that whole case around for years. I couldn't let it go. But finally I realized that we were in it for the long haul and I'd never have room for all the art. And that wasn't even considering the kid art that would come later.

Joey is a whiz with the scissors. But he also has a quality I've always deeply admired but never possessed–he understands and respects the boundaries of a straight line. He has the focus and patience to create something right and perfect. I've watched him sit hunched over the kitchen table for 10 hours working on a birthday card for a coworker. He loves details and tiny pieces of tiny things.
The other night was that annual panic celebration before the valentines go out at school. As of 8:00 Rosie, who'd been at school late for drama rehearsal, still had sixteen valentines to go. She'd been working on these for weeks, and the table was covered with tiny pop-up messages tailored to each of her classmates.
I got impatient. I asked if maybe she could lower her standards a bit? Whip the rest out a little faster? She was calm. She knew better. She's been through this with me before. But why would I make bad valentines? 
I gave up. But only because Joey slid in next to her as prep cook. He's the only one she'd trust to cut out those little hearts. And even Joey will admit that her valentine skills have far surpassed his own.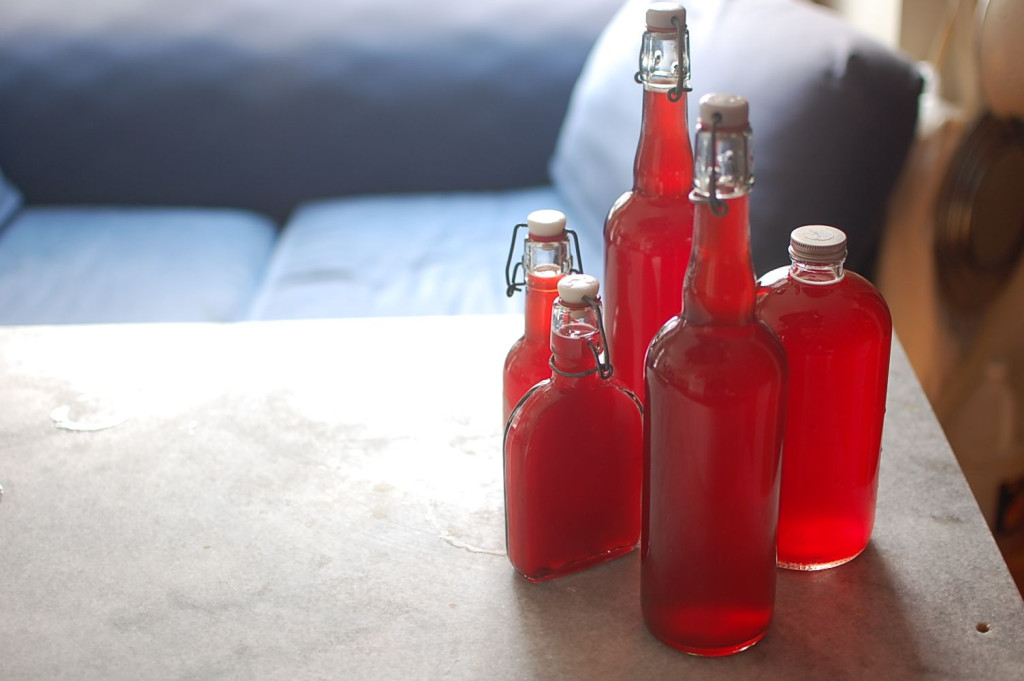 I'm a different creature for sure. I make things with big strokes, whether art of food. Tiny details make me itch. But I have my own affinity for the holiday and most years right around now I end up writing about roses. There were those pistachio rose biscotti and those rose caramels–I think without even trying I created a pattern. I'm happy to eat roses any day of the year, but it seems especially appropriate on this day of roses and scissors; love lost, gained, and held on to over the years. And this year, I thought I'd use it as an excuse to talk about my love affair with a certain slimy gorgeous inhabitant of my kitchen: my SCOBY.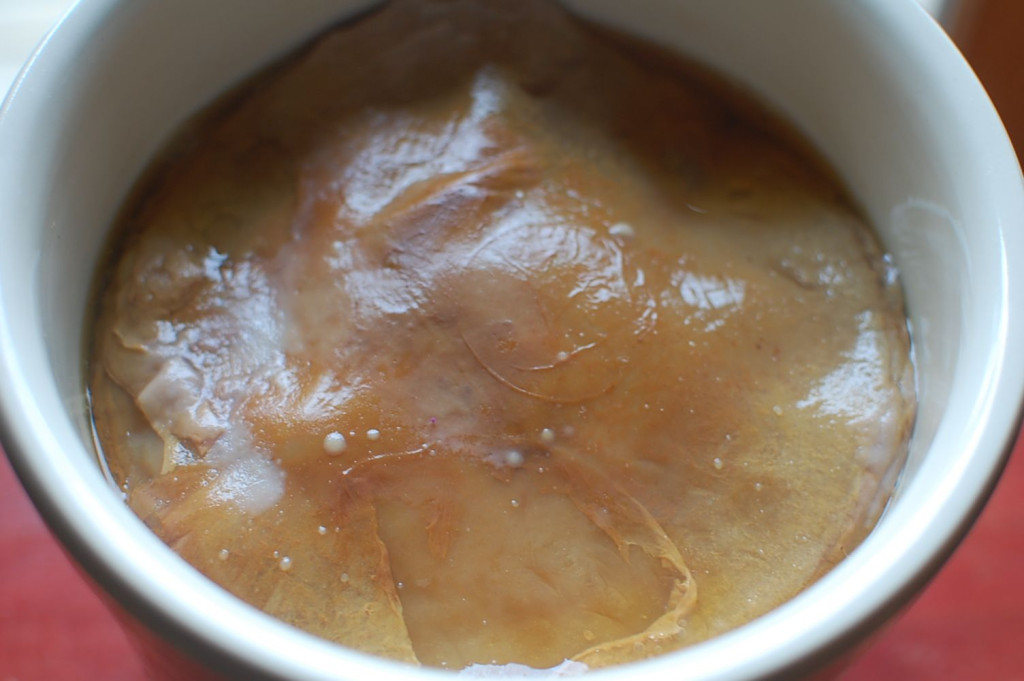 (My family doesn't quite appreciate her beauty, but they like what she does for us. But I think she's GORGEOUS. A little dark, but that hasn't seemed to be an issue.)
I've been making kombucha for almost a year now, so I'm far from an expert on the subject. I didn't really like it until I tried a version last year from a Montreal kombucha maker that was really heavy on the hibiscus, and that got me started making it at home.  I've found a method and mixture that I really love, and it's become part of the weekly list of foods I make. So I thought I'd outline the process here, and then if you'd like to talk some about kombucha in the comments or share what you're making, that would be great.
I start by boiling 6 cups of water, then removing it from heat. I stir in 1 cup white granulated sugar, and then I add 6 teabags or 2 tablespoons loose black tea. I let the tea steep for 10 minutes, then remove it. Then I add 8 cups cold water.
2. That mixture goes into the crock, along with 2 cups finished (unflavored) kombucha and the SCOBY. I cover the     crock with cheesecloth, then I let it sit out of the light until the liquid tastes good (not too sweet) and has a bit of bubble to it. It will also be a lighter color than it was when you began. In the summer this takes about 6 days, but in the winter it's been taking more like 12 days.
3. When the mixture's ready, I take the SCOBY out of the crock and set it on a plate. I rinse the SCOBY with cold water, and if a baby has grown from the mother I remove it. (This hasn't been happening much in the winter when fermentation slows.) Then I scoop out 2 cups of the finished kombucha and set it aside. The rest of the finished kombucha goes into a jar with 2 tablespoons dried hibiscus flowers and 2 tablespoons dried rose petals. I top that jar with cheesecloth and let it infuse for 24 hours.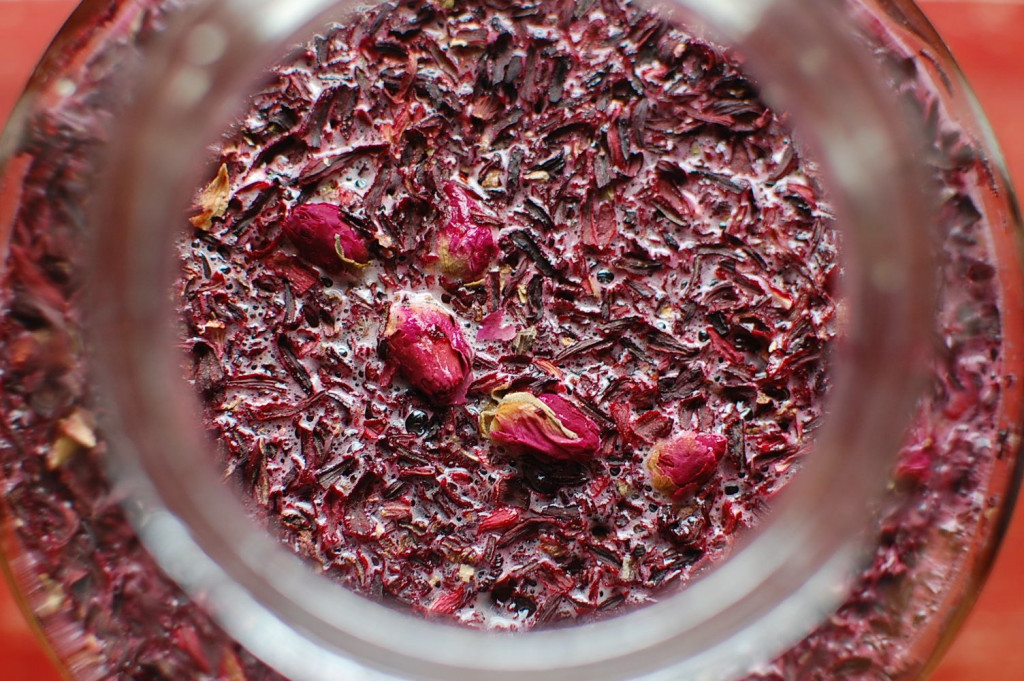 4.  Meanwhile, back to my SCOBY. I've scrubbed out the crock, and I've poured the 2 cups reserved kombucha into it. I've also brewed a new batch of sweet tea (see step 1), and that goes into the crock as well. Then the SCOBY goes on top and the process begins again. (So during this time I've got TWO containers out on the counter, one with the newly fermenting kombucha and 1 with the finished infusing kombucha.)
5. After the kombucha has infused for 24 hours, I strain out the flowers and transfer it to clean bottles. The tighter the seal, the more possibility of getting some good carbonation. I let the bottles sit out at room temperature and then they go in the fridge. And that's it. We drink all the kombucha as as soon as it's gone, I've got a new ready batch.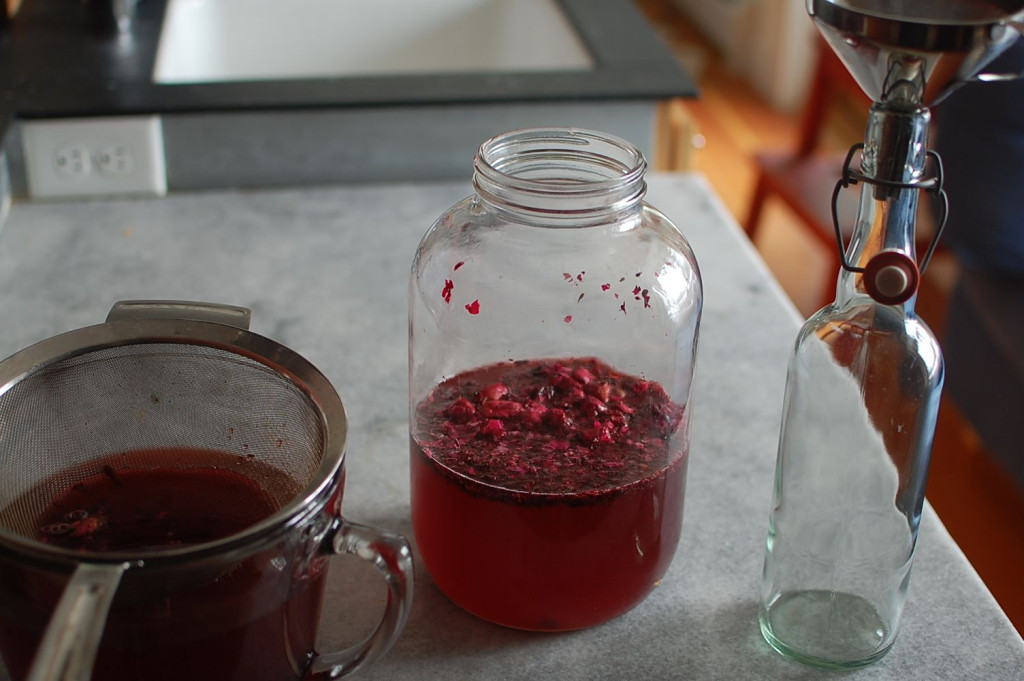 A few notes:
Ikea sells bottles that seem like they'd be great for kombucha, but they have no seal! The bottles that originally contain those fancy French lemonades seem to be the best.
Of course, cleanliness is important. I don't sterilize, but all of my crocks and bottles go through the dishwasher or are scrubbed with very hot water and soap.
I've found this to be a fermentation project that is VERY worth it. If you like kombucha, making it at home will save you lots of money. It's very hands off and easy, and the results are great.
All you need to begin is a SCOBY and some unflavored kombucha. You can buy your SCOBY online, but if you ask around you'll probably find a friend with a baby they can give you. And there are a lot of online resources for making your own SCOBY from scratch, too.
I'd love to hear about kombucha in your kitchen. How do you like to flavor it? Any tricks to share?
Happy love day, friends. Hope it's a good one!