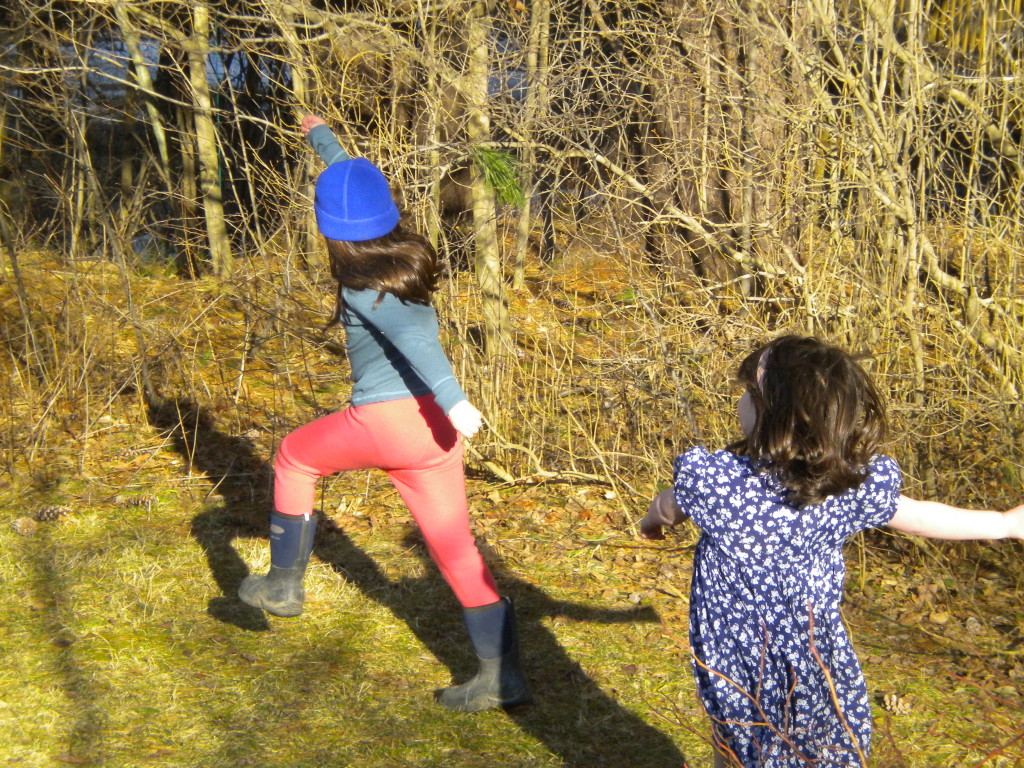 (Old picture! But it fits the mood, wouldn't you say?)
If I were more organized this would be a nice list of a post, but I'll ramble if it's all the same to you. It's just that I've got all these things I need to tell you about and it just doesn't seem to be able to fit into anything neat and clean. It is mud season after all. So here we go, with a mix of news and self promotion and invitations and random bits of media.
Ready?

It's been a good week. We started off with me sitting at my computer at night plodding through bill pay when a twitter notification popped up on my screen to tell me The Homemade Kitchen had been nominated for an IACP award in the "general" category. General! For someone who hangs out on the edges, general felt especially exciting. And there are so many great books on the list! Joey ran around the house for several minutes chanting about how the book gets a gold sticker now, and I swore (happy swears)  and hyperventilated for a few minutes before going back to paying the bills. But that was so nice.
It's been warm here, and we got up to 80 degrees on Wednesday. It feels a little strange and like our whole climate is shifting (2 total inches of snow this winter), but it sure was good to open the windows. And all the fermented things are fermenting faster, so that's exciting.
I've got some events coming up I want to tell you about. The biggest one is a CHEESE CLASS, and we still have spots open. Life has been very busy, and this might be the last class for a while, so if you've been thinking about it, sign up! April 2. Ticket links are here.
Also, I'm giving the keynote at Seedy Saturday in Copake, NY on March 19. This is an event I've been wanting to attend for years, and now the time has come. I'll be talking about how to plant with a food plan in mind. There's a seed workshop in the morning, and a whole marketplace of seeds in the afternoon to help you get started this year. More info and tickets are here.
And while I'm selling things, have you been thinking about taking my Craftsy class? If so, they're doing a whole big shebang for national craft month, and one exciting part is that some new user who signs up before 3/13 will win the chance to donate 1,000 bucks to a craft charity. This is the one I'd choose, but boy, there's a lot of great things going on that you could donate to. Here's that nice 50% off link. Come! We'll make nutella.
Also, have you tried one of those services where they send you all the ingredients for a meal? I'm pretty fascinated at the whole phenomenon, and I know we've had some good conversation in the past over on FB about it. But I'm actually dipping my toe in the water from the recipe end of it, and Chef'd is bringing a few of my recipes to their program. Tastebook has a contest here around it, and the winner scores a pretty great Easter brunch plus my book plus an egg dying kit. Throw your name in the hat here.
I'm writing a new book. I've been "writing" it for a while, but now I'm deeper in so you might start to see bit more of it here. But with deep work comes deep procrastination, and Food52's Piglet has come right on time. It's been SO good this year. I get to go to the piglet party next week because The Homemade Kitchen was so kindly chosen as a community pick, so Joey and I are venturing into the big city. Keep your eye on Instagram and I'll try to snap some pictures of the fancy people. In other procrastination news, a friend just dropped off this book with a simple note: Here. I just finished it and it devastated me. So I'll take a break from those Neapolitan novels for a bit to read something even more depressing. I can't wait.
This weekend, we're celebrating one of my favorite horror movies by watching it and then going OUT TO THE MOVIES to watch the new sequel. I have high hopes.
Speaking of horror movies, I'm watching all the politics. I'm having so many feelings and opinions, and I'm becoming that guy at the party. I also got wind of a friend of my sister's who's threatening not to vote if the DNC keeps messing with things and the media keeps ignoring Bernie, and I've started an ongoing letter in my head about how much this idea of not voting upsets me.
(And to be clear, I'm a Bernie supporter all the way. But there is no excuse for not voting. Not a single one.)
In a month and day, I take Sadie to Italy. Years and years ago we promised the girls that when they each turned 13 they'd get a trip anywhere with me. It was our way of imagining how to honor the whole transition into the teens, which is such a big one. So now I'm a month away from having a teenager, and Sadie has very intelligently chosen Italy, and we're in Rome for 3 nights, Bologna for 3 nights, and Venice for 1 night. Restaurant recommendations welcome.
I think that's all the news from me today. Happy weekend! It starts really soon. How are you all faring out there?