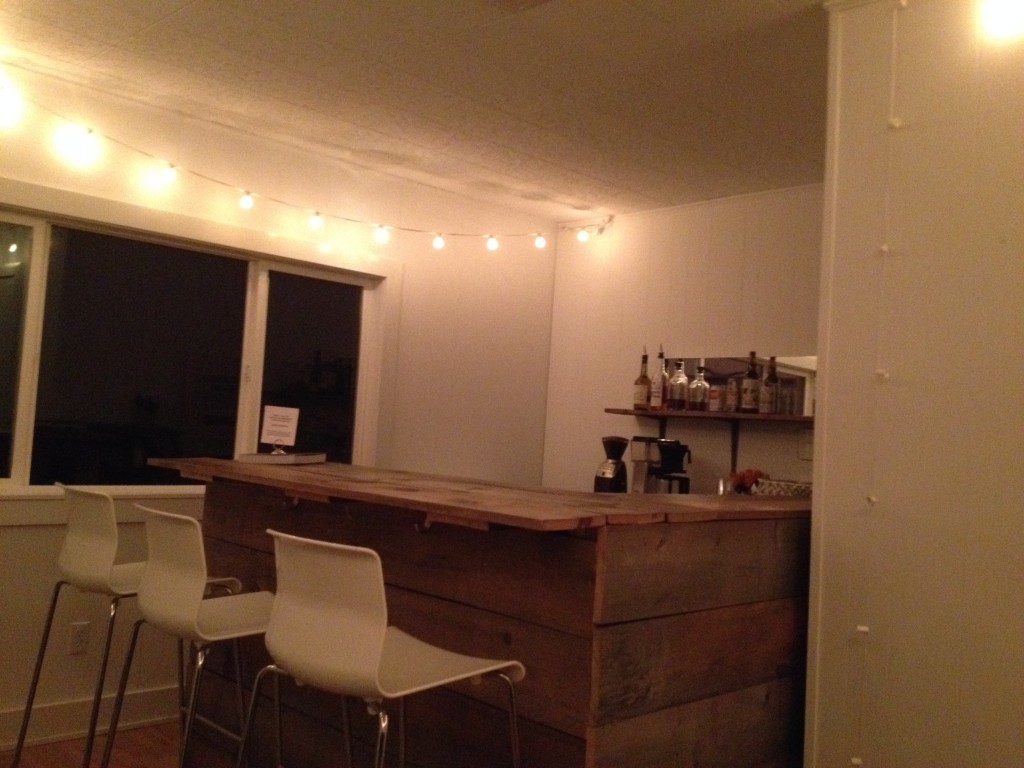 I've been thinking about this little corner of the Spruceton Inn.
I was there just about this time last year, so maybe it's the air that's making me think about it. The owners of the inn gift six artist residencies a year, and and it was in one of their rooms during one of those residencies that I ended up reorganizing The Homemade Kitchen, laying the proofs out over the entire floor like a giant puzzle. I'd gone there to write fiction, but my day job ended up mostly winning out.

The Spruceton Inn is in West Kill, New York, three miles down a dirt road that keeps going until it hits a mountain. At one point it was the Schwarzenegger summer compound, and it still has the feel of a Catskill Dirty Dancing type getaway. Casey Scieszka is the innkeeper, and she and her husband Steven Weinberg moved in a few years ago and made it their own. The whole place is simple and handmade and beautiful and oddly just its unique comfortable self. There's no tv or internet, and hardly any cell service unless you want to do an elaborate dance through the field with your phone over your head.
There are nine rooms at the inn, all in a row, motel-style. Eight of them have guests (or occasionally lucky artists like me), and the ninth is this little corner of the aforementioned thought, the bar. It's also where people check in and come for coffee in the morning and borrow books and games or talk to Casey. In the day it's full of sun, but at night the twinkle lights are on and it is, for lack of a more accurate description, the marriage between a bar and a womb.
I work well when I'm alone and away, and I had good discipline when I was there. (Also, of course, amazing how no internet helps the creativity situation.) But every night at about 7 I'd step outside of my safe little room and I'd walk along the building to the door of that first room, the bar. That walk, and the hour after it, was always my reward. The bar smelled like wood and bourbon and was always dark, like the walls were not quite solid. Most nights there were a few guests there, and I'd sit and talk with them, or just sit in the banquette in the corner and listen to get a dose of human interaction. Casey was usually the one tending bar, and she's just one of those bright star kind of people–warm and beautiful and smart and thoughtful. In my memory she's always wearing red lipstick and totally pulling it off. And in that little treat of a time after so much work that day, she'd pour me a drink, and I'd sit with my glass and just be in that room. My drink of choice was something I ended up bringing home and incorporating into my very limited cocktail repertoire here. I can't remember what Casey called it, but in deference to the fact that I know she has already named it, we just call it the drink. One of these days I'll get back to the Spruceton Inn and I'll find out what it's really called.
This is a March drink for sure because at least around here we're full swing into maple season. It's warm and cool at the same time, just like the strange transitions of the moment. And of course maple is our first local food of the year, and it's an easy one to love.
Here's how I make it: I put a few ice cubes in a pint-sized mason jar. Then I add 2 shots of bourbon, the juice of half a lemon, and a serious glug of maple. Put the lid on the jar, and shake it like you mean it. Then pour the contents between two glasses, including the ice cubes.
A note on the bourbon: I really like the sweetness to come from the maple here, and not the bourbon. So I wouldn't use something sweet like Knob Creek or Jim Beam. Casey used a really delicious bourbon I haven't been able to find called Medley Brothers, and but I tend to use Buffalo Trace, which is the bourbon I like to have around.