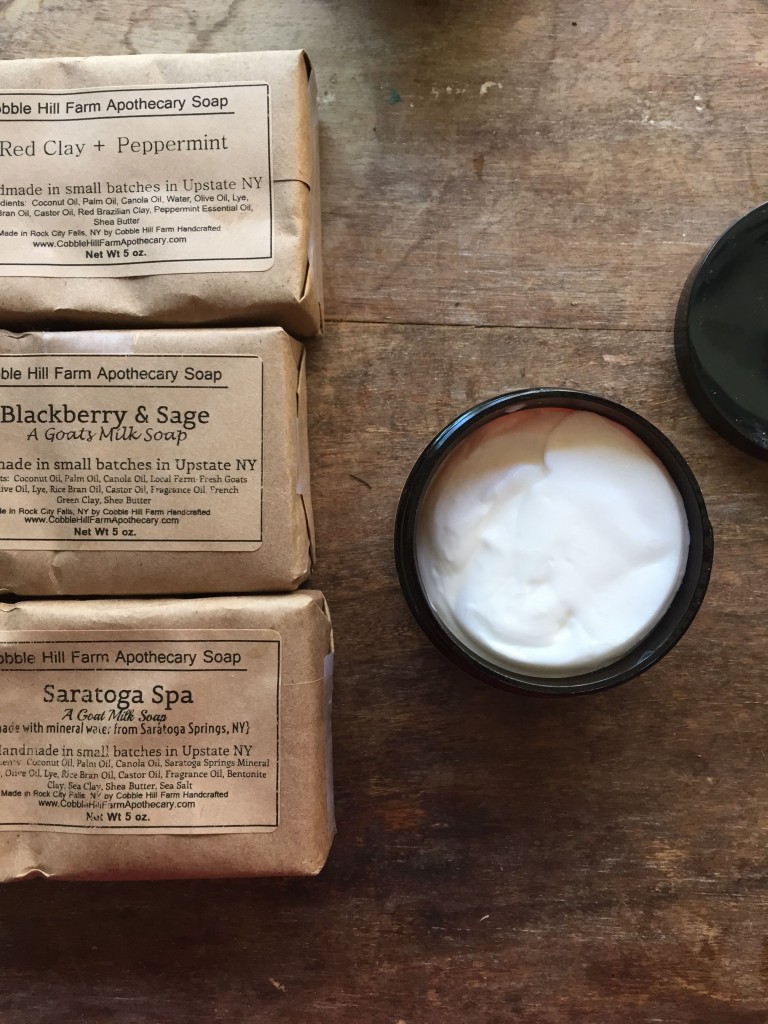 I work with a few wonderful businesses who generously help keep this site up and running, and I'm so happy to have Cobble Hill Farm Apothecary among them. When you support my sponsors, you support this site, so merci! Read on for a giveaway…
All through my childhood, my mother smelled like Skin Trip lotion. Mildly coconut-y, oddly reminiscent of tiny vitamin-scented natural foods stores, always like vacation. The smell was clean and sweet and edible, not banana boat coconut but real white coconut broken out a shell. It was a full departure from the scent of her mother, my grandmother, who, if you came close enough to her velvet soft cheek, emitted the sweet combination of Jergens lotion and Charmin toilet paper.  I used Skin Trip myself through my teens, but it wasn't quite my smell. When my aunt gave me a precious bottle of Kiehl's Rose Essence (a product I still have, but I don't even think they make anymore), I adopted the scent as my own. But it was only recently that I realized (late, as I became a mother almost 13 years ago) that I'm now a mother with a smell, too, and that my smell will always be bound up in my girls' memories. I asked them what I smelled like, and they answered immediately.
Roses. And lavender. Mostly flowers.

A win! Better than toothpaste, or mustard, or a million other things I could smell like, right? The roses are pretty solid Kiehl's,  but the lavender is more recent, I think. I love it, grow it, cook with it, and tend to tuck it around the house. My endless train of body lotions (it's a problem, I know) has included a few: EO (cheap, and a satisfying label), Avalon–essentially whatever seduced me while on sale at the local coop. I've never loved one, as the lavender always comes across more soapy than the real plant. But last summer the owners of a little company in Upstate NY approached me to see if they could help sponsor this site, and they sent me a few treats to try.
I'll let Staci and John take over for a moment here:
Founded in 2013, Cobble Hill Farm Apothecary is a small-batch soap and skincare company located at the foothills of the Adirondacks in beautiful Upstate New York.  We are a husband and wife team who dream up, develop and handcraft our artisan line of products.  We just weren't happy with the quality of the items we were purchasing while making the switch to natural products so we decided to create our own!  What started out as a line of soap and lip balm has grown to include lotions, herbal salves, men's grooming products, natural deodorants and more.  We've spent countless hours carefully formulating every single item we make and sell to ensure it is high-quality, effective and something that will nourish your skin.
They sent me some really wonderful soap (the red clay and peppermint was especially fantastic), and a little tub of lavender honey body butter which I slather on myself with wild abandon. It's not greasy at all as it's light and whipped, and somehow they've found a way to truly incorporate exactly the lavender scent I've looked for. Even more, I haven't been suffering from the dry and itchy skin that usually gets me this time of year. So there you go- I'm a fan for life.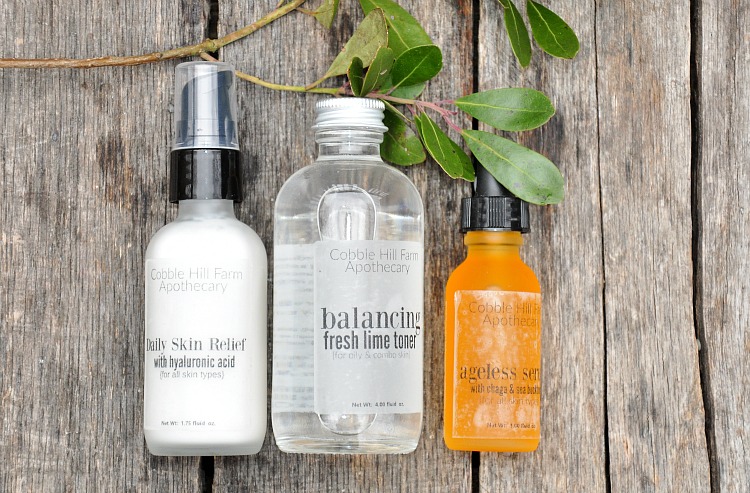 Cobble Hill Farm Apothecary just launched a new facial line, and I've got a set to give away today. Here's a bit about what the set includes:
We are giving away one of our brand spanking new facial sets!

 

I've been working on them for about 8 months and am absolutely thrilled with what I've formulated.  Our Green Tea Daily Skin Relief Moisturizer is amazingly soft and luxurious.  It does not feel greasy and absorbs into your skin quickly leaving your face feeling very smooth and balanced.  The Ageless Pomegranate Facial Serum is primarily 100% Certified Organic Rosehip Seed Oil which is chock full of antioxidants and vitamins.  To that we've added a bit of pomegranate oil, argan oil, sea buckthorn extract and chaga mushroom extract for their skin healing, cell regenerating, age defying and nourishing properties.  And to round it all out we've come out with 3 toners, each with a unique hydrosol that works to either balance, hydrate or revitalize your skin.  All three items are formulated to compliment each other and to work with all skin types.
Staci and John are also offering 10% off for you with the code HOMEMADE10, so if you need some
lavender honey body butter
(and don't we all?), you'll get a deal.
So yes, yes, yes! Let's have more special things that are made with integrity and smell wonderful. How to enter the giveaway? Tell us about how your mother smelled when you were growing up. Or your father. Or anyone else who makes you inhale deep when you think of them. I'd love to hear your story. I'll keep the giveaway open until February 11.