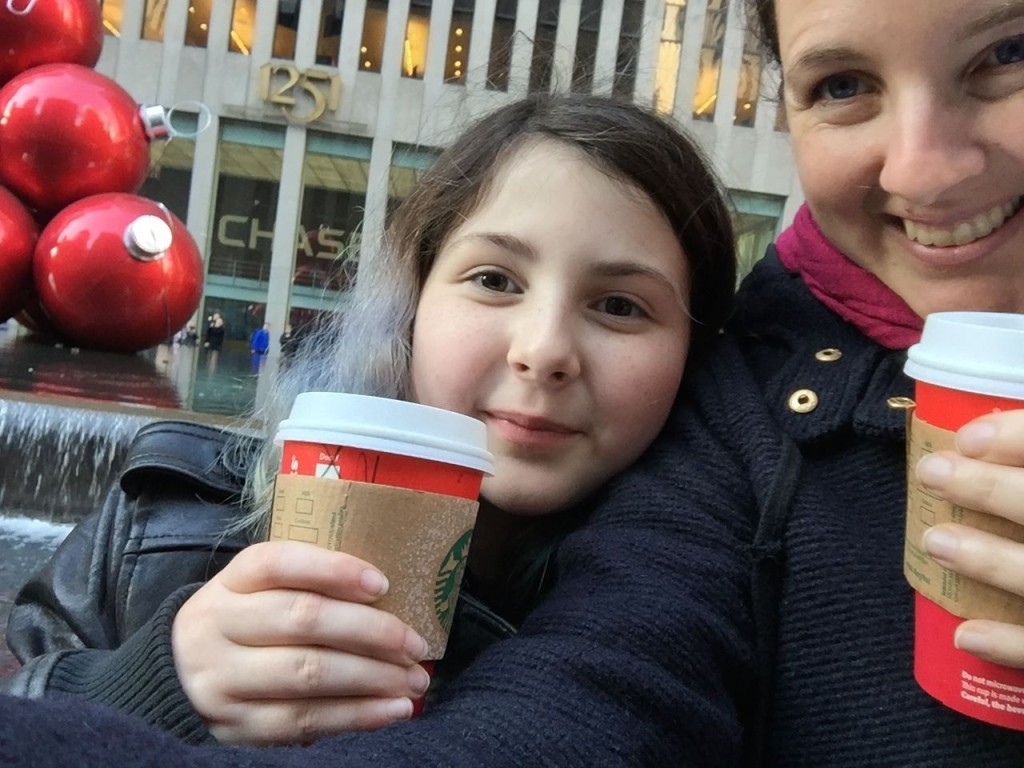 This weekend, Rosie and I hopped on the train to Brooklyn for an interview with Cathy Erway of Eat Your Words on Heritage Radio. I've been wanting to meet Cathy for years and it was so great to finally get the chance, and we got to eat pizza at Roberta's, too. Cathy and I talked about homemade gifts, home cooking and how we both DO make sauerkraut and DON'T make donuts. But Rosie had a few requests of her own, and the rest of the day was about making those happen. The main one was Starbucks, which we don't have here. She wanted to see the red cups she'd heard about, and to EXPERIENCE a holiday drink, and take New York holiday selfies. Yes. Of course, yes!
So we walked through crazy shopping midtown, sipping from our red cups (me: eggnog latte, blech!, her: decaf peppermint mocha, delicious!), watching everyone else shop. And boy did they shop. We marveled at how they could carry all the bags from the lego store, the M&M store (a whole store!), the American Girl store. Parents lugged bags, yelled at kids, looked for the nearest TGIFridays. Oh yes. Midtown in December is a museum in itself.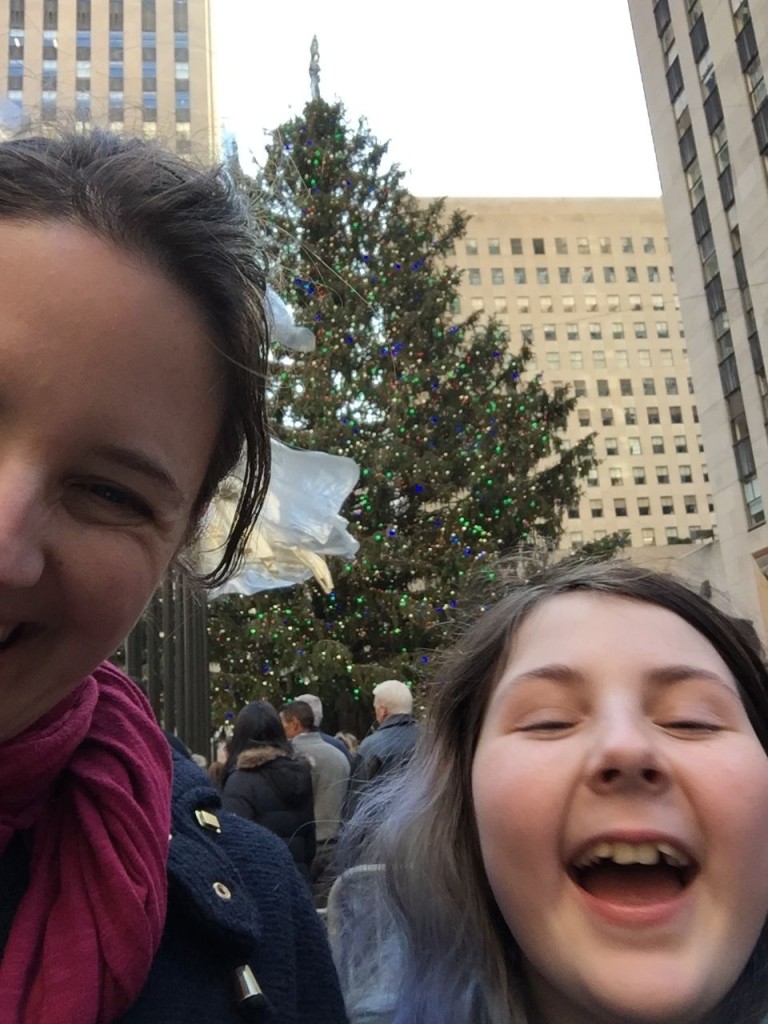 We barely bought a thing, but we took lots of selfies. And the whole experience reminded me that it's time for our annual gift guide! So, without further ado, a few tidbits I've been saving for the occasion…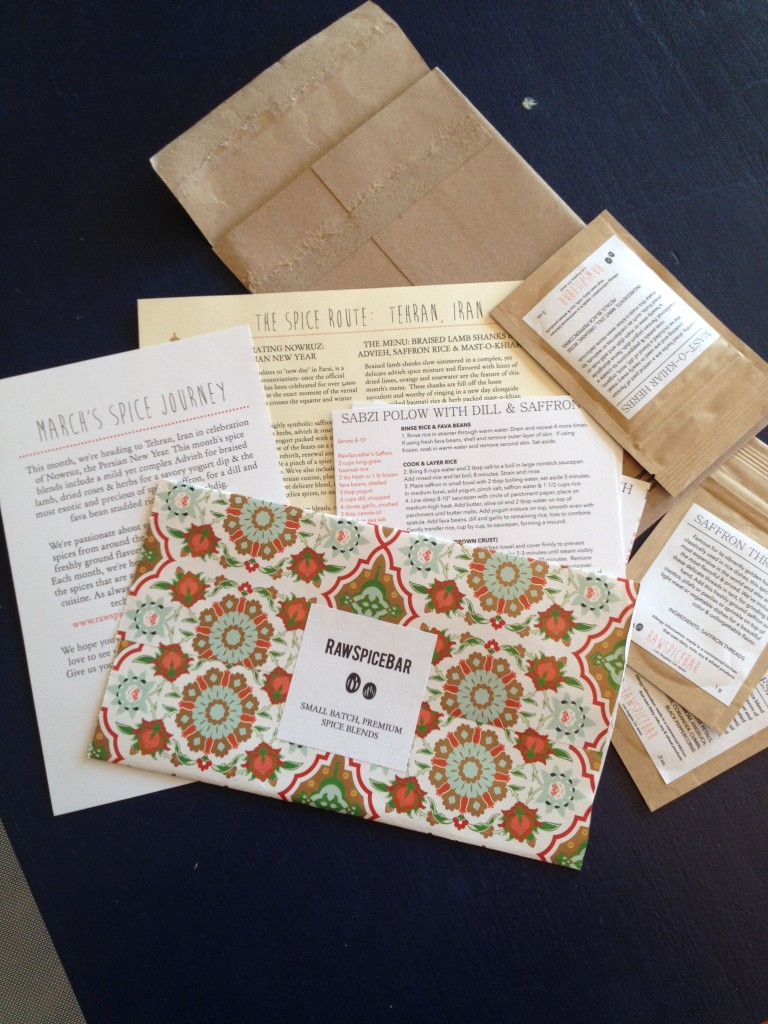 RawSpiceBar Subscription: Ever since I posted a picture of the package RawSpiceBar sent me earlier this year, people have been asking about it. Essentially for 6 bucks a month you get a beautiful little package with spices and recipes. Each month features a new kind of cuisine, and it's an education as well as a really lovely thing to get in the mail.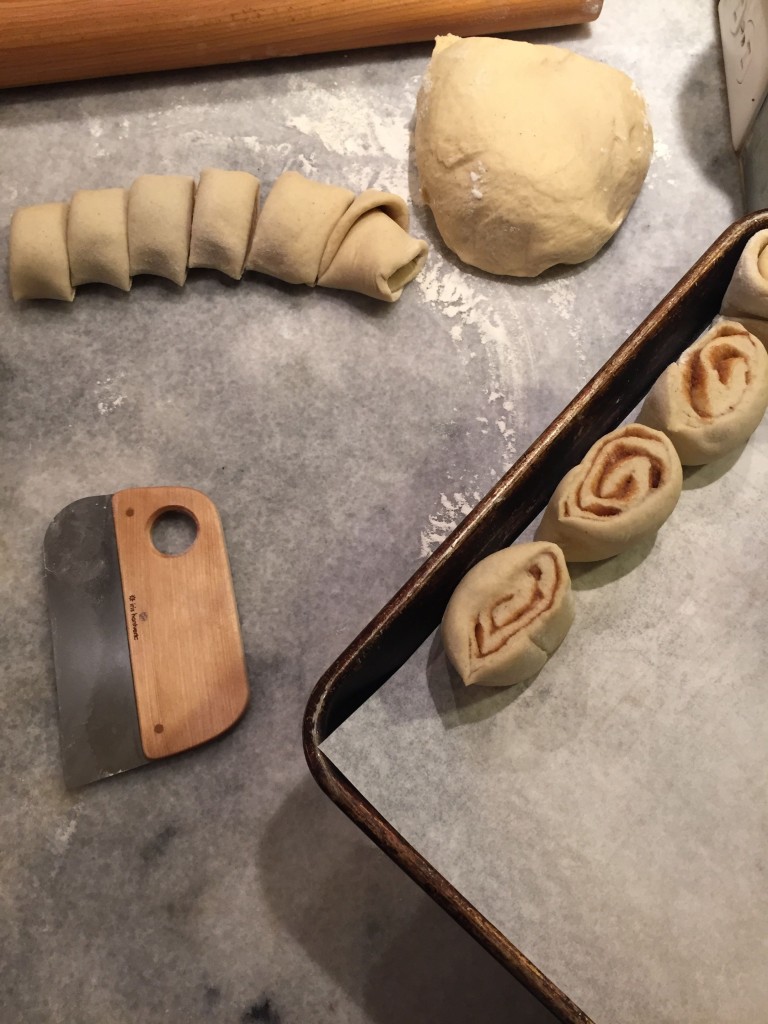 The most beautiful bench knife: I found this bench knife when I was doing an event at Hazel and Dewey in Denver, and I couldn't put it down. Jenna, the owner, gave it to me as a gift after the event, and it's become one of my favorite things in the kitchen. It's great to look at but it's even better to hold and use. 18 bucks.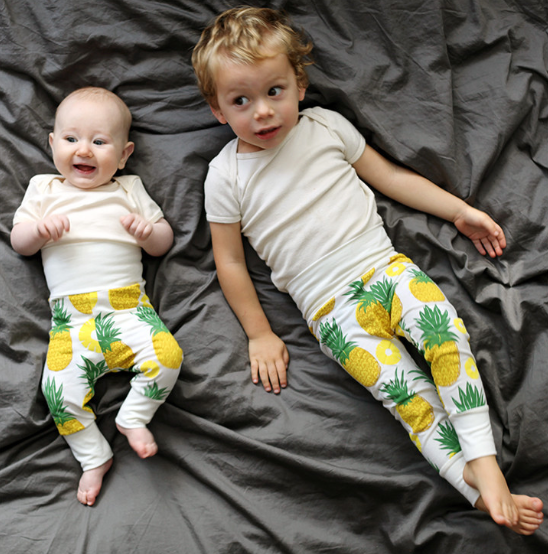 Pineapple Pants:I was wanting to include these in this year's round up before they came on as a sponsor, and now I get to have them there in the sidebar too. These are the best pants–organic, hand printed, and they're designed so well they fit for ages. Also for grownups if you special order, and in cactus print if pineapples aren't your thing. 38 bucks.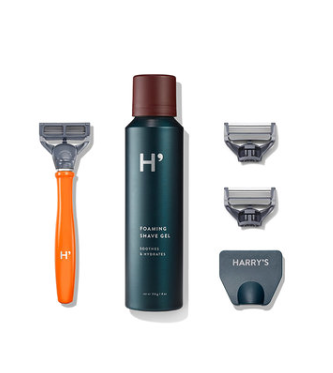 Harry's Shaving Set: I bought this for Joey a few years back, and then he made me buy my own because I kept swiping it from him. It's a really good company, and their customer service is great. 15 bucks.


THE Apron: I posted this one a little ways back, but so many people have asked about it I thought it should make a second appearance. This is made by a really great woman out in my neck of the woods. It's beautiful, functional, and so well made. (And if you're trying to figure out sizing, I bought a medium and that's great for me.)
And of course there are so many good things to make: Just for starters…
Ruggala, Granola, Preserved Lemons, Nibby Buckwheat Cookies, or Maple Popcorn! How about a tea mix you blend yourself? Or a bit of infused booze?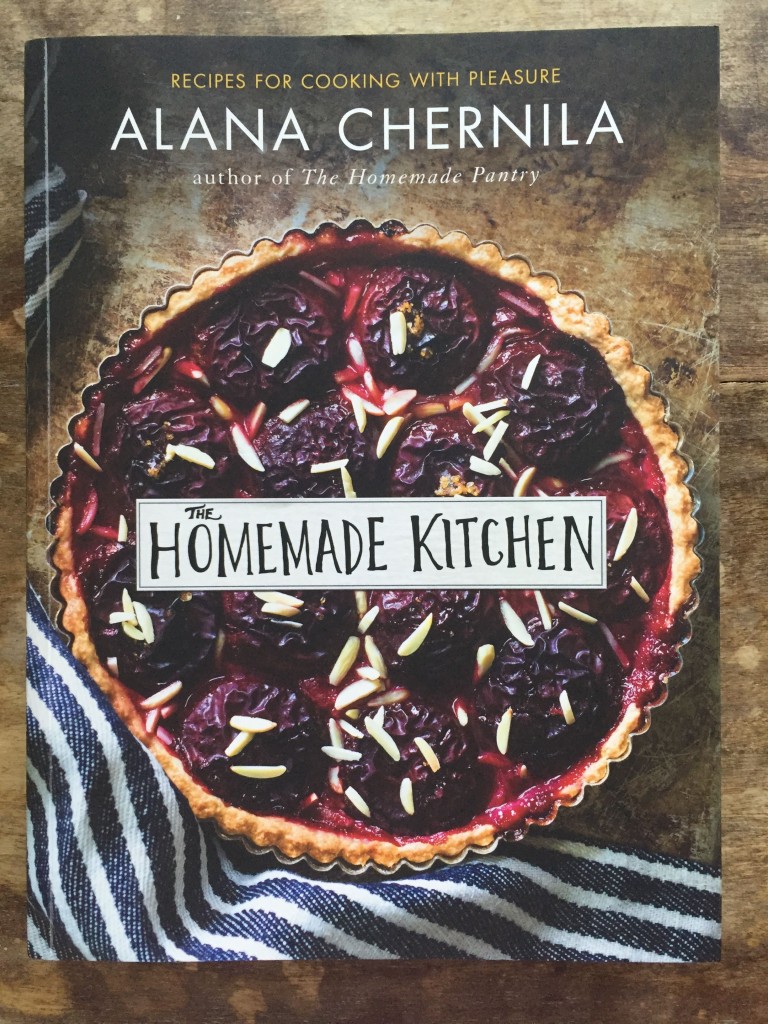 How about a few nice cookbooks? The Homemade Kitchen was just picked as one of Epicurious' best books of the year (yeah!), and there are some really great books on that list. Or maybe this oldie but goodie? Punk Domestics has a nice list for those who like to make things, and my friend Aimee has a nice round-up over on her site too.
I've got a few signings left this year, so you might even be able to pick up a personalized book. This Saturday, December 12, I'll be at One Mercantile in Great Barrington between 4 and 6. It's part of a huge and wonderful holiday stroll, so it's a good thing to get on your calendar.
Next weekend, I'll be in Boston for two events on Saturday, December 19. First I'll be at the Eat Boutique Holiday market demonstrating spoon butter (another great gift) and signing from 10 to 12. Then I'll be at Farm and Fable at 2, drinking all the pumpkin hot chocolate.
If you can't get to a signing but would like a personalized book, there are a few options. My local bookstore has signed copies, and they ship quick. Or if you already have a book and want a little signed card to put into it, send me an email through the contact link and let me know the name of who I'm signing to and the address I should send it to. Just let me know by December 15 so I can get it to you in time!
This post contains affiliate links. Thanks for helping me keep the site going!