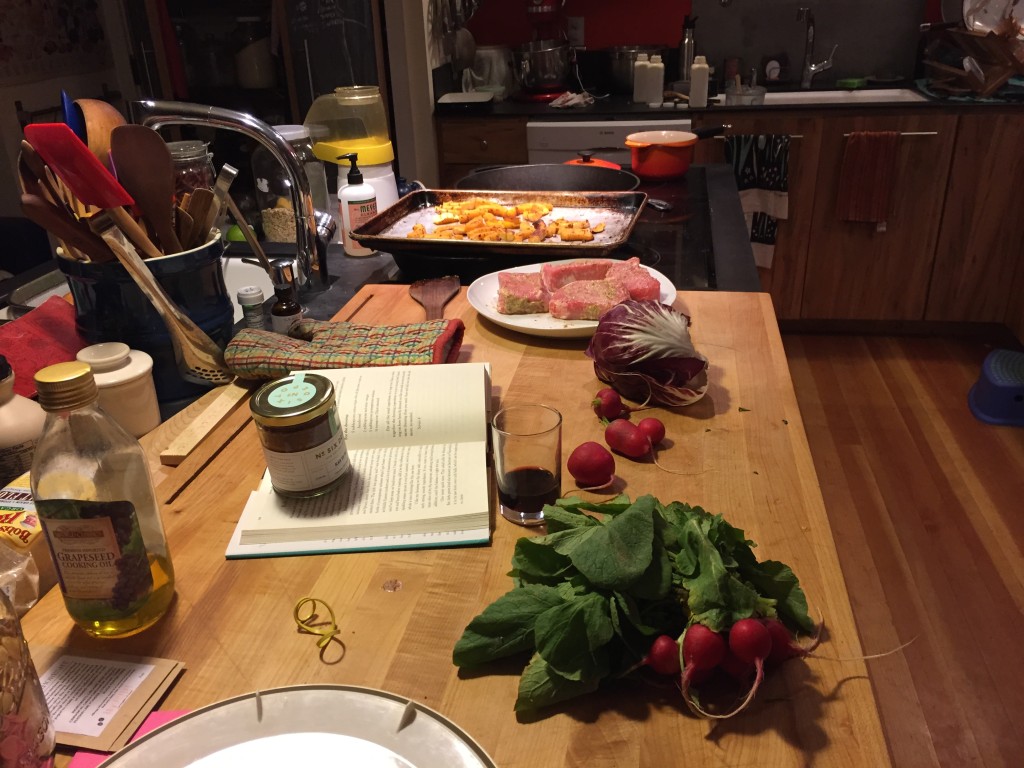 When I was setting off for book travels in October, I asked for any questions you might be bringing to events so I could think about them before we met. Emily, who was planning on coming to my event at Powell's in Portland, responded with a question. She was a few hours away, and rain and flooding derailed her plans. But I talked about her question at the event anyway, and, in many ways, I talked about this question over and over. And this morning was I was reading this piece, I started talking back to it and it seemed like time to try to answer that question here, or at least to pose it and work on it together.
Here is Emily's question:
I am a full time school teacher, wife, and mother of two active little ones (ages 6 and 5). My question is how can I realistically plan, prepare, and produce healthy, amazing meals for my family with all of my other responsibilities? I keep trying; some weeks I nail it. Some weeks I fail. I have the desire. I often lack the time, energy, and/or motivation. Help!
And here is my short answer:

How do you realistically plan, prepare, and produce healthy, amazing meals for your family with all your other responsibilities?
You can't.
But there's a long answer. (You didn't think I would leave it at that, did you?)
It can't always be healthy, amazing, or even a meal. Sometimes it will be two of those things, and sometimes it will be just one. But most of all, ease up on yourself. Ease up. Because cooking takes time and energy and focus and money and it won't miraculously not take any of those things.  And try (and I say this to myself too!) not to intertwine the quality of your dinner spread with the quality of your parenting. It just doesn't work that way. Food is meant to feed us, and if it does that marginally well, then I will pin a metal on your apron right here and now.
(Just so you know how much I know this, a little story: As a kid, I didn't like many things. I liked noodles with butter, steamed broccoli, and fried tofu. My mother was a single mom with barely any grocery money and even less time, so most nights through my entire childhood, that's what we ate. It took 20 minutes, it was reasonably delicious, and she didn't have to think too hard about it or hear me grumble about what I didn't like. It worked for her. I was healthy then and I'm healthy now, and I grew up to be a food writer who eats all things except eggplant which gives me a stomach ache. True story.)
That is my advice, above all. Change your expectations. Go easy on yourself. Especially if you have young kids, know that everything will keep changing, and there will be more space in your life as they get older. You don't have to do all things RIGHT NOW. It will all be okay. They will be okay. And beyond that, I have a few specifics.
Repetition is your friend: If you find something that works, keep doing it. You're not going to deaden any one's sense of taste adventure. If it's something you like to make and eat, make it a lot.
Share the cooking: Does one person do all the dinners? Break it up, even if the other person isn't a good cook. They will become a better cook if they have practice. Give that person one or two nights when they are on and you are off, and then be cheerful and graceful about whatever they decide to feed you.
Create a weekly schedule: Monday's roast chicken night! Tuesday is burrito night. And on and on. Like I said, repetition is your friend. Develop your tool chest of dinners that work, and keep cooking within that framework. You can also meal plan and be a little more specific if that's how you roll. But this way you'll save money, everyone knows what's for dinner, and you don't have to feel that deep anxiety of NOT KNOWING WHAT'S FOR DINNER.
Have one regular night when you go out/get take out/eat frozen food: I know some of you might get take out more than once a week and that's cool too. I live in the country, where my options are bad expensive Indian, bad expensive Chinese, or a number of $14 grass-fed cheffy burgers. So once a week is plenty, but for us it's usually a pizza or Trader Joe's frozen tamales.
Give yourself the time and space to really cook the way you want to: Find that space in the week somewhere. It might be late at night or early in the morning or on Sunday afternoon. Bake, or make lasagna or fry onions in butter but try, try! to stay connected with what you love about the kitchen. Take the time these recipes actually need. Give it to yourself.
Remember that everything is always changing: Your work schedules will change. Your kids will grow. They will like other things. You will like other things. Money will ebb and flow, too. You do not have to solve dinner for all time. Start where you are, now. What will you eat this week? How can you try to have a good week in the process? You cannot do this wrong. But you can do it in the way that works for you. You really can.
Emily, I hope this helps! Know that you're not alone, that I heard this question in some form at every event, and that I have it too. And to the rest of you out there, if you have stories and help you'd like to share, please do. We're all so different and making it work in different ways, and sometimes a peek into other people's kitchens is just the right thing.