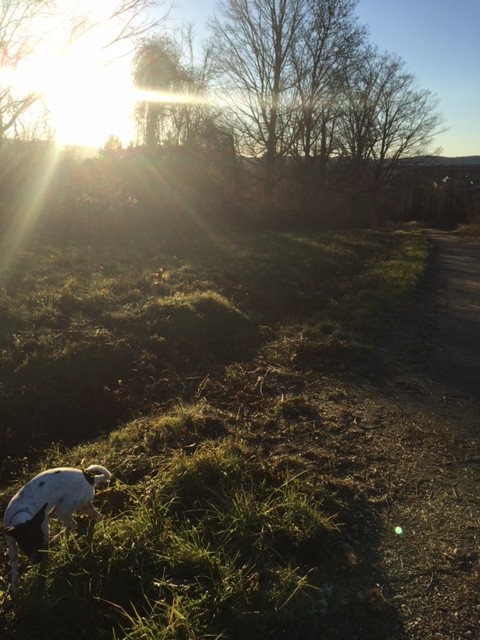 One of my favorite Thanksgiving movies is a little indie called The Myth of Fingerprints. It came out the year I was living here in my home town between various tries at college. I had a studio apartment on Main Street, and I spent every morning working at a coffee shop and every night in a Japanese restaurant. I was unhappy and lost, in love with someone who couldn't love me back but kept trying enough to make me keep hanging on. Despite all the work I was alone a lot, and my memories of that year are mostly of listening to the birds that lived in the trees along Main Street and watching the light. That November, even though it was my nineteenth November, I had the ah-ha of the light that only comes here and now, the sideways light that sits on the mountains so that the vast majority of the daylight during its short appearance is directly in our eyes. It's cold and harsh and makes it hard to see, but because it returns in this way every year in this moment of warmth and fir and ginger, I love it. It's my favorite light.

That year I went to see The Myth of Fingerprints in our local theater which is now an institution but at that point had just opened. I might have been alone or I might have been with the one who didn't love me–I don't remember, and we shared very little even when we were together so it's hard to remember what it felt like to be in the same space. But there was a scene in that movie where Julianne Moore, home for Thanksgiving to visit her simultaneously dysfunctional and enviable family, goes to meet someone she used to know at a playground. They meet, and she sits on a swing, and it must be just about 3:30 because the light comes right at her from that low place, and she can't see. They talk, but her eyes are mostly closed, and you see the light through her eyelashes in that way that happens here and now. It's not as if she's mad at the light or closing her eyes to block it out; rather it hits her in a way that forces her to rest, to close her eyes for a bit and communicate in a different way. It hit me hard only because it was such a true capture of how the light felt to me, and because I saw her there on the screen on the swing with the spidery shadows of her eyelashes over her face and I thought- That is November. That is every November. And it hit me that this is the month that I walk with my eyes closed, that I have conversations more with my ears than my eyes, and when the sun becomes a character in my days more than any other time of the year. It's still true.
We're having a smaller Thanksgiving than usual this year–just family. It's just worked out that way, as some years do. I'm making just the basics, which for us is turkey, mashed potatoes, a few different kinds of stuffings (repeating this one, which everyone's been talking about for a full year), and pan fried brussels. Then there's cranberry sauce (my grandmother's, which is in The Homemade Pantry if you need a nice simple recipe), and lots and lots of gravy. For dessert there will be pumpkin pie and pear gingerbread (both in the new book), Indian Pudding (my new favorite is from this book), this pecan pie (since you have the Lyle's for your gingerbread, and if I've got extra cranberries, this cranberry tart.
I like this holiday a lot. I like it however it happens, big or small.
And for this week, a few links:
Thanksgiving might just be the healthiest holiday.
Erin (who styled The Homemade Kitchen) and her family's potato rolls (I might have to add these ones into the menu).
Cue it up. Have it ready. Especially if Syrian refugees and Ben Carson might come up at the table.
Want to make pie crust? You can! Really! Let's do it together.
An appreciation.
Do you know about The Great Listen? This is big, really big. High school students are leading the charge, but it's open to all of us. Download the app, and join in.
Happy holiday week, friends. Sending love from here.