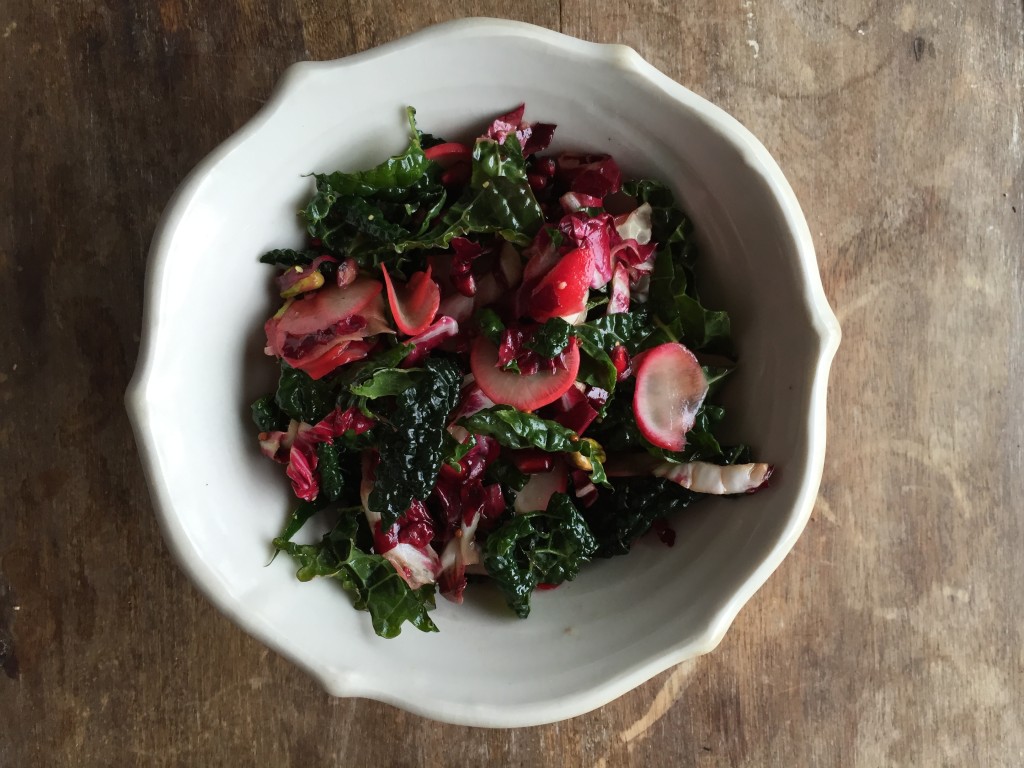 I've been thinking a lot about Patience Gray lately, and her book Honey From a Weed. I talked about her with Joe Yonan a bit on this week's episode of The Splendid Table, and every time someone asks me about who I'm reading, her name keeps coming up. I think it's because I see her writing about the connections between how people eat and cook and how they live, and that seems to be at the heart of what I'm trying to figure out for myself as I talk to people about this book and continue to think about how and why I cook. She has a line I love–I actually began an earlier draft of The Homemade Kitchen with it:
As can be seen, all this chopping and pounding has much to do with health.
I had this line rattling around in my head as I was making this salad from Jessica Fechtor's wonderful book, Stir. You might know Jess from her blog Sweet Amandine, but if you haven't read her book, definitely seek it out. Jess had an aneurysm when she was 28, and this book tells the story of her recovery. It's a book about food as medicine in a different way than most people think of it–not in the food itself, but in the preparation of it.  And I was thinking about Jess, and why she cooks, and how these processes of chopping and kneading and stirring were such agents of health for her. This is really a story about the recipes that saved her life. (In related news, Jess also wrote an intense and gorgeously written review of this book last month, which I think adds one more layer to the discussion of what it really means to have your life saved by a recipe.)

I was thinking about this salad, really the best kale salad I've had in a long time. And the colors! This seems like a holiday salad if I ever saw one. Poor kale–brought out of obscurity, elevated, dressed, steamed, chipped–I've heard that some people are sick of hearing about it, and I see why. But it's a green like any other, inexpensive, versatile, and if you're in a cold climate–better right now than it is at any other time in the year. But I was thinking about kale salads as "health" food, and about how much chopping and pounding and process goes into this one. If it must be thought of as health food, I like to think it's because of the process of cracking pistachios out of their shells, of freeing pomegranate seeds from their white pith (this pomegranate in particular I brought back from Cheryl Sternman Rule's tree in San Jose, so it traveled far just for this salad), the thin chopping of the radishes, the shaking of the dressing. There are all these little moments of this recipe that you have to just do. Start the process and there's no way out but through it. It gave me minutes at the counter in my head, spaced out as I started out the window, making the choice not to be impatient with my pistachios. This practice of patience–it's good for me. I need that.
I want to give you the recipe, but before I do, a few updates of goings on around here.
Tomorrow, November 14, I'm at Home Chef in Hillsdale, NY making pumpkin pie (from actual pumpkins!). It's a gorgeous space, and we're having a full out party, so if you're in the area I'd love to see you. If you want to get in on the pie class you need to sign up here, but you can stop by and enjoy the party either way.
Next Wednesday, November 18, I'll be at Northeastern in Boston. I'll be making a bunch of stuff, and this event is free and open to the public. There's more information here. I was supposed to be doing a lecture that night at the Mass Horticultural Society, but that's been postponed. However, if you're in the Boston area, I've got two new events lined up for you. On December 19th, I'll be a the Eat Boutique Holiday Market at 11 (demonstrating spoon butter!) and then I'll be at Farm and Fable at 2 that very same day. So I've got your whole holiday gifting thing covered.
And one more thing! They're having a big sale over at Craftsy right now if you've been pondering a class. My class is on sale, but you can get it for even less (50% off!) if you follow this link.
And now for Jess's Kale salad. It's a stunner.


Kale and Pomegranate Salad
serves 4
from Jessica Fechtor,
Stir
12 leaves dinosaur kale, stripped of their stems and thinly sliced
1/2 head radicchio, thinly sliced
4 radishes, thinly sliced
Seeds from half a large pomegranate (about 1/2 cup)
A handful or two of roasted and salted pistachios, shelled
5 tablespoons extra-virgin olive oil, plus more to taste
2 tablespoons red wine vinegar
1 tablespoon pomegranate molasses
1/2 teaspoon Dijon mustard
Put the dinosaur kale, radicchio, radishes, pomegranate seeds, and pistachios into a bowl.
Shake together the olive oil, vinegar, pomegranate molasses, and mustard in a jar. Dress according to how dressed you like your salad. Start with half the dressing, toss, then taste and add more as needed.
This post contains affiliate links. Also, Daniel Bellow made that gorgeous bowl.