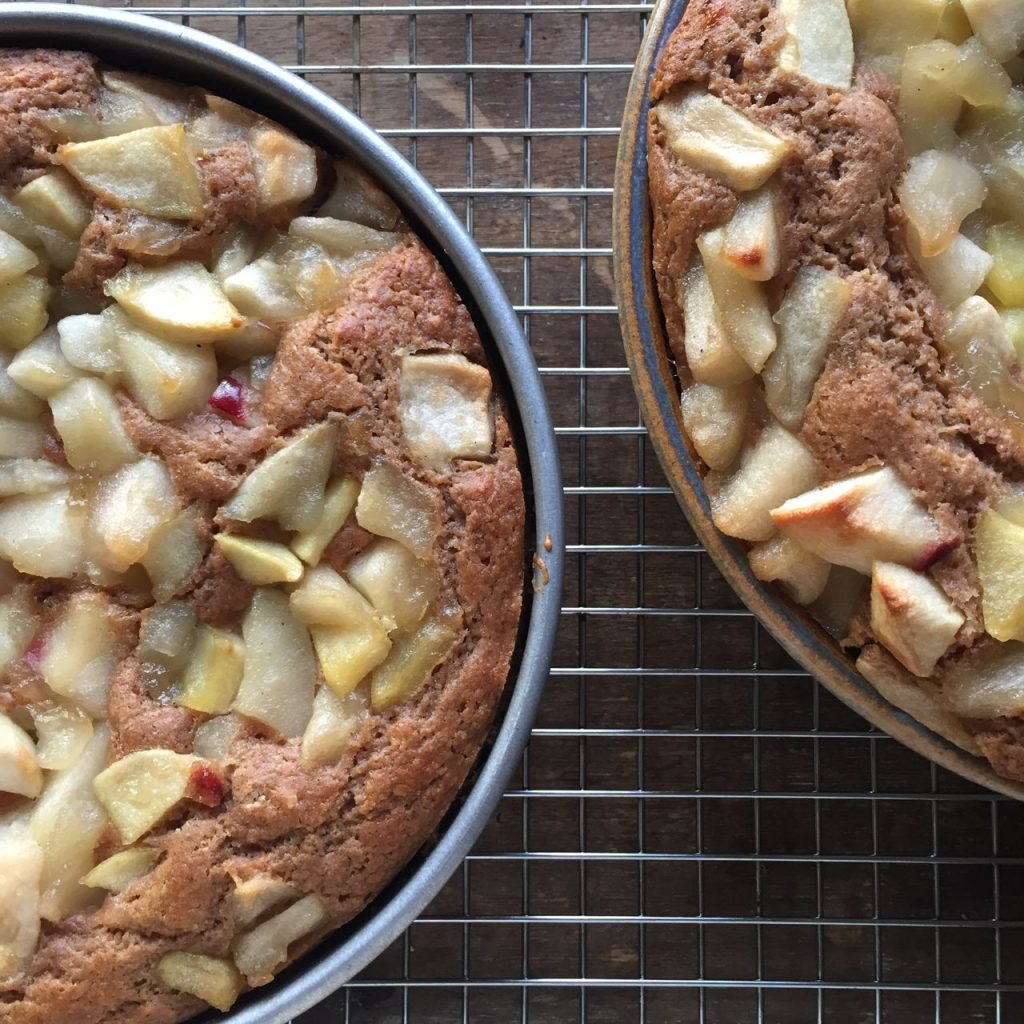 My editor once told me that she has to bake immediately upon returning from a trip. It doesn't matter how much laundry and unpacking I'm supposed to be doing, she told me as she fed me a buttermilk cake at one of our meetings. I need the kitchen to know that I'm back.
We had quite a time these last few weeks, eh? To those of you who made it through the rain and traffic and crowded cities to come to an event, thank you, thank you, thank you! It was such a joy to meet you. And to everyone who's been reaching out in other ways–your letters, your emails, instagrams, reviews, your enthusiasm about the Craftsy class–thank you, thank you, thank you. And to those who have been taking care of me on the road and my family back home, well–someday I hope I get to take care of you even half as well. On the day the book came out, a good friend who's done this a million times before told me to feel the love and leave the rest. It's been impossible to do otherwise. Thank you.

It's really good to be home. I'm definitely an extrovert, which makes me strange among writer types, and all the talking and meeting people gives me energy instead of taking it away. But I missed Joey and the girls and my dog and my woods, and I missed my kitchen. It seemed important to let it know I was really back.
So instead of all the other things I had to do yesterday, I made cake.
This is a simple apple cake I've been making for years. It's based off of a great recipe from Kim Boyce's Good to the Grain, but like many recipes that have come from that book and made their way into my kitchen, I've simplified it in moments when I didn't have all the ingredients in the original recipe. It's hearty and not-overly-sweet enough for breakfast, but it's dense and buttery enough for dessert, too. It lasts well for a few days on the counter, so it's an excellent everyday cake for snacking in between as well. It's best with Granny Smiths because they're tart and hold up in the frying pan, but I usually just end up using what I have. I came home to a basket of wrinkled and tired apples I'd picked just before I left, and those did the job just fine.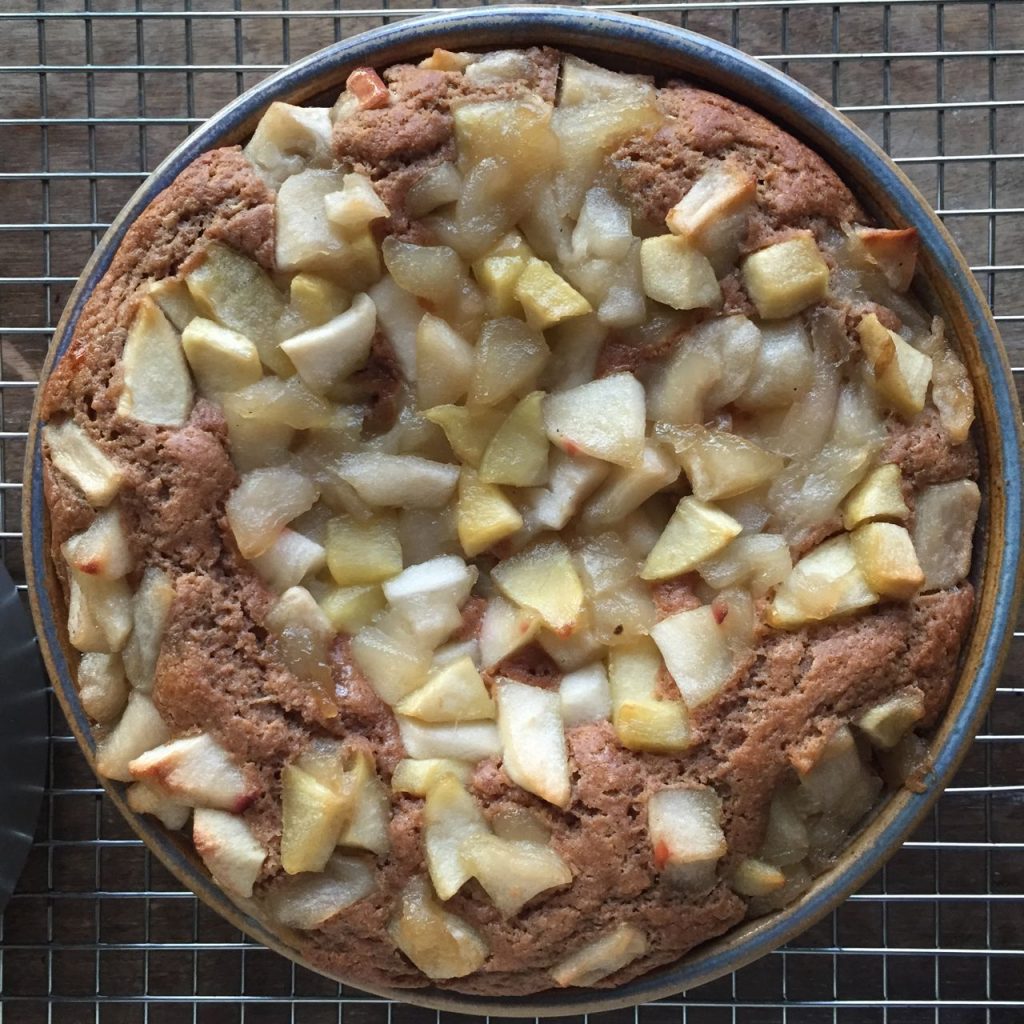 A Simple Apple Cake
Inspired by Kim Boyce's Apple Graham Coffee Cake from 
Good to the Grain
Makes one 9 or 10-inch round cake
6 tablespoons (3/4 stick) unsalted butter
2 large apples (about 1 pound or a bit more), peeled and chopped
6 tablespoons granulated sugar
1 cup all-purpose flour
1 1/4 cups spelt flour
1/3 cup packed light brown sugar
1 teaspoon baking powder
1/2 teaspoon baking soda
1 tablespoon cinnamon
1 teaspoon ground ginger
1/2 teaspoon fine grain salt
1 1/4 cups plain, whole milk yogurt
2 large eggs
Preheat the oven to 350°F. Butter a 9 or 10-inch round pan. (A standard 9-inch cake pan will just contain this cake, so if you have something with slightly higher sides–even better.)
Melt 2 tablespoons of the butter in a medium skillet over medium heat. Add the apples and 2 tablespoons of the granulated sugar, and let them sit without stirring in the butter for a few minutes. Then cook for a few minutes more, stirring often, until the apples are tender and maybe even caramelizing a bit. Remove from heat before they dry up and soak up all the butter. Transfer the apples and any remaining butter to a bowl–then melt the remaining 4 tablespoons of butter in the pan. Set it aside to cool for a few minutes.
In a large bowl, sift together (really, with a real sifter–it's a good moment for it, but if you don't have one just whisk the ingredients well) the flours, remaining 4 tablespoons granulated sugar, the brown sugar, the baking powder, baking soda, cinnamon, ginger, and salt.
In a separate bowl, whisk together the yogurt, eggs, and melted butter. Add the wet ingredients to the dry and gently fold until you have a uniform batter. Scrape the batter into the prepared pan, then top with the cooked apples and any buttery liquid. Bake until a the cake is golden brown and a cake tester comes out clean when inserted in the center of the cake, 45 to 50 minutes. Serve warm from the pan, or let it cool first.
This post contains a few affiliate links. Merci!