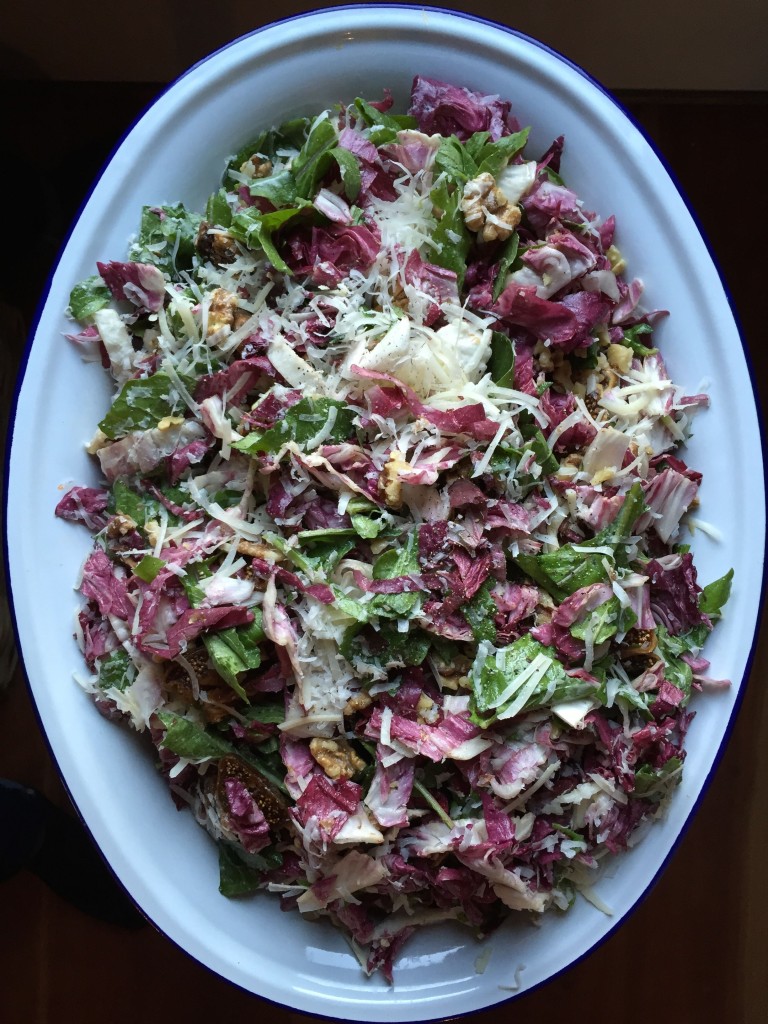 I was in New York for these past two days, and it did not quite woo me. My fault, I'm sure, as it's no city's responsibility to woo anyone. Book stuff went well, and I was glad to be there. But I'd come from home which has been so RED! YELLOW! ORANGE! and from a day out of another place when Joey and I escaped for a walk that even involved cider donuts and cemeteries, and the city was a strange counterpart to all that.
Sometimes I love the city. It's always a relief to be surrounded by so many colors and languages and people, and of course the food is always better. I don't mean the fancy stuff although sometimes that's fun too–the noodles! The pizza! New York does dinner on the cheap like nowhere else. When New York and I are getting along it's easy to put on my scowl and walk fast in my boots. But this time I kept messing up on the subway and arriving to my destination late and sweaty. Brooklyn felt all the same as itself. All through those two days I missed my dog and Joey and my girls. I felt the pull of outside and the air and all the things that make up October at home. I guess everyone feels the pull, which is why my town is packed with New Yorkers. (Welcome, New Yorkers! Happy to have ya.)
I'm home for just a bit, and then I'm off again next week. Hopefully I'll be seeing you?


I wanted to tell you a little about the salads of the past few weeks. It all started with my first drink-in of Heidi Swanson's beautiful Near and Far, and a dish she calls Radicchio Salad. I saw it and wanted it but didn't quite read the recipe, and then I fantasized about various radicchio salads for a while. I made the one above for a party, and it's radicchio, dandelion greens, homemade feta (from the book- yes you can make feta!), a bit of lettuce, and chickpeas. The best part was the dressing, which came about via what was in the fridge: about 3/4 cup creme fraiche, 1/2 chopped up preserved lemon rind, the juice of 1 (unpreserved) lemon, lots of black pepper, and enough olive oil to thin it all into a dressing. This is now my favorite salad dressing, and it's especially great with those beautiful bitter greens that are so good right now.
Radicchio is, of course, a bitter green, but I've been noticing lately how much it tastes like a flower. Endive has the same effect for me–I'll eat it without dressing even, and the floral-ness of it is overwhelming. Yesterday sitting in rush hour traffic in my friend Hedley's truck on the way to Grand Central, I brought this up, and Hedley reminded me that most flowers are bitter. We think of edible flowers and the perfume of roses and orange flower water, but what about the spicy nasturtium? The violet? The dandelion! But that balance between the perfume and the bitterness is so present in radicchio, especially now.
And then there's the color. I like the colors around me so much right now, I seem to keep eating them. Like in this salad, which I brought to another party (tis the season for potlucks, I suppose) to celebrate the coming adventures of a friend who took off for a big journey this week. This is roasted red and golden beets, einkorn (like farro, but I like it more). preserved lemon again, homemade feta (the recipe makes lots so it goes in everything), and all the micro greens people didn't buy at the last farmers' market. Then there's just olive oil, crunchy salt, and pepper. I liked this one a lot, and it made great leftovers too.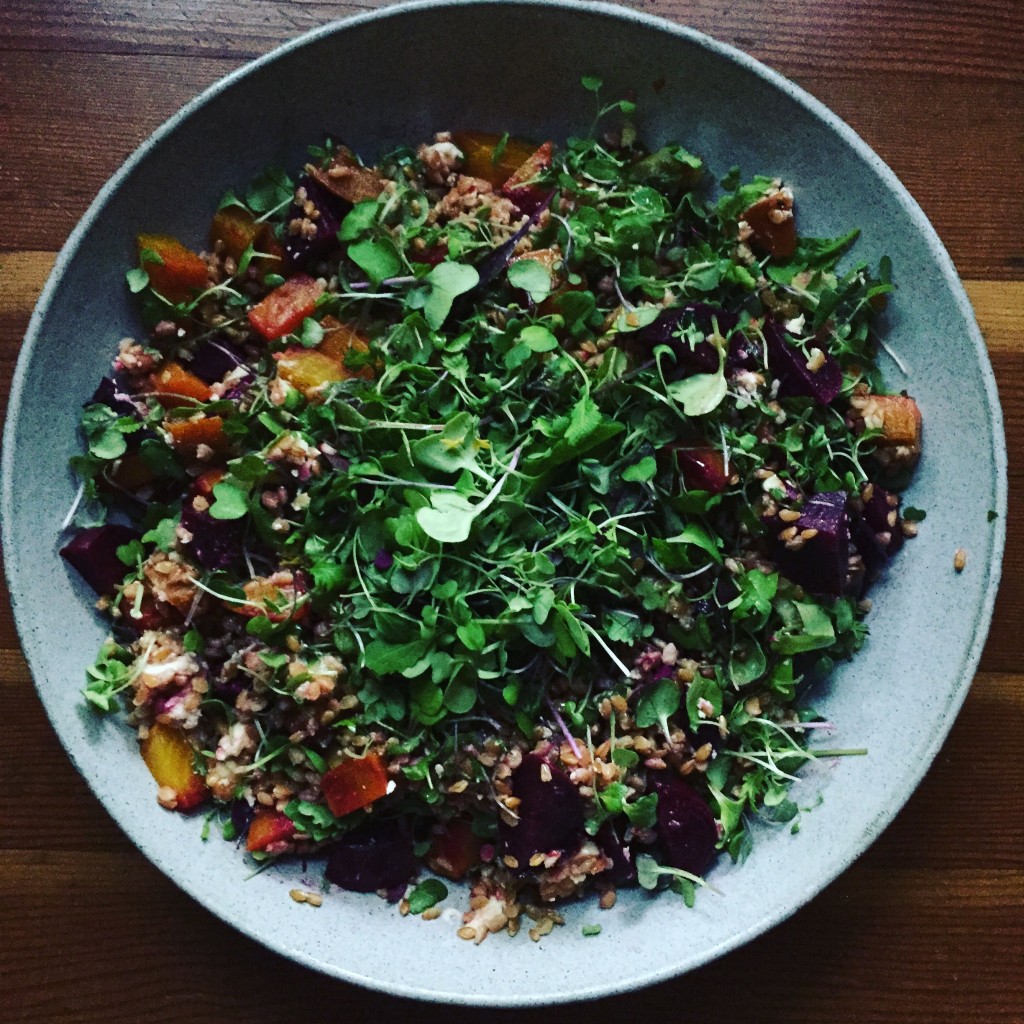 I finally made Heidi's Radicchio Salad as she wrote it. That's the one up at the top of this post, and it's very decadent. (I won't use that word for desserts because it drives me nuts, but it works for a salad, yes?) It has a ton of pecorino, and figs, and walnuts. It's gorgeous and sweet and a meal in itself. And if it's potluck season where you are too, it's a good one for that. I also made it again with that creme fraiche dressing from my first salad, and that was a great combination.
If you haven't seen Heidi's new book, definitely seek it out. It feels good to hold, it's a really nice read, and I've been feeling inspired by many of the recipes. Mostly it's just nice to inhabit Heidi's world, and she does a good job of inviting you in though this one. There's something so comforting about experiencing all of the different places in the book through Heidi's palate. And she certainly has a way with radicchio.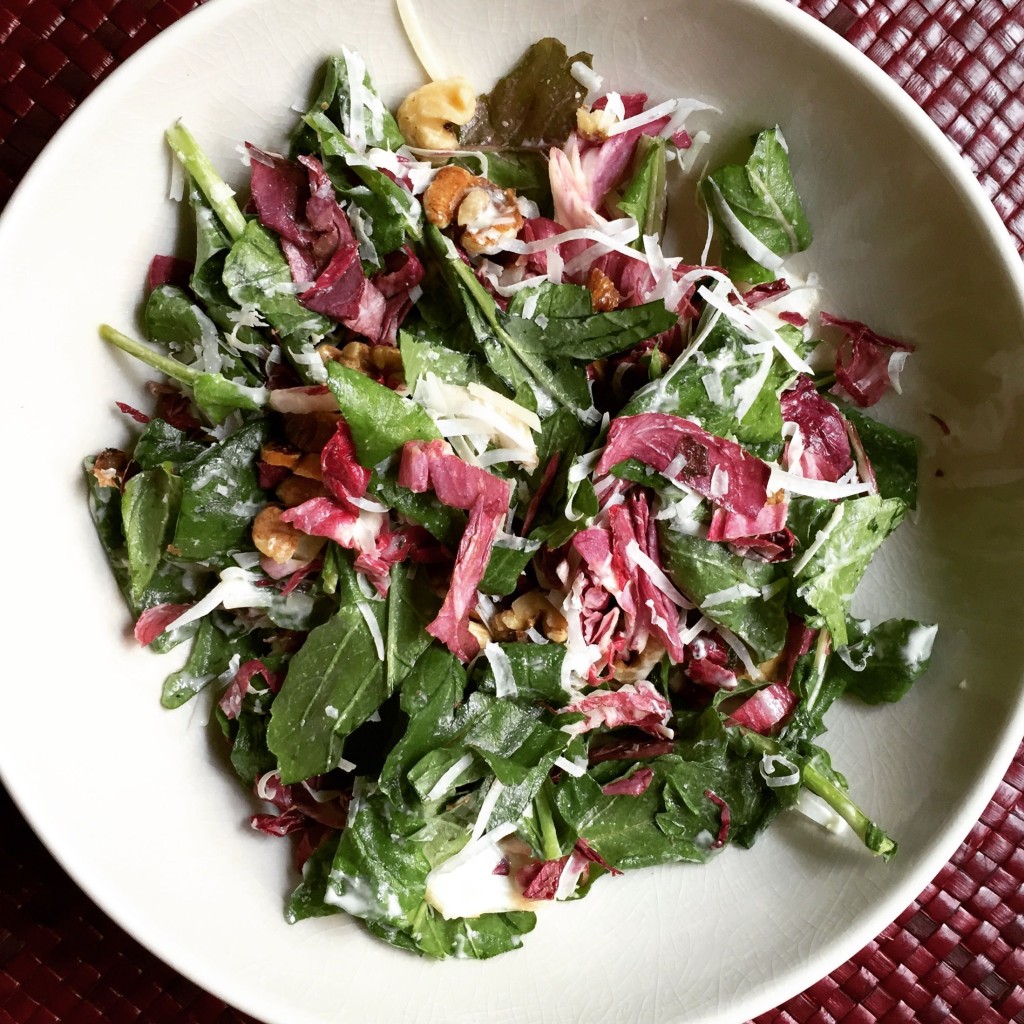 Radicchio Salad
from Heidi Swanson,
Near and Far
serves 4 to 6
Juice of 1 lemon
Fine-grain sea salt
1 teaspoon honey
1/2 teaspoon finely crushed whole coriander seed
1/3 cup extra virgin olive oil
1 teaspoon heavy cream (optional)
4.5 ounces arugula, shredded
1 medium head radicchio (about 10 ounces), cored and shredded into 1/4-inch ribbons
1 1/2 cups walnut halves, toasted and cooled
3 ounces pecorino cheese, grated
3.5 ounces dried figs (I used kalamata), stemmed and sliced
Combine the lemon juice, 1/4 teaspoon of salt, the honey, and coriander in a bowl or jar. Whisk in the olive oil, followed by the heavy cream. Taste, and adjust with with more of any of the elements if needed.
Combine the arugula, radicchio, and walnuts in a large bowl. Toss with two-thirds of the dressing until well coated. Add most of the pecorino and figs and more dressing if needed and toss again. Finish with the remaining pecorino and figs.