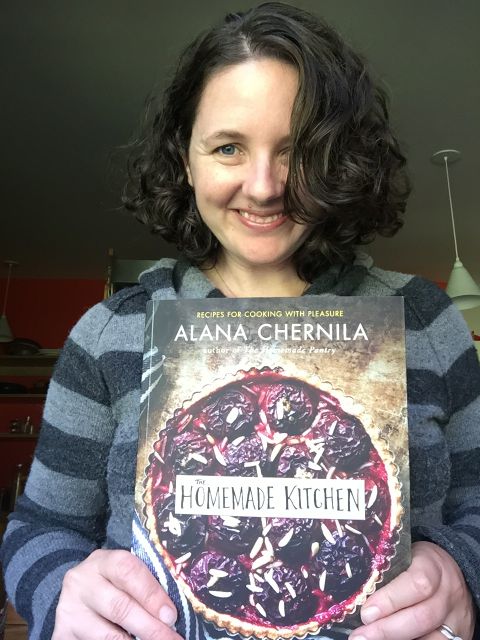 October 6, October 6, October 6. Here we are. Hello October 6!
I've been holding this day for so long, and now it's just a good average Tuesday. I'm home with a sick kid, and tonight Joey and I are going to see The Martian to celebrate. That's what I requested. Because really, it is a big day.
Today, The Homemade Kitchen hits shelves. Maybe it's showing up in your mailbox, or maybe it's appeared on the shelf at your library. However it makes it to you, I hope it finds a good comfortable place in your kitchen. Whatever kind of cook you are, I hope it meets you where you are and helps you get to where you want to be.
If you're cooking or reading or even just paging through the book and you want to share, I'd love to hear about it. Tag any images with #thehomemadekitchen and I'll see them right away, or feel free to get in touch through FB or my email.
And the events! They start this weekend, and I'll be updating the list regularly. There's a pretty complete list up there in the "classes and events" in the nav bar, but I wanted to post the first few here where they're really easy to find.
SARATOGA SPRINGS, NY, Friday, October 9, 7:00: Preserved Lemon Demonstration and Book Signing, Healthy Living Market, Free! But sign up here
STOCKBRIDGE, MA, Saturday, October 10, 3:00: Book Signing, Berkshire Botanical Gardens Harvest Festival.
TROY, NY, Sunday, October 11, 1:00: From Scratch Club, Food Writing Class, 1:00, sign up here, Food swap and book signing, 3:00 sign up here
NEW YORK, NY, Tuesday, October 13, 7:00: "What we talk about when we talk about food" panel with Katie Workman, Shauna Ahern, and Jenny Rosenstrach, 92nd St. Y, New York Tx are here
GREAT BARRINGTON, MA, October 17, 2:00: signing, Berkshire Fermentation Festival, Great Barrington Fair Grounds.
WEST STOCKBRIDGE, MA October 18, 3:30, Book Launch Party, Six Depot Cafe.
Thank you, friends. Whether you're just popping in here for the first time or you've been reading for years, I'm so happy you're here.