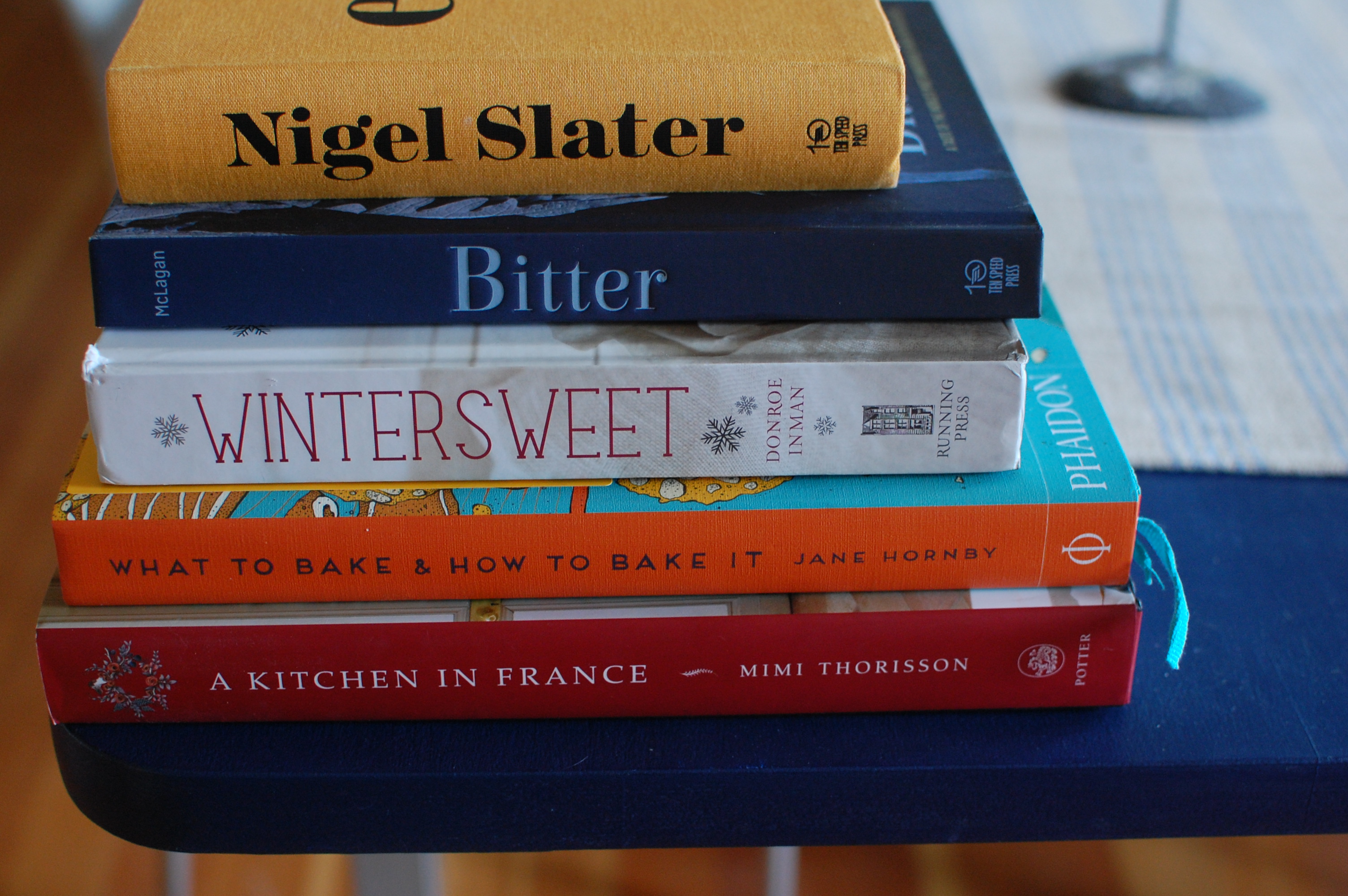 It's time for the annual-ish gifty book list!
For those who love to have books on the shelf, and (despite this screen through which we're communicating at present) I imagine most of us here fit in that category, there is usually a nice long holiday wish list of cookbooks that hit the stores like a title wave through the fall. I've seen so many good books this year, and I've cooked from a bunch of them, too. But I wanted to narrow it all down here for a tiny list, hand-tailored to those people in your life who might appreciate a good book. So here we have it: Six books for giving.
And on more thing– if you're looking for a book for someone in particular and none of these recommendations speak to you, leave a little description of them in the comments, and I (and/ or one of you who might be reading along) will think of something. There's a gifty book out there for everyone. I'm sure of it.
(In the interest of full disclosure, some of these books were sent to me by publishers and some I bought myself, but they're all great no matter where they came from. All these links go back to my local bookstore, but buy where you like! Prices will vary.)
1. For the winter lover who's house always smells like cinnamon, and not from a yankee candle:
Wintersweet: Seasonal Desserts to Warm the Home by Tammy Donroe Inman
This one actually came out last year, but I've only had it for a month or two myself. I love this book. It's big, gorgeous, distinctive, and it stays open on the counter. Tammy's blog Food on the Food was one of the first blogs I ever read, and she's both hilarious and a fantastic recipe developer. The entire book is comprised of winter dessert recipes, all fairly simple, non-fussy, and best of all–geared towards the season we all really want to bake. In the last month, I've made her Indian Pudding and Apple Cranberry Crisp, both with fabulous results. And although it's a big, substantial, hardcover book, the list price is is only 30 bucks.
2. For the person who likes to look at cookbooks on their coffee table but uses their oven for shoe storage:
A Kitchen in France: A Year of Cooking in My Farmhouse by Mimi Thorisson
Haven't we all found Mimi Thorisson's blog Manger at some point and been wound deeper and deeper into the her French country web? Mimi Thorisson cooks in perfect black dresses, in heels or barefoot, hair and breasts spilling over the counter in a way that (unlike certain other food celebrities) doesn't bother me one bit. She wanders through orchards in Hunter boots, and she fills the wide skirt of her dress with wild mushrooms on the side of the road. She cooks and cooks, topping her French table with custards and oysters and rillettes while her many many (6? 7?) children and cute dogs run around her feet and her gorgeous Icelandic husband photographs the whole affair, all in what looks like a French castle. She's for real, and somehow manages to stay endearing and inspiring as long as I don't try to compare myself to her. Have I cooked from the book? Nope. But still, I love it. It's huge, very gifty, and the list price is $40.

3. For the baker (young, old, or in between):
What to Bake and How to Bake it by Jane Hornby
This book has been, hands down, the most used and loved in my house this fall. From the moment it arrived, at most moments you'll find one of my kids sitting on the kitchen couch with this book open in her lap. It has a great cover, two ribbons for marking, and each recipe is intricately photographed in a way that just makes you want to bake. Although it's geared toward adults (and I do love it), I've been recommending it for younger bakers especially, just because it's so clear and inspiring. It even has a family baking chapter. The girls have made so many recipes from this book, and every one has been a success. Last night, Sadie made the Malted Chocolate Birthday Cake for me, and it was the first time in a while I didn't have to make my own birthday cake. Thank you, Jane Hornby! List price is $35.
4. For the one who likes to think about food as much as they like to eat it:
Bitter: A Taste of the Worlds Most Dangerous Flavor, With Recipes by Jennifer McLagan
This book came out earlier in the fall, and I've been talking about it ever since. The cover alone makes it gift worthy–the whole book is dark and moody and blue, and it's just one of those books you want to pick up and hold. For those of us who love endive and campari, this book not only supplies all sorts of wonderful-sounding recipes, it also tells the story of why we love what we love. I haven't cooked from this book yet, but I'm excited to as soon as I get some other bitter-lovers around my table. List price is $29.99.
5. For the reader, also for the one who keeps dropping hints about the restaurant they want to open:
Delancey: A Man, A Woman, A Restaurant, A Marriage by Molly Wizenberg
(Not pictured above because I like it so much I lent it out to a friend.)
Molly Wizenberg's second book came out last Spring, and I had the good fortune to read it just after I visited the restaurant for which it's named. I loved this book. It's honest and beautifully written, and I felt like Molly was so generous in the way she worked on it. She lets us in, allows her vulnerability to show, and, in the end, gives us a book that's as much about the writer's process as it is about pizza and marriage. With great recipes too. List price is $25
6. For the one who just wants to more dinner ideas, especially involving potatoes:
Eat: The Little Book of Fast Food by Nigel Slater
Okay, okay–so Nigel Slater can do no wrong as far as I'm concerned. But this little cloth-bound yellow book? Yes, yes, yes. It's full of tiny weeknight type meals, all with ingredients you probably have ready to go. It looks like no other book on your shelf. And Nigel, as always, charms the pants off you in the process. Spiced Eggs With Squash. Cauliflower Cheese Baked Potatoes. You get the idea. And the whole thing is garnished with little photos of simple plates, just like what you might have on your own table. List price is 27.99.
That's it! Like I said, if you don't see what you need here, let me know who you're buying for, and I'll customize.
Happy shopping, friends.