My friends, Jen and Pete, have a farm in Tyringham, Massachusetts called Woven Roots Farm. I've known them for over a decade and they've been farming even longer, but ever since I tasted the first salad they brought to a potluck when our babies were all really babies, it's been clear to me that their vegetables are… special.
I try to explain what this mysterious special quality is when Woven Roots comes up in conversation, but the best way I can do it is to talk about their butter lettuce, which Jen will often gift me if she knows I'm having a hard week. She knows I love it that much. She'll bring me a few ruffled, purple-tinged heads tucked into a bag, and instead of washing and dressing it as I do every other head of lettuce in my life, I eat it right then and there, leaf by leaf, tearing it off the heart and shoving the whole leaf in my mouth. Their spinach has higher sugar levels than candy, and there are countless picky kids in this county who won't touch a single vegetable except Jen and Pete's carrots (of which they'll consume pounds at a time).
And of course, when you grow carrots that special, you should probably make use of the greens. Yes, you can make pesto from carrot tops, and yes, it's really good. Jen sent me this recipe way back in August when they were drowning in carrot greens and she started experimenting. I've had to tweak it a bit, as her recipe made use of more carrot greens than I will ever see in my lifetime. But I've scaled it down with great success.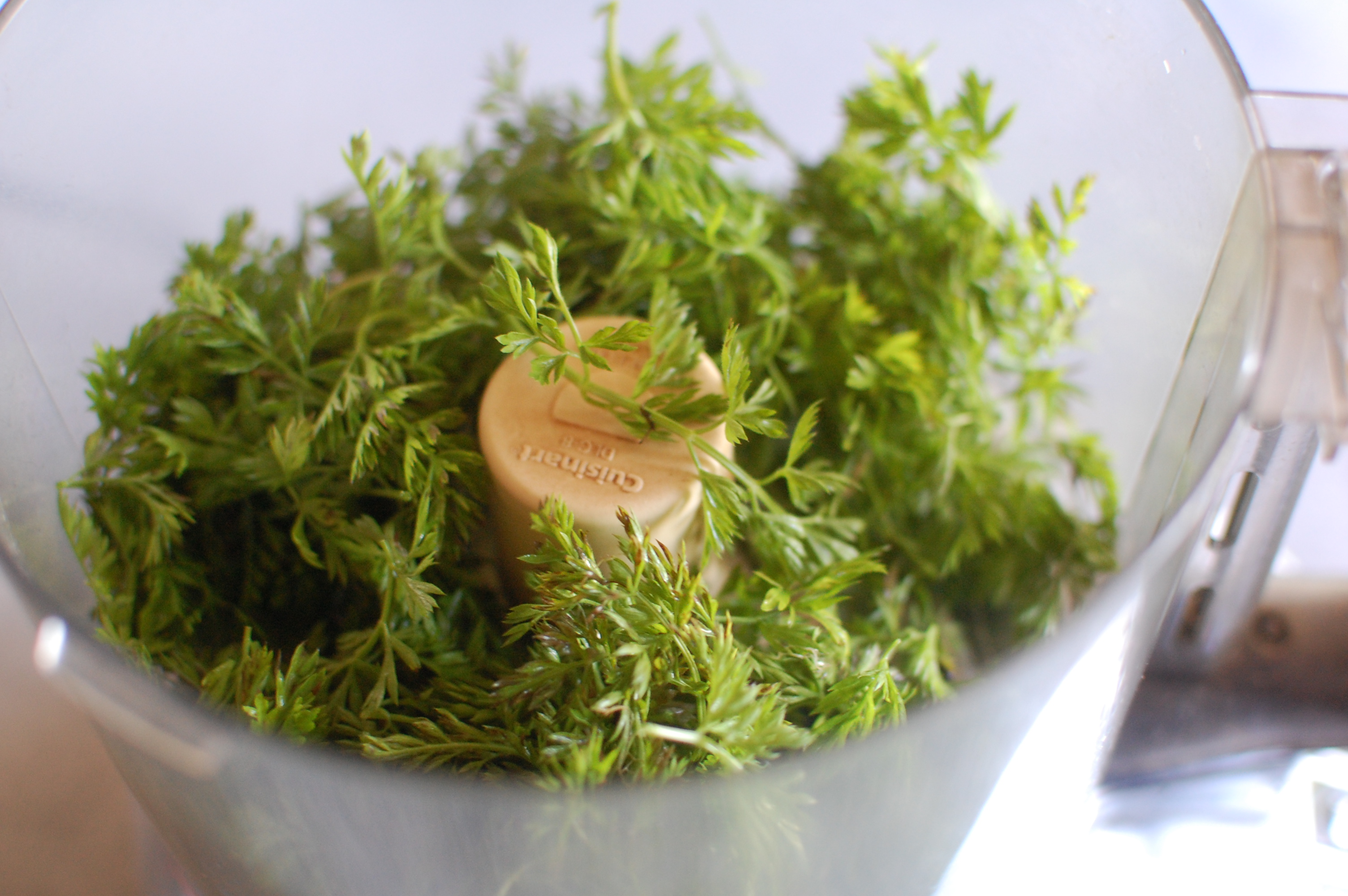 Carrot Top Pesto
(with big thanks to Jen Salinetti)
makes just under 1/2 cup
2 cups (lightly packed) cleaned, dried, and roughly chopped carrot greens (large stems removed beforehand)
1 large garlic clove, roughly chopped
1 tablespoon freshly squeezed lemon juice
1/4 cup extra-virgin olive oil
1/2 to 3/4 teaspoon salt
1. Combine the greens and garlic in the bowl of a food processor fit with the chopping blade. (The smaller the food processor the better here, as the greens might escape the blade in a large machine.) Pulse until the the greens are finely chopped.
2. Add the lemon juice, olive oil, and 1/2 teaspoon of salt. Process until you have a thick pesto, stopping to scrape down the sides of the bowl with a silicon spatula if you need to. Taste, and add more salt if needed.