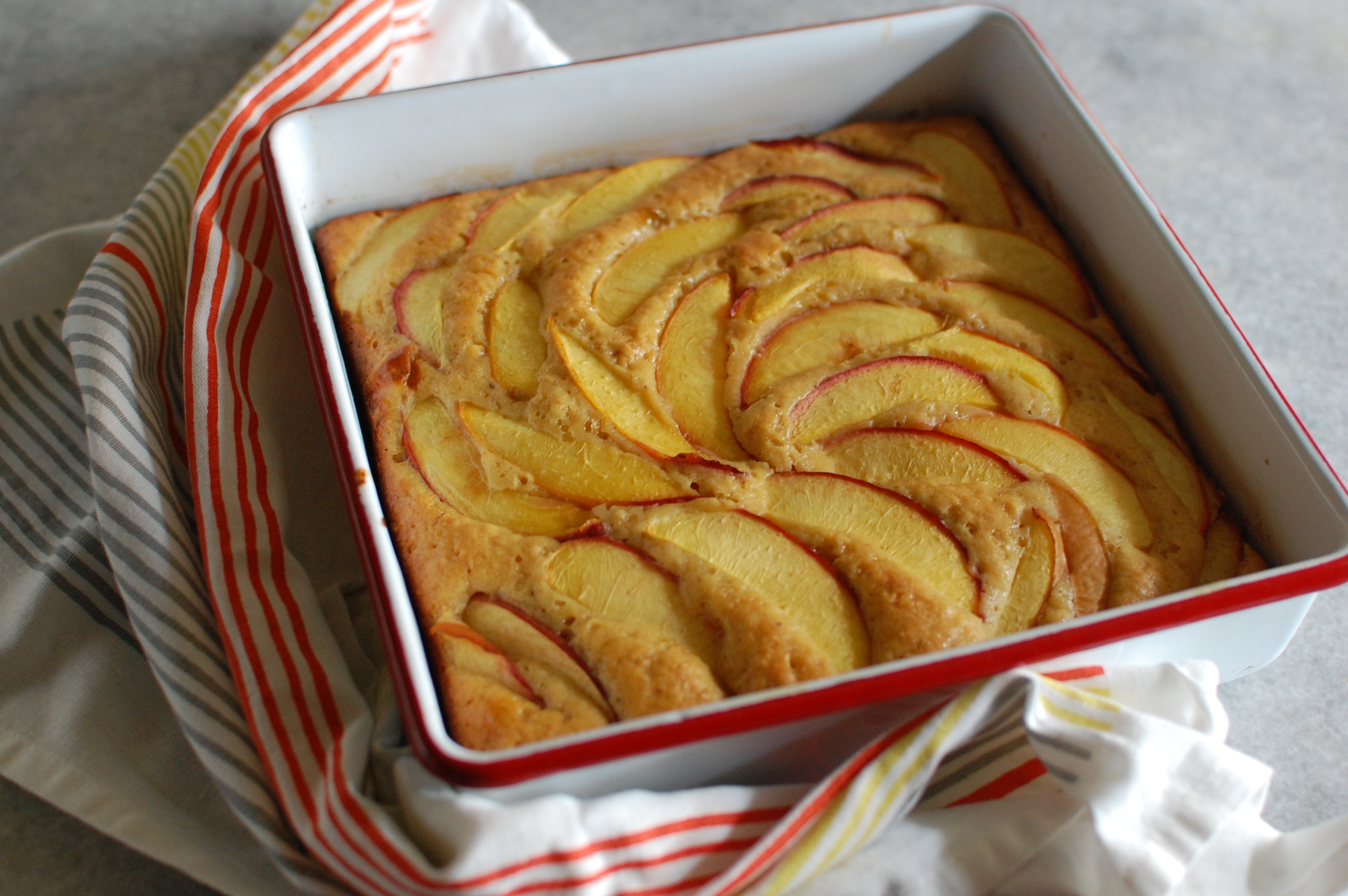 Someday I'm going to start a bakery where all I sell is everyday, unexceptional, nothing special, totally delicious cakes. They'll mostly be in square pans, and I'll fill a whole fridge in the kitchen with buttermilk. There will be tea, too, and I'll open from 2 to 5 so people can come and sit and have a little slab of everyday cake and recharge their batteries (metaphorically, not attached to their cellphones) and get ready for the rest of the day. (I'll add it to the list of business ideas.) This one would be on the menu.
Earlier this year, my friend Rachel started talking up einkorn flour. She's a really wonderful pastry chef, and she'd been finding that einkorn was not only creating delicious results, she was able to tolerate it even though she can't do regular wheat anymore. I couldn't find the flour, but I contacted Jovial foods to find out more about it, and they sent me a bag of flour to work with. My first experiments were with bread and crackers, and they didn't work at all. But when I started playing with it in cakes, quick breads, and muffins, it became my favorite flour for those types of recipes. It absorbs more liquid than all-purpose flour, so I have to adapt the recipes and use slightly more flour, but it's so forgiving that I can just use a heaping cup in place of a cup in most recipes. It has all sorts of health benefits over regular wheat, but I love it most for its flavor, especially in my beloved everyday cakes. It's a little bit nutty and sweet, and unlike regular all-purpose flour, it actually tastes like something. My local grocery store started carrying it, and I've been recommending it ever since. Einkorn is one of the oldest strains of wheat, and Jovial is helping to bring it back into use. (Read more about it here.)
Before we get into the recipe, a few housekeeping items…
Tomorrow (9/27), I'm going to be reading with my friend Courtney Maum at the Bookstore in Lenox, MA at 5:00. It's right after the Apple Squeeze festival in Lenox, so you can make a day of it. The theme of the night is marriage, and so of course there will be wine.
Also, (hooray!) I've got a few more workshops in the works with Margaret Roach. On November 15 and December 6, we'll be doing two full-day cheese workshops. We'll be making ricotta, mozzarella, feta, yogurt, creme fraiche, and cream cheese, all in Margaret's beautiful little teaching space in Copake Falls, NY. We're repeating the same program both days, as these cheese classes tend to fill quickly. It will all be pretty hands on, so you'll go home with all the skills you need to dive into full-on home cheese making. You can find more info and buy tickets here.
Happy Friday, friends. Hope it's a good weekend ahead out there.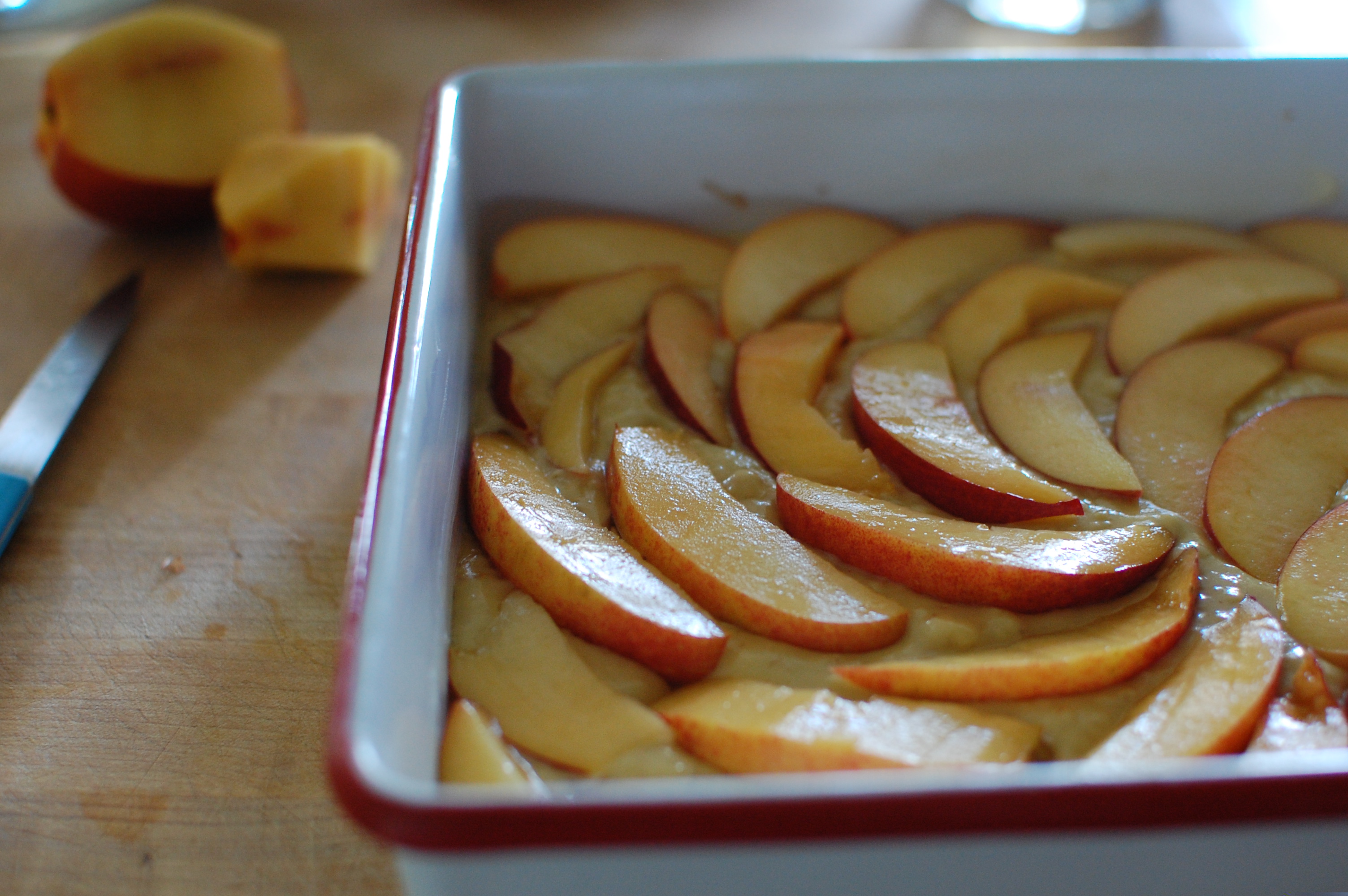 Einkorn Teacake with Nectarines and Honey
Makes one 9×9-inch cake
1/2 cup honey
1/2 cup unsalted butter
2 cups einkorn all-purpose flour
1 1/2 teaspoon baking powder
1/2 teaspoon salt
1/2 teaspoon nutmeg
1/2 cup buttermilk
2 teaspoons vanilla
2 eggs
2 nectarines, pitted and sliced
1 tablespoon coarse sugar
1. Preheat the oven to 350°F. Combine the honey and butter in a saucepan and melt together over medium heat. Remove from heat. Generously grease a 9×9-inch baking pan with butter.
2. Whisk together the flour, baking powder, salt, and nutmeg in a medium bowl. Add the melted butter mixture to the bowl, then the buttermilk and vanilla. Finally, break the eggs right into the bowl, and stir it all together just until your have a uniform batter. Scrape the batter to the prepared pan.
3. Arrange the nectarines in a pinwheel shape on batter and top with the coarse sugar. Bake until the cake pulls away from the edges of the pan and a toothpick comes out clean when inserted in the middle of the cake, about 40 minutes.