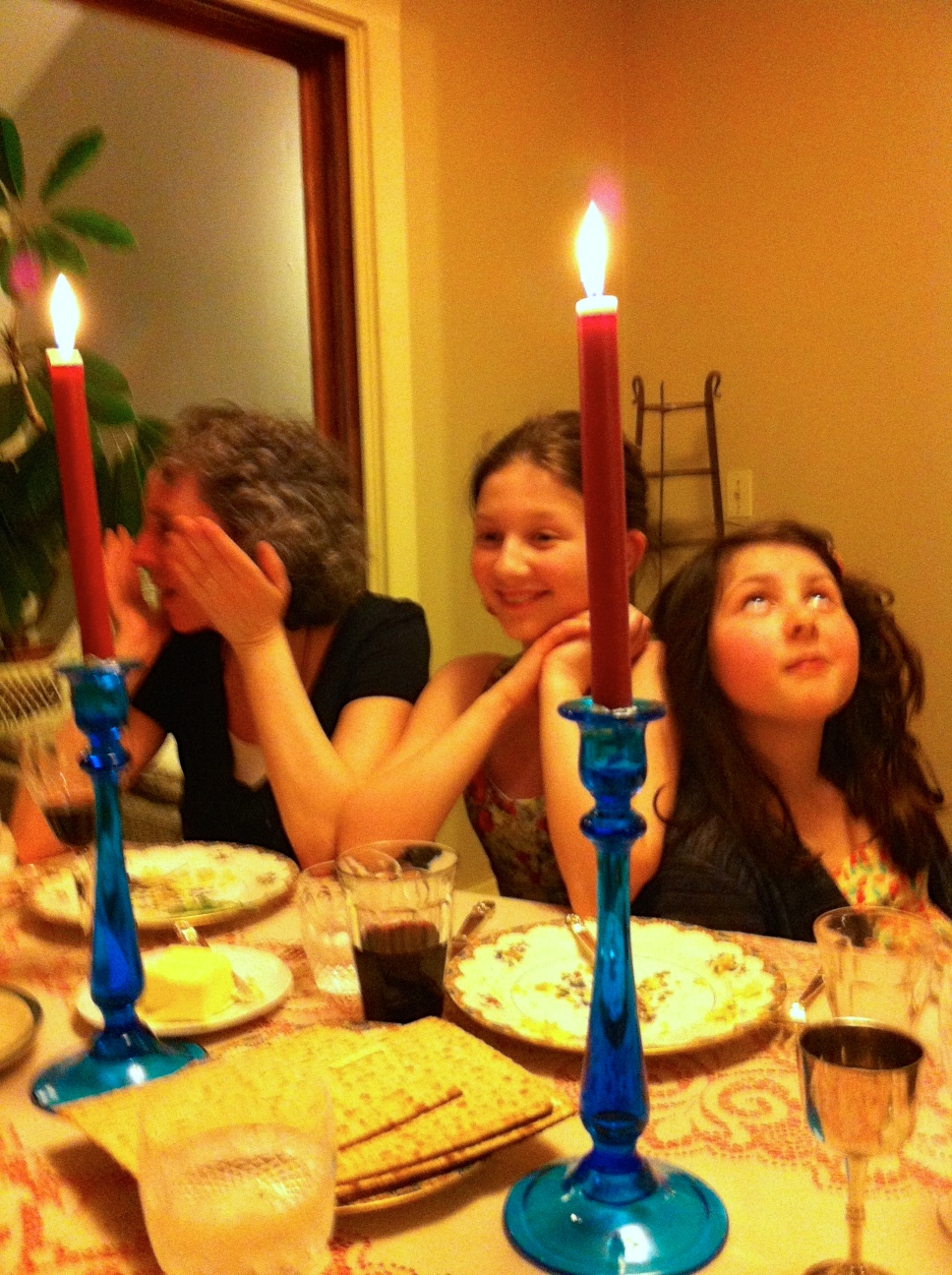 I have two neighbors who have been hosting a seder together for almost 30 years. For the last three years, they've invited us to join them, mostly, they joke, because their kids have all become adults and what's a seder without children? So we walk down the street, carrying charoset. We read from the haggadah, and we stay up so late that the girls, drunk on grape juice, get glassy and sparkly in the candlelight. And when they read about this holiday of collective Jewish memory, they find themselves in that story, too. 
I grew up in a family that focused on the similarities over the differences of religions, and I've carried that on in the best way I can. My grandmother called herself a Pagan, but she loved her Judaism, and respected the Christians and whoever else, as long as they used their religion to foster love and community. I remember seders being about the Jews and their exodus from Egypt, but they were also about all people who are bound by hatred and suffering. There was some goddess talk too–rebirth and release from the bondage of the long, hard winter into the new green of Spring. It was always made clear that it was no coincidence that Easter, Passover, and the first day of Spring all line up together.
I thought that it was my grandparents' own wacky take on it, but I've since sat at so many seders where others have had their own wacky take on it, too. And it's written into the very fiber of the holiday that we find our own relevance and connection to the story of Passover. I've been to seders with a focus on LGBT rights, and seders with more Martin Luther King Jr. quotes than Hebrew prayers. I think Passover is something we all can relate to, no matter what religious background we come from.
Who hasn't been in bondage, whether inflicted by ourselves or others, and gone in search of a safe, true home? And on a larger scale, I find myself thinking about how much history insists on repeating itself, even right now, today, in every place where refugees are running from their own countries in search of a safe home. It's easy to talk about the story and forget that people are living it right now. I think when we refer to collective memory, there's an implication of collective responsibility, too.
Stephen Gottlieb, a commentator on my local radio station, spoke to this point in his editorial this week.
Not for ourselves alone do we pray, but for all our children. We all have a stake in each other's freedom…The slavery of some makes the rest of us less secure.
Every year, I think about having my own seder here, and then I get nervous about it. It's not the food–Passover food is so good that I practice it all year round–but when I imagine stumbling through the Hebrew and trying to remember the tune to the songs, I just feel like I'm not Jewish enough to pull it off. I feel like I need my grandmother, or really any grandmother who knows how these things are supposed to go. I wrote about this once years ago, and about my love for Passover, and someone commented on that post, saying I should be ashamed of myself for thinking I had a right to love the holiday and share it with my children. I'm not sure how they said it, but essentially they said I really wasn't Jewish enough.
But I knew then as much as I know now that how Jewish I am isn't the point. What I love about Passover is that I've felt a part of every seder I've ever been to. I felt it when I was a kid, and I feel it now. We each are able to take the meaning of the story and make it our own, and this makes the holiday entirely inclusive, even of those who aren't Jewish at all.
Of course, the food is what I love most. I'd eat matzoh balls every day if I could (this recipe has been a serious game changer), and I love every bite down to the parsley dipped in salt water. I've always been a little envious of those who take communion, because it seemed so wonderful to have a real bite of food in your mouth be so charged with meaning. I never thought about it until this year, but the seder is an opportunity to have that kind of experience. The food itself tells the story and each taste is charged with experiences of our ancestors.
Maybe next year, I'll do it. I was talking to a friend the other day about her memories of Passover, and her similar desire to do it now and make it her own. She perked up when I said I might make it happen next year. I'd imagine there are enough us to fill a table, and we can all try to stumble the Hebrew together. But the tunes of the songs? I think the girls have that part down.