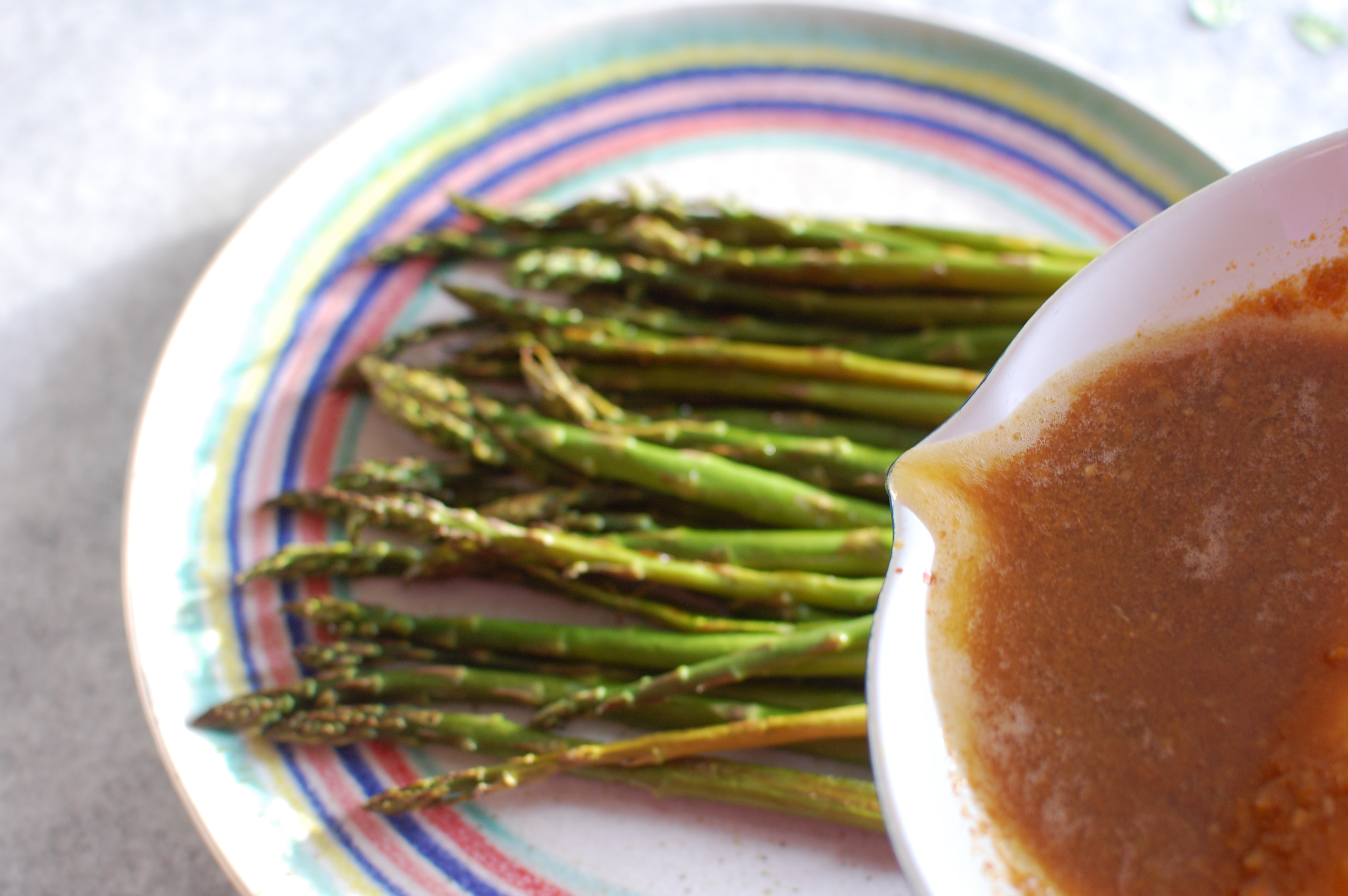 Last week, our big bookshelf in the den spit a book out at me. It's more of a pamphlet than a book really, from that time when self-publishing meant typing up a book and taking it to a printer for stapling. I'm not sure if I'd ever seen it before, although someone must have shoved it in there. But right then, I sat down on the floor and read the entire thing from yellow cover to cover.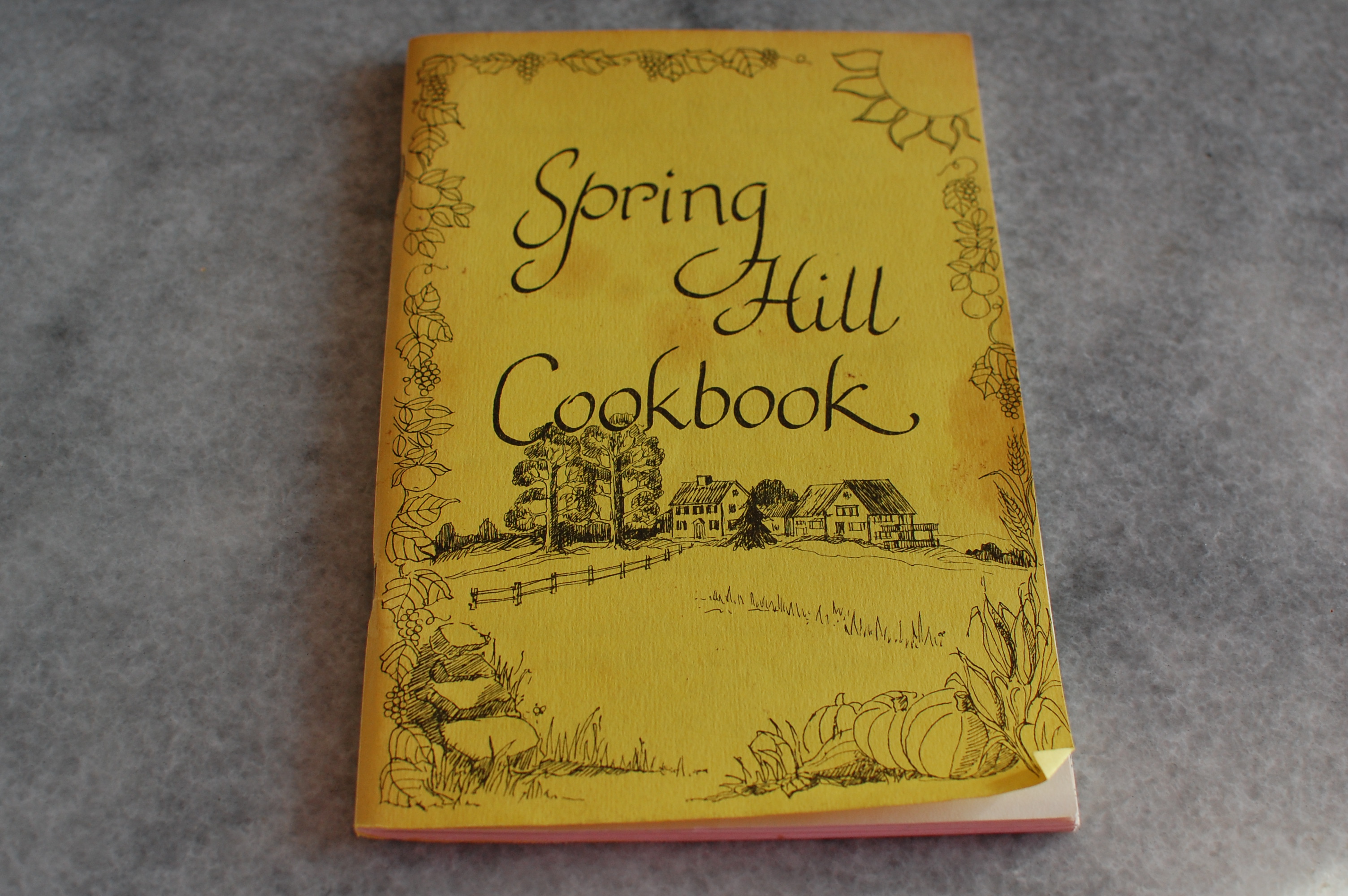 When I was two, my mother and my father split up. My father took off (never to be heard of much again) and my mother and I went to join a New Age spiritual choral group called On Wings of Song. She was 25. (I know I've told this story in bits and pieces, and this will just be another bit.) On Wings of Song existed alongside a conference center, Spring Hill, that served as home and work and base camp for the principles of the group, which were, in my toddler memory, to "keep the heart open", wear lots of purple flowy clothes, and have a guitar ready at all times. My mother worked in the kitchen of the conference center, and she and the women in the kitchen churned out vegetarian meals for the conference goers. They made this cookbook available to people who asked for it, people who, I imagine, had their mind blown by tofu balls and baba ganoush and wanted to bring the culinary wisdom home with them. Krishnabai, another member of the group who I half-thought was Crystal Gale because she had red hair down past her butt, brought the recipes together and wrote the introduction.
Spring Hill cooking is an allegory for all the work we do at Spring Hill. We take known techniques, common ingredients, and create MAGIC! And we all love magic.

…We offer this little book to these of you who have asked so often for it. WE hope this contributes to the nourishment and abundant love which is the birthright of us all.
I've been trying to find the words to explain the hunger with which I have devoured this book this week. There are 51 recipes collected from the small group of cooks. The majority of the recipes feature tofu as the main ingredient. There are family recipes, results of happy tofu accidents in the kitchen, and a whole lot of what I'm fairly sure are lifts from the Moosewood Cookbook. Amidst the typed recipes are hand-drawn illustrations of flowers, bursting suns, and little vines in my mother's recognizable style. Some of the recipes do indeed come from my mother, and she introduces them with a voice inspired by and devoted to Mollie Katzen. Take, for example, my mother's recipe for "Open Faced Apple-Cheese Sandwiches," which begins like this: Here is an idea for an unexpected and delicious sandwich. There is also a recipe for her famous marinated baked tofu, in which she gives a list of ingredients and instructs us to "experiment with amounts and come up with a combination that tastes good". And then there's a recipe for "Zucchini fruitcake," which, my mother says, "is passed on from my mother and is a favorite at Spring Hill breakfasts".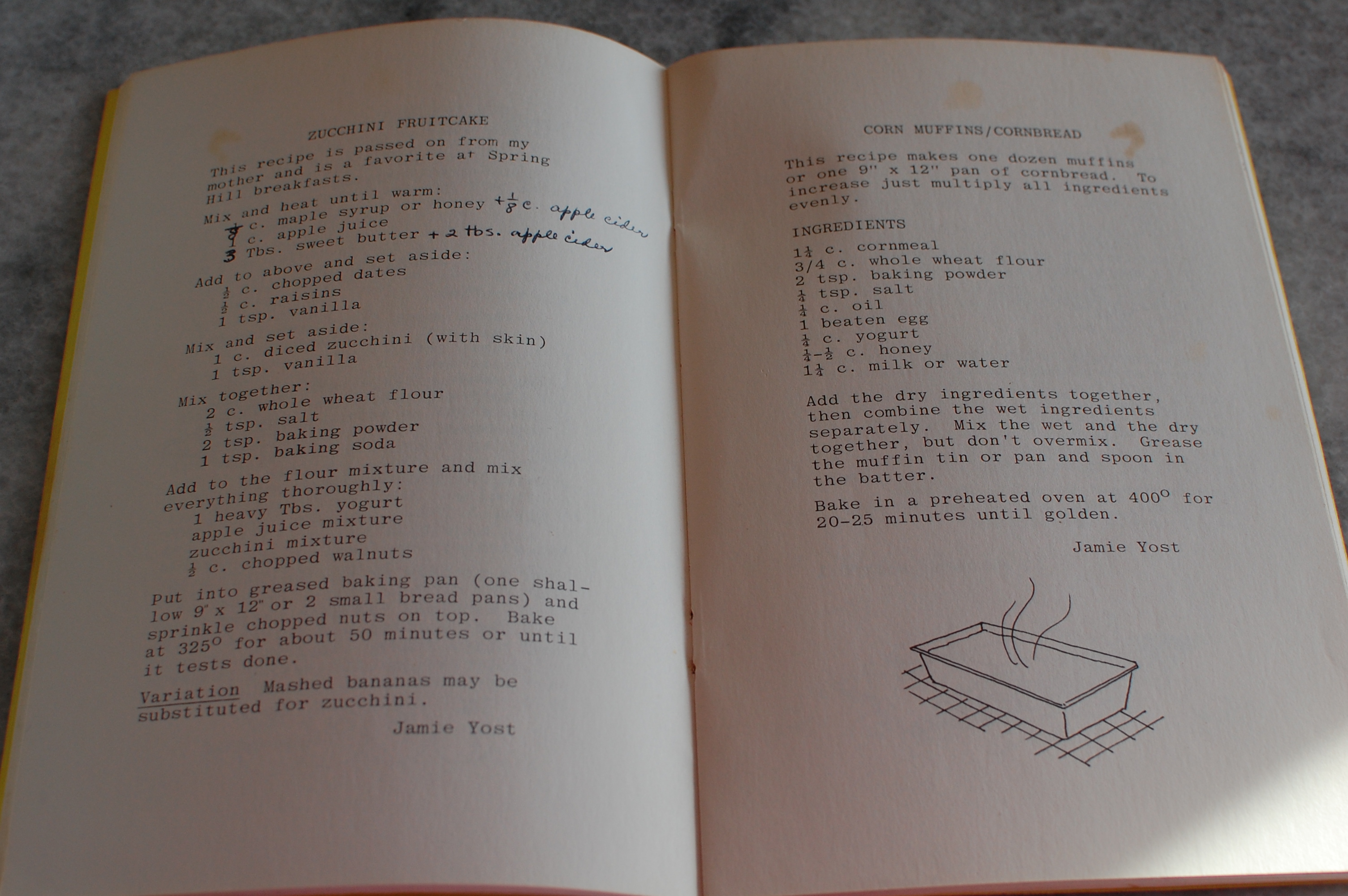 Of all the recipes in the book, this is the only one that has been written on. And the handwriting? It's my grandmother's. It was only when I came to this recipe that I realized that this book came not from my mother, but from my grandmother, who must have picked up a copy on a visit to Spring Hill. My mother had no memory of the book when I showed it to her. It was all blended into the past, just one more piece of history.
There is something specific about a written recipe that's been tinkered with and scribbled on that flirts with the telling of a story, even the solving of a mystery. I asked my mother about this too– why? why would my grandmother take the little book and change her own recipe? How did she feel about having her recipe in the book? Was she proud of where her daughter had ended up? Was this the book that she pulled out every time she made her zucchini cake?
As to why she had written on the page, my mother had a practical answer. "I guess she just played around with the sugars over the years and reduced them."
But I want more! I've convinced myself that there's something in that story, and that I have something to learn from it. I am somewhere in these tofu recipes, and, without my grandmother to add her take on it,  I have been struggling to construct my own version. It starts like this:
My mother, looking for community and freedom and a new spirituality, goes off in search of it, finds my strange and charismatic father. My grandparents don't approve, and- I've only found later from my grandfather, his parents don't so much either. They search for health and spirituality together for a while. They have a baby. The marriage ends, she finds her tribe, learns how to make perfect baked tofu.
At the same time, my grandparents also become vegetarians. They leave suburban New Jersey in search of something else. They refurbish a haunted house, they make zucchini fruitcake, they start a vegetarian bed and breakfast.
I imagine my mother was probably rebelling, but in so many ways, she and her parents were moving and changing in similar directions. Both generations had decided to use food as a tool to navigate through the world, both politically and environmentally. In a parallel way, both my mother and her parents each made a stand. Separately, they stopped eating meat, they discovered food coops and nutritional yeast, and they created communities around that decision. Separately, they made tofu lasagnas and whole-wheat muffins. Separately, they decided to be different than their own parents.
But really, this is all the story I create from here on the floor in den, stained yellow book in my hands.
I heard Mollie Katzen give a talk on the radio show, The Commonwealth Club, last fall. The whole thing is wonderful- she's a great speaker. But she talks a little bit about her experiences in the earlier years of the natural foods movement, when there just weren't too many ingredients to work with if you were creating vegetarian food. Scarcity often leads to resourcefulness and creativity, and that's what created the food in the best natural food kitchens. There's a sense of freedom and rebellion and wildness in the history of these natural foods restaurants and conference center kitchens, like they were really pioneering a new movement that would change the world. There was nothing so triumphant as sticking it to the man with a brilliant tofu whipped cream.
And where am I in all this? I'm still looking, and I definitely haven't finished writing this story yet. But I think I keep going back to this period of time because it helps me understand why I feel so deeply that it's important to make a conscious decision about the food in my life. It helps me see that for me, food has been entwined with politics and religion and forging a path in the world. My way might not involve as much tofu, but, like Krishnabai, I want to "contribute to the nourishment and abundant love with is the birthright of us all".  I agree. It is.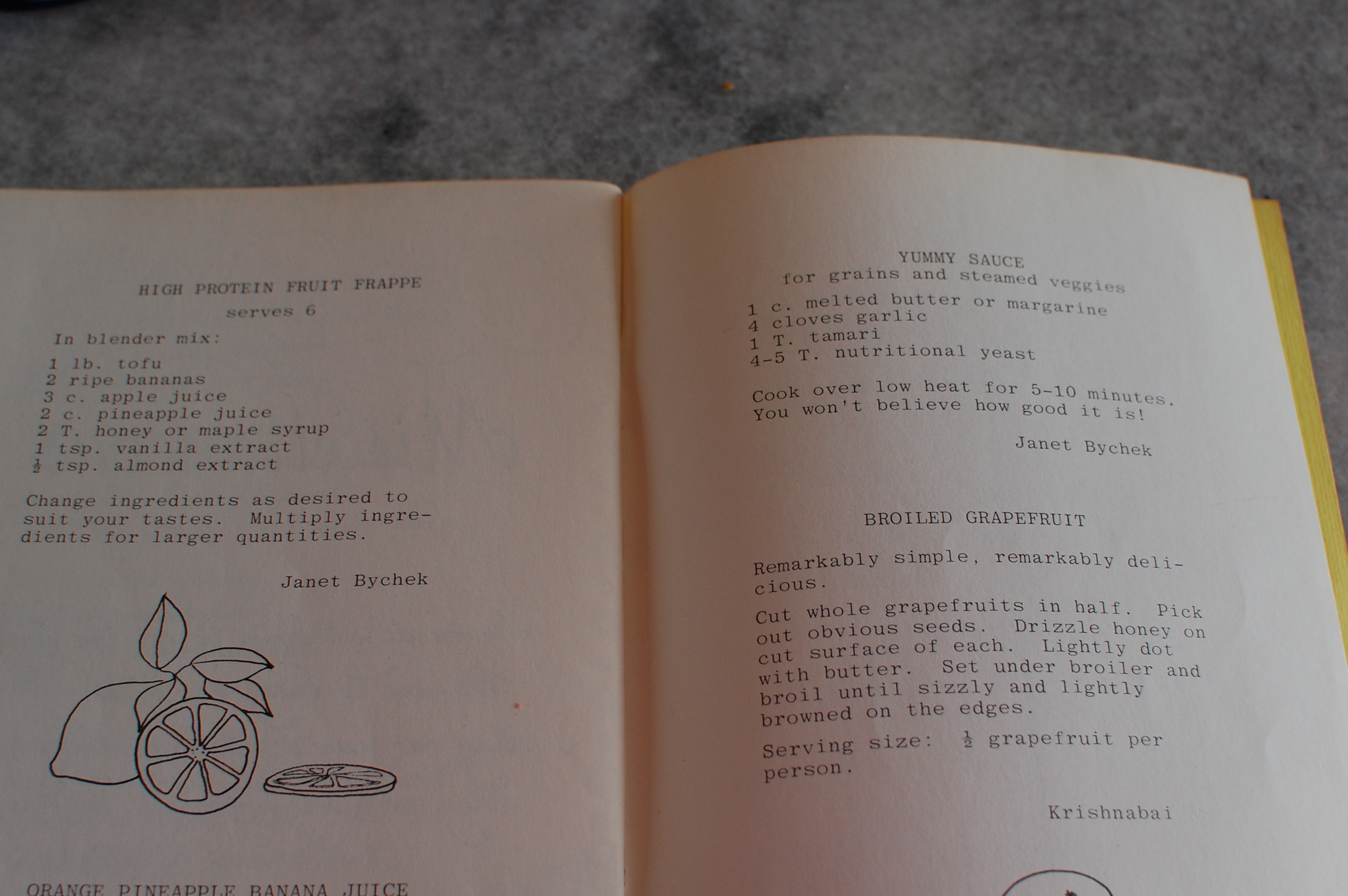 There is a recipe towards the end of the book for "yummy sauce." It combines those few ingredients that were so powerful and revolutionary–nutritional yeast and tamari–with garlic and butter. That's it. I've made it twice in the last week, and it tastes like my childhood, which was many things, but yummy was definitely one of them. It's especially good on salmon, grains, or steamed or roasted vegetables.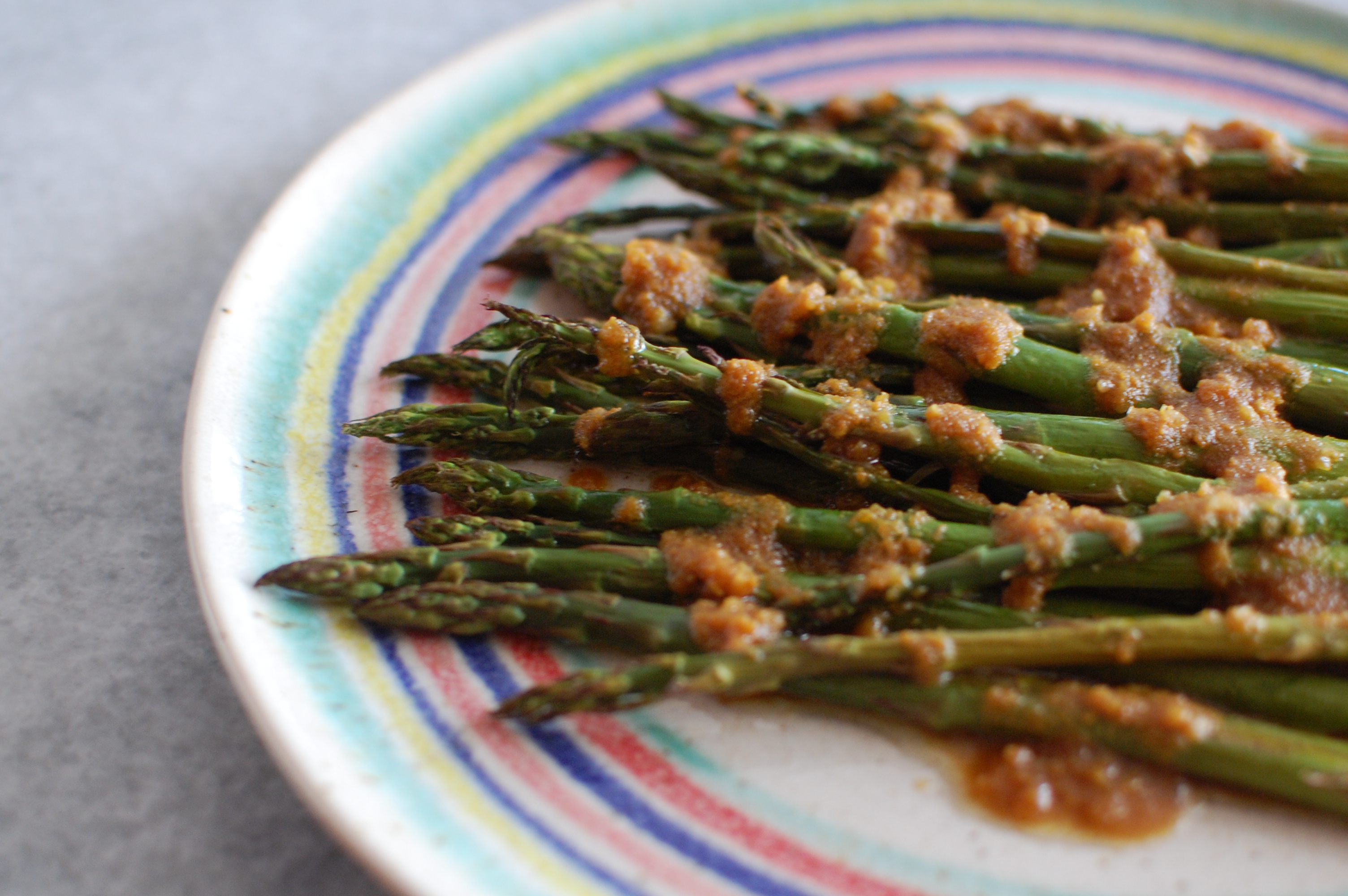 Yummy Sauce
adapted from the Spring Hill Cookbook
4 tablespoons (1/2 stick) butter
2 cloves garlic, finely minced
2 tablespoons nutritional yeast (not baker's yeast!)
1 tablespoon tamari or soy sauce
Melt the butter over low heat. Add the garlic, yeast, and tamari. Cook, stirring occasionally, until it all comes together and thickens, about 7 minutes.