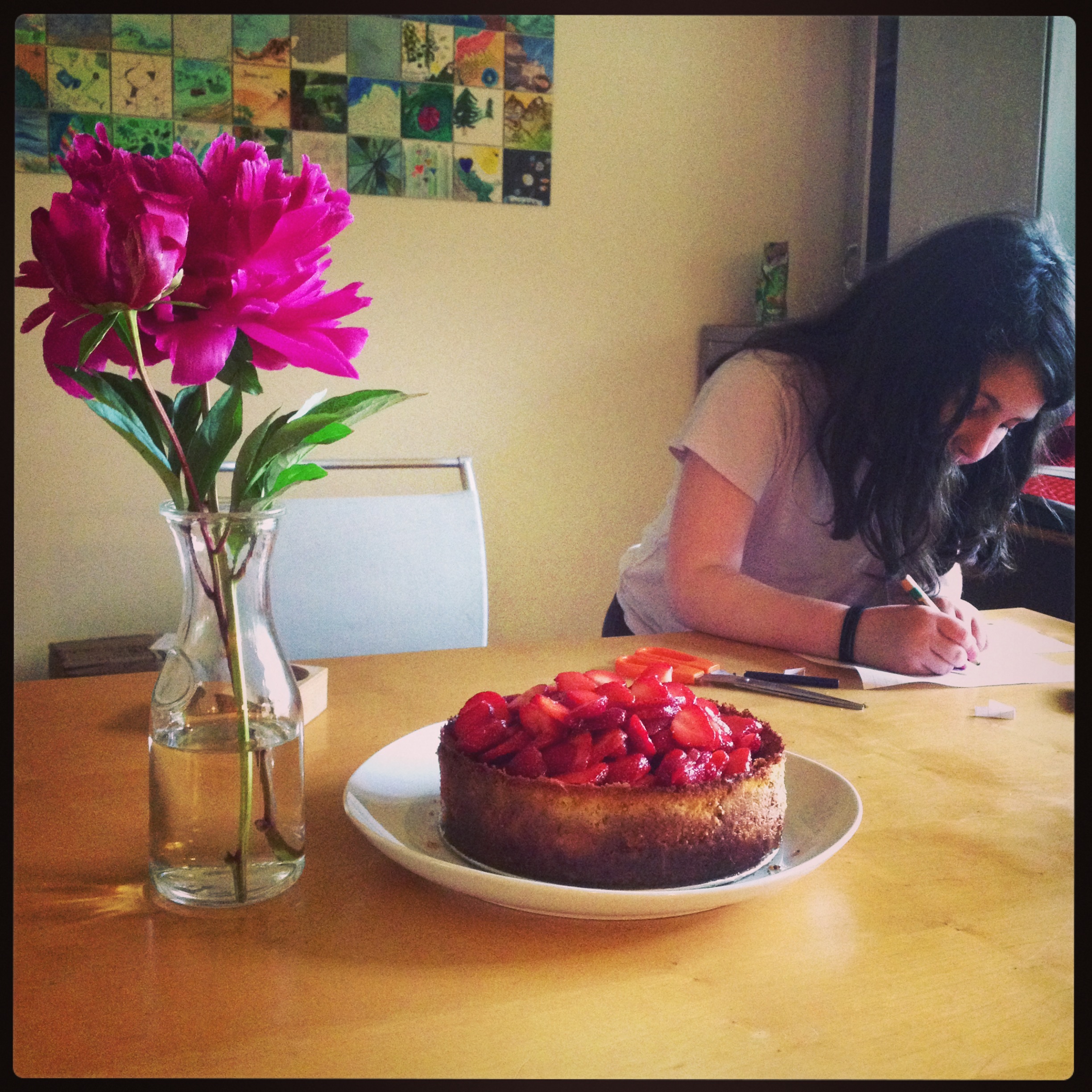 This past week, Michelle Obama made an announcement about a proposed change in nutrition labels on packaged food. If this change survives the might of food industry lobbyists, it would be the first time the labels have shifted in 20 years. New labels would reflect more realistic serving sizes (who, really has ever gotten 4 servings out of a pint of ice cream?) as well as put the calorie count up front and center and clarify the source of various sugars.
I heard this news as I cleaned up the breakfast dishes after shooing the kids out to school. NPR hummed along, and I turned it up when the topic turned to food labeling. Michelle Obama started making jokes about tiny and confusing nutrition labels, how they just give you all sorts of confusing information, "when all you really wanted to know was should I be eating this or not".
I'm right there with her. I'm all for accurate labeling, and I think that people knowing what's in their food is always a good thing. (Personally, I tend to read the ingredients section of the label, and I ignore the nutritional information. But a label is a label.) But then Allison Aubrey, the reporter, started to get into the ways the proposed labels would shift.
 The goal has been to simplify and draw attention to the information that's most important. Take for instance, calories, a mockup of the new label shows calorie counts will be printed in big, bold lettering right at the top. Your eye jumps straight to it. And why so much emphasis on calories? Well, the FDA says at a time when so Americans need to slim down, counting calories is one of the most effective strategies.
Marion Nestle came in to agree.
 The reason why calories are important is it's a quick shorthand on whether you want to eat the product or not. Body weight is about calories in and calories out, mostly. And if you know that a product that you're eating has a lot of calories in it, you might want to think twice.
Okay, let's talk about this.
I tend to agree with both Michelle Obama and Marion Nestle on most things, and like I said, I think that clear labeling is a good thing. But there's something in this whole discussion that feels misdirected. It feels like a distraction to me. I'm not a nutritionist, but my informal, hippy dippy, intuitive eating experience of working around people and food leads me to sit inside that sentence of Marion Nestle's: "Body weight is about calories in and calories out, mostly."
Mostly. How big is that mostly? How much space is left for the other things besides calories that contribute to body weight? And what do we gain by putting so much stress on the calorie?
I've never been overweight. In various times of my life, I've gotten close. I am in no way comparing my experience to others who have gained or lost weight- this is just me and my body. I know that obesity is a health issue, and I'm not negating that in any way. But I'd  like to talk about one experience that throws some of this logic into question for me.
When I was 19, I spent a year living in my home town (where I also live now.) I had dropped out of NYU, moved to California, traveled by myself in Europe, and come home, uninspired, pretty defeated, and totally unsure of my next step. I rented a beautiful high- ceilinged studio apartment on the third floor of a building on Main Street. It felt like the city, and everything in the space was mine and perfectly contained. I worked two jobs (baking and making lattes in the morning, serving sushi at night), and my life was pretty simple. I had a few pretty bad relationships (par for the course when you're 19 and living in a small town), I read a lot of books, and I learned how to make excellent banana bread. It was a right of passage sort of year.
I was also miserable. I felt undirected, and I didn't know who I wanted to be. And every month, I got bigger. My pants got tighter, and my skin got red and bumpy. It's the only time in my life I counted calories. I ate very little. I went to the gym every day. I worked with a personal trainer. I tried desperately to lose the 25 pounds I had gathered around myself in the past year. But the less I ate, the more I exercised, the more weight I gained. At the end of the year, I bought a car and drove across the country to New Mexico. I started at a new school. I fell in love with the desert and started eating cheese again. And the weight went away. My skin cleared up. And although I've certainly had struggles with my body since then, it was pretty much the last time I counted calories or looked at a scale.
There are all sorts of explanations as to why I would have gained weight that year. But my only conclusion is that the whole thing is a lot less scientific that calories in, calories out. That was just what my body did that year. Maybe I needed some armor. Maybe I just felt heavy, and my body followed suit. For me, the more I counted and thought and focused on calories, the less I enjoyed my body and my life. And the less I enjoyed my life, the more weight I gained. But since then, I think, more and more, that our bodies often find the shape they need to be at a certain time. For the vast majority of us who might not be exactly the ideal shape we've been told we should be, I think the best thing we can do is eat the food that makes us feel good, and keep moving our bodies in ways that enrich our lives.  And although new labels might change how the information is organized, they don't touch what's actually in the product. All that unpronounceable crap is still in there, and junk food is still the food that most busy  families can afford. That's the problem, and that's where we need to put our energy.
I know that joy and happiness and eating intuitively can't be the basis for government programs. I know that obesity is a health issue we need to tackle now. I also know that we all seek answers and clear direction as to how we can be fit and fabulous and superhuman–just take a look at the Amazon top 100 cookbooks at any given moment. So if it's not a focus on calories, what would really make a difference?
I think about this question every day, and all I have is this:
I have yet to see anything more powerful than a kid in the kitchen, and although programs are popping up all over the country to get then there, there is still no clear mechanism for bringing real food into public schools. A huge number of kids are coming home from school to homes filled with junk food- not because that's a choice their parents make, but because those processed foods cost far less than the ingredients to make them. I think we need to find ways to help people find access to and inspiration about good food.
Optimistic, I know, but this is what I do for a living. I have to think it helps, even a little.
It's going to be a big fight over the new labels. It's going to cost money and time, and the FDA is already getting ready for pushback from the food industry. Like I said, I'm all for accurate labeling. But is this the fight we need to have right now? When it comes to our health and the health of our children, do we need to fight harder to get calories more into the spotlight?
So yes, I'm in a bit of a fight with myself over this one. Even my very limited experience in politics taught me the importance of baby steps, and of not getting overwhelmed by the larger issues. But for this first of the month, I'd love to hear from you on this if you have ideas. How important are nutritional labels to you? What role do calories play in your own relationship to food? And (if you want to tackle this one), what do you think about the state of food and nutritional policy in the country right now?