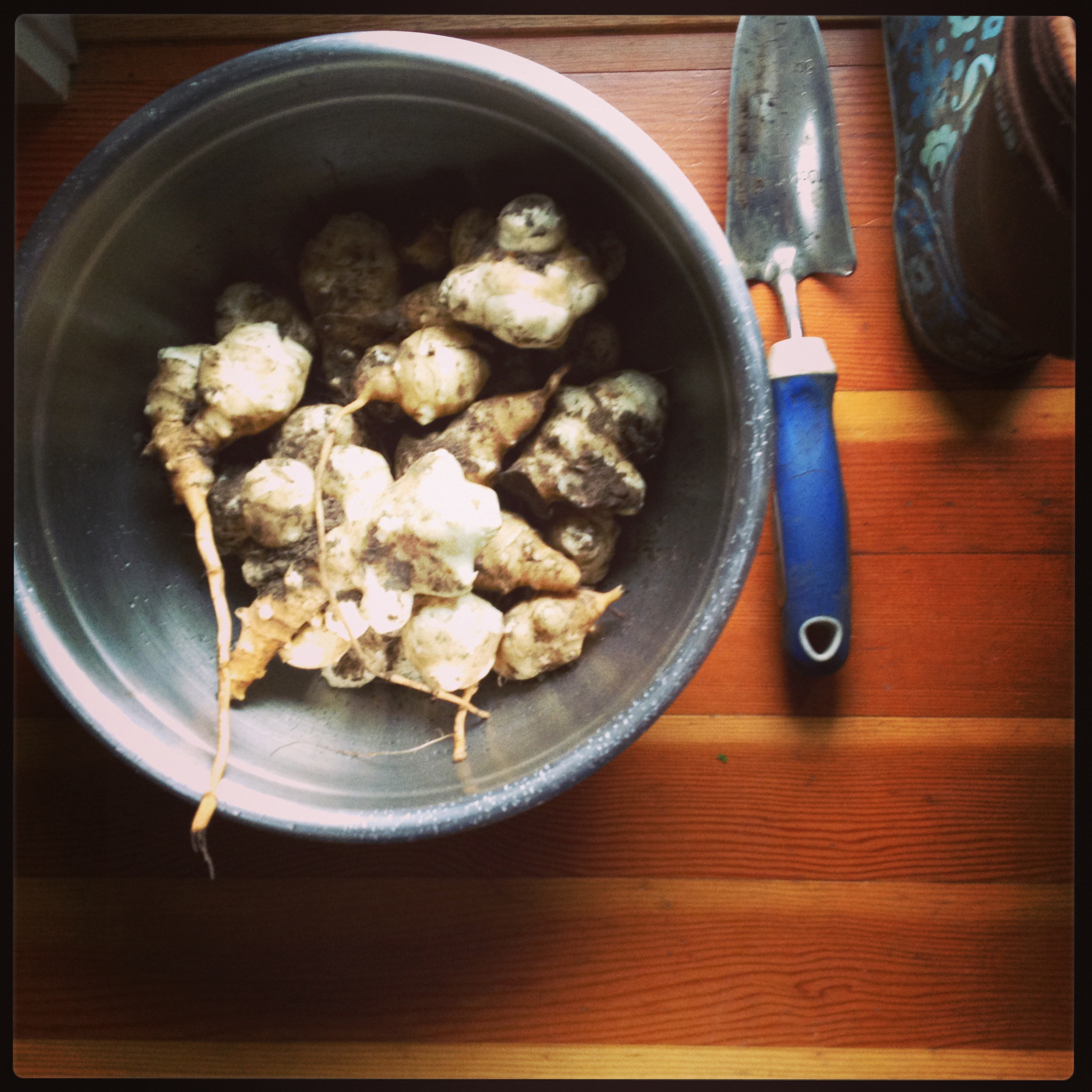 This weekend, I'll plant the garlic, and then I'm done.
The garden and I are no good for each other. We come together with the best of intentions, the garden and I, always thinking it will be different, thinking we have finally changed each other. I hum to myself as I kneel in the straw. I am wide-eyed and optimistic, and I know that if only I work harder I'll make it what I know it can be. The un-edged rows, weedy beds, and poorly scheduled plantings will someday transform into this, this, and especially this! If only I were better, purer, more patient, more committed!
In the end, Joey comes out after dark to drag me back inside. He finds me crouched in the sowthistle, scraped, dirty, simultaneously cursing and enchanted, having done nothing I set out to do, but only other things I didn't even plan for. Even those tasks are half-completed, but it's dark and cold, and the garden has spit me out again. Till next time, my love. You know I'll be back.
And what do I have to show for it? Some bolted broccoli raab and four million Jerusalem artichokes.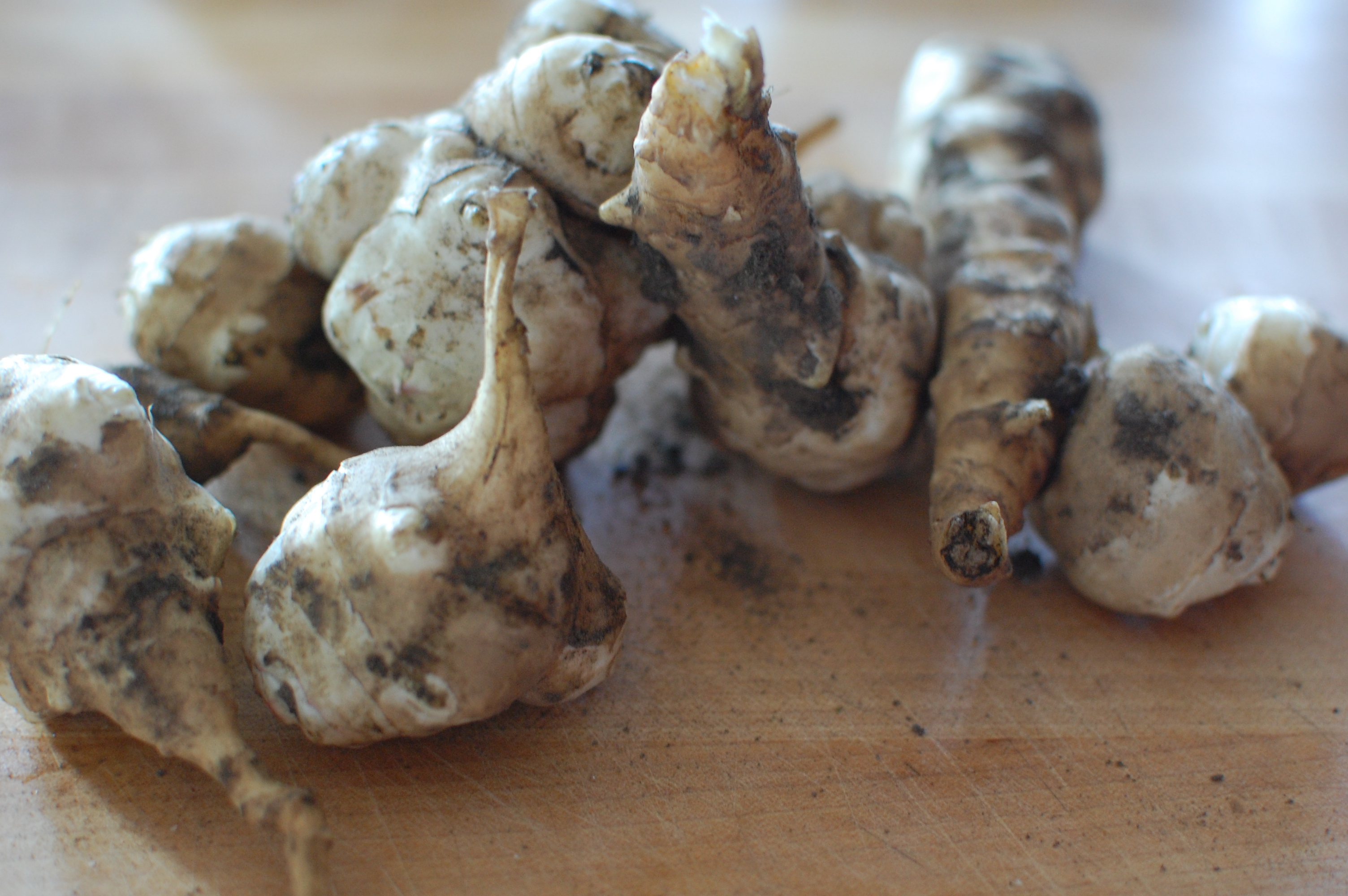 I know, right? Success!
Jerusalem artichokes taste somewhere between a potato, jicama, and the heart of an artichoke. In the summer, the plants sprout a thick and aggressive jungle of tiny-headed sunflowers, but the tubers will feed you all winter if you let them take over, which I do. If you're a fancy farm-to-table restaurant, you will most likely call them sunchokes and serve them in a way that has no regard for the pain you will cause your poor customers later after they've gone home and their belly has started to swell and, well…
If you are in my house,  I will boil them first. This is the trick! I promise. I will even sometimes hide them in the midst of other things, and when you ask, "What is that wild knotty flavor?" I'll admit that there is an entire bed of that flavor outside, and you are welcome to it. And then I'll give you a bag full of dirt and ugly duckling knobby tubers. Here are a few things to do with them when you get home. Of course, you can also plant them, and then you'll be in Jerusalem artichokes for life.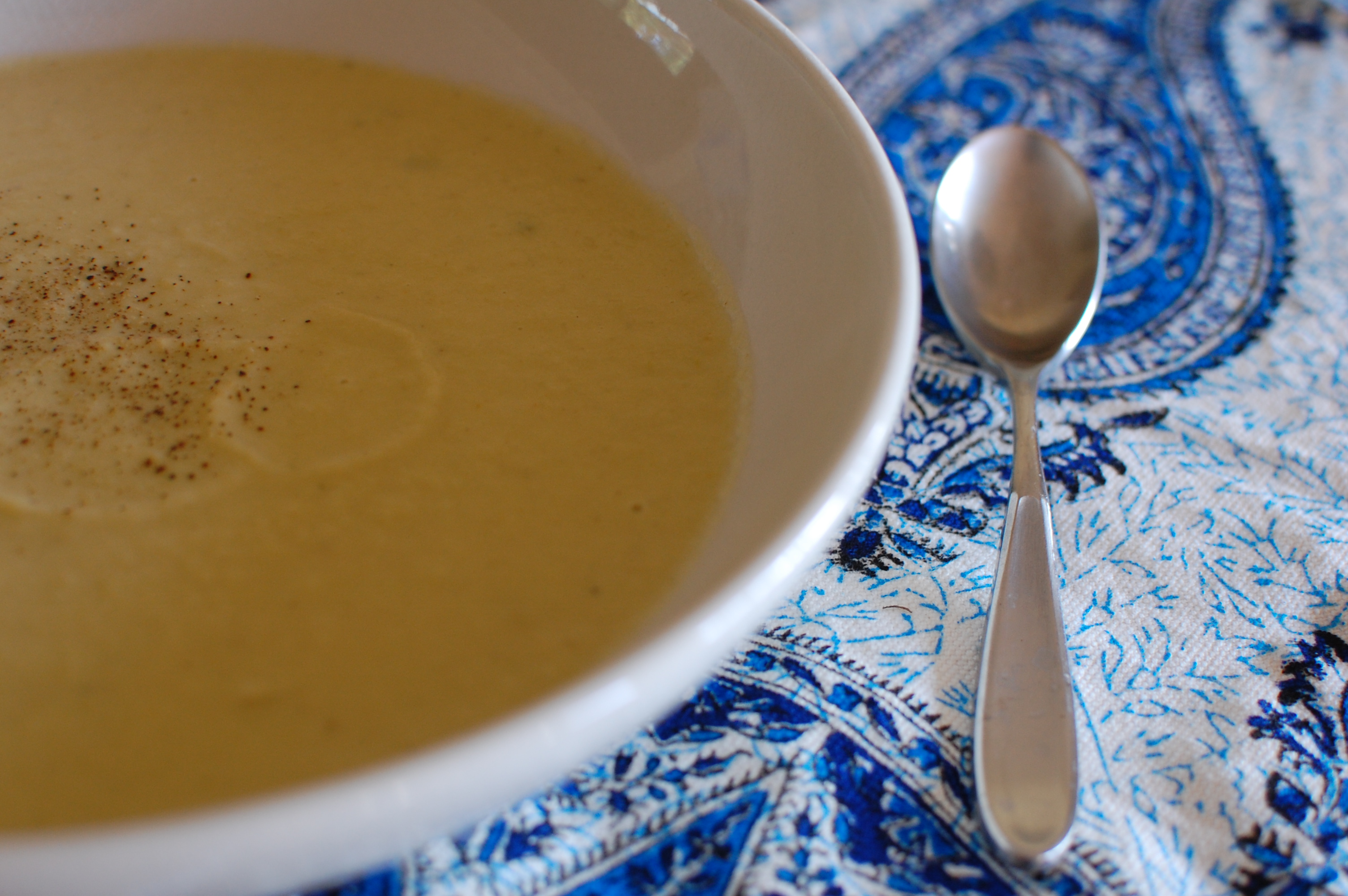 Jerusalem Artichoke and Fennel Soup
(inspired by Alice Waters, The Art of Simple Food II: Recipes, Flavor, and Inspiration from the New Kitchen Garden)
serves 4-6
1 1/2 pounds jerusalem artichokes, roughly peeled
1 tablespoon butter
2 tablespoons olive oil
2 leeks (all the white+tender part of the green), halved lengthwise and thinly sliced
2 ribs celery, roughly chopped
1 carrot, peeled and roughly chopped
salt and pepper
2 medium fennel bulbs, stalk removed, thinly sliced
2 cups chicken or vegetable stock
2 cups milk
Whatever red spicy peppery spice you have in your pantry, for garnish
1. Cover the Jerusalem artichokes with water and bring to a boil. Cook uncovered at a low boil for about 10 minutes. Drain and rinse the Jerusalem artichokes in cold water.
2. Melt the butter and oil together in a large pot over medium heat. Add the leeks, celery, carrot, and fennel and cook, stirring often, until they all start to melt together, about 10 minutes Add about a 1/2 teaspoon of salt and several grinds of pepper. Roughly chop the Jerusalem artichokes and add them to the pot. Pour the stock in to the pot, bring it all nearly to a boil, cover, and reduce the heat to a simmer. Cook for about 10 minutes.
3. Add the milk and blend the soup, either in batches in an upright blender or with an immersion blender in the pot. Reheat if necessary and add more salt and pepper, to taste.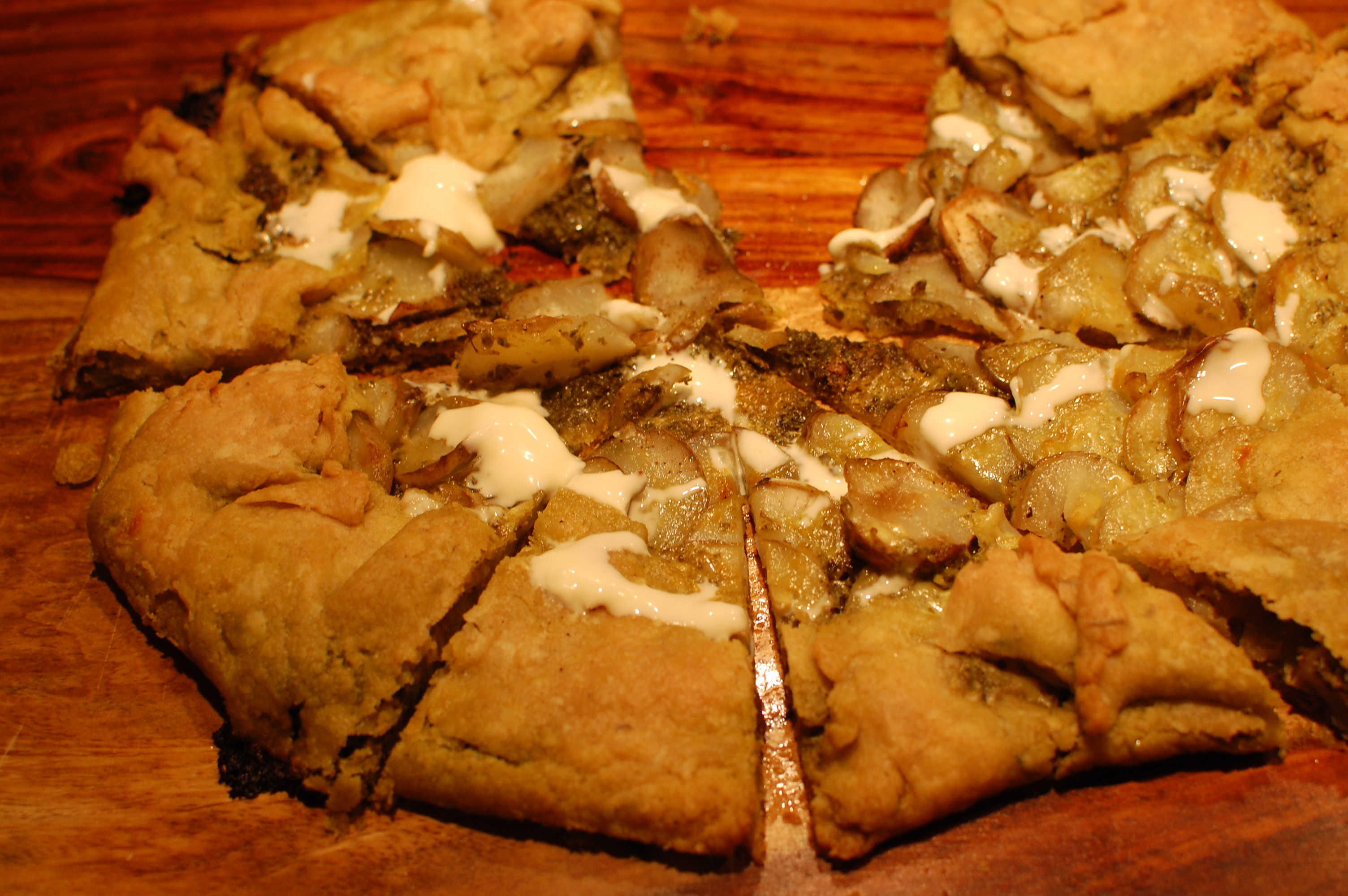 Jerusalem Artichoke and Kale Pesto Galette
(This is one of those recipes where there are a few different components, each of which makes more than you need for the recipe. This is intentional, as there's nothing so useful and satisfying as having an extra savory pie crust and some pesto in the fridge. Either will freeze well, too, if you want to squirrel them away for a day you really need them.)
1/2 recipe savory pastry (recipe follows)
1/2 cup kale pesto (recipe follows)
1/2 pound Jerusalem artichokes, scrubbed
3/4 cup creme fraiche
salt
1.  Cover the Jerusalem artichokes with water and bring to a boil. Cook uncovered at a low boil for about 5 minutes. Drain and rinse the Jerusalem artichokes in cold water. Set aside.
2. Preheat the oven to 400°F. Roll out the pastry to about 1/8 inch on a lightly floured counter. Don't worry about getting it too round. Gently fold the pastry in half, then in half again, and transfer it to a greased jelly roll pan. Unfold it.
3. Spread the pesto to within about three  inches of the edge of the pastry. Slice the Jerusalem artichokes to about 1/4 inch, and lay them out on the pastry, gently overlapping at the edges of each slice. Fold the edges of the pastry overtop the pesto and Jerusalem artichokes, rustic tart style. Drizzle (or plop, depending on the consistency) 1/2 cup of the creme fraiche overtop the Jerusalem artichokes, and lightly sprinkle with salt. Bake for 45 minutes, until the crust is golden. Top with the remaining creme fraiche.
Savory Pastry 
makes 2 crusts
1 cup all-purpose flour
3/4 cup whole wheat pastry flour
1/2 cup rye flour
1 teaspoon dried thyme
1 cup (2 sticks) butter, cut into 1/4-inch squares
2 teaspoons apple cider vinegar
1/2 teaspoon salt
1/3 cup cold water
1. Combine the flours, thyme and butter in the bowl of a stand mixer. Put them into the refrigerator for at least 10 minutes. Meanwhile, combine the vinegar, salt, and water in a mixing cup and put it in the freezer for at least 10 minutes.
2. Take the mixing bowl out of the fridge and blend the mixture on low speed with the paddle attachment until it's the texture of crumbly meal. Take the measuring cup out of the freezer and, with the mixer still running on low speed, slowly pour the liquid into the bowl. The dough will be crumbly at first, but then after 10 or 20 seconds, it will come together in a ball. Stop the mixer.
3. Turn the dough out onto the counter and press it into a large disc. Cut the dough into two equal parts, wrap each in wax paper or plastic wrap, and press each into a disc. Refrigerate for 1 hour, or up to 3 days. The dough can also be frozen at this point.
Kale Pesto
makes about 1 1/2 cups
4 cups firmly packed chopped kale
1/2 cup grated Parmesan cheese
4 cloves garlic, roughly chopped
1 tablespoon lemon juice
1/2-1 teaspoon salt
2/3 cup olive oil
1. Combine the kale, cheese, garlic, lemon and salt in the bowl of a food processor fit with the chopping blade. Pulse to chop and combine. (If you have a smaller food processor, you might have to do this in batches–then put all the chopped kale back in the food processor for the next step.
2. With the food processor running, slowly pour the olive oil through the feeding chute. Process until the pesto is fairly uniform. Taste for salt, adjust if needed, and store in the refrigerator for up to 5 days.