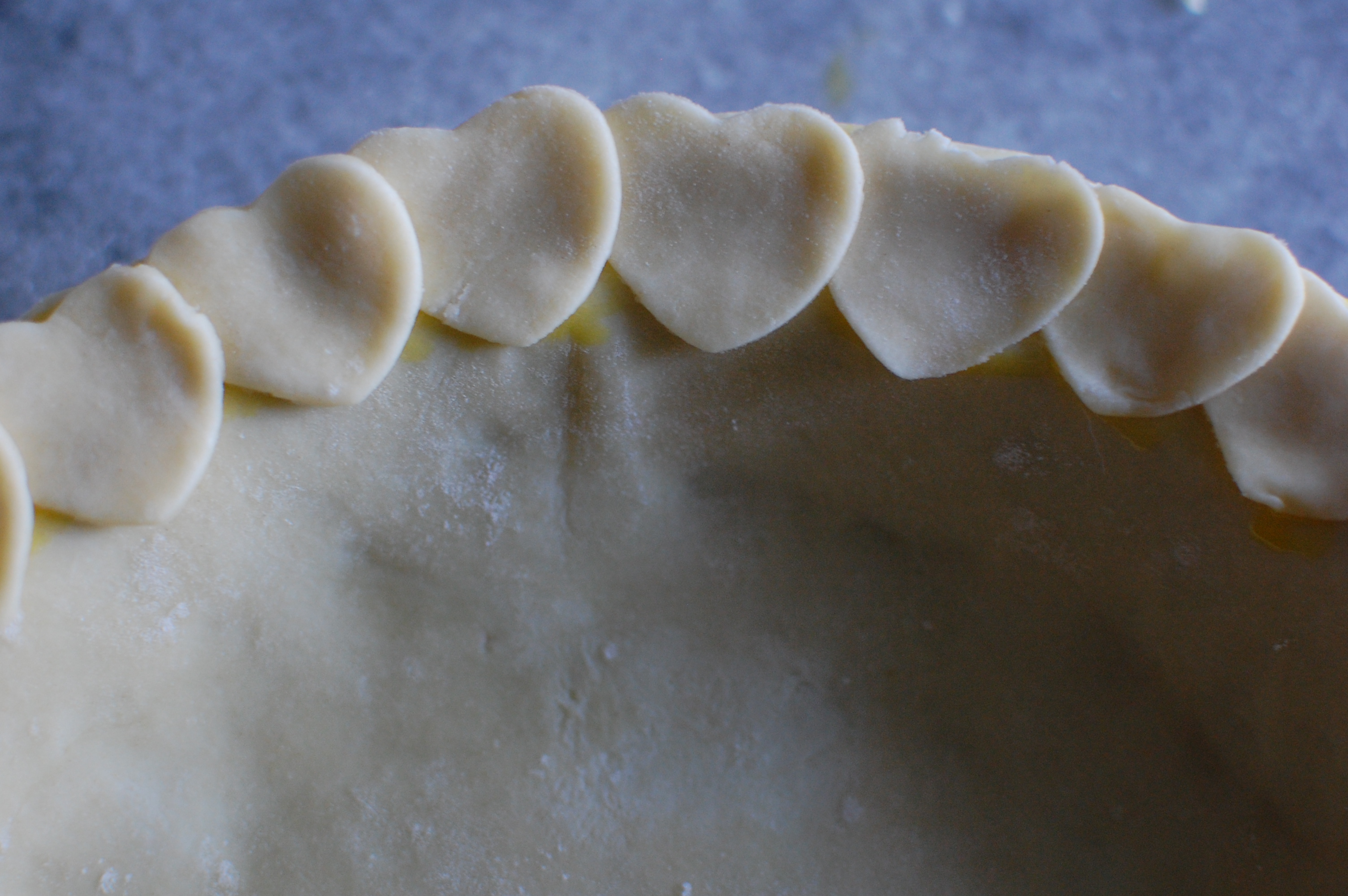 It's not my way to be evangelical about any one recipe, method, or food. I hope you'll never catch me telling you that you should do this, or that, or eat this. If you do, you have my full permission to remind me that it's not my way. BUT, I will say this gently, and with love:
Do you want to make your own pie crust? Or if you already do, are you only somewhat happy with the result? Do you hold your breath through the process of adding ice water, wondering if that final drop will damn the whole thing? And, most importantly, do you have a stand mixer?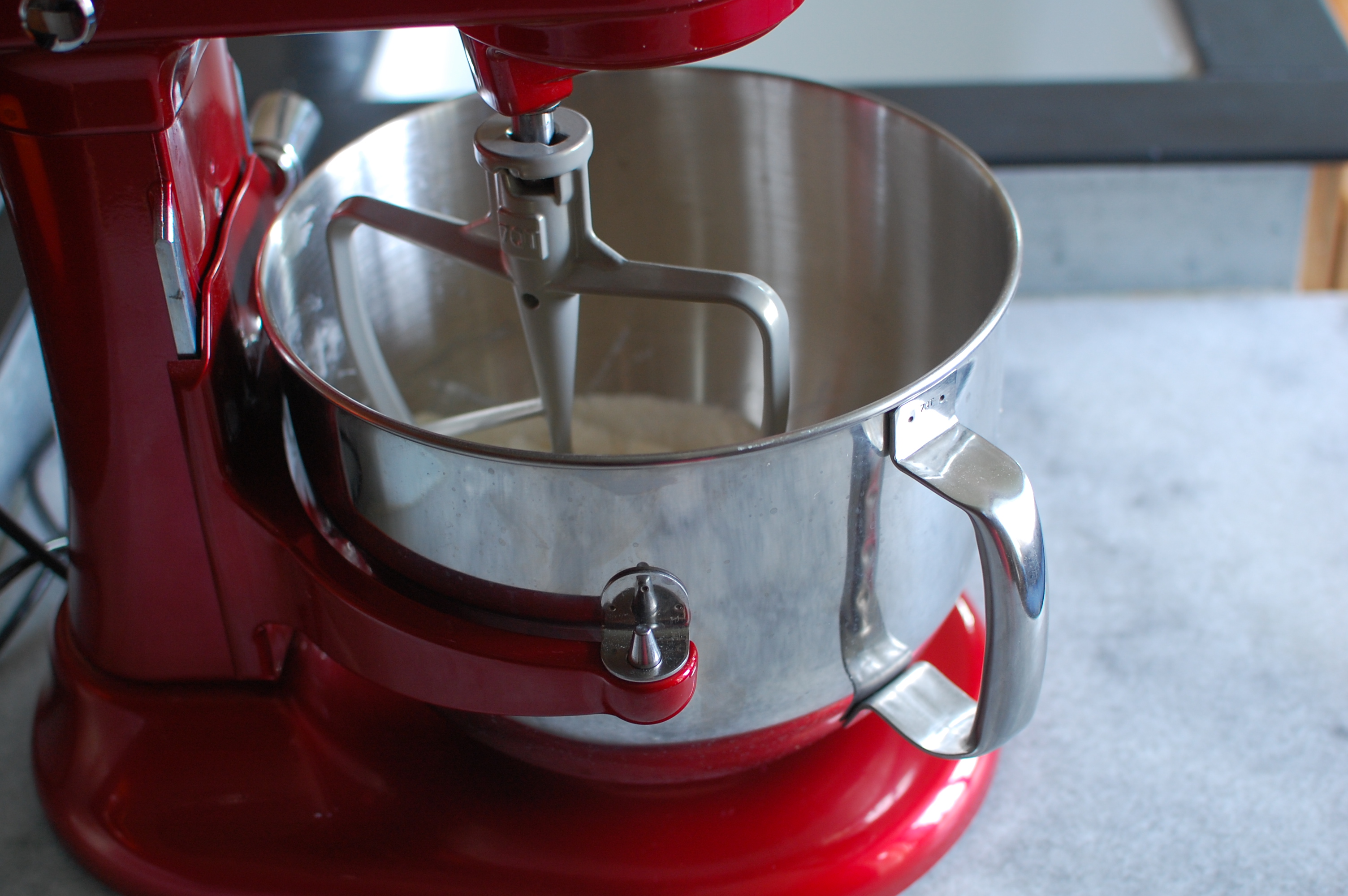 This is essentially the pie crust recipe from my book, which I've  heard from many of you has changed the way you do pie. I credit Shirley Corriher, as it never occurred to me that throwing butter and flour and water into my KitchenAid would change my life. But it has.
So here we go. This method has been infallible for me, doubles well, and makes a good whole grain crust, too, if that's your thing. There's not much art, no guesswork, and no holding of your breath involved. The only rule? Stay close to your freezer.
Life Changing Pie Crust
makes two 9 or 10-inch pie crusts
1 cup (2 sticks) cold unsalted butter, plus additional for greasing the dish
2 1/4 cups all-purpose flour, plus additional to flour the counter and the dish
1/3 cup water
2 teaspoons apple cider vinegar
1/2 teaspoon salt
1. Cut the butter in to small cubes (about 1/4-inch). Do this quickly, without any extraneous touching of the butter. Measure the flour into the bowl of your stand mixer, and add the butter to the flour, lightly tossing it to coat the cubes in flour. Put the bowl in the refrigerator. In a small measuring cup, combine the water, apple cider vinegar, and salt. Stir to dissolve the salt, and put the cup in the freezer. Walk out of the kitchen for 10 minutes.
2. Fit the stand mixer with the beater attachment. Remove the bowl from the fridge, and fit it into the mixer.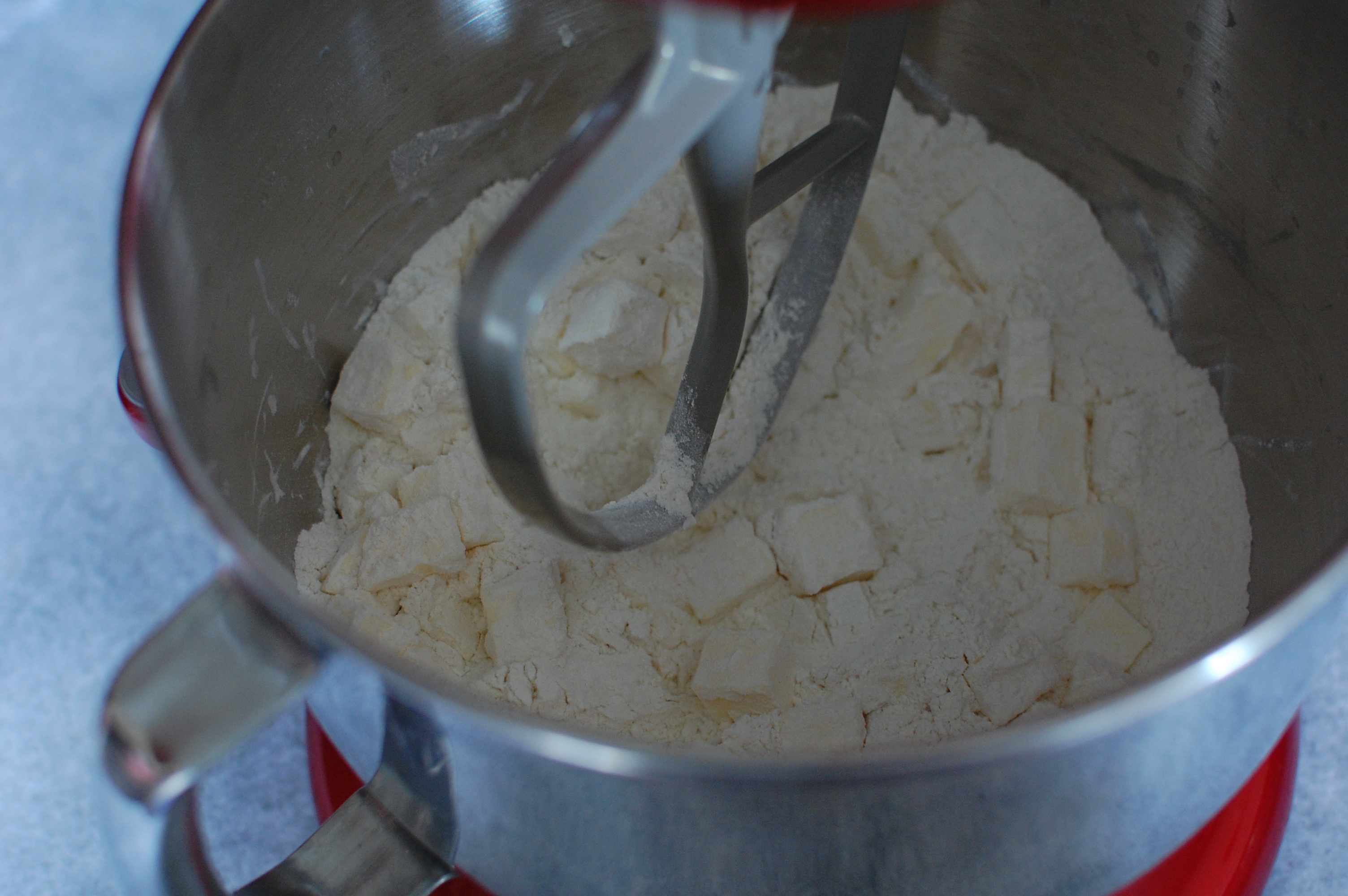 Run the mixer on low for about 30 seconds, until the butter is slightly mushed into the flour, like this: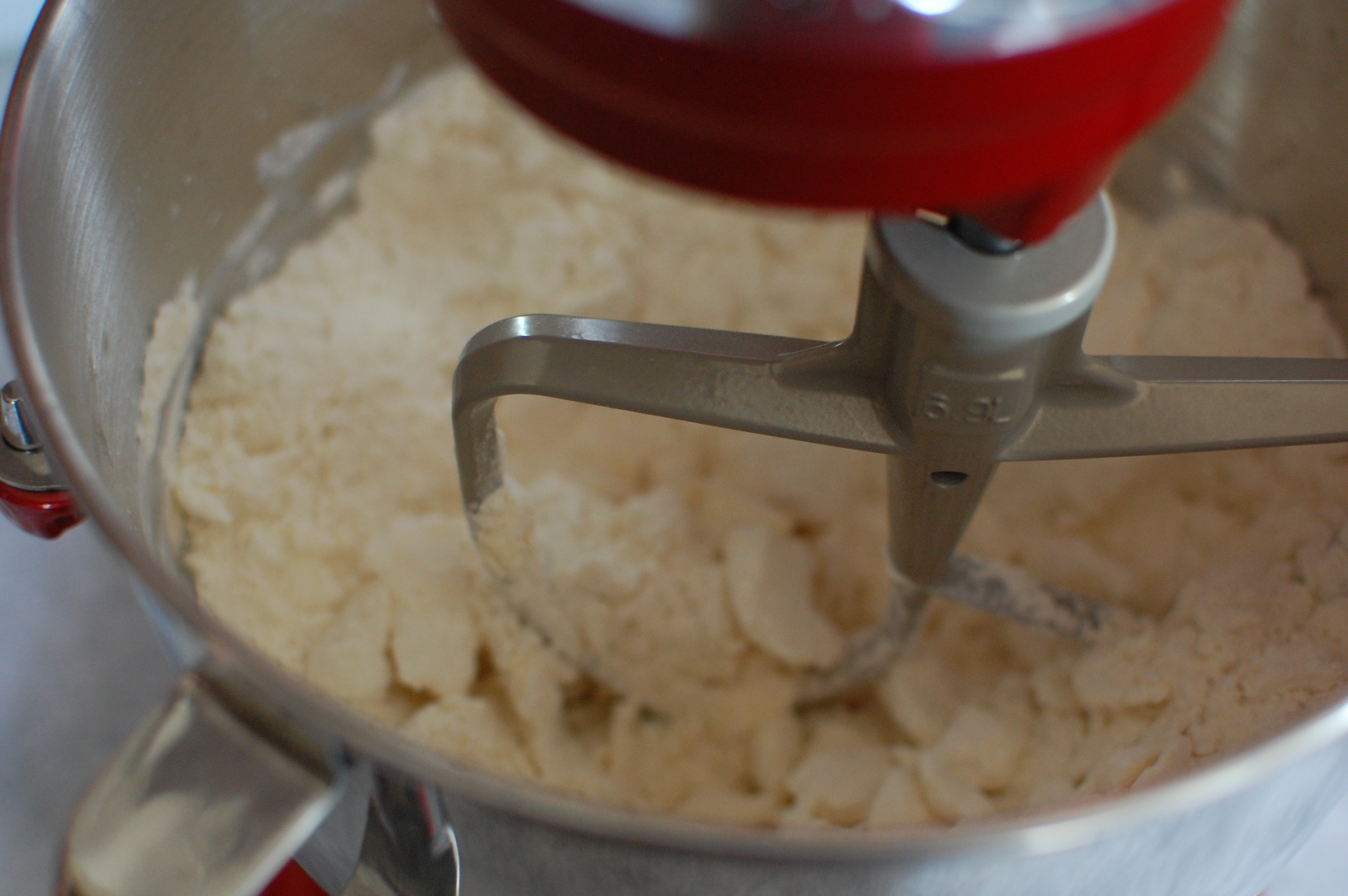 Take the measuring cup out of the freezer. With the mixer running on low, slowly add the vinegar mixture to the bowl. Raise the mixer speed to medium-low. The dough will change, becoming a crumbly meal, like this: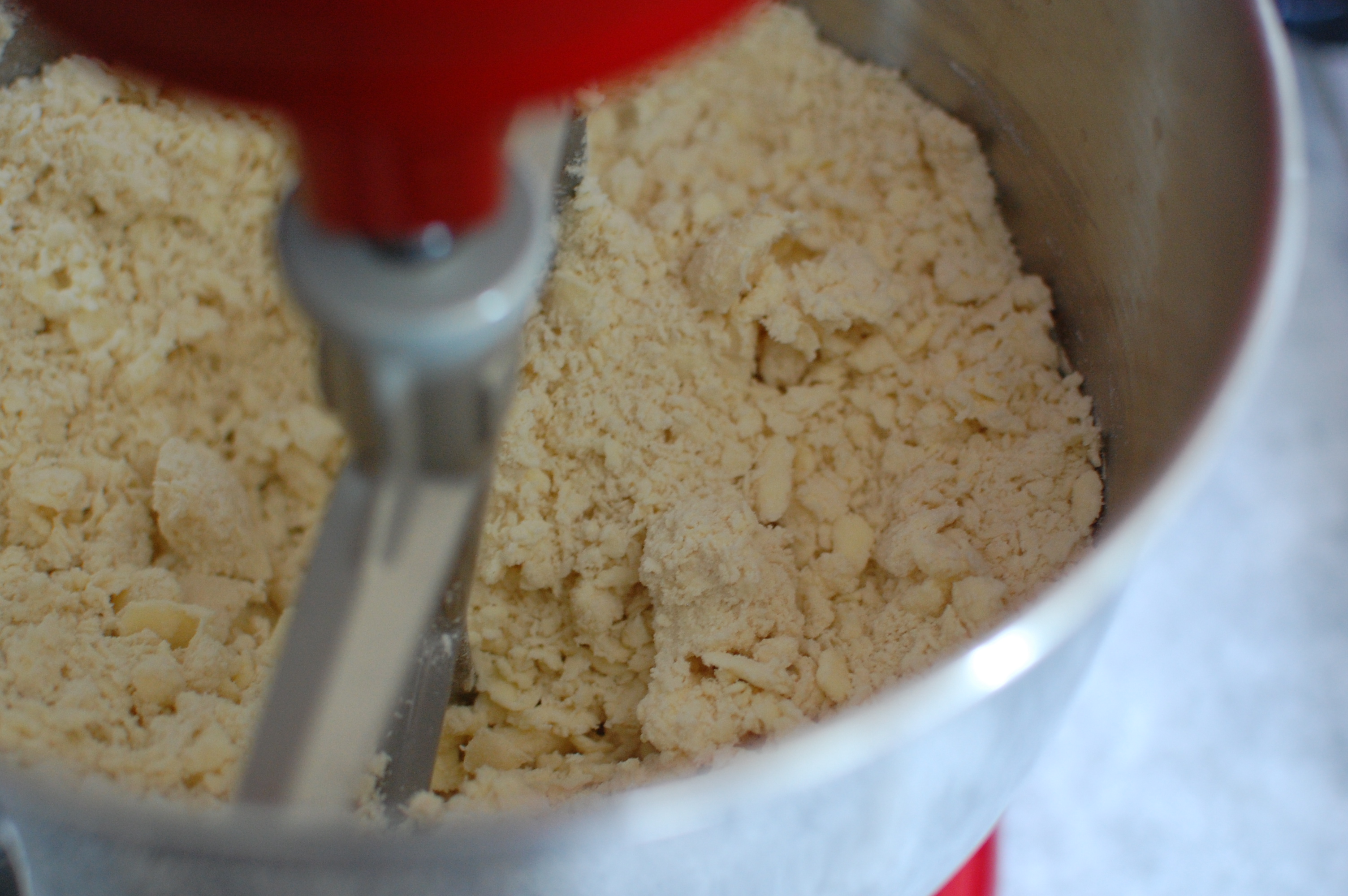 Keep the mixer running. It will come together! Just let it keep running until this happens (usually within a minute):
Stop the mixer. Gather the dough together with as little handling as possible and plop it down on a lightly floured counter.
3. Gently press the dough together into a ball, and cut it in half. Wrap each part in wax or plastic, and press it into a disc about 1 inch thick. The smoother the disc, the easier it will be to roll out a good round later on. (And by shaping it after you've wrapped it, you help to protect the dough from the heat of your hands.) Put the two discs in the fridge for at least 1 hour, but up to 3 days. You can also freeze them at this point. (You'll have another chance to freeze them later when you're farther along in the process, too.)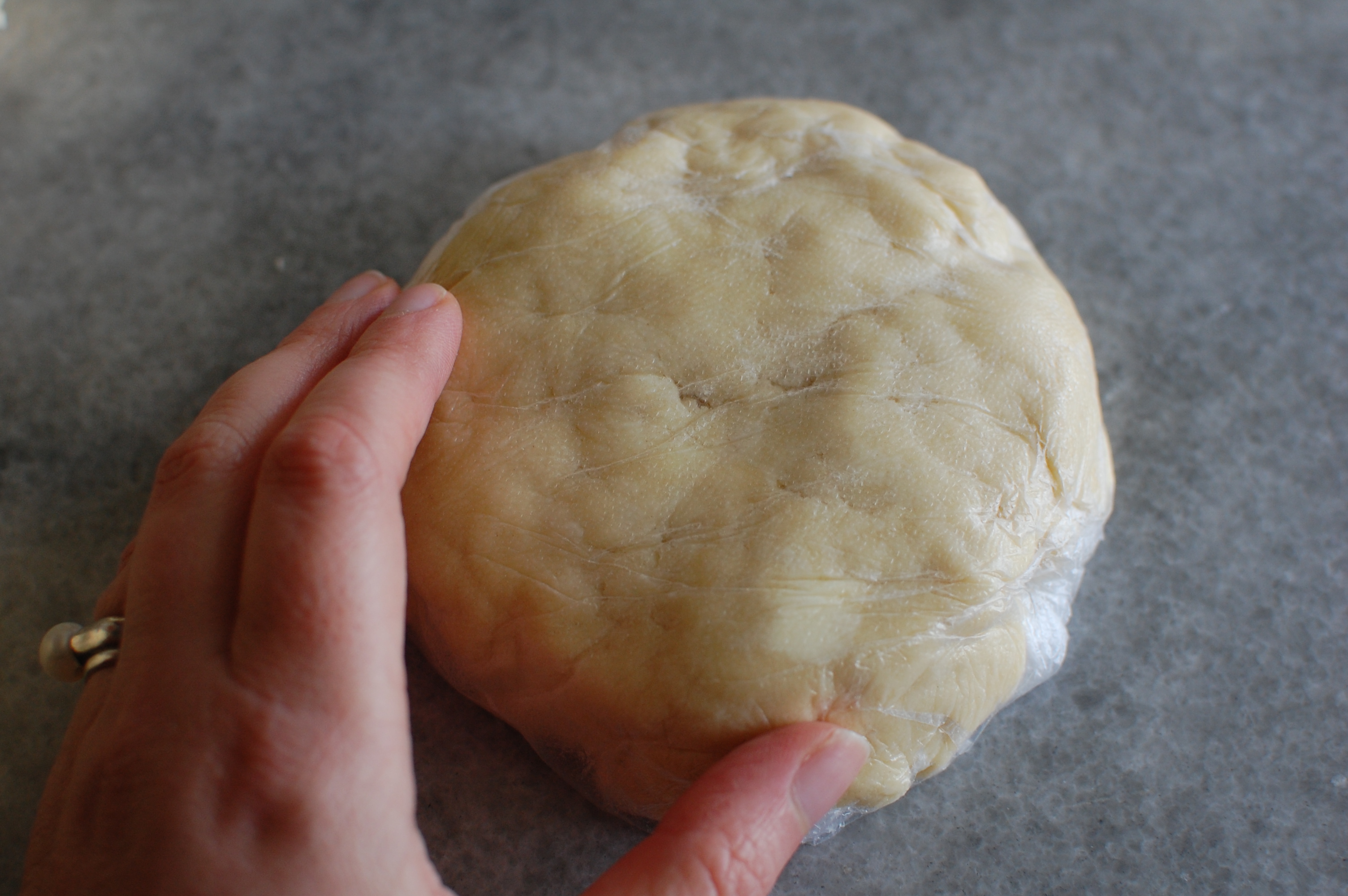 4. Grease a 9 or 10-inch pie dish with butter and give it a light dusting of flour. Take the dough out of the refrigerator about 15 minutes before you're ready to roll it out. Unwrap the dough and place on of the discs on a lightly floured counter.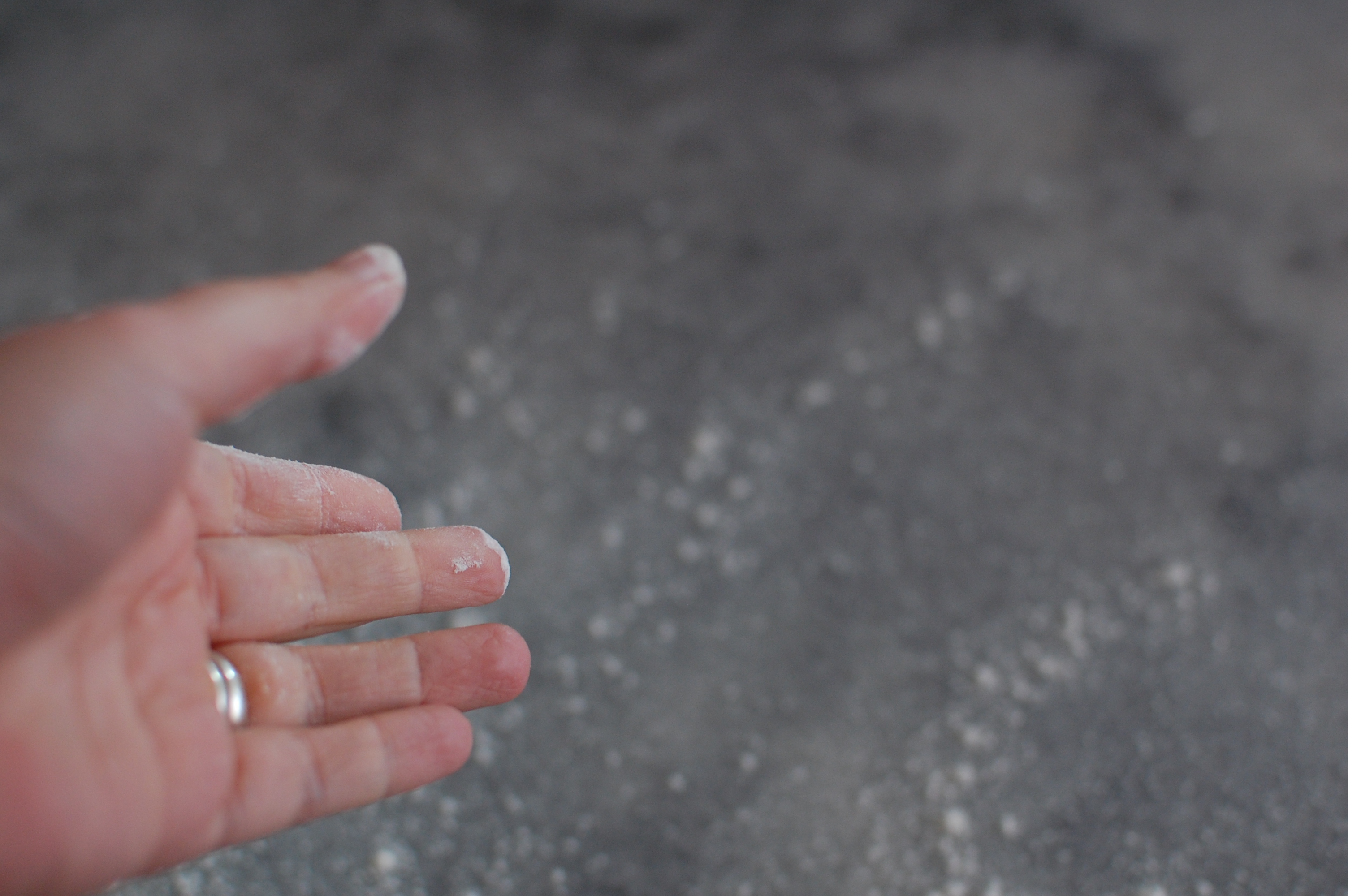 (Flour gently, like snow.)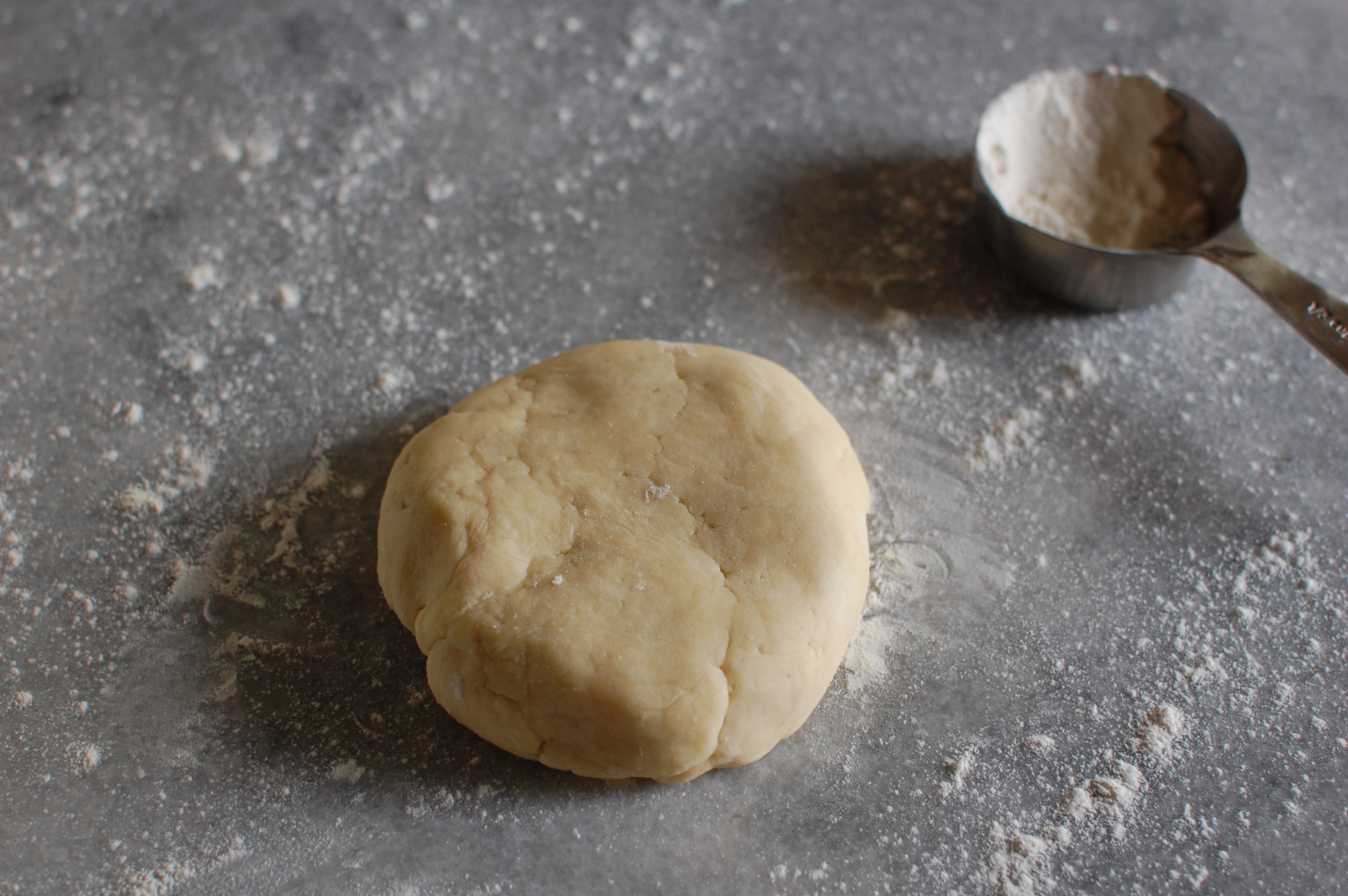 Try to make sure you are starting with a good circle. Remember, the smoother your disc, the easier it is to get your dough into something close to a circle.  Starting from the center, roll with quick, strong strokes.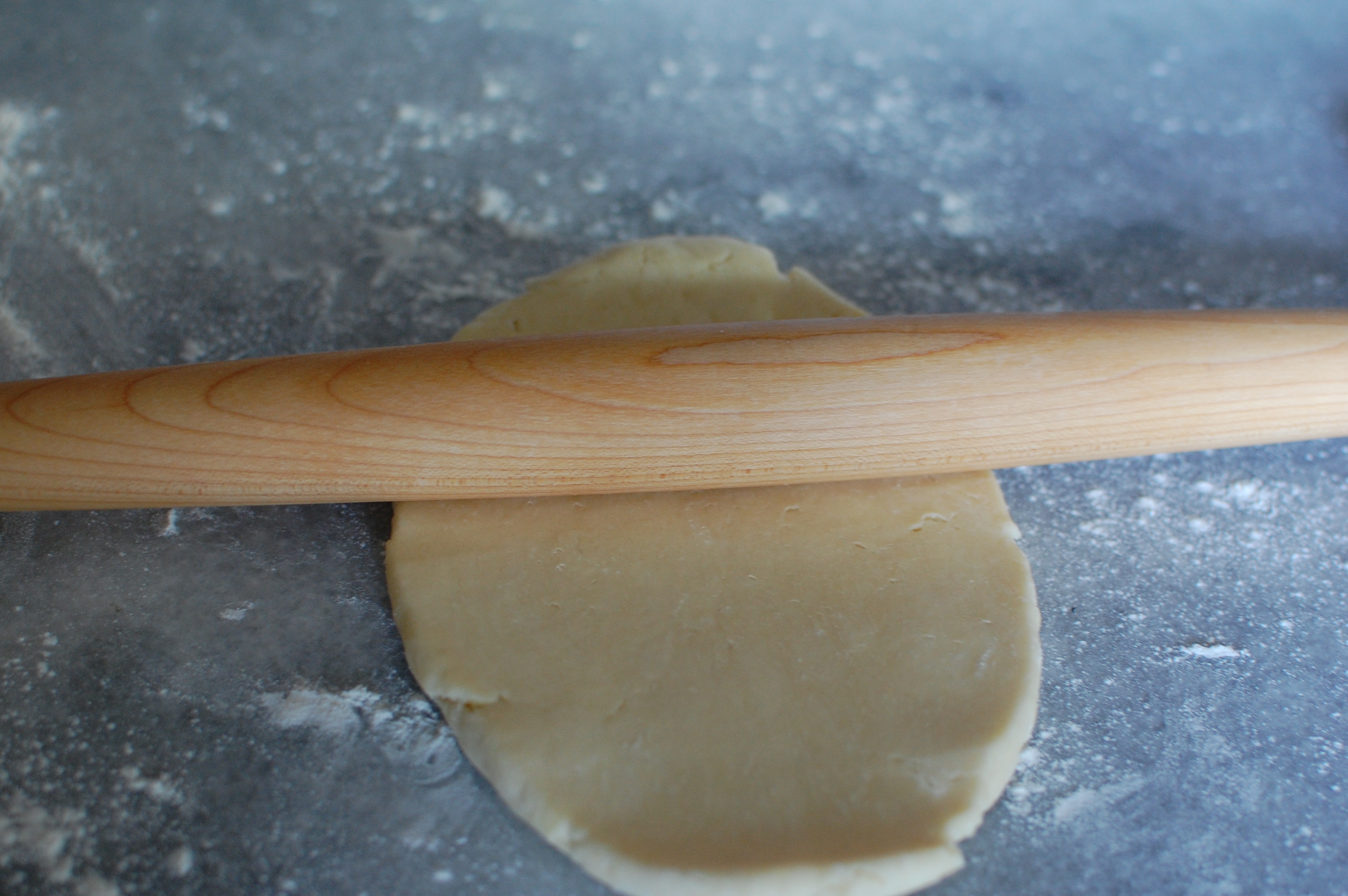 Roll until the the dough is circle-ish, about 12-14 inches in diameter, and about 1/8-1/4 inch thick. If you feel the crust might be sticking, you can absolutely flip it over and give it a bit more flour. Don't fear the flour.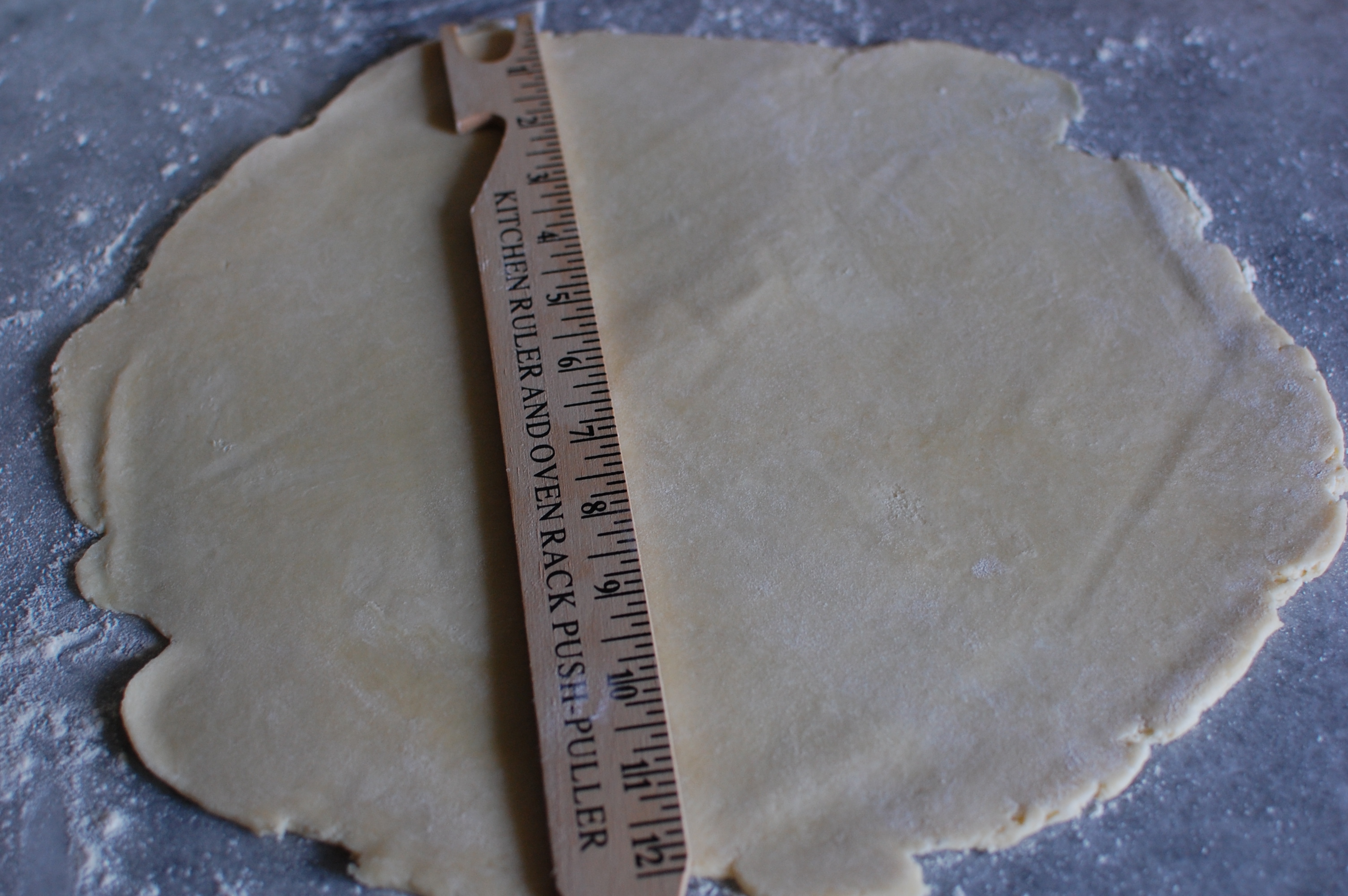 5. Now transfer the dough to your pie pan. Fold the dough in half, and then in half again.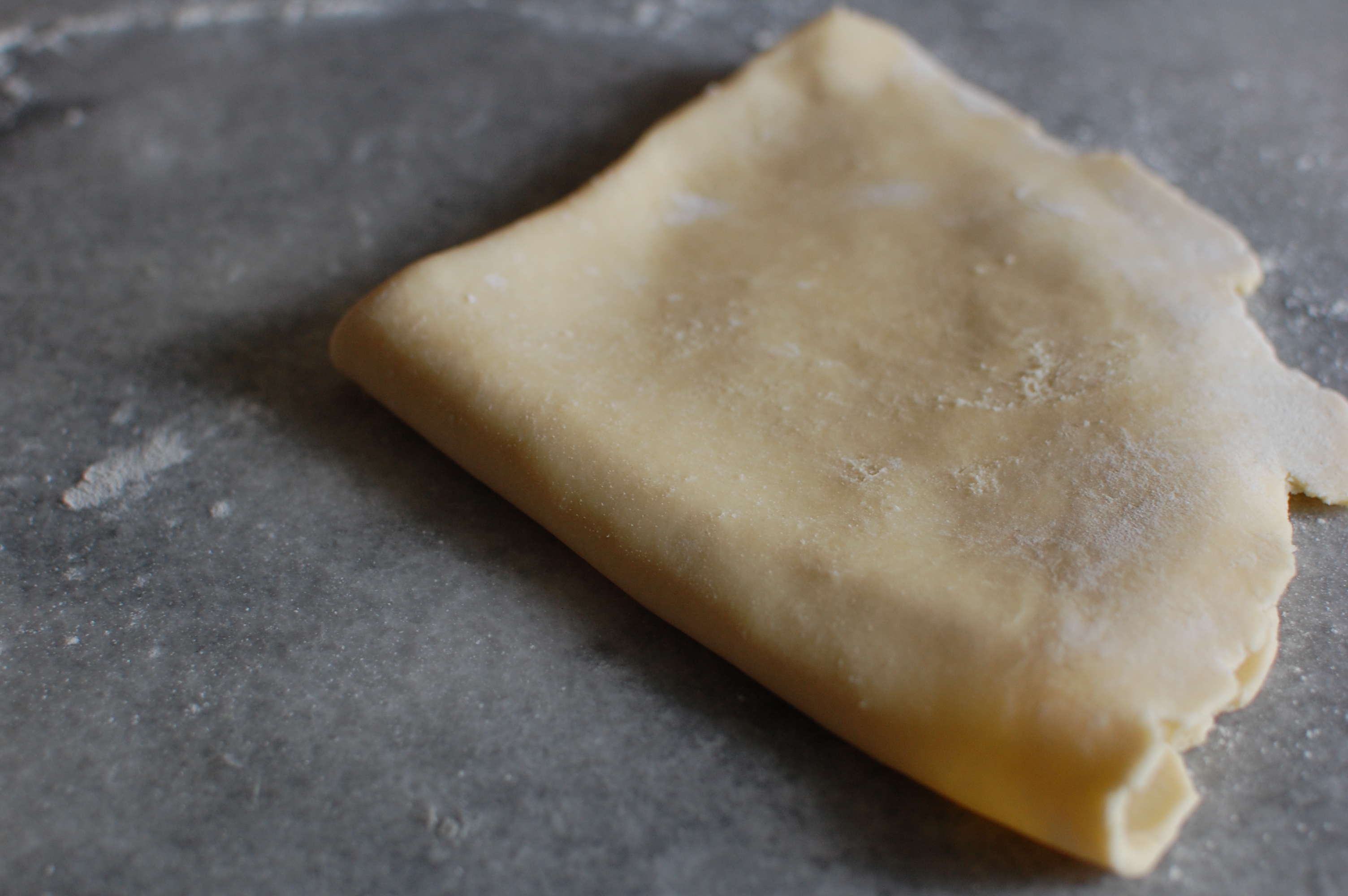 Pick the crust up and line it up with the center of the pan.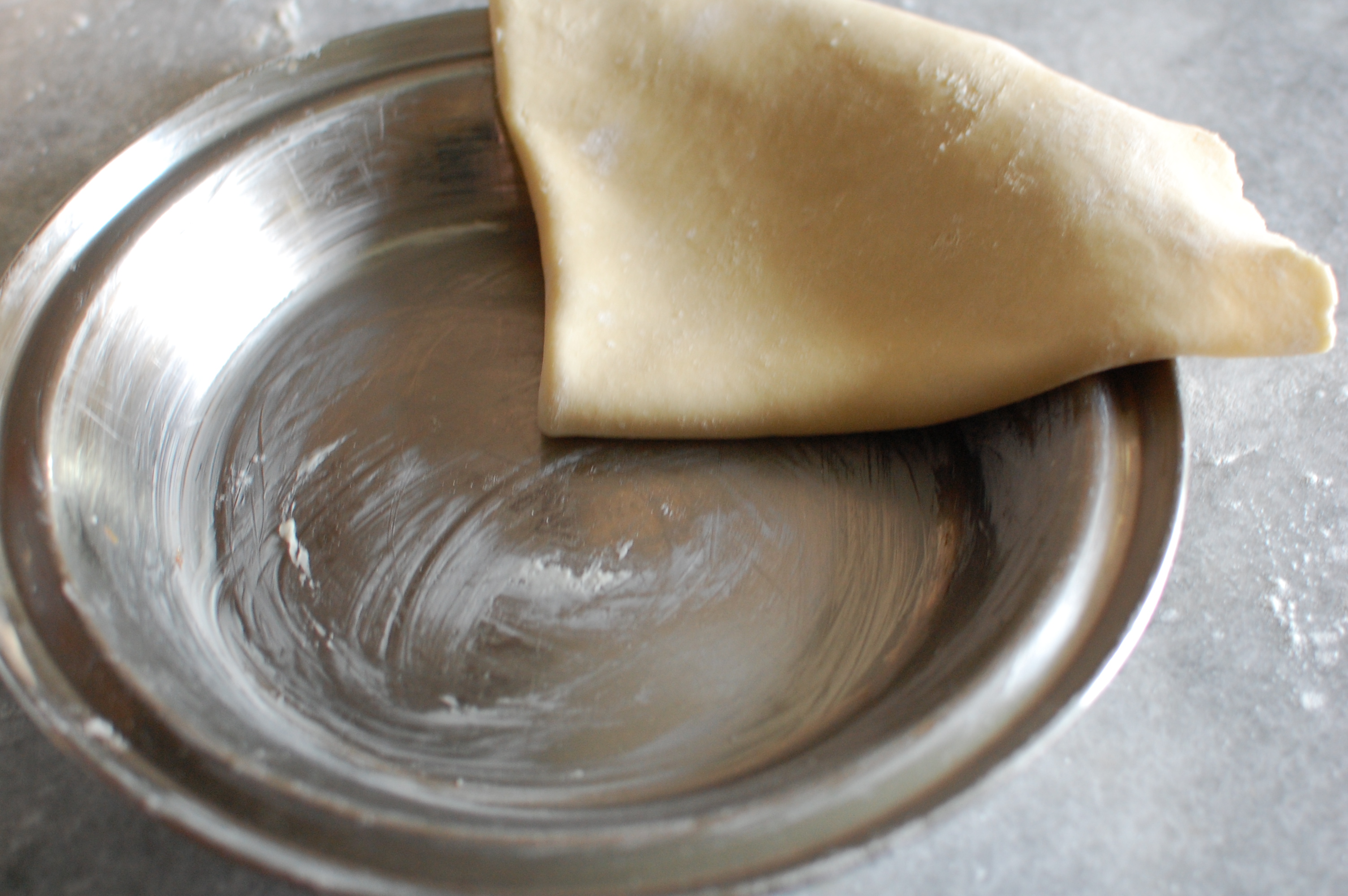 Unfold the corner into a semicircle, them into the full circle.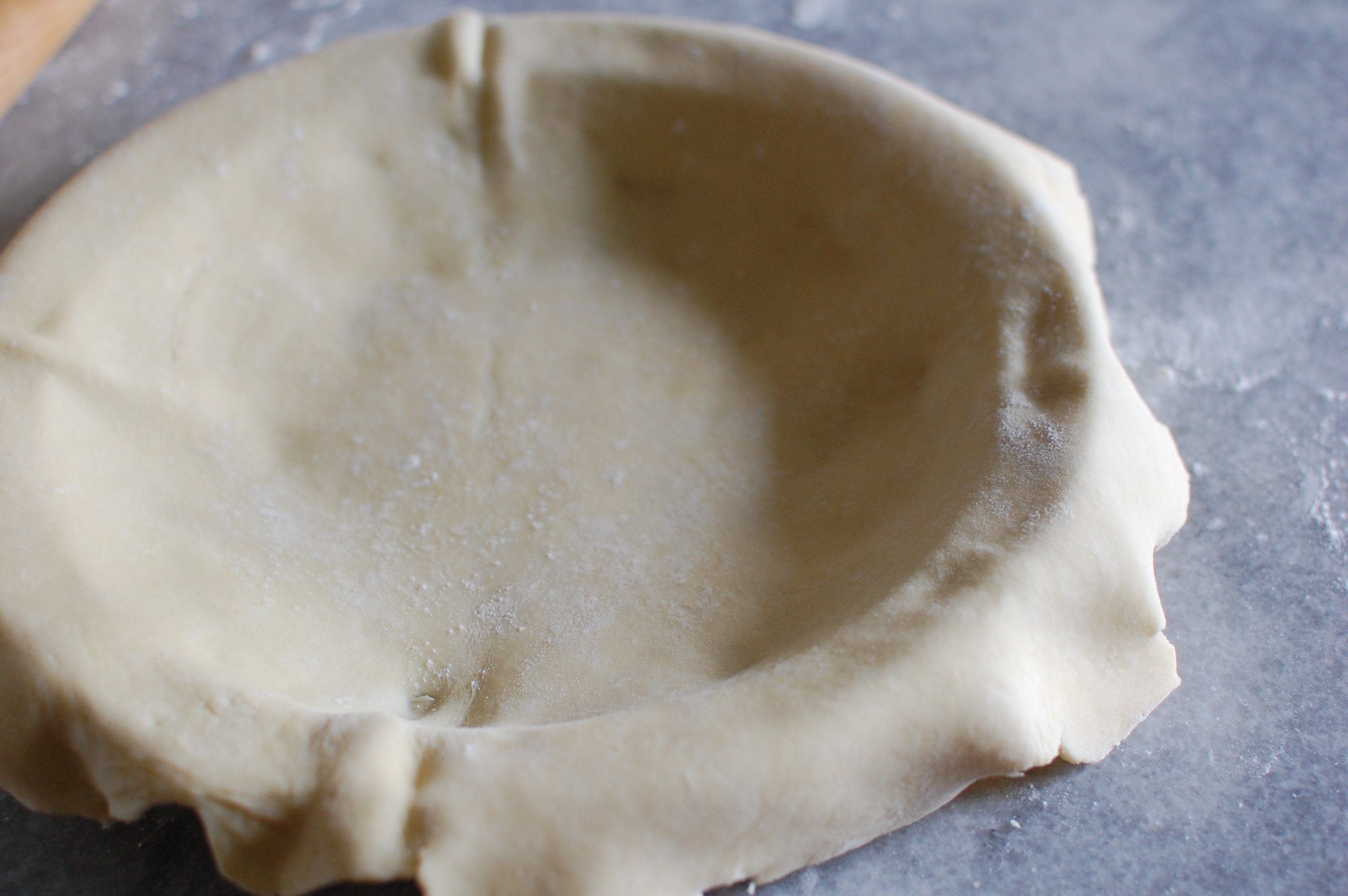 6. Now we can go in lots of different directions. For a double crust pie, fill it now, trim and crimp the crust (more on that in a moment), and put the whole pie in the freezer while the oven preheats. For a single crust pie, trim and crimp or shape the crust, and put the unfilled crust in the freezer for at least an hour before filling it. The freezer time will help prevent crust shrinkage. You can also wrap the crust at this point and freeze it for a while, and then you have frozen pie crusts (just like store-bought), ready to go.
And a few more extras and variations
For a basic crimp, fold the edge of the crust under, and either use a fork or use the first two fingers of one hand and the index finger of the other hand, like this.
For circles, maple leaves, or any other shape, you'll need a small cookie cutter. You'll want to trim more of the edge, so it reaches just to the edge of the pie pan. Use the cut-off edges, or you can also roll a bit of one of your other crusts if you want to have  more dough to work with.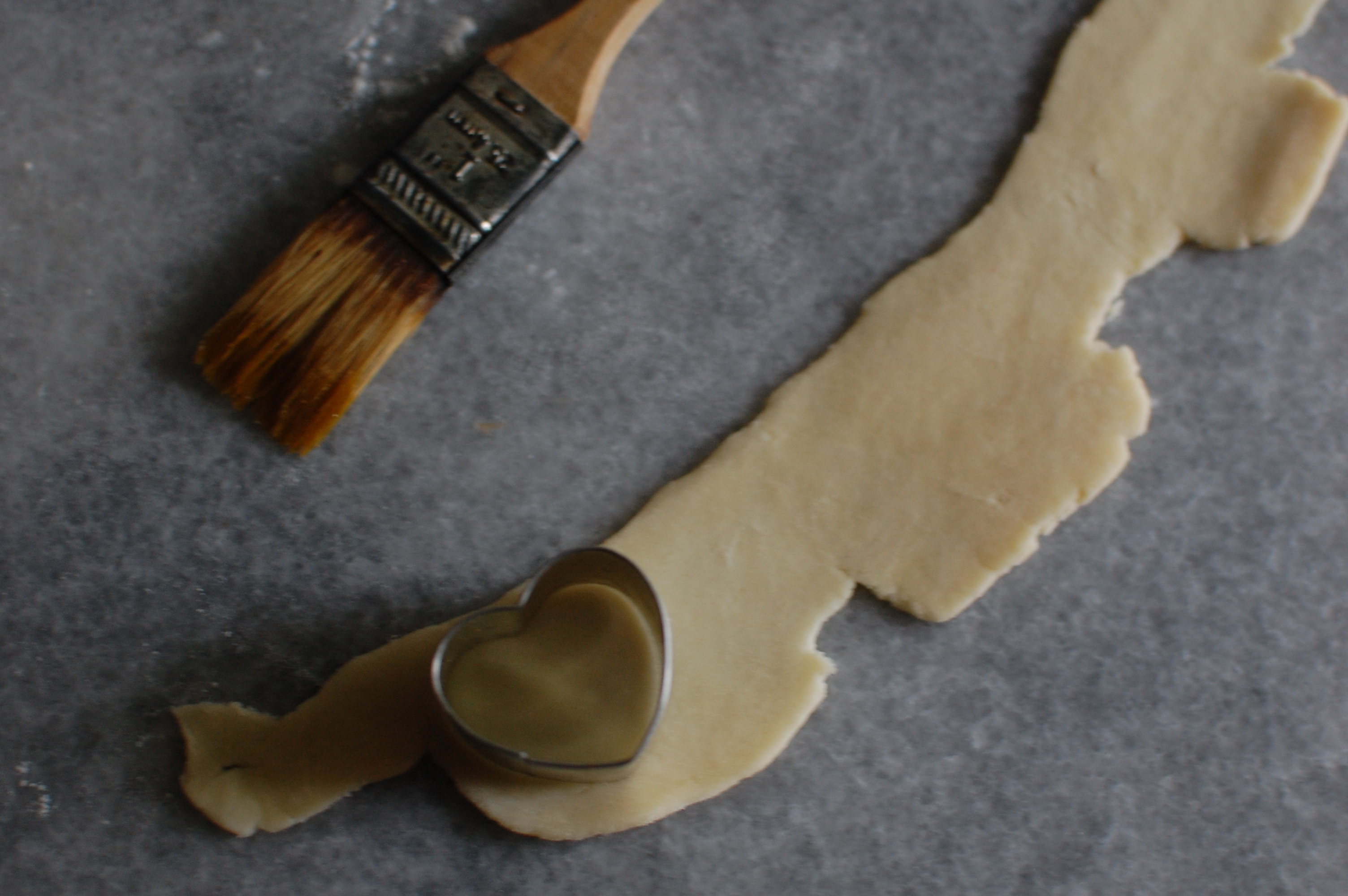 Brush the edge of the crust with beater egg yolk. It will act as glue. Then attach your cut-outs to the crust.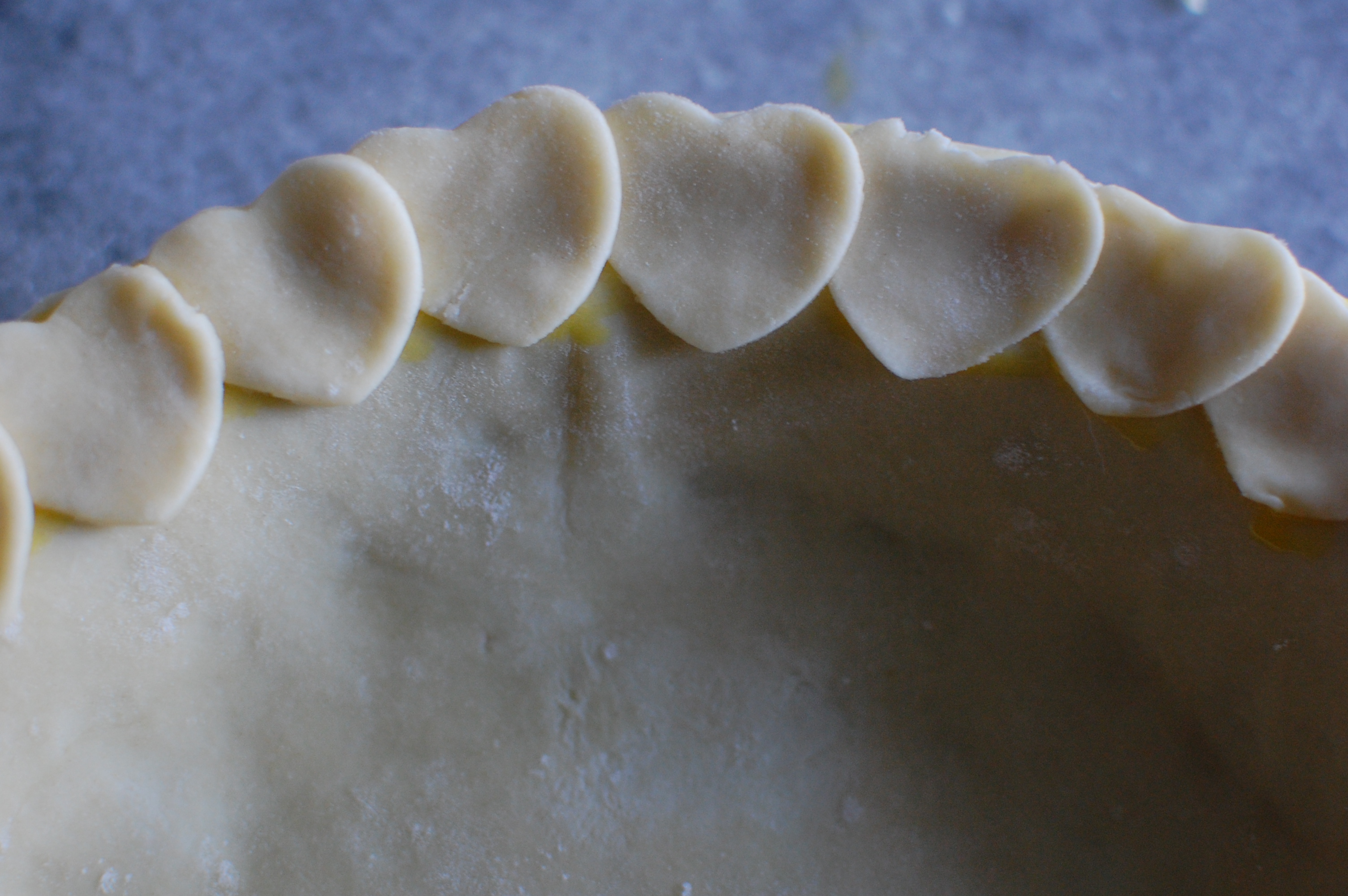 The key with any of these recipes is to always keep it cold. If you need to wait a few minutes while the oven preheats, throw it in the freezer. Need to take a phone call? Throw it in the freezer. If your butter is warm when the crust goes into the oven, the butter will ooze out of the crust and the crust will shrink.
And now for the Q&A (with thanks to everyone on Facebook for the excellent questions)
1. How do I get a round crust? 
Don't stress it too much. But the rounder (and free of cracks) your disc, the rounder your crust.
2. Do I need an egg wash?
Totally up to you. A bit of beaten egg yolk brushed on your crust will make it shiny. And if you want to sprinkle sugar overtop the crust, the egg will help it adhere.
3. How do you create a lattice? 
I'm an improviser- I just tuck here and weave there. But Deb's got a good tutorial here.
4. How about a gluten-free crust?
I defer to the experts here. Although I make a fine tart crust with dates and almonds, I haven't played with pie crust. I asked Shauna for a bit of advice, and she offered up her favorite recipe, along with the reminder that there's actually an advantage to gluten-free pie, because there's no gluten to overwork. (And, as Shauna says, "No one expects much from gluten-free pie. If you make a good pie, you're a genius!" I love that.)
5. Vegan?
Again, not a realm in which I'm super experienced. But I wanted to include this one, as I imagine some of you have good answers! I did consult my wise friend Janet, who suggested a combination of this and this.
6. How to prevent shrinkage when blind baking.
I have to admit, I often skip the blind baking! But if you have to do it, make sure the crust is fairly frozen when it goes in the oven.
7. Favorite recipes for Thanksgiving?
We do the same things ever year, or else there's a rebellion. This pecan pie, ginger pumpkin, maple cranberry tart, and damp gingerbread with pears.
And a few variations on the basic recipe
For 4 Crusts (Yes, I'm just doubling the math. But you have enough to do. Let me help!):
2 cups (4 sticks) unsalted butter
4 1/2 cups all-purpose flour
2/3 cup water
4 teaspoons apple cider vinegar
1 teaspoon salt
For a deep-dish pie pan:
1 1/2 cups (3 sticks) unsalted butter
3 1/3 cups all-purpose flour
1/2 cup water
3 teaspoons apple cider vinegar
3/4 teaspoon salt
For a more whole-grain version (great for pumpkin pie):
1 cup (2 sticks) unsalted butter
1 cup all-purpose flour
3/4 cup whole-wheat pastry flour
1/2 cup rye flour
1/3 cup water
2 teaspoons apple cider vinegar
1/2 teaspoon salt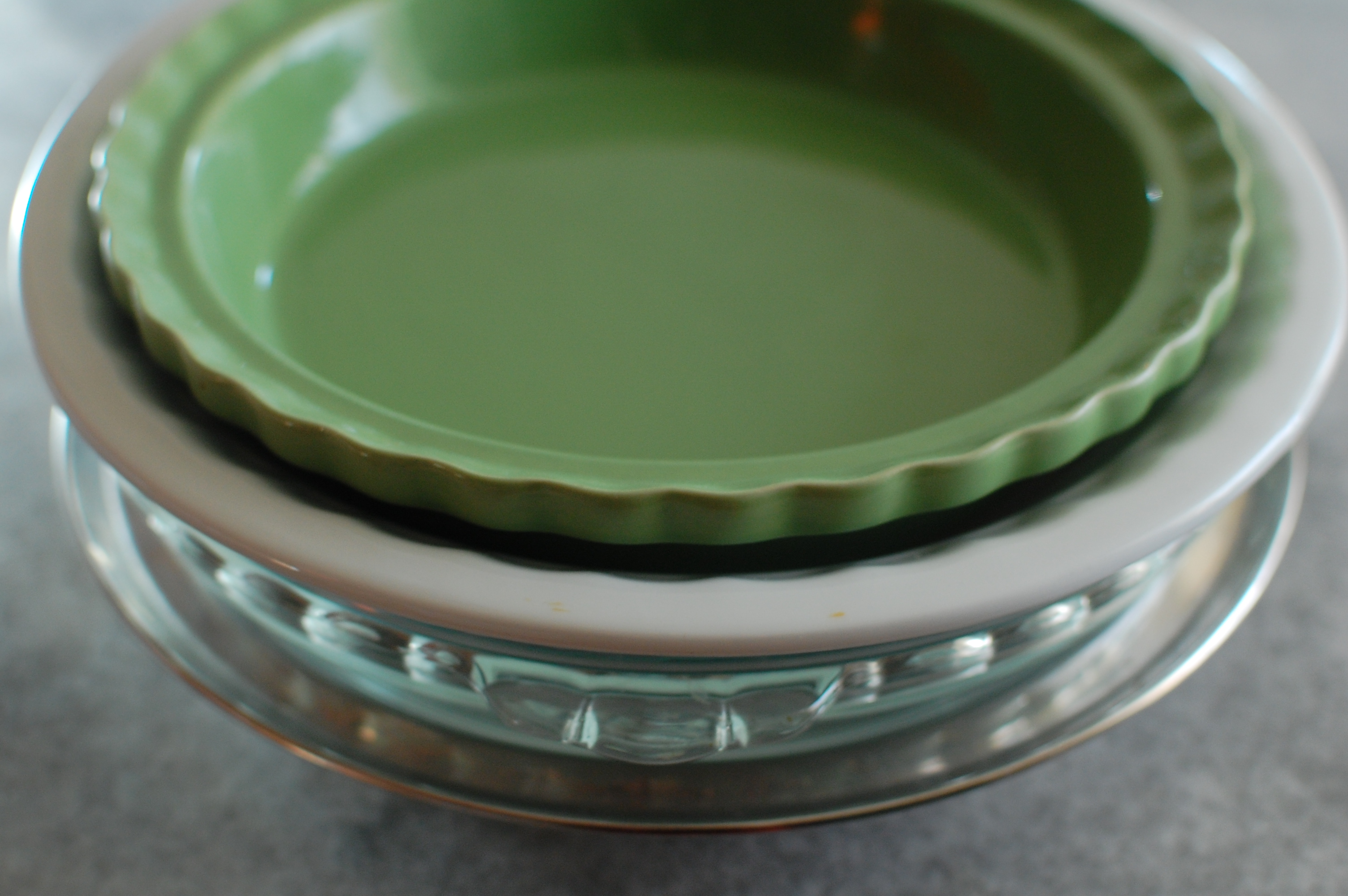 And last of all, a note on pie dishes:
If, like me, you have a thing for interesting pie dishes, you may or may not be using a standard 9-inch pie pan. Use a ruler, so you have a sense of how far off you are. Remember that only metal or stoneware is okay to go straight from the freezer to oven (some glass wear will break). The more straight-sided the pan, the less gravity is in your favor, so make sure that crust is good and frozen when it goes in the oven.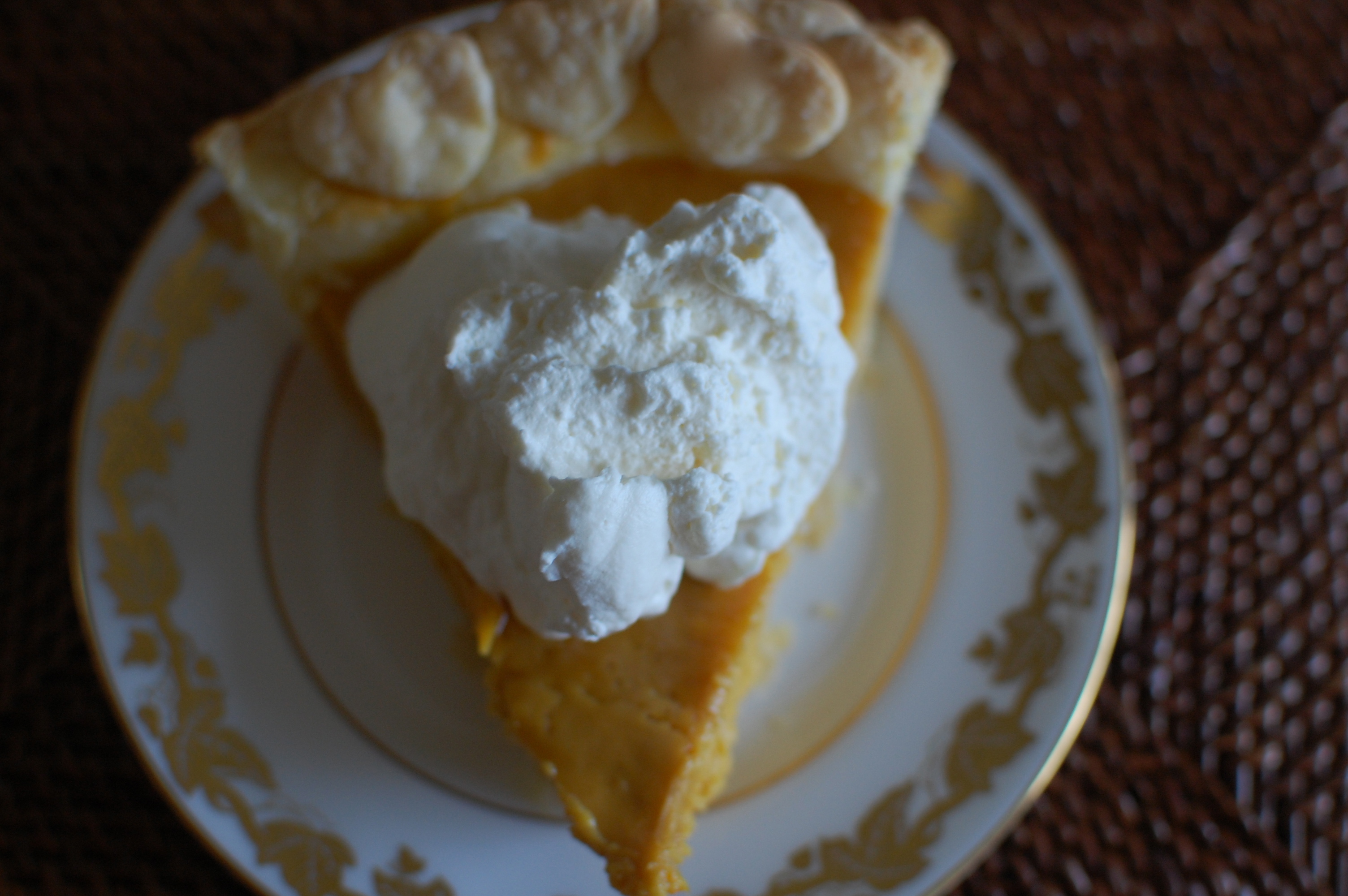 Happy cooking week, friends. If you have any questions or suggestions, add them here in the comments. I'm sure between all of us, we can make a lot of pretty great pies this week.