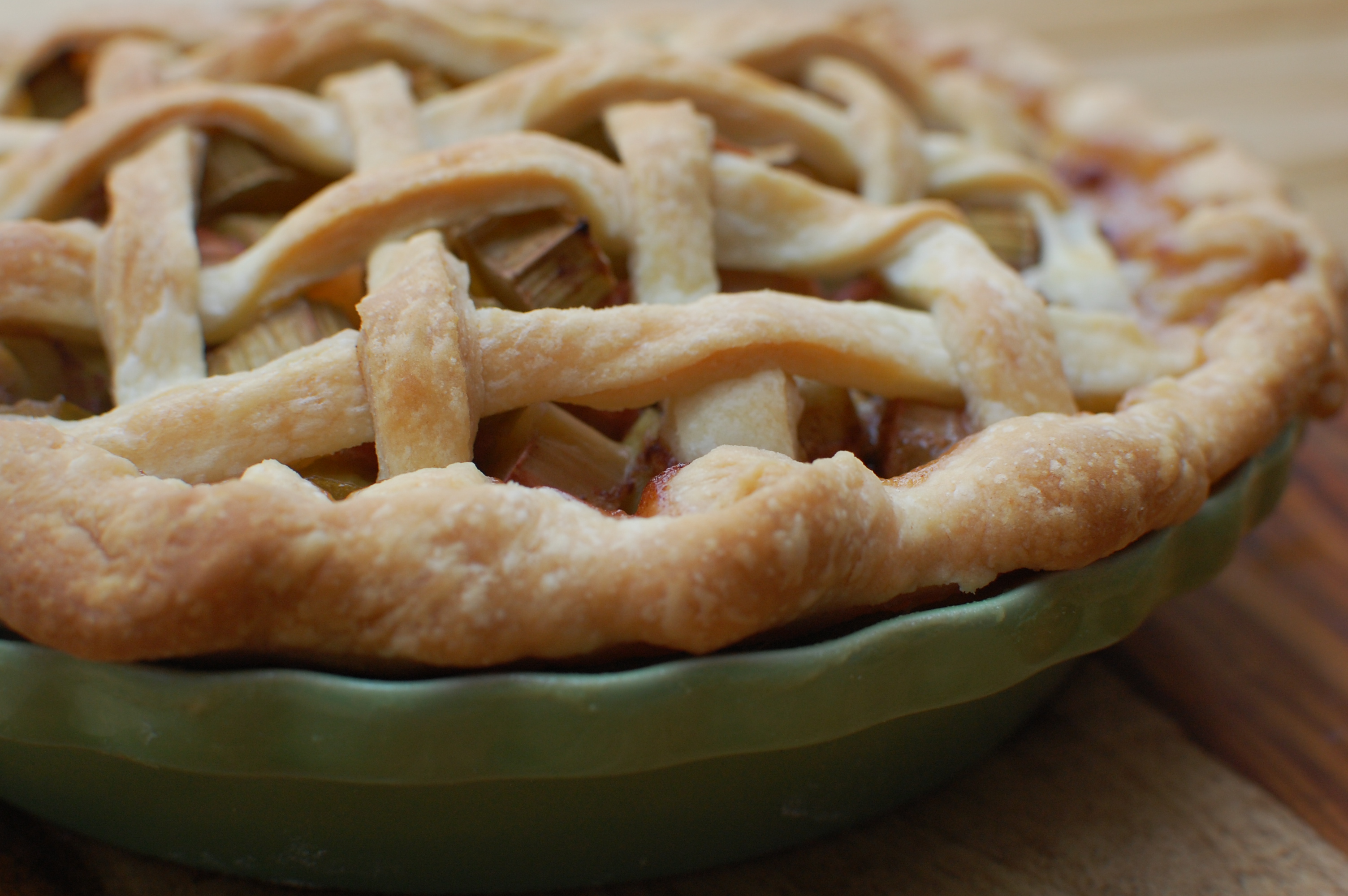 Sometimes when I don't know what to write, I feel lost.  I stand up and sit down with the hope that the brief change of elevation will bring words to the right place in my brain. I write something and delete it. Write and delete it. I blame it on the music and change my Pandora station. I google treadmill desks and chairs made from balls. I check Facebook. I think of a question and I search for the answer. I think about how I don't like the internet. I worry that the internet is doing to my head what too much pot did to my head when I was a teenager. I worry that it's shortening my attention span, changing the nature of my focus. I worry that it's leading to my dissatisfaction with stillness and silence and unanswered questions. I worry that if the words aren't here now, maybe they've stopped for good. Stand up, sit down. Write and delete.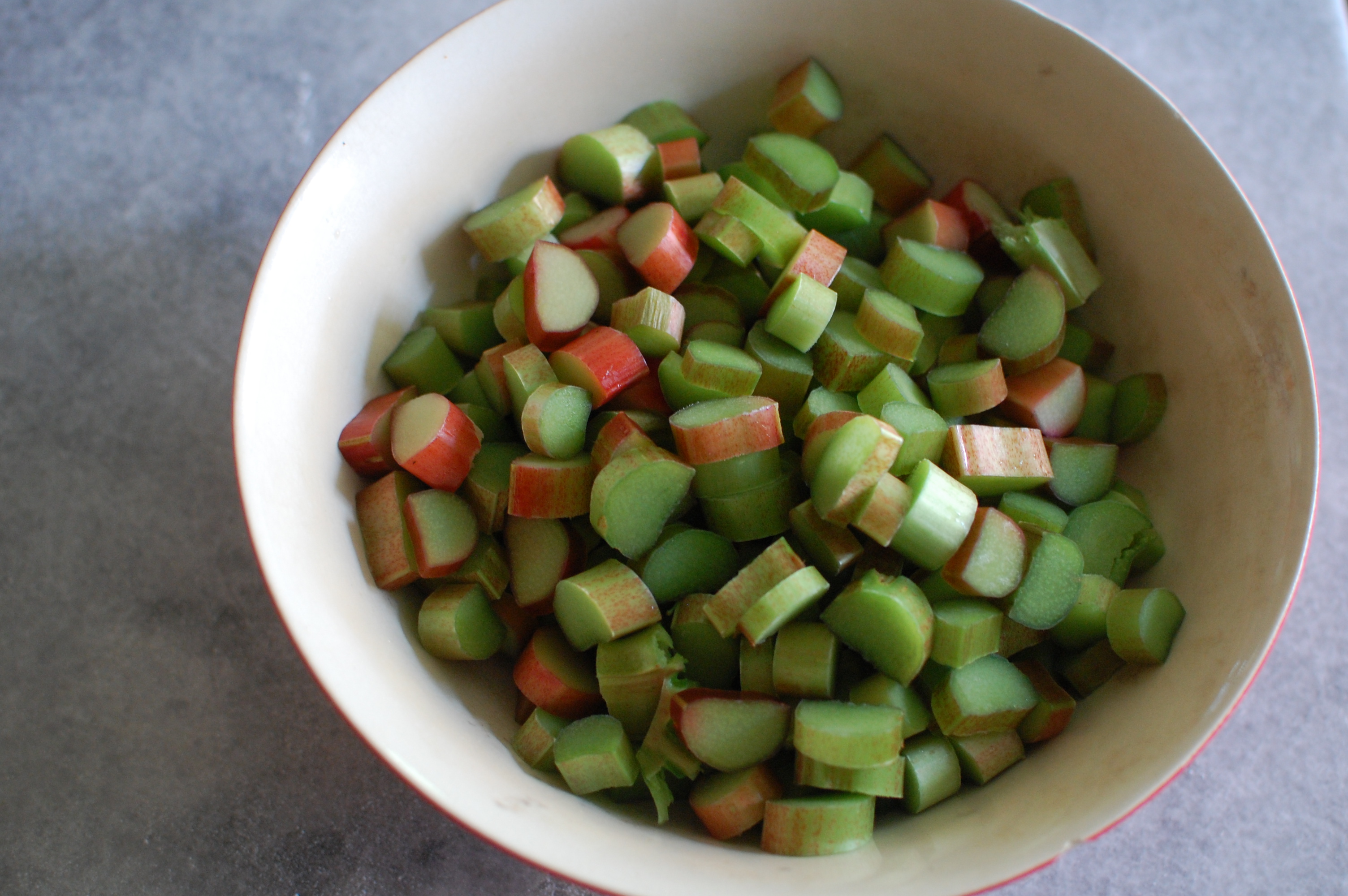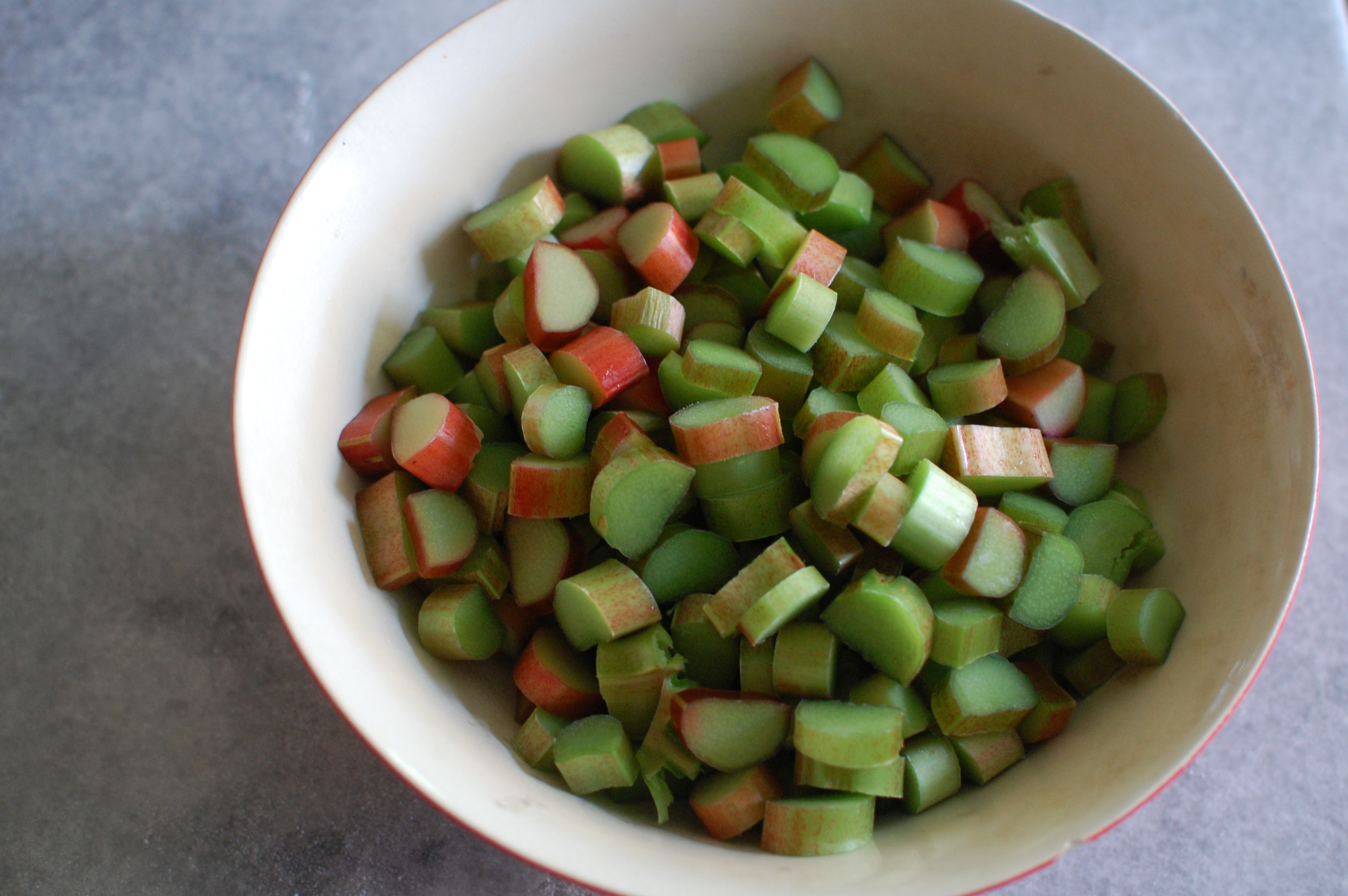 Sometimes, like now, I walk into the quiet kitchen and make pie instead of writing.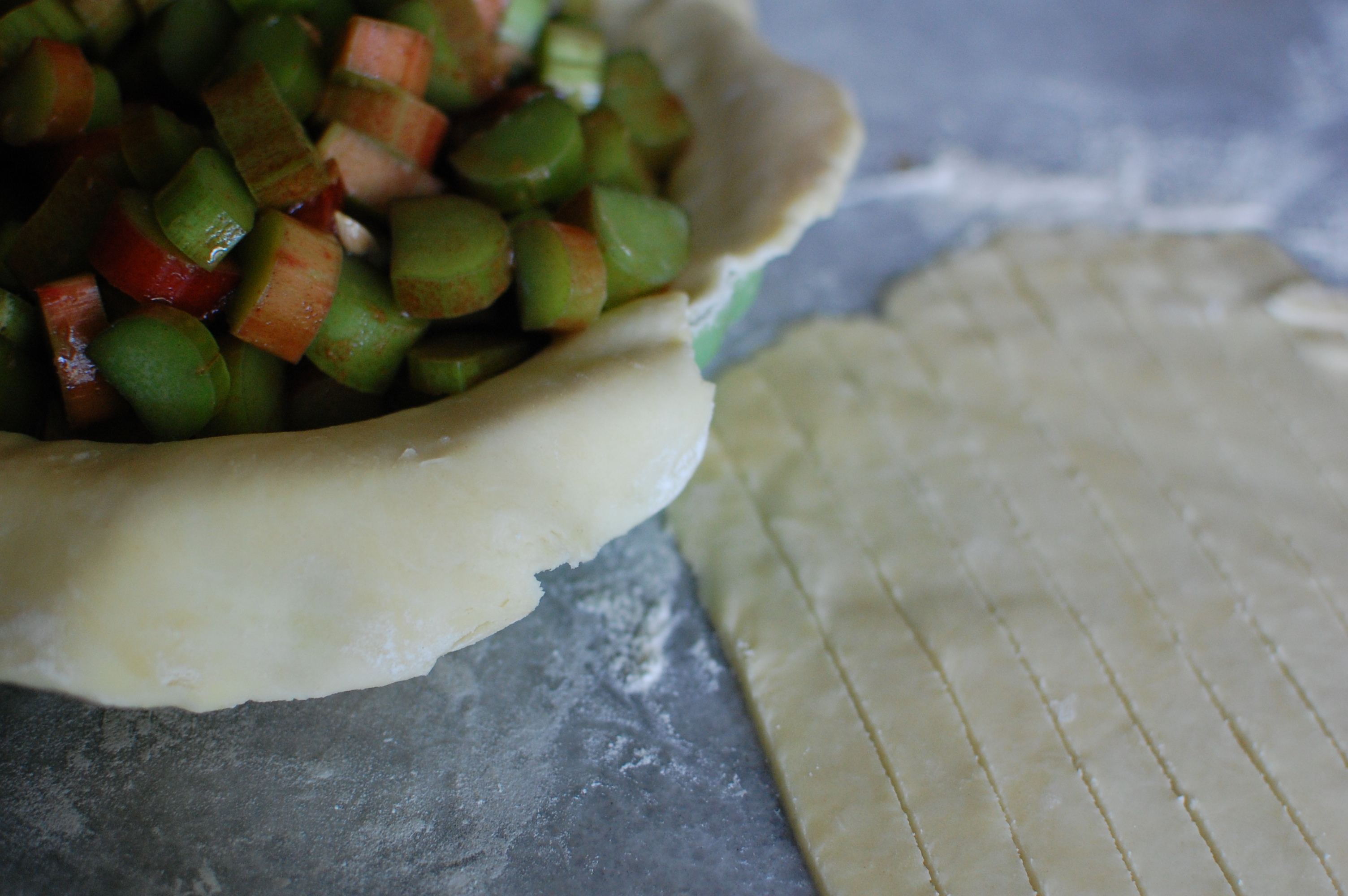 It helps. And instead of just an empty page, I have an empty page AND a pie. Sometimes if you can't make one thing, it's good to make something else.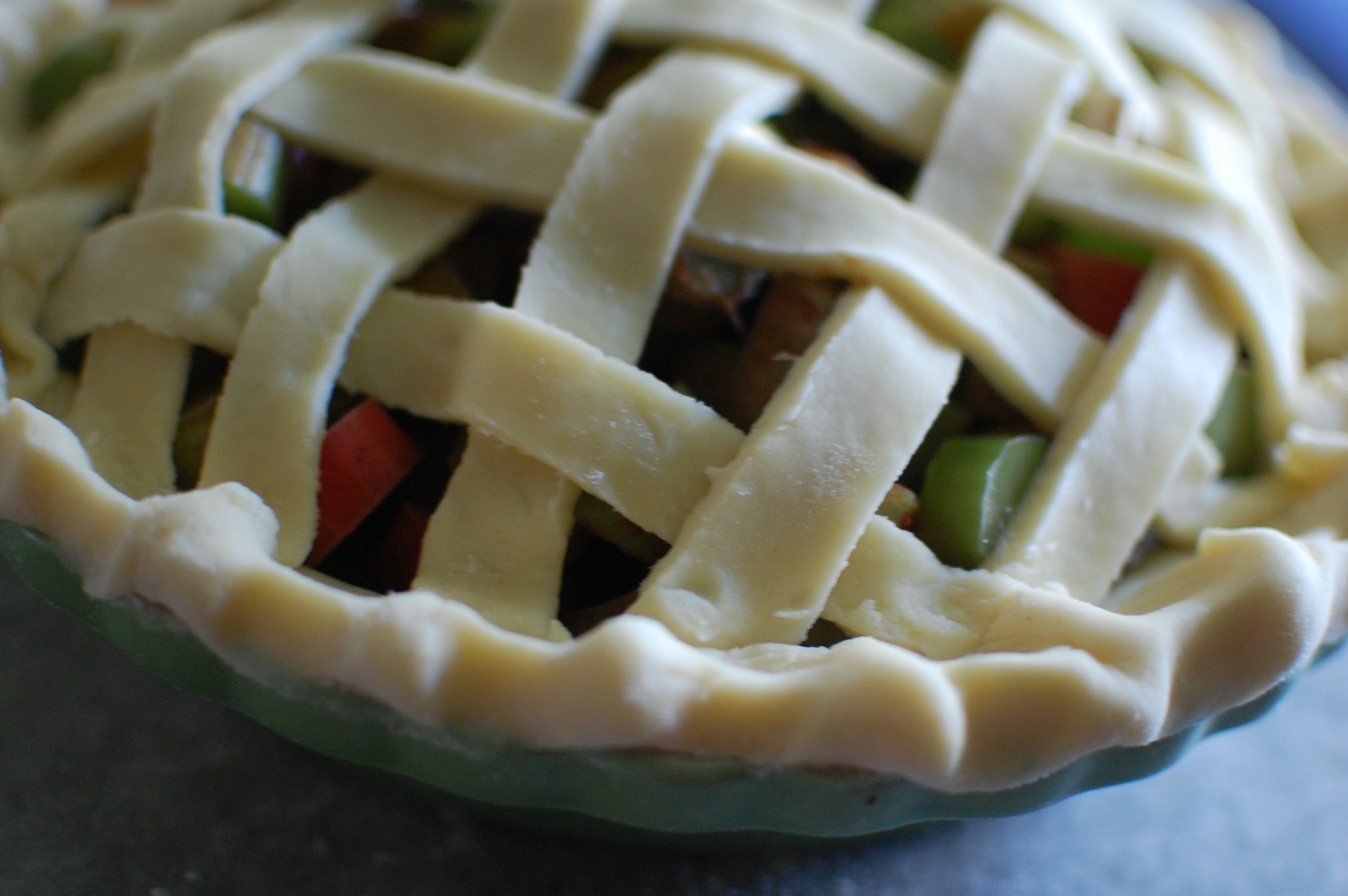 Happy weekend, friends. Remember, rhubarb is totally a vegetable, so you can have pie for dinner if you want.
Rhubarb Ginger Pie
1 1/2 pounds rhubarb, cut into 1-inch slices
1 tablespoon freshly grated ginger
the juice of 1 lemon
2 teaspoons cinnamon
1/4 cup arrowroot powder or cornstarch
2/3 cup maple syrup (this preserves the tartness of the rhubarb, but feel free to increase if you have more of a sweet tooth)
2 tablespoons butter, plus additional for the pie plate
1 recipe pie pastry for a double-crust, 9-inch pie (any will do, but I use the one from my book which is based off this one)
1. Preheat the oven to 425°.  Stir together the rhubarb, ginger, lemon, cinnamon, arrowroot, and maple syrup in a mixing bowl. Let it sit for at least ten minutes.
2. Meanwhile, grease a 9-inch pie plate with butter. Roll out 1/2 of the pie pastry on a floured counter and transfer to the pie plate. Roll out the second half of the pie pastry and cut into 1-inch strips.
3. Pour the rhubarb mixture along with any juice that has collected in the bowl into the pastry-lined pie plate. Weave the strips into a lattice pattern overtop the rhubarb. You can be neat about it, or you can be more improvisational. Pinch up the edges of the crust in whatever way that pleases you. Cut the butter into small pieces and dab it here in there where the fruit peeks out from between the lattice. Put the pie onto a rimmed baking sheet and bake for about 1 hour and 10 minutes, or until the crust is golden and the fruit bubbles. Let cool for an hour before serving.