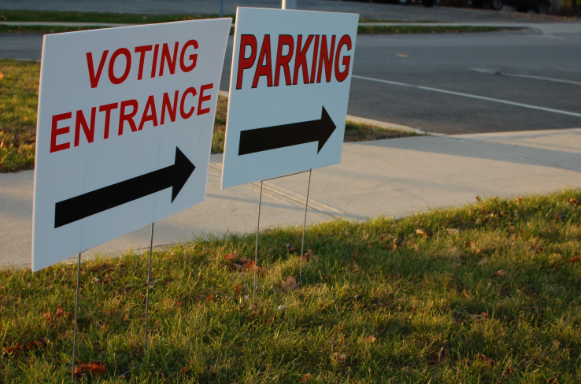 Before we get to the first of the month topic, I have to say–holey chicken! What an amazing collection of recipes, stories, tragedies and triumphs. Whether or not you're searching for the perfect roast chicken recipe, give the comments a peek if you can. And there's still a few more days to enter to win the dutch oven, too.
Last month, I started a series I'm calling "first of the month." Essentially, I ask a question and, if you like, you pipe in to discuss. There's no giveaway or incentive involved–it's really just a place for you to write. You can write as much or as little as you want, or if you want to answer on your own website, just leave a link in the comments. Last month, we talked about money, and this month, I'd love to talk about politics.
Some of you may know that for the last three years, I've held public office in my little New England town. In just under two weeks, my term is up, and I'm not running again. There are a few different reasons why I'm not running, but mostly it has to do with the fact that often two or even three nights a week, I sprint out of the house right at dinner time and I don't come back till long after the girls are asleep. The girls are feeling done with this schedule, and I think I've had enough of it, too. I'm also in the midst of writing a book about dinner, and somehow I think "take frozen soup out of the freezer and convince your family they want to eat it" is not quite going to cut it when it comes to the recipes.
I haven't written too much about my experiences in town hall here, although it certainly comes up now and then. Last year, I wrote a piece about campaigning for Martha Stewart Living Magazine, which isn't online although this reaction to the piece is. (I'm proud of this, as I think it's the only time someone has written an actual reaction to something I've written!) But over the last few years, I've helped to make a few little changes happen. People have come up to me on the street and thanked me for what I've done. I've learned that the press is not my friend. I've been misquoted and misrepresented in our two local papers more times than I can count. There are a few issues I've approached with good intentions and then messed them up so they might be worse than when I found them. I've learned about when to listen, and maybe more importantly, when not to listen. I've been the subject of Bill O'Reilly's anger (a story for another time). I've gotten better about speaking clearly and on the fly, and, depending on the moment, I've both gained respect for and entirely lost hope in the power of American democracy.
So this is my question. Right now, in the midst of all that's happening in politics (choose any issue or any country- take your pick), how do you claim your place in your democracy? How do you use the power you have, and what do you do to try to stay engaged and inspired? Feel free to talk about your political leanings or not. I know we're all kind here, and we can respect our differences as well as our similarities.
Thank you, as always, for stepping into the conversation. Thank you also for reading each other's words, and just for being here, too.