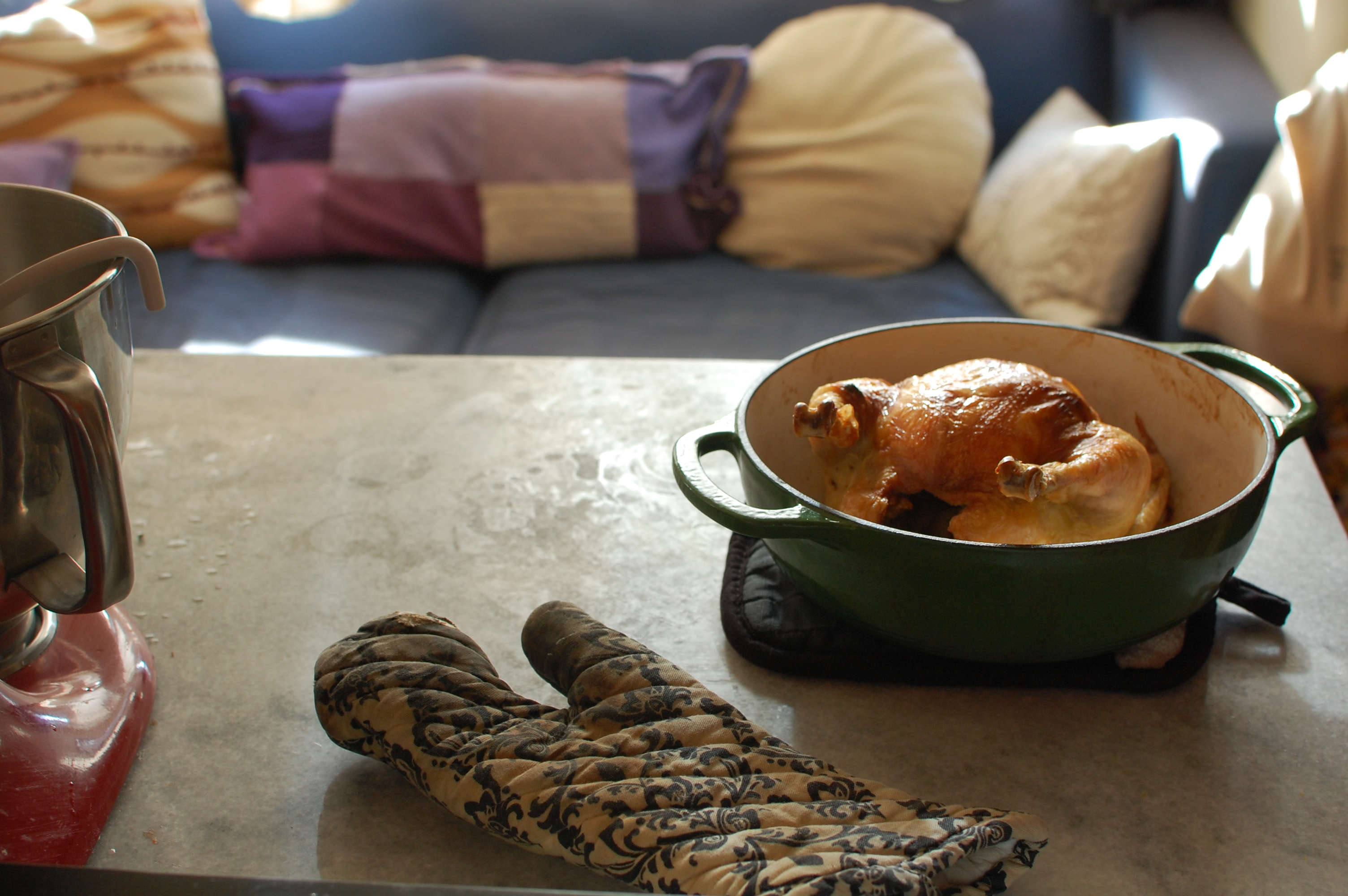 Just what the world needs. One more recipe for roast chicken. Only I do. I really do.
Perfect Roast Chicken
1. Find a chicken. It should be local, unless it's not. It should be organic, unless it's local, unless you are just at the regular supermarket and I'll be damned if I'm going to go to three different stores just to get ingredients for one dinner, and then it's just a regular chicken hopefully not from some Southern chicken farm that makes their farmers into indentured servants. On second thought, maybe you shouldn't find a chicken. Maybe you should just make lentils. Except you NEED roast chicken. You dreamt about roast chicken last night and woke up thinking about those amazing little oyster bites on the back that you've loved ever since you saw Amelie in college. Roast chicken it is. 
2. Bring the chicken home and unwrap it. If it's not local, wash it, but if it is, don't wash it, because, like Dorie Greenspan says, you know where you got your chicken and so why wash it. But if you wash it, you better make sure it's dry, or Thomas Keller will sigh and roll his eyes and say something about home cooks wrecking something as easy as roast chicken.
3. Contemplate spatchcocking. Next time, you'll spatchcock.
4. Rub the chicken with things that smell good. Put them under the skin if you're ready to get intimate with the chicken. You can even put them… inside. Rub a little oil or butter or ghee or nothing at all on the skin. Let the salt fall from a distance like gentle snow.
5. Now is the time to realize that according to Judy Rodgers, you've already botched this whole thing. Because really, if you truly wanted to make a decent chicken, you've would have massaged the whole bird with salt 2 days ago. Way to mess that one up. But at least you know to bring the chicken up to room temperature because way back when, you read something about that in Harold McGee, so you let that naked bird sit on the counter, building a little wall around it to protect it from your curious cat.
6. Except it looks a little inappropriate, a little exposed, and OF COURSE! The trussing! Only the figure eight doesn't seem to really be holding anything together, and there's definitely a trick you're forgetting, but three videos of Jacques Pepin later, it still doesn't quite look right. Abandon twine.
7. Preheat the oven. Make it low and slow like Laurie Colwin taught you, and then look at  the clock the change your mind and pump that oven a la Nigel Slater. HOT. Roast until the fire alarm goes off, then roast some more.  When the skin is golden/ the juices run clear/ the legs wiggle with a quiet grace/ the fire alarm goes off one more time, the chicken is done. Let it rest on a cutting board while you swat hungry husbands/ children/ cats away from picking at it while it rests. If there's time, put the pan on the stove and let those juices bubble away as they mix with whatever wine is left from the bottle you've been drinking all along. And then, as you do your best to separate that chicken into eight seemingly distinct pieces, eat those little oysters along the spine. Give yourself a greasy and contented pat on the back, and let the rest of the family go to town on that chicken.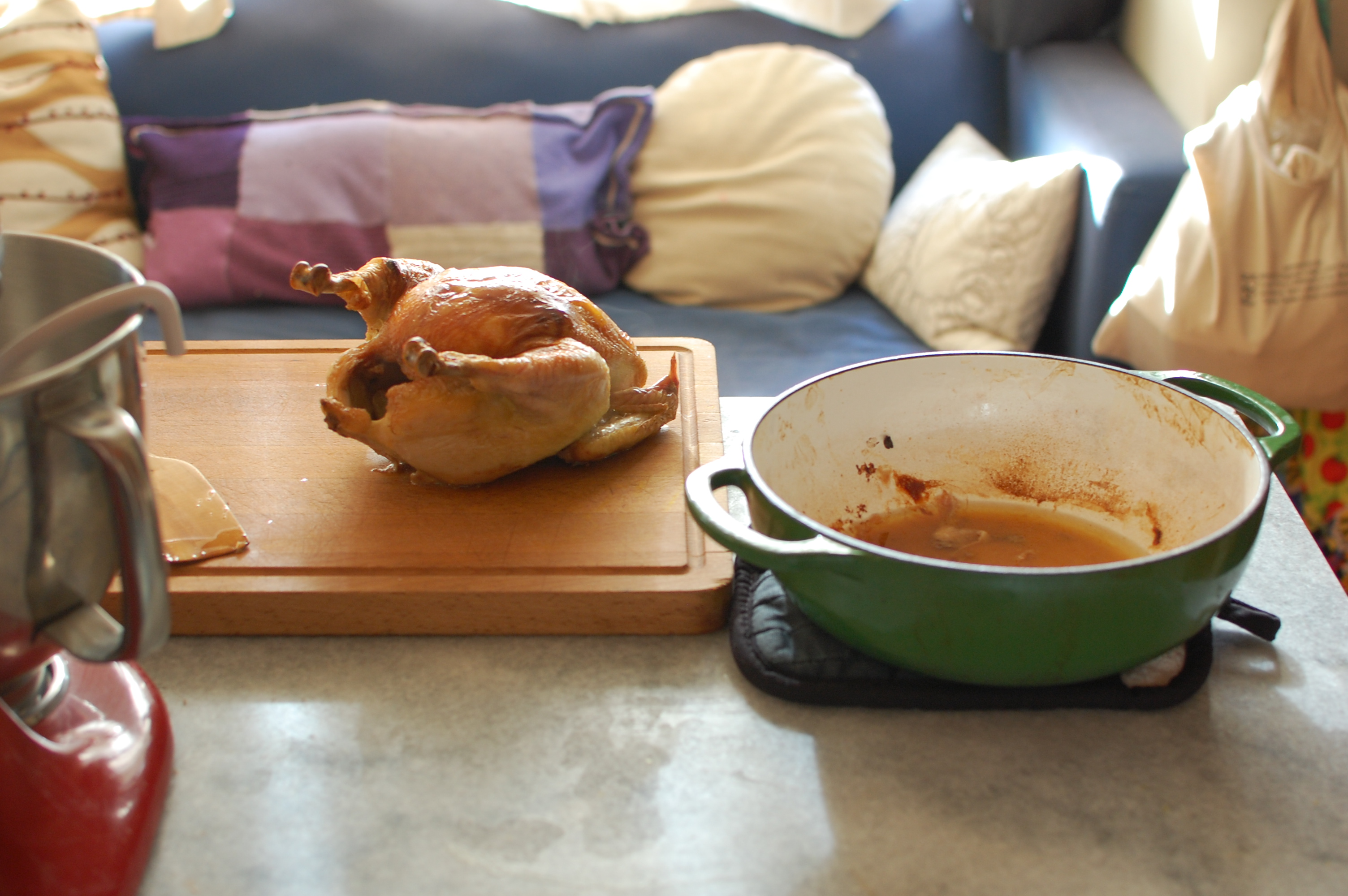 But really.
In all seriousness, I need your help. I'm working on a roast chicken recipe for the book, because of course a book about dinner needs a roast chicken recipe, but even though I've roasted probably hundreds of chickens in my life, every new "Perfect Roast Chicken" recipe seduces me, and usually it is indeed perfect. It is a good problem to have, but still.
Can we put this topic to bed? Will you tell me how you do it? There seem to be as many perfect roast chickens as there are stubborn cooks in the world, and I'd rather hear it from you than anyone else. Or of course, you can just tell me a roast chicken story. You know I love a good story.
Your comment will enter you to win (and I kid you not- take it from this stubborn cook) the perfect pan for roast chicken. Not too small, not too big, and cast iron so it can get nice and hot. It works both on the stove and in the oven so I can let those juices bubble away with wine while the chicken rests. It's rounded, gorgeous, and doesn't cost a month's rent. It's also a really good pan for everything else. But oh, the chicken!
Thanks to the good folks at Mighty Nest, I have a Lodge Cast Iron Dutch Oven ready and waiting to fly its way to you and hold your perfect roast chicken. (Remember Mighty Nest and all their wonderful solutions?) Go look and let me know if you love blue or green! I'm so happy they're carrying the Lodge dutch ovens. And while you're over there, they've got a few new napkin patterns I love, and I know some of you are still looking for those perfect napkins…
Thank you Mighty Nest, and thank you, stubborn cooks! Lay it on me. Let's roast this thing.
I'll chose the winner in a week! (That's Friday, May 3)