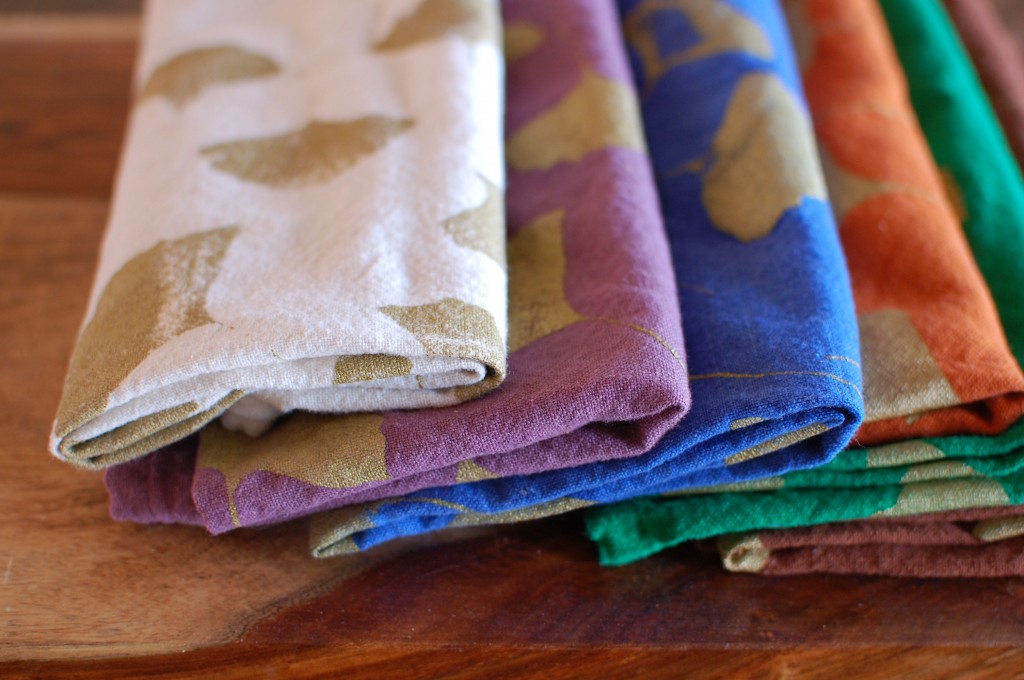 When I was growing up, napkins were made of paper.  Sometimes they were just paper towels folded in half, or even a tissue box in the middle of the table. In my mind, cloth napkins were for beautiful French countryside kitchens, for people with tons of money and marble countertops and mortar and pestles. Then I grew up, and I realized that I, too, could use cloth napkins. (And look where cloth napkins led me! I now have a teensy square of marble in my kitchen and not one but TWO mortar and pestles. So there you have it.)
I bought my first cloth napkins right around the time I started using cloth diapers when Sadie was born. Joey and I made the initial decision about diapers because of the whopping cost of disposables, but once I started washing and folding and stacking, the unexplainable pleasure of all those soft piles of clean cotton took over. I read articles in Mothering Magazine about virtuous mothers who had started with diapers and then gone on to swear off disposable everything. They were sewing their own maxi pads! Using cotton toilet paper! Bringing the handkerchief back into style! And of course they were all using cloth napkins.
I never made it to the cloth toilet paper, and I'm really okay with that. But I adopted a little set of four orange cotton napkins, and over the years, I've collected so many napkins that we even have enough for parties. And somehow, just like my cloth diapers managed to take a situation involving poop and transform it into a sweet-smelling soft and (again I say, mysteriously) pleasing experience, cloth napkins continue to make every meal feel more special around here.
Last month in the comments for this post, there was a real common thread around trying to replace disposable kitchen items with their reusable counterparts. With that in mind, I thought a cloth napkin post was in order, and for those of you who might want to make the switch, I wanted to talk about a few specifics of our cloth napkin routine.
1. Buy inexpensive, 100% cotton napkins. Although you might want to have something more fancy for dinner parties or special occasions, remember that these everyday napkins are meant to wipe messy faces. A well-loved napkin will be soft and stained. I'd hold off from buying the expensive French linen set (unless you're looking for a birthday present for me, that is…).
2. Keep a small laundry bag or basket in your kitchen. The convenience of being able to throw dirty napkins and dishtowels right into a dedicated basket makes a big difference.
3. Have dedicated a napkin for each member of your family. This is a new one for us, but it's been BIG. Buy one or two napkins specifically for each person in your household. Give each person their own color or variation in napkin pattern. This way, the napkin can actually be reused until it's really dirty and needs to be washed. As most meals just involve a bit of dabbing at the lips, a napkin can often last up to a week before it has to be washed. Assign a color for a guest napkin as well so you always have a clean napkin ready for dinner drop-ins.
4. Wash with a bit of vinegar and lavender oil. Usually our napkins just end up getting tossed in with the rest of the laundry. But every so often, I do a load of only napkins and dishtowels. I wash them on hot and add a bit of vinegar and a few drops of lavender oil to the mix. This keeps them sweet smelling despite years of hard use.
Any more cloth napkin tips? Favorite napkins? Or if you just want to express your cloth napkin love…