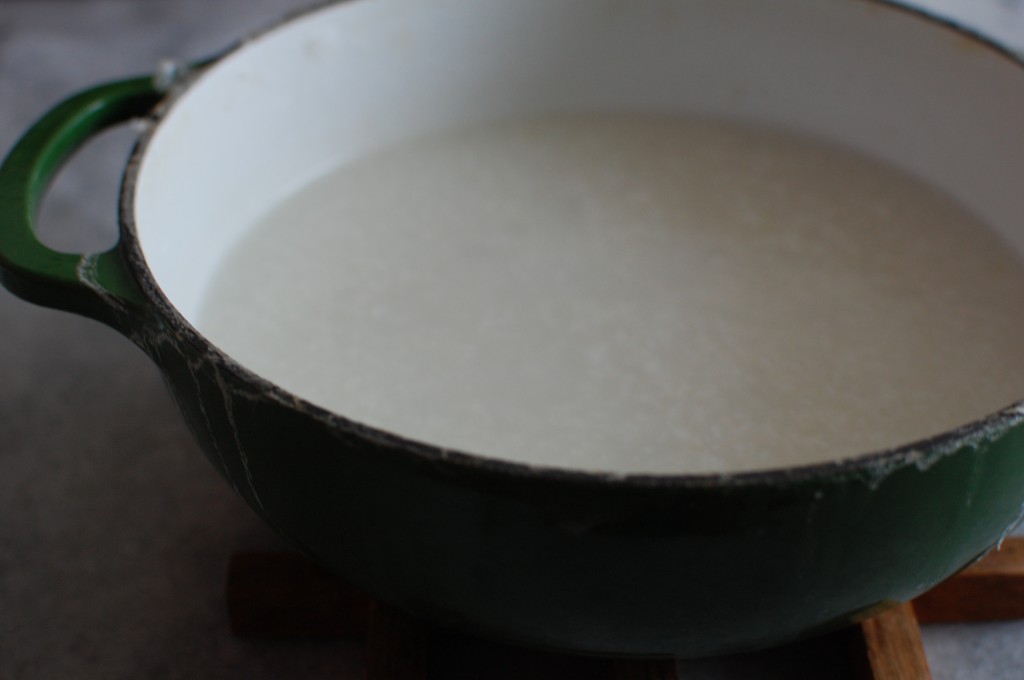 I wish I meant "sick" here like a really excited teenager eating Five Guys, but I don't. I mean sick, sick.
No one's gotten too sick so far (knock, knock), but there's been a lot of medium sick going on around here. 99 degree fevers. Sore throats that turn into belly aches and then just go ahead and get better on their own. One puke and then total restoration to health. I'm grateful, but I know that sickness is hitting a lot of people hard these days, so I thought we'd do a little sick food roundup of the things that make us feel better.
Of course I'm no doctor, but I'm a mom and I've got that going for me. So here we go.
1. Congee. You could make it fancy, like this, or go super basic, like the pot above that's on my stove right now. That one is just one cup of white rice and 10 cups of water, brought to a boil, covered, and simmered for about 90 minutes. It warms the belly, and is pretty much good nourishment for any of the 77 bugs going around right now. It's nice to have a big plain pot of it, and then those who are sick can have it straight up with a touch of butter, and those who want something more exciting can add whatever they like. (Chicken! Kimchi! Poached egg! Hot sauce!)
2. Peach Pit Tea. The cure-all. Throw in a finger of ginger if the tummy bug is the disease of choice. Of course, you had to have saved your peach pits to be ready for this. There's always next year.
3. Maple Custard. Goes down easy, gives a bit of protein and strength, and makes kids happy when you give it to them in a little mason jar.
4. Chicken Soup with Dumplings. Don't make this if you're the sick one! It involves far too much chopping and stirring. But if you are well, and especially if the bug in your household is a respiratory/ cold type of nasty, this is your soup that will keep you healthy and make the sick ones happy.
5. Garlic Lemonade. Preventative as well as extra soothing for the congested/ respiratory ailers. Don't be put off by the name–it's quite yummy.
6. Fruit Tapioca. Equally good for the hot and feverish, sore throat sufferers, and tummy bug victims. Again, happiness in a mason jar.
7. Naked Crackers. If there's a tummy bug that requires saltines, this is an excellent and more delicious substitute.
Sending lots of wishes for good health out to you. xo