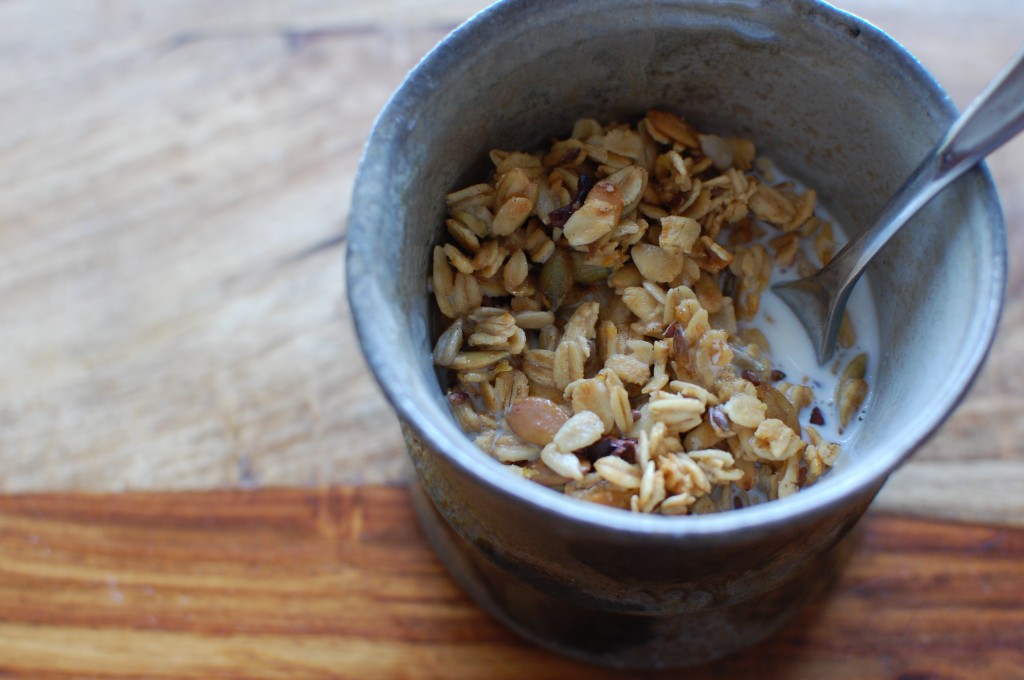 Have I told you the story about how when I sent my book proposal for The Homemade Pantry to my agent, I also sent granola?
Scour the internet (as we tend to do when looking for direction on big, life-changing things that have no guidebook), and the rules on how to send a book proposal are very clear. First, don't send it. Write an email, and wait for a polite request. Second, don't ever use gimmicks, or wrap things up in a special way. And third, don't EVER send food.
Well we sent it. And not only that, but Joey and I bought a cereal box, deconstructed it, silkscreened it, and put the proposal inside. How's that for a gimmick? Tuck a bag of granola in there (which of course, we did) and you have broken every rule. Moral of the story? Don't always listen to the internet.
That was 2009, and it was pretty much the same recipe I make now. I made the granola for every editor who might have considered buying the manuscript, for every TV and radio station who might have featured the book, and for anyone else who might need a bag. Over the last few years, I have made hundreds and hundreds of pounds of granola, all the same recipe. And it's still the granola I make for us here every week. I'm not even sick of it. I trust this granola, and it hasn't let me down yet.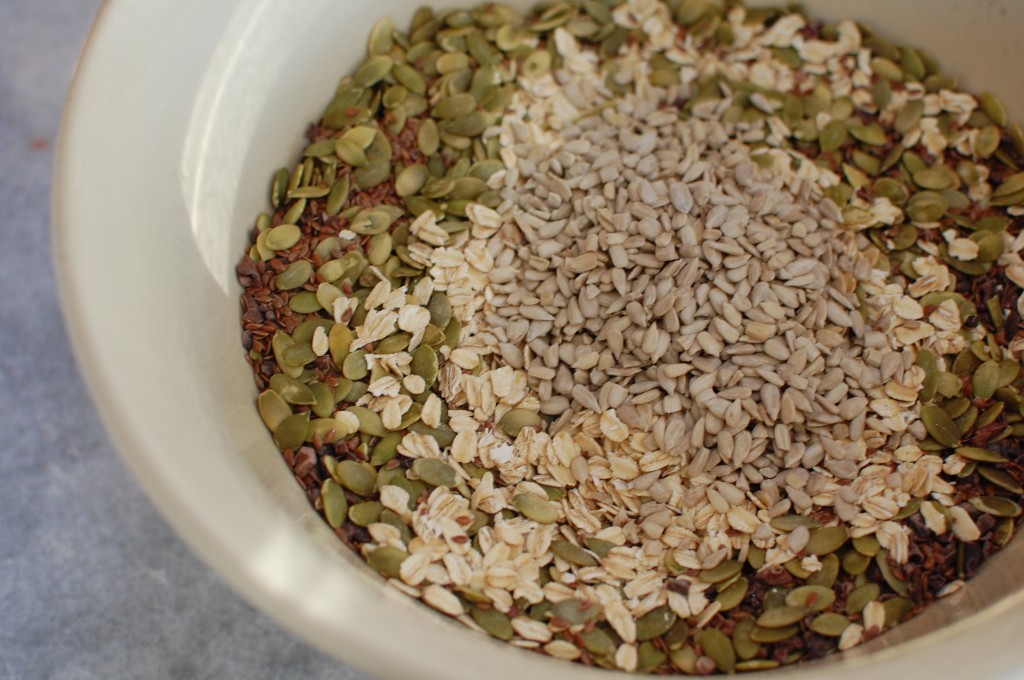 But last week, I started tasting something new in my imagination. I'm not even sure where it came from, but there it was, and after a few tries, here it is. I don't think this is THE new granola–it certainly won't replace the old standby. But it certainly is A new granola, and what can I say? Sometimes change sneaks up on you.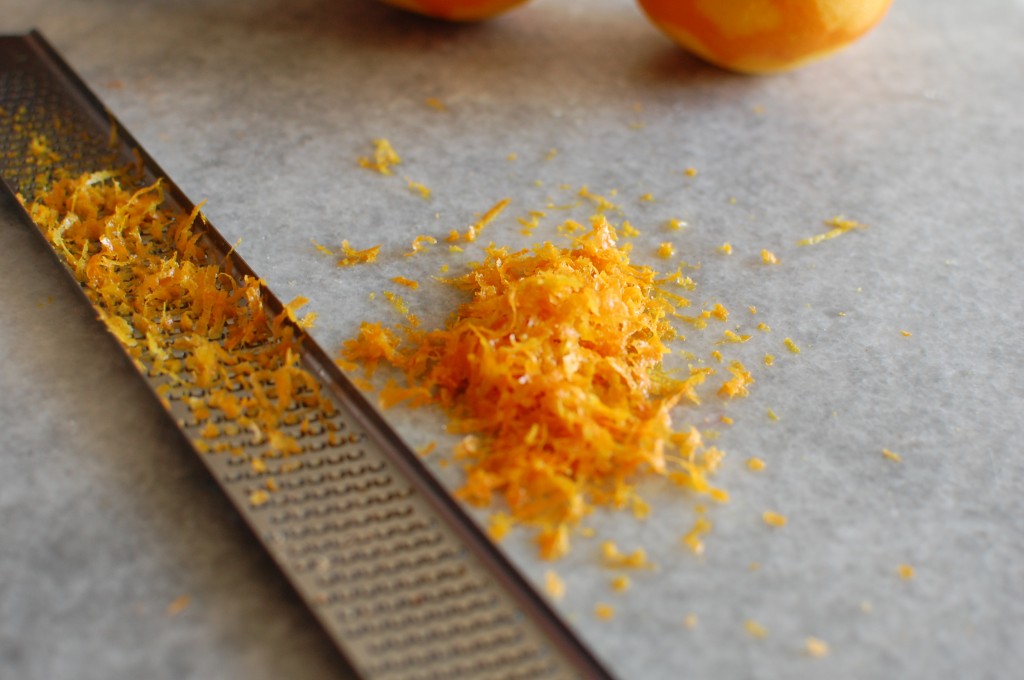 This granola is lighter and softer than what I usually make, and I'm just loving that. It's still got a good crunch to it, but because there's so much orange juice involved, the oats get saturated in a nice muesli sort of way. It's also all seeds and no nuts, so I can send it to school with Joey and the girls to their nut-free school.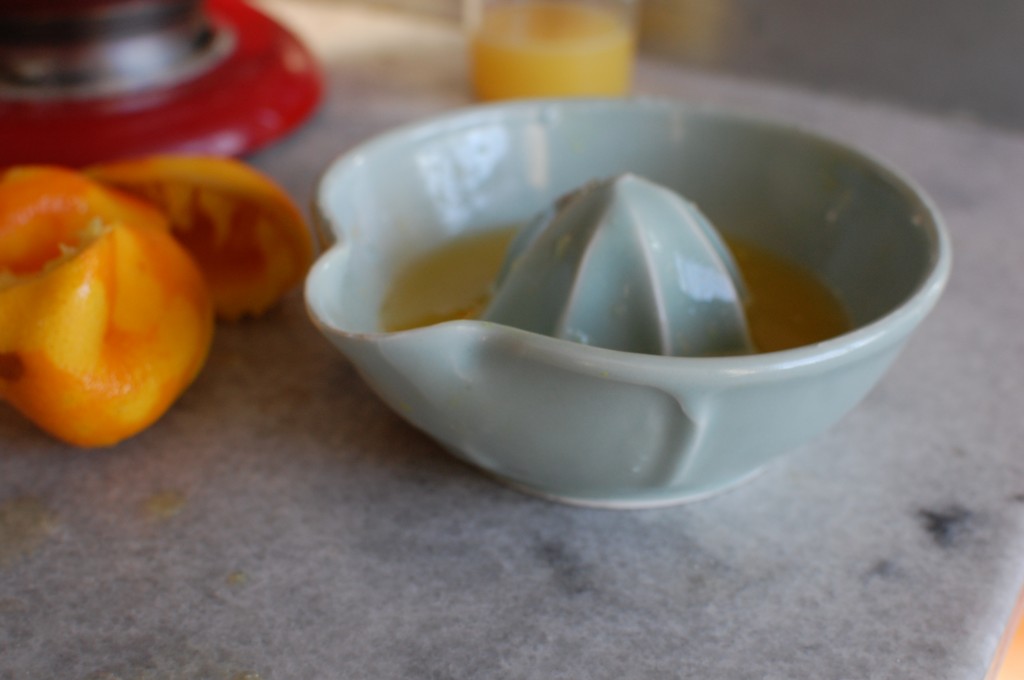 A few notes on ingredients and process here. This granola has cocoa nibs, which I know are a little pricey and can be difficult to find. A little goes a long way, and a bag lasts a while for me (and then there are all sorts of delicious things to do with them). But feel free to leave them out if they're not on your shelf. Also, many of you responded to my first baking post with questions about your convection oven. We'll talk about it soon, but in the mean time, the best way to prepare for the conversation is to use it! Convection is great for granola, so if you've got the setting, try it out. I'll give baking times for both methods.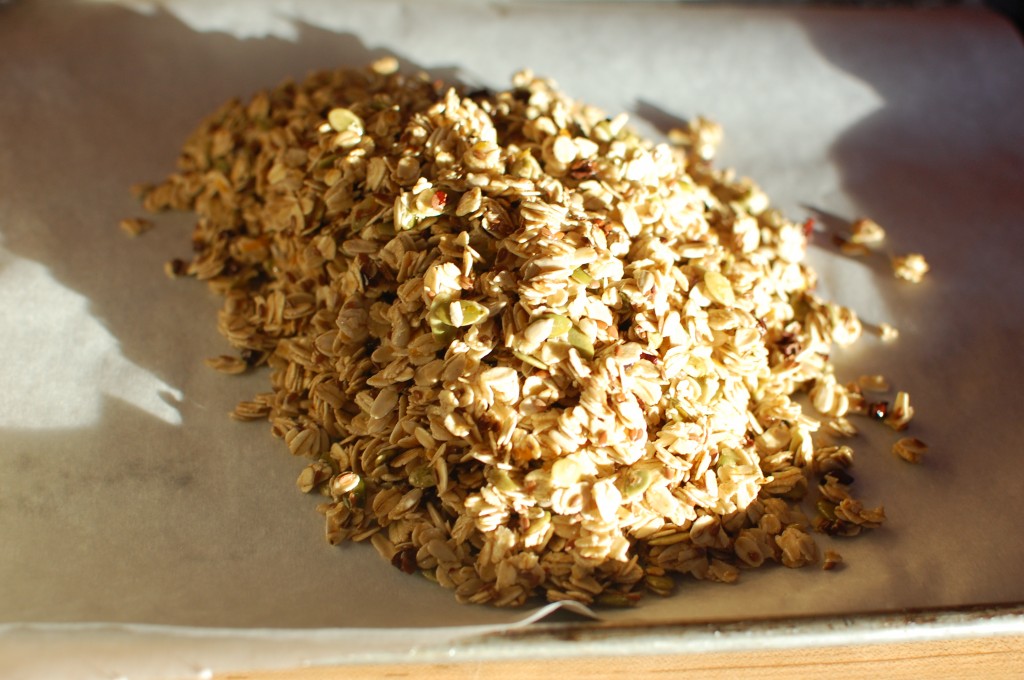 Before we get to the recipe–as it is, after all, the first week of 2013, we are certainly overdue for the yearly kitchen calendar giveaway. (Because, lost in the kitchen without a calendar to ground us, how will we ever remember what day it is? Is it Sunday and there's nothing for the kids' lunch tomorrow? Friday and we haven't yet had a beer? This is an important tool! I want to do all I can to make sure you are equipped.) This year, I have two calendars for you. The first is from Anna Hewitt, a reader of this very site, who offered to donate for the giveaway. From Anna: "This 2013 Eat Real Food Calendar was inspired by my love of growing, cooking, and sharing good food. The image for each month began as a pile of fabric and a moment and I wanted to capture. I cut each one by hand and stitched it together in my Saint Paul, Minnesota studio. I hope it will inspire you to harvest vegetables, make messes in your kitchen and gather around the table with people you love."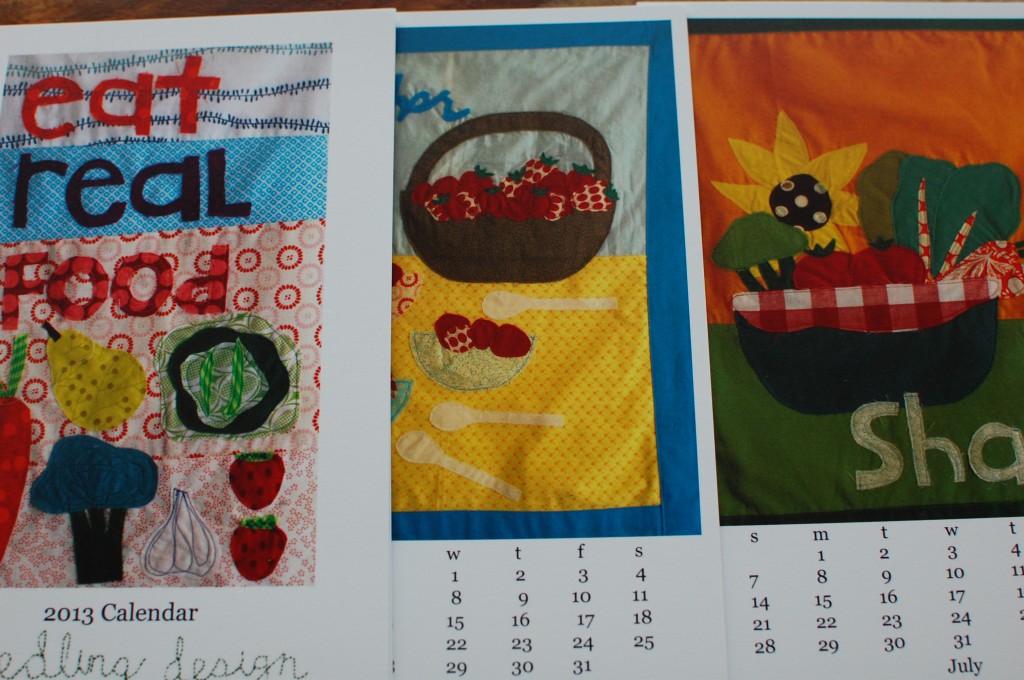 The second is from my friend, Laurie. She creates this lovely little gem of a kitchen calendar every year (remember this one?) and this year's theme is flowering herbs.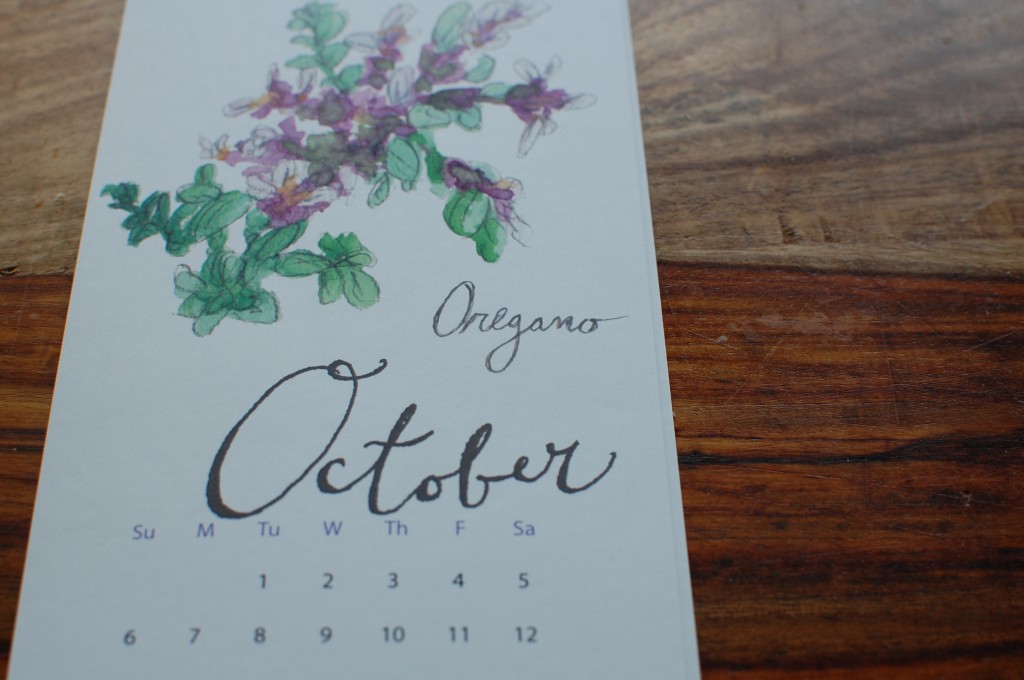 And yes, we're a week in, and I'm sure we all have our goals and resolutions outlined and conquered, right? So let's do something else here. Screw resolutions. I think change comes in its own time, and all I can do is to be open to today. Today, this week, this month, (okay okay, this year) I'm still working on giving myself over to Book Number Two. And although in the past I've always been pretty good at not getting ahead of myself and taking one step at a time, I find I've been getting stuck with the finishing of this book before I've truly gotten into the meat of it. Does that make sense? So today, I've got a quote that's been helping me out. It's from Junot Diaz, from an interview he did a few weeks ago with Bill Moyers:
"A friend of mine once said this famously. And I think it's very true. To write a book, in the process of writing, you have to become the person you need to become to finish that book. And so when you write a book, you yourself have to be transformed in the process of writing it."
If you'd like to enter the giveaway (or even if you don't), will you share your quote of today? I'd love to hear it, and I'm sure I'm not alone. Thank you so much to Laurie and Anna for supplying such beautiful calendars. I can't wait to find them a home. I'll pick the winners on Friday morning.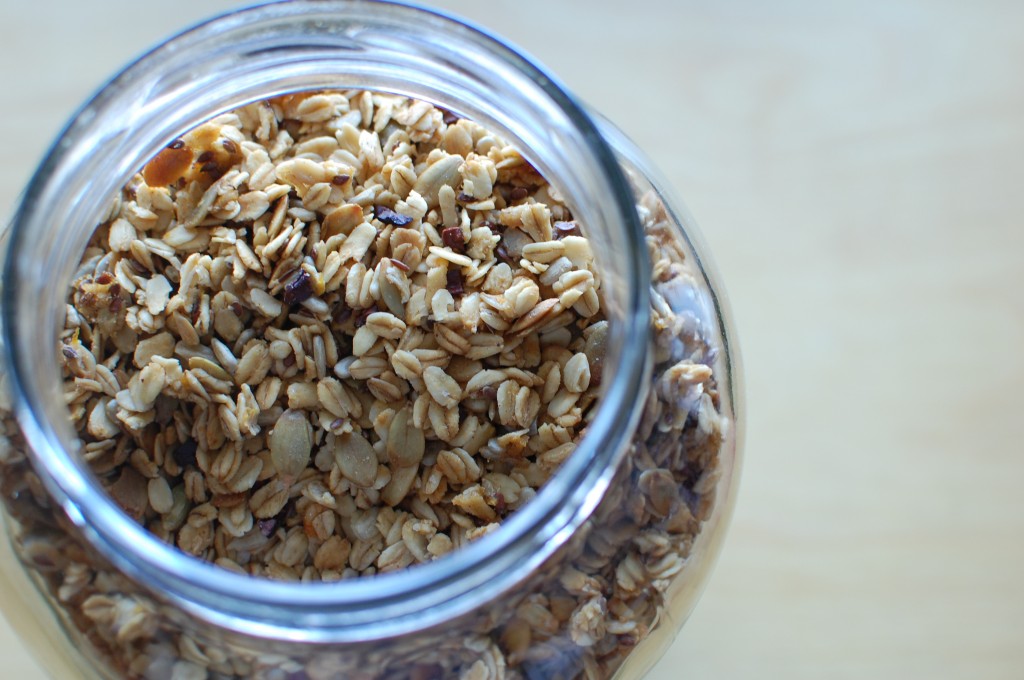 Orange Cocoa Nib Granola
makes about 8 1/2 cups
6 cups rolled oats
1 cup pepitas (pumpkin seeds)
1/2 cup flax seeds
1/2 cup sunflower seeds
1/4 cup cocoa nibs
1/2 teaspoon ground cinnamon
1/2 teaspoon ground cardamom
1/2 teaspoon salt
1 tablespoon orange zest (from about 2 unsprayed oranges)
2/3 cup fresh orange juice (from those very same 2 oranges)
1/2 cup maple syrup
1/2 cup packed brown sugar
2/3 cup olive oil
1. If you're using convection, preheat the oven to 275 degrees. If you're using the regular setting, preheat to 300 degrees. Line 2 rimmed baking sheets with parchment paper.
2. In a large mixing bowl, combine the oats, pepitas, flax seeds, sunflower seeds, cocoa nibs, cinnamon, cardamom, and salt.
3. In a medium bowl or measuring cup, combine the orange zest, juice, maple syrup, brown sugar, and olive oil. Whisk until the mixture is well combined.
4. Pour the wet mixture over the dry, and stir until all the oats are wet. Divide evenly between the two trays, and spread in a thin layer on each tray. In a convection oven, bake for 40 minutes, giving the trays a little shuffle with a spatula after 20 minutes. In a regular oven, bake for 60 minutes, giving the trays a little shuffle with a spatula AND switching the positions of the trays after 30 minutes. Allow to cool, and store in an airtight jar for 2 weeks (or in the freezer for much longer).