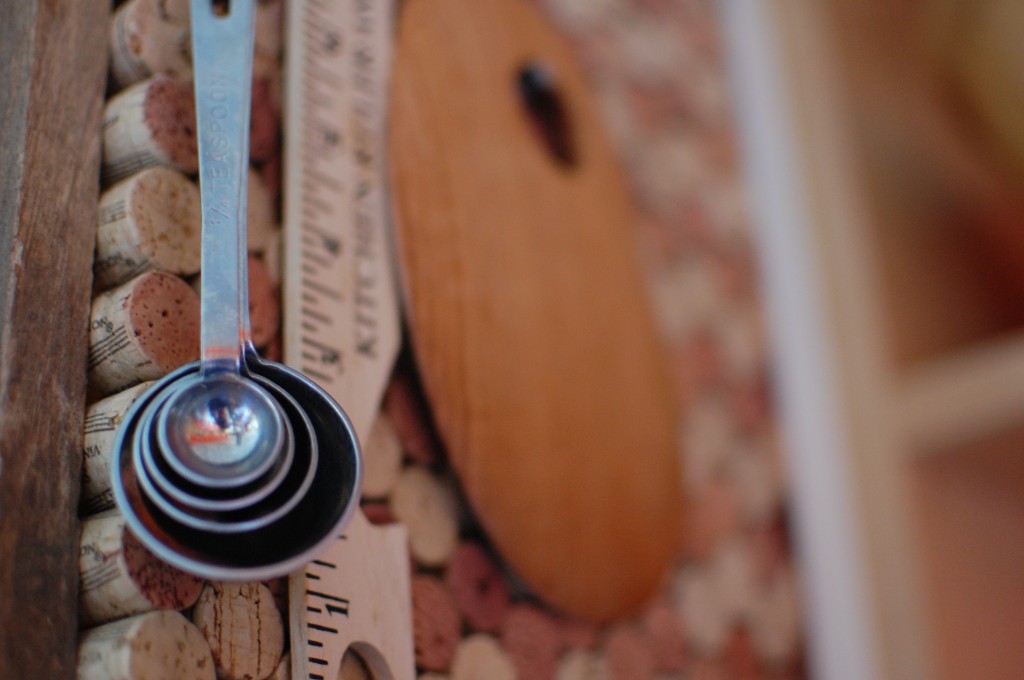 There are less than two weeks to Thanksgiving here in the US. Again, LESS THAN TWO WEEKS TO THANKSGIVING!
Right around this time every year, I develop what I can only describe as an infatuation with the Crate and Barrel Catalog. They keep arriving, there in my mail pile, snuggled in with all the other paper of my adulthood. In other seasons, I flip through–once, tops, and then it goes into the recycling. All those outdoor furniture sets or Spring brunch layouts leave my heart slow, steady, and uninspired. But then the holiday starts creeping in, and before I know it, I'm saving that "holiday gift book" for a quiet moment as if it were some forbidden and wonderful indulgence. And when Joey throws it in the recycling, I'm pulling it back out again, claiming that "I wasn't done with that!" (He continues to say that I still surprise him after 10 years of marriage, and I'm guessing these crushes on the Crate and Barrel catalog are and example of this phenomenon.)
I know that the traditional thing to to do with a Crate and Barrel catalog is to shop from it, but I don't usually get to that. Take their latest installment. It starts out with a peek  into some sort of American aristocracy, with a wise, academic grandfather and young University-of-Chicago-attending grandson sipping scotch. I roll my eyes! But I'm hooked anyway, and before I know it, I'm thinking it's definitely time to buy my first decanter. And then I've moved on, and there are hip, young, beautiful people all making Thanksgiving together. The light in the room, the light! I swear the pages smell like bacon fried brussels sprouts handpicked from some community garden plot in Brooklyn. I want in! And we haven't even gotten to the mother and daughter and their cookie-making afternoon, the snowflake cookie pan, the matching mixing bowls and oven mitts (striped red, of course) the red kitchen aid mixer that pulls it all together. (Wait, I have that exact same mixer! If only had the matching dishtowels…) There is sugar everywhere but on their clothes, and in the midst of the rolling and cutting there are interjections of hot chocolate in matching snowman mugs, and this time, the pages seems to smell like cinnamon. Then we're right there on the holidays themselves, and a trio of women are frying latkes in All-Clad pans while the kids spin wooden dreidels. There are frothy home-brewed lattes on Christmas morning, a guitar perched and ready for the cute uncle to play "Norwegian Wood," a bedside carafe with matching glass beside every cozy bed in the house. There is a very happy and gigantic family celebrating the holiday together with what looks to be an extravaganza of wine and delicious snacks on wooden cheese boards and small children actively making memories of grandma's lasagna and one more trip to the snowy train station to pick up another beautiful cousin. This is a world when there are doormats that only appear in these few weeks. They are tasteful, perhaps woven from sisal with the image of a bright, red cardinal pecking at the snow, just to get you in the mood as you kick the snow off your boots. This is a world where Yankee Candles actually smell good, like real pine or eggnog or pumpkin pie.
I'm a sucker for a good stylist. This is just about the moment when I find myself saying to Joey, "Let's fill vases with winter berry and pine this year. And hot chocolate! I don't think we've been drinking enough hot chocolate!" He laughs, and nods his head, and he knows that it will be a low budget/messy/Dr. Suess tree kind of holiday, not at all like the sleek pages of the catalog, and he knows I'll love it all the same. Love with a capital L. Because it's ours, and even our pulled together rag tag holiday season is perfumed with sugar and pie crust and yes, hot chocolate. (Served, of course, in chipped mugs that we use all year round.) But what I love, what I lust for in those pages is the creation of a space, the polishing of surfaces, the pulling out of the good dishes, the rooms filled with happy guests, the thought-out tables and kitchen counters, and the kitchens that seem to live for the making of special meals and big trays of sweets for boxes to be given away. How I love that! But although I might be less styled, less glossy, and less in possession of a decanter that the models in the catalog, I think that the ready, loveable, and holiday-primed kitchen is, in fact, within my reach. At least my version of it. And although in my world, Yankee Candles don't smell good at all, I can have REAL pine and eggnog and pumpkin pie.
After all the wildness of the last few weeks, I think it's a perfect moment for the second installment in the "how to give your kitchen a makeover for 15 bucks or less" series: TOOLS. (I know it took me a while to get here, but I've been wanting to get this whole Crate and Barrel thing off my chest.) In this week after the stress of the storm (either experiencing it or watching it) and the wildness of the election (whether you're elated or not about the results- I'm guessing you're exhausted either way and might have had too much to drink the other night), it's just the right time to inhabit the kitchen, to enjoy the simple fact of having a roof over your head, and to shift a few things around to make it feel new and ready for the weeks ahead. Clear out the shelves, rearrange, and put your favorite bowls where you can reach them. And if you have a few bucks to spare, give them to the Red Cross. But if you have a few more, I want to talk about the small and wonderful tools that make such a difference in my kitchen–the tools that I must admit I'll bring with me if I'm staying at your house and I know that you don't have them. (But then you can expect at least one of these for your birthday.)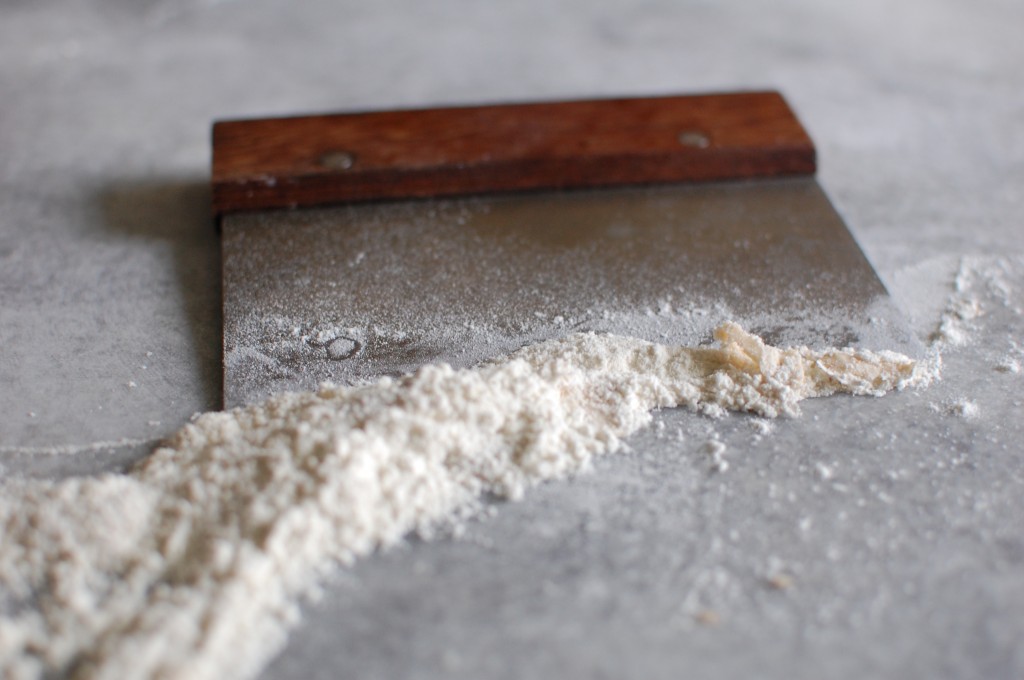 The dough scraper. Also known by countless other names. For bread, pizza, and most anything with dough, this is essential. Also, pasta for the messy egg moment. But where it shines? It will scrape any dough or residue of any other project off the counter. Also, it's stellar for transferring chopped onions from the cutting board to the pan.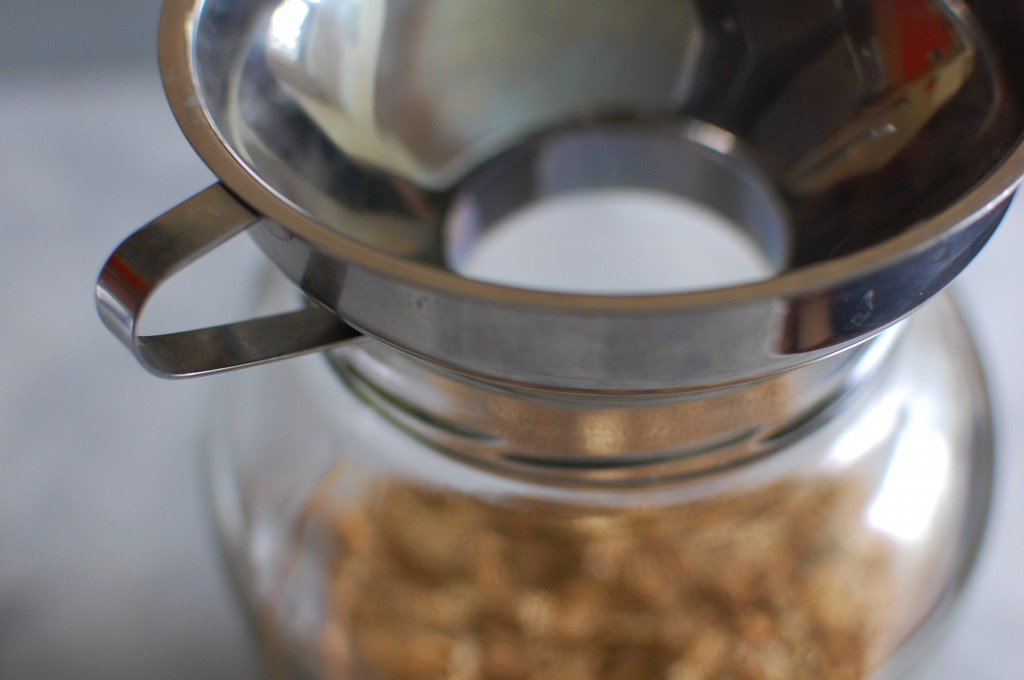 The wide-mouth canning funnel. It's called a canning funnel because it's great for canning. But if you store ANYTHING in a jar, this is the way to get it in there. Just having this funnel in my hand makes me want to organize the pantry, and to pour any grain/flour/any edible that will fit into a jar into a jar so I can admire it.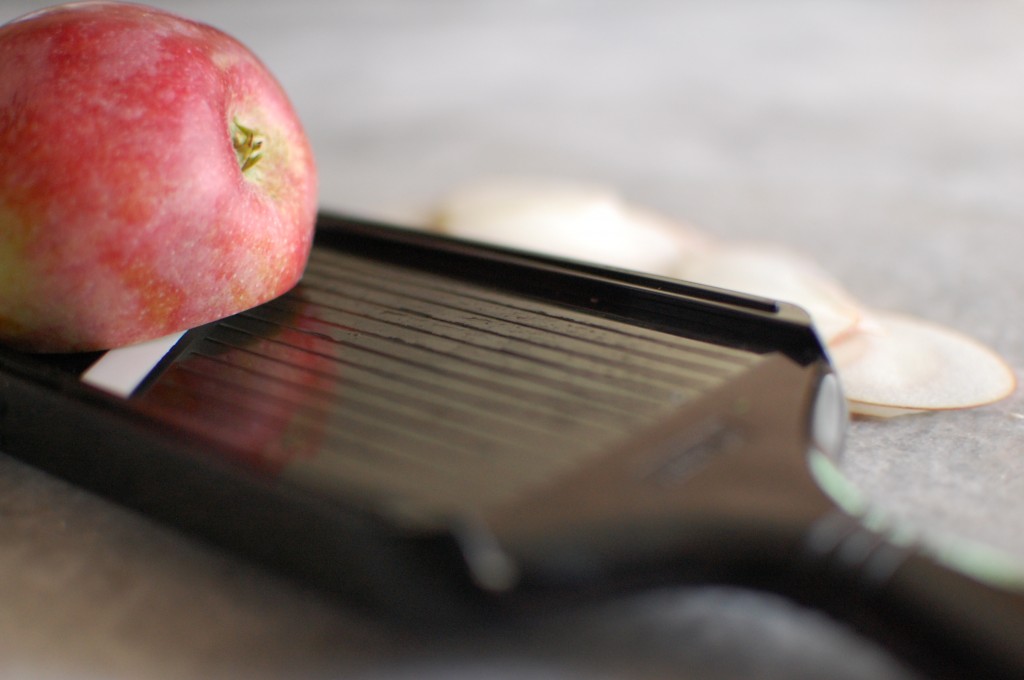 This cheap mandoline. Okay, I'll admit it's a bit dangerous, and it only comes with one setting: see-through thin. But it is so much better than any mandoline I've ever used, and I find myself pulling it out all the time and slicing things thin just for the fun of it. I owe this discovery to my friend India, who keeps a kitchen that often teaches me new tricks.
And then of course, there is the queen of all pleasing and useful tools, the wooden spoon. This moment in your grateful quiet kitchen is just right to oil up your spoons and to make the wood shine. One of my favorites right now was sent to me by my friend, Emily. Her stepfather made it based on the requests of her sister, Anna, who thought the shape and size, as well as the gentle feel of the maple, would be especially useful, and she was right. It's called the Anna spoon.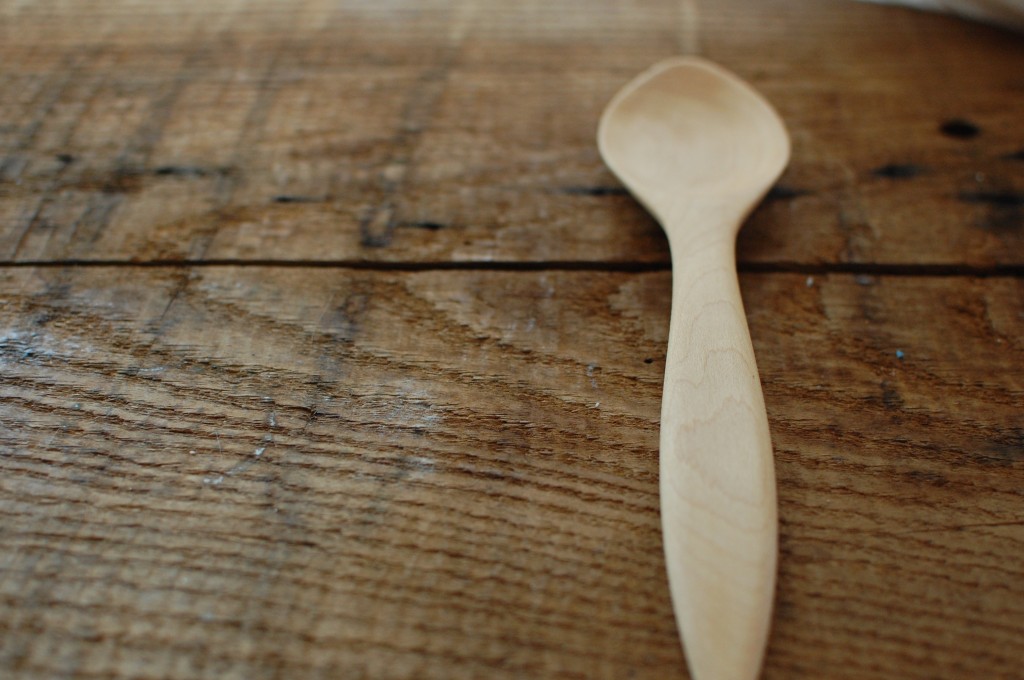 Because it's never to early to start the holiday giving, I asked Emily if she might have another Anna spoon to send to one of you. It turns out that Ray, Emily's stepfather, makes all sorts of beautiful spoons, and he's put aside one of these lovelies for you.
So today, will you tell me the tool you love? Or the little ways you get your kitchen ready for the holidays?  Or tell me about your own secret moments with the Crate and Barrel catalog. Really, I'd just love to hear how you are. I'll choose a winner at random on Monday night, and the lucky one will get their very own Anna spoon. And on on top of it all, a new wooden spoon always brings good luck, so you'll get that, too.
Before we get to it, I have just a few announcements. I know, I know, you only have a few minutes to read, and here I've gone on and on about Scotch decanters! But give me just another minute, and then we can talk tools in the comments.
1. Speaking of lucky, The Homemade Pantry has been nominated for Best Cookbook of the year on Goodreads! The group of nominees over there is so wonderful- several of my favorite books of the year are there. If you're a Goodreads member and haven't voted, hop on over there and choose your favorite. (Voting is awesome, after all, and you're so good at it!)
2. I think I've mentioned that this fabulous book club has been cooking through The Homemade Pantry since September? As part of that project, Chris of The From Scratch Club came over a few weeks back and we talked about food and love and books while turning 20 pounds of peaches into peach butter. It's all packed into the latest episode of their podcast. ALSO, I'll be in Troy, NY with Chris and The From Scratch Club gang on December 8, first signing books at the Troy Farmers' Market, then teaching a class on getting started with your own homemade pantry. Registration info is here.
Happy weekend! Sending love out to you all.