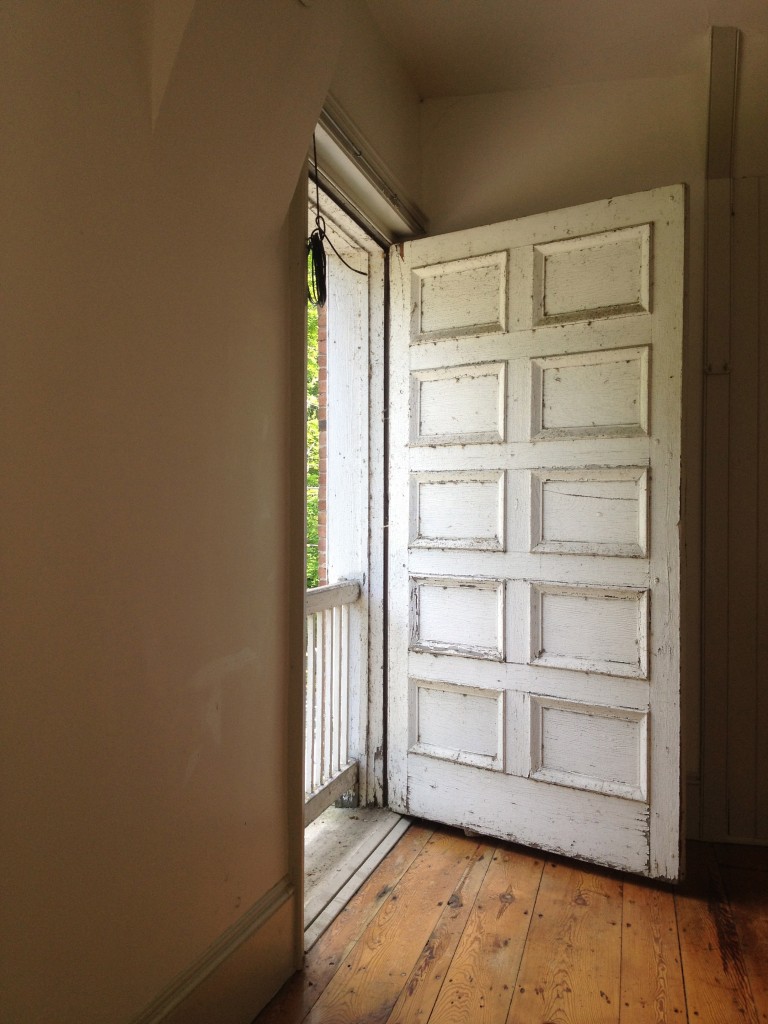 I'm back from my room.
There are two sides of the coin when it comes to talking about the process of trying to actually create something, or maybe 3 or 4 sides, as when I'm talking about writing, the metaphor is bound to break down, sooner or later. There are some people who can talk about writing and they wow me. Me, I'm tongue tied. But I'll try.
One side of the coin is just looking at its own belly button. I go into a room, I look at an empty page, and the worst of me comes out. I get sick of myself. I decide I should go to graduate school. Or get a dog. Or really anything but sit in this room.
But the other side of the coin is that I'm not alone. That, I, sitting there feeling silly and self indulgent for trying, am one of endless people, trying, just then at the moment to take something that's inside of me and put it outside of me. Whatever the medium, it isn't easy. But we do it- for whatever reason that drives us, we like to make things. I've always been more of a team player than a loner, so I like to think of that beautiful army of makers, all working at the same time.
Halfway through the week, my friend Emily, who lives in the house next door to the room, came back from some days away. She was like sun, and she brought flowers.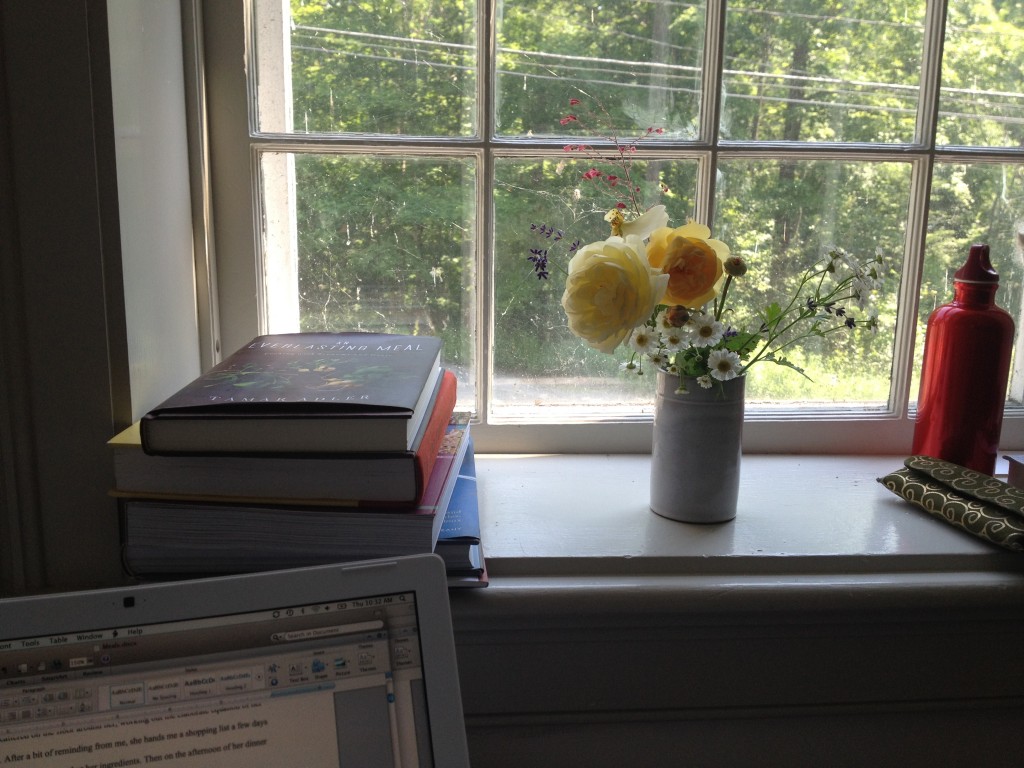 Like I said, I'm more of a team player. For each of her little visits, I got at least a page of solid writing. And in those few days, the summer started to creep in. I'd get home late, and the girls' bathing suits would be twisted wet, hanging on the drying rack on the porch. There was sand on the floor, an open sunblock tube over-squeezed to leaking on the bathroom counter, the remnants of hotdogs for dinner.
The week kept on, and I didn't cook a thing. After bad hours, or stretches of hours, I thought, "Maybe that's my problem. Maybe I need to cook in order to know what to write. Maybe I need girls to fight behind me, and Joey to try to lure me away from the desk, and the overflowing laundry basket to lure me most powerfully of all".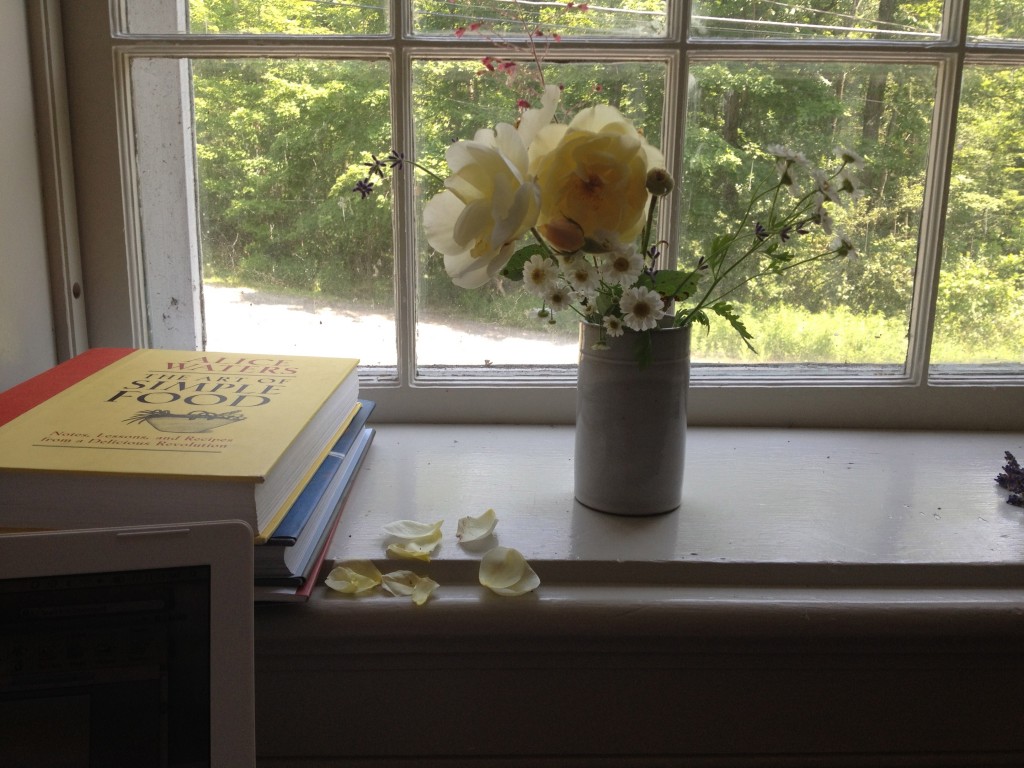 It's funny, right? That life inspires us to make things, but sometimes it's the very same life that gets in the way of actually getting them made? A friend of mine once said, so well, I think, that it's not a question of balance. "Screw balance," or something like that. "We either do the thing we want to do or we don't, and what we're in at the moment takes over." Most people I know seem a little nuts most of the time. I think it's more true to who we are.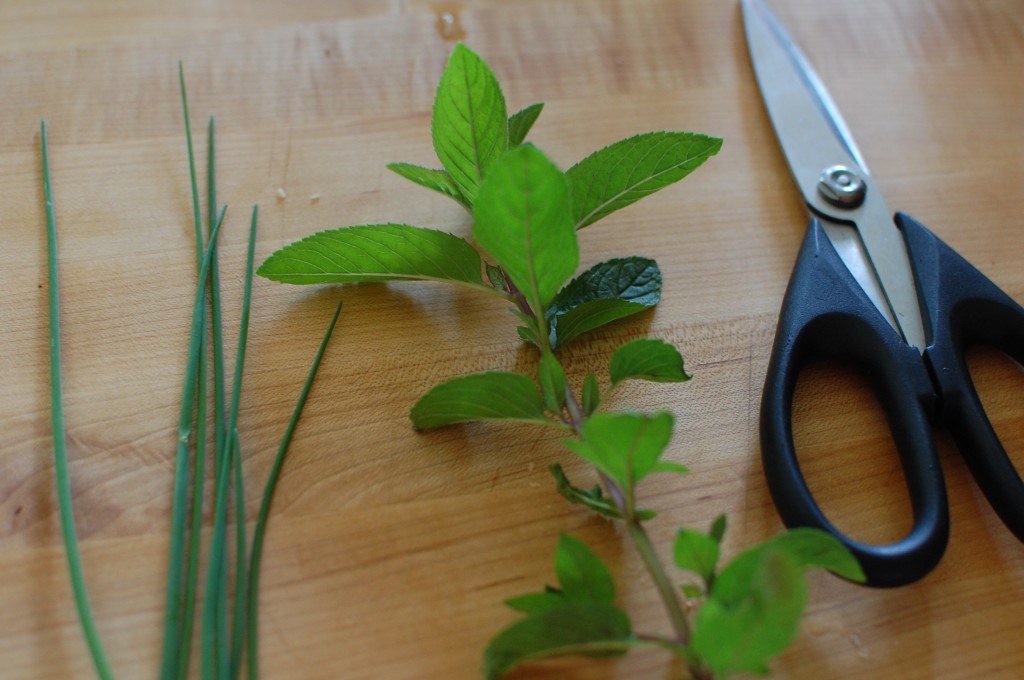 Because I needed to feel like I had my hands in food, just a little bit, Every morning, I picked mint from the garden, big square stems with furry leaves. I shoved them in pitchers to chill, and then I filled my water bottle with cold mint water for the day. I left some for Joey and the girls, elegant and special right there next to the hotdogs.
It's no recipe, I know, but sometimes I need to be reminded of these things. That that moment that it takes to cut a stem of mint and put it in a pitcher-it changes the way I feel for the day. That even water can be gussied up with just a bit of conscious effort, and sometimes that's the thing that's what makes the summer come, with warm slow waves of the air that makes you close your eyes and be glad of it.
Happy Summer, friends. I'm heading back into the kitchen this week! So more recipes soon, soon.