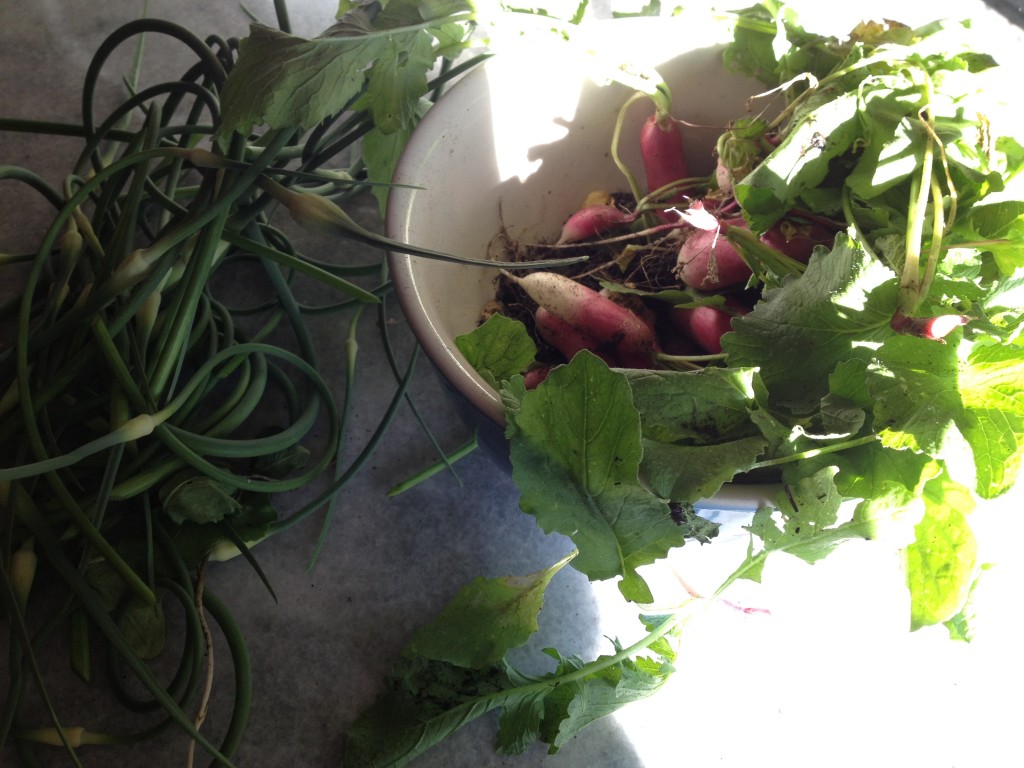 My girls have these women in their lives–a few of my close friends I've known forever who stepped in at their births and swore to love them and protect them with all they have. We call them aunties, and I feel so lucky to have them. I was the first among these few of my friends to have children, and nearly a decade has gone by without any of them having children of their own. Until now. This week, I became an auntie to the most beautiful little boy.
That has been the whole of the week. He needed a bit of extra support, and so there was a lot of back and forth to the hospital, coordinating of meals, cheering on his wonderful momma, and celebrating his brave progress into the world. This morning, they finally came home, and in some ways I did, too. Joey cooked that marvelous ragu again, and we sat around the table and clinked glasses to it all. And then Joey and I attacked the weeds in the garden, and I harvested all the radishes and garlic scapes. Inspired by Andrea, I roasted those radishes, and the scapes became pesto in the blender with just a bit of olive oil and parmesan. All this birth and sleeplessness and everything else that has come with the week has left me raw, so I'm going to grab the moment and see if I can get some work done.
I'm going away tonight for a week or so. A friend has generously gifted me with a room with no internet or phone, and Joey and the girls are going to have their first week of summer without me while I try to see what I can find in that room. I promise to answer emails, yogurt questions, and everything in between when I get back. Have a great week, and happy Summer! I'll see you on the other side of the solstice, and we'll be a few days closer to that first ripe tomato.