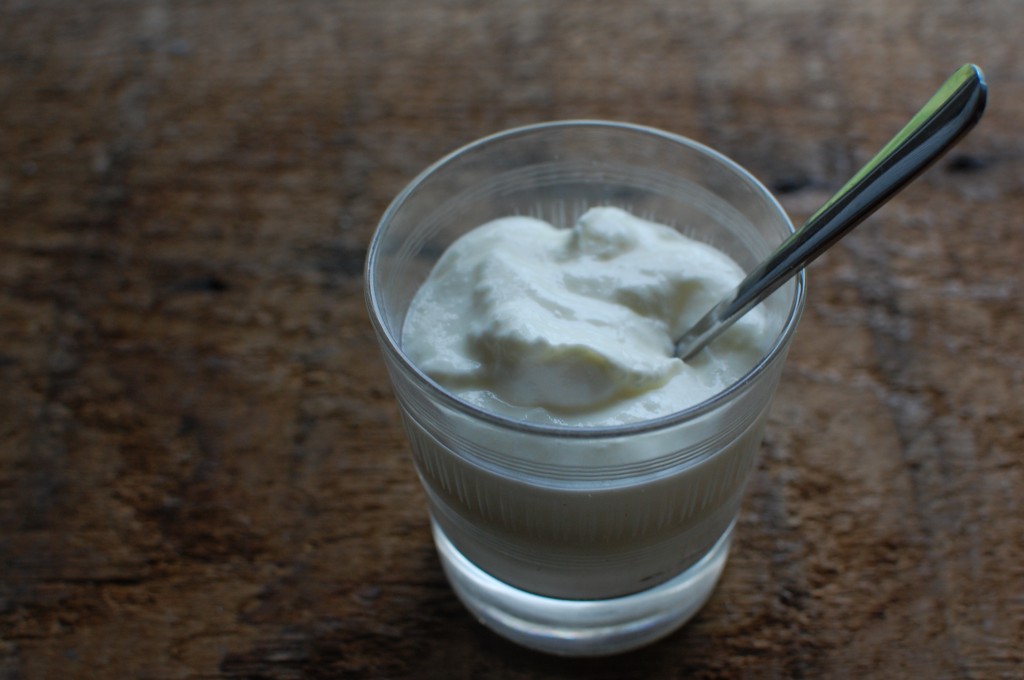 When I talk about my yogurt maker, I usually encounter one of two reactions.
The first is, "Oh my, I need one of those now! I'm off to buy my very own," or better yet, (and just as often) someone will admit that they actually have a yogurt maker gathering dust in the back of their closet, but that now it's coming out for another round.
The second can only be described as a long, deep sigh. That sigh means "I don't want another gadget. I want to make yogurt with what I have. Please don't make me buy a yogurt maker!"
So I talk about a good all-purpose alternative, how you can heat the milk and put it into mason jars, and let it culture in a cooler. But by the time I've gotten to the end, I've lost you. I might have even lost you at "mason jar." For many, it's just too rustic, too log-cabin-in-the-woods. I get that. That's one reason why I love my yogurt maker.
Finally, I can recommend a new yogurt method.
Have you met the crock pot?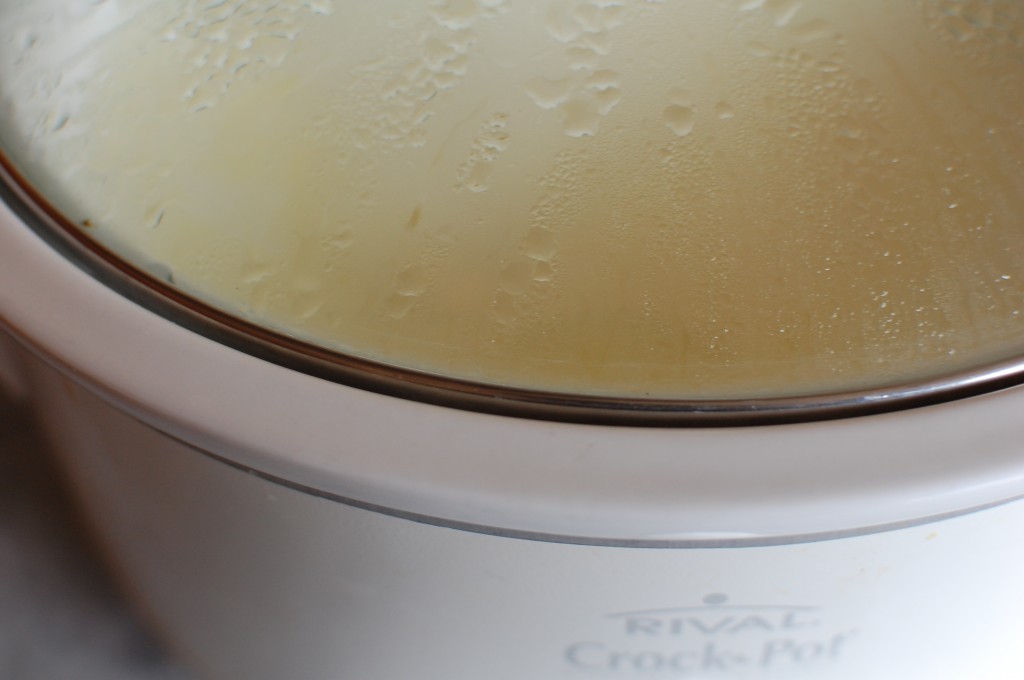 A few weeks back, when I was signing books at the From Scratch Club swap, not one but TWO people told me about making yogurt in a crock pot. It makes sense–after all a crock pot both heats and insulates, and it does seem like a pretty fitting tool for the job.
To understand why and how this might be the method for you, it's helpful to know the science around yogurt making. Essentially, we need two elements:
1. Milk- this can be any milk of any fat level, but it should not be ultra-pasteurized. Look for a locally produced milk that is labeled "pasteurized".  Raw milk also makes great yogurt.
2. Starter- this can be a powdered yogurt culture (available from a cheesemaking supply store or this website. This is the culture that I use) OR you can use plain, store-bought yogurt. Different yogurts and cultures will produce different qualities in your yogurt, so play around to see what you like. I've had great success with fage Greek yogurt.
This is how yogurt is made (in any vessel): The milk is heated to 185 degrees. You can use a thermometer, or you can stop it when it is hot, steamy, and just short of boiling. Then the milk is cooled back down to 110 degrees. Again, you can measure with a thermometer, or you can stick your finger in the milk. It should be quite warm, but not hot. Then, the culture (powder or yogurt) is added to the milk. After that, the whole mixture needs to stay at about 110 degrees for 5 to 6 hours. Over that time, the good cultures in the starter will turn the milk into yogurt. Refrigerate for a few hours, and then it's ready. That's it.
So when it comes to the crock pot, this is how it works:
1. Pour 1/2 gallon of milk into the the crock pot. Turn it on to the "high" setting. Cover, and walk away. Let it sit there until it reaches 185 degrees (or, if you're winging it, hot, steamy, and just below boiling). The poorer the quality of your crock pot, the longer this will take. I have a pretty low quality version, and this takes 2 to 2 1/2 hours.
2. When the milk reaches 185 degrees, shift the lid so there is a crack for the heat to escape and turn off the crock pot. Let it cool to 110 degrees (or warm, not hot).  This takes about 1 1/2 hours in my pot.
3. Add the culture–either 1/2 cup plain yogurt OR 3 tablespoons powdered yogurt culture. (update: Don't stir.)  Replace the lid, and wrap the whole crock pot in a blanket. (You heard me right, a blanket. Make it a warm one.) Let it sit, undisturbed for 5 to 6 hours. This can also be overnight, if that is where you are in your day. (Update: I've been having success with longer culture times as well in the crock pot. Sometimes in the yogurt maker, a long culture time produces a lot of whey in the yogurt, but this doesn't seem to be as much as in issue in the crock pot. So feel free to experiment with your timing–12 to 14 or even up to 24 hours is okay, too.)
Then, you have yogurt. Refrigerate for at least 2 hours, and then it's ready. Remember to put a bit aside to use as your starter for your next batch.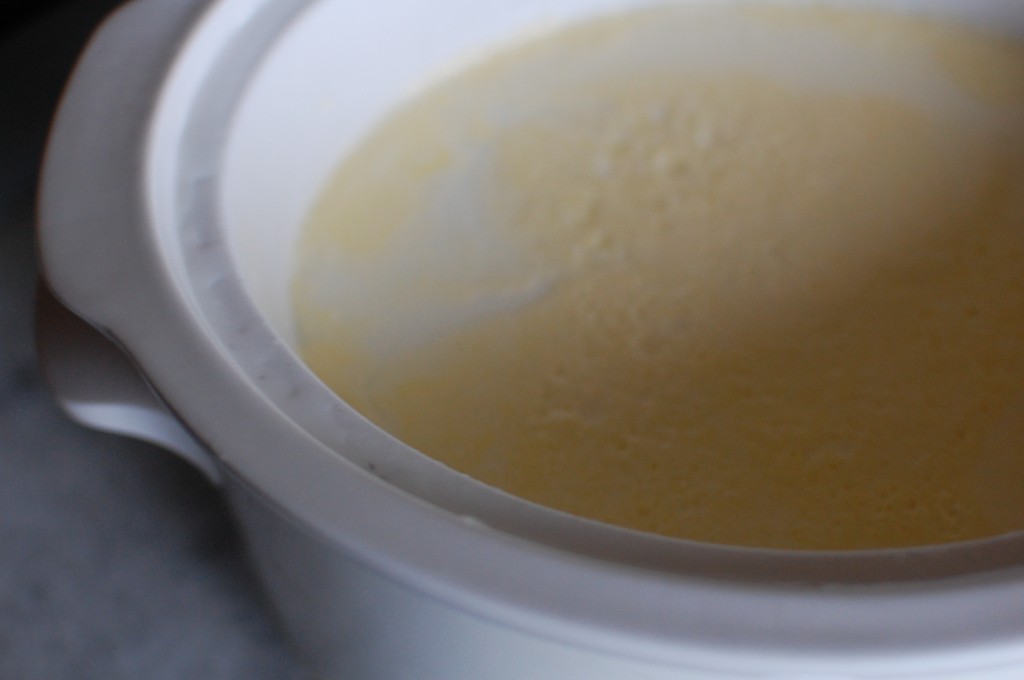 But the best part about this whole crock pot method is this:
People often ask me how to make Greek yogurt at home, and I talk about straining it through cheesecloth. I also warn them that they will have a lot less yogurt than they started with. This is why Greek yogurt is so expensive. If you are using a yogurt maker, you are probably making about a quart or a bit more at a time. Straining that down to make Greek yogurt can be a little sad, because you end up with so little yogurt.
But the crock pot method makes 1/2 gallon of yogurt. That's 2 quarts. So when we strain that, we still get about 5 cups of yogurt, plus 3 cups of delicious yogurt whey (more on that later).
To make Greek yogurt, pour the yogurt (after its two hours of refrigeration time) through a colander lined with cheese cloth.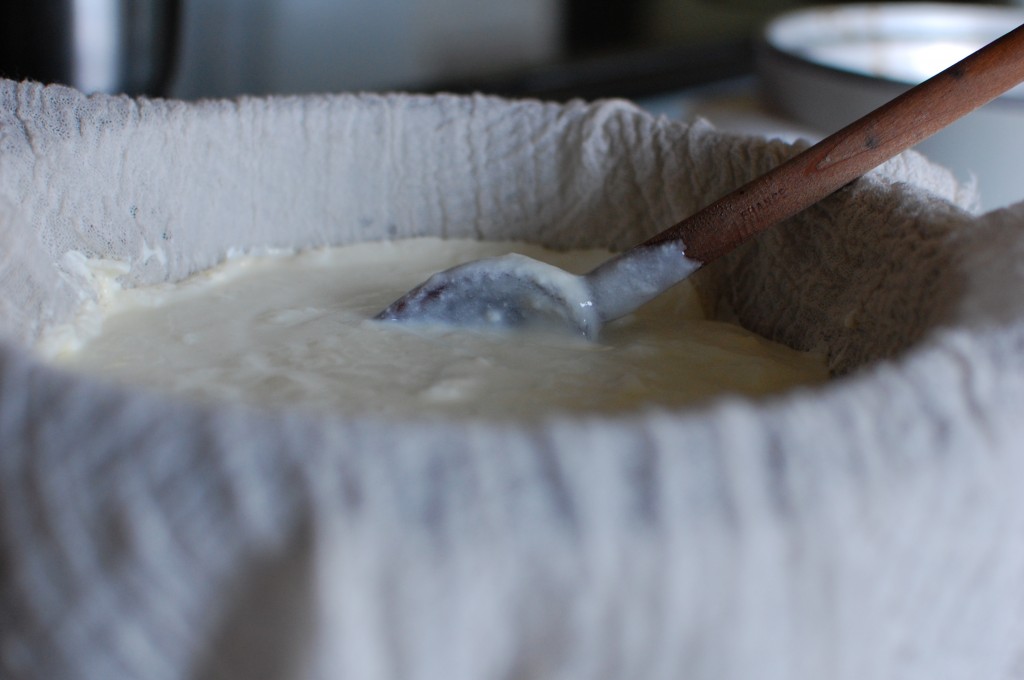 Let it drain for about 30 minutes, or until the yogurt is thick and creamy. Save the whey.
Yogurt whey is particularly delicious, and I like to mix it with lemon. maple syrup, and cardamom. It tastes like some sort of refreshing beverage I imagine I could buy on the street in India. And the last time I was in New York, I saw that they were selling nearly this exact mixture at some foodie grocery for 4 dollars a bottle (and that was one tiny bottle). So take that store-bought foodie beverage!
Indian Street Beverage of My Dreams
3 cups cold yogurt whey
the juice of 1 lemon (or lime)
1 tablespoon maple syrup
1/4 teaspoon cardamom (or more or less, to taste)
Combine all of the ingredients in a jar and shake well.