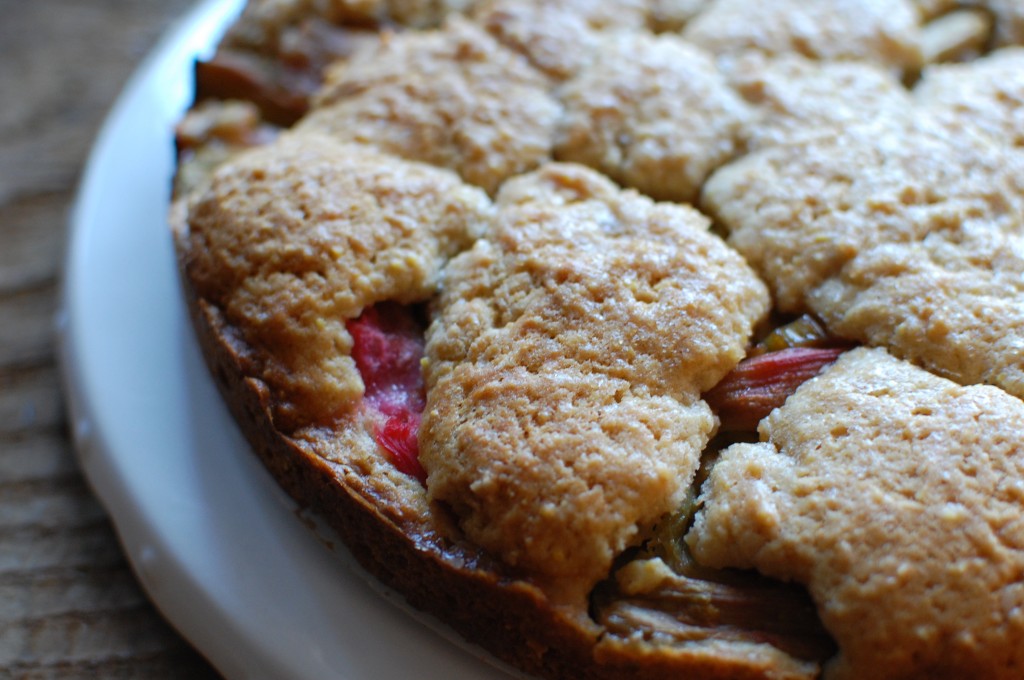 I hope that Nigel Slater has a couch in his kitchen. I like to dream of sitting on that couch, feet up, glass of something yummy in my hand, as I watch him cook. He just seems like someone who would open up when he's making dinner, and I bet his stories are as good as the meals that follow. I bet his kitchen is warm, and well used, and a little gritty.
I love the way Nigel Slater talks about food.
Years ago, a friend gave me his book, Appetite. I was just learning how to put a dinner together at the time (okay, okay, I'm still just learning), and the book, a hefty tome of meal preparation, sucked me in and spit me out again hungry. Nigel Slater taught me that I should go in search of that for which I hunger. Even more, he taught me that I could create it. Even little me with my poor chopping skills could create that thing I wanted to eat. Anything I wanted to eat.
This is Nigel Slater's latest, and it is a beauty.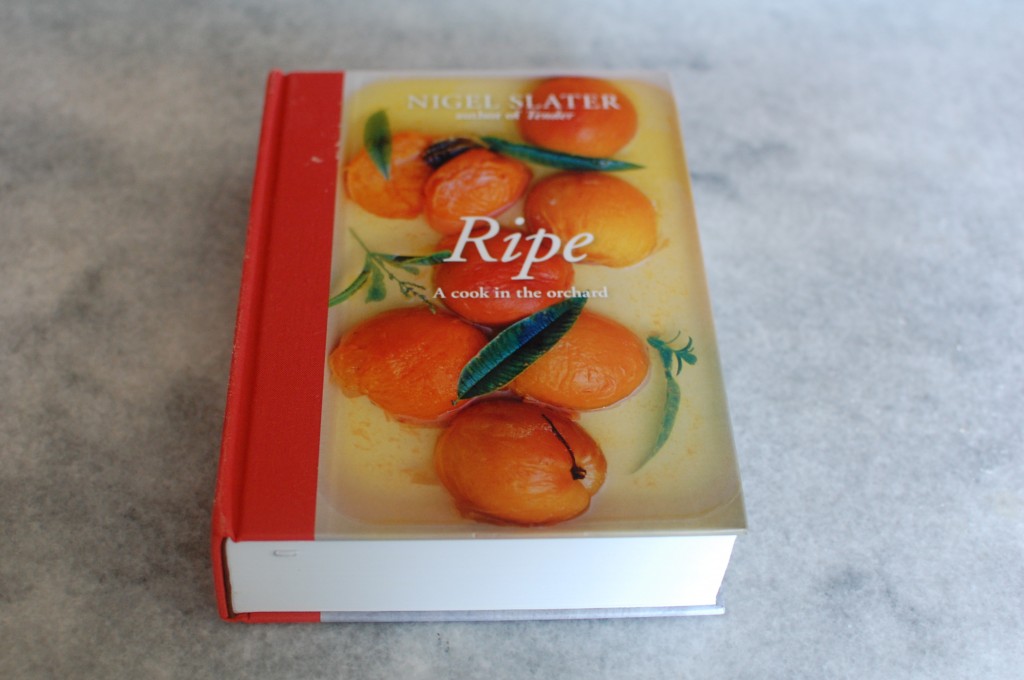 Like last year's Tender, this book costs 40 bucks and is nearly too heavy to carry from the bedroom to the kitchen (because trust me, it will live in both rooms). It has the heft and shape of my old high school literature anthology (Norton? Is that right?), and upon first look, it has a similar seriousness too it. But upon further inspection, like any good literary anthology, it reveals that it's not taking itself as seriously as you first thought.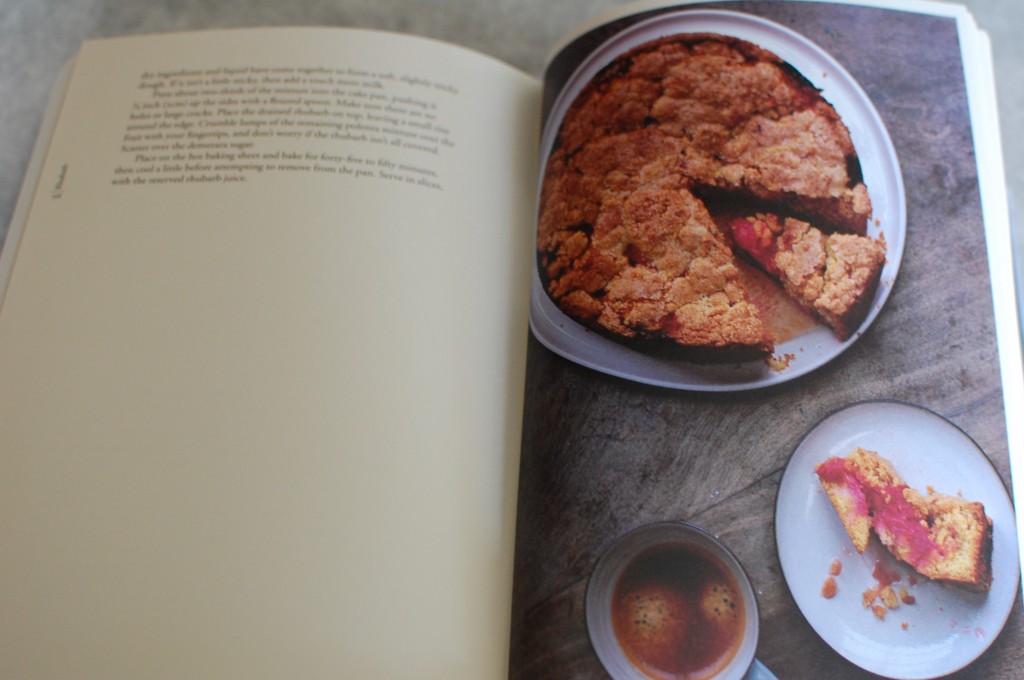 We are, after all, talking about Nigel Slater. Who, I can only imagine (and you can see that I do a great deal of imagining about Nigel Slater) laughs when he cooks.
The brilliance of both Tender and Ripe is that through both books, Nigel Slater brings us into his own garden. For him, the garden seems to be as much of a place for experimentation, inspiration, success, and failure as the kitchen itself. He gives us a layout of the different varieties of each fruit, as well as the growing conditions that make it thrive. He talks about general uses as well as specific, and gives both sweet and savory uses for every fruit. He is (and this is what I love about him most of all) an author who teaches food intuition. His books are a springboard for creating your own sense of what you love to cook and to combine. And as I wander  his little city garden, I feel hungry for the walnuts on his trees and the gooseberries on his bushes, even as I look out at my own ready beds that are sitting, waiting for me fill them with that for which I hunger. And then there's the British thing. There's nothing I love more than to travel with a cookbook.
There are only a few plants growing in my garden right now. I've been trying to get out there to get my seeds in, but still, it patiently waits. But now, there are chives, and sorrel, and mint. And then, of course, there is rhubarb.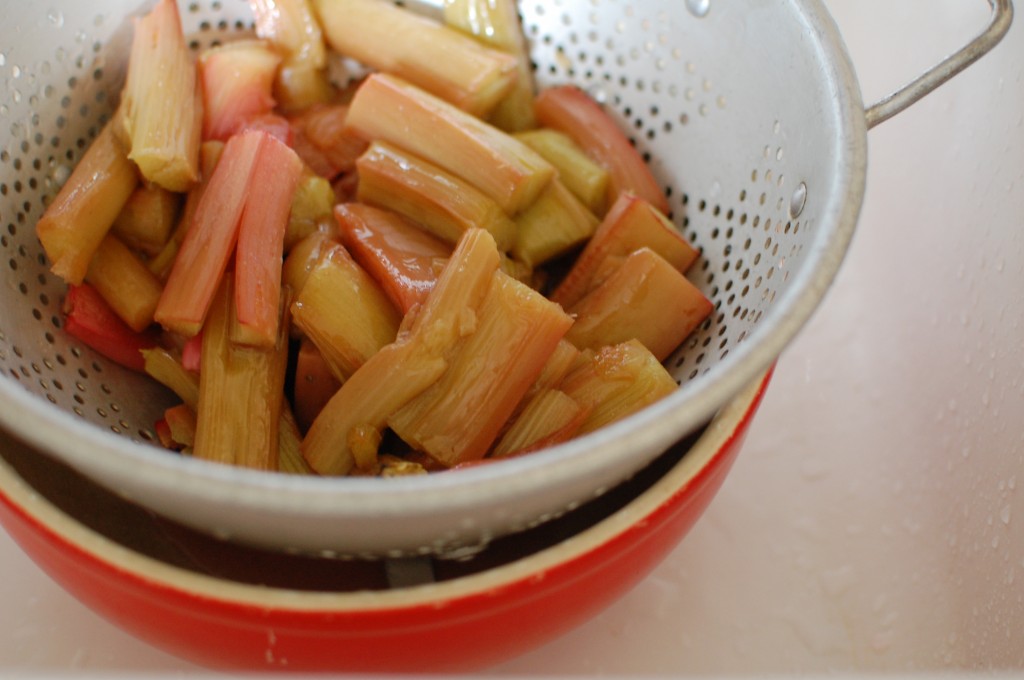 I've been wanting to cook from this book for weeks now so that I could tell you about it. But I knew that the thing I made must use my own fruit with a story.
Of course, rhubarb is no fruit. But you know that.
Years ago now, I was driving down Tyringham road. This is a beautiful stretch of road between Lee and Tyringham in our corner of Western Massachusetts, with a valley and mountains and enticing winding roads coming off of it every which way. I was in the car with my friend Molly's mother Lin, although I can't remember why. She is a true urban gardener, and for decades now, she has maintained a one or two wonderful little plots of land filled with food and flowers. We drove by a small ranch house on that street, and right by the driveway, there were a few potted rhubarb plants and a handwritten sign–rhubarb $5. Lin pulled over, claiming that this was the rhubarb for me.
"I can tell. These plants are going to do well."
She's a scientist, and she knows these kinds of things. So I bought my plant, and I took it home, and I put it in the ground.
Now, when it comes to gardening, I often feel like I'm groping around in the dark. I am surrounded by gardeners and friends who are usually happy to answer even my simplest questions, but still, I feel like I have to plant and water and see something grow in my yard in order to know how it works. (That is, if it works–otherwise there are different lessons to be learned!) I am looking forward to some time decades from now when I can say I really know how to garden, and when the success doesn't shock and amaze me every time. But this rhubarb and I–we started a relationship then and there. And every year it comes back, poking out of the ground with its prehistoric and ungraceful looking foliage, and I cheer and I feel like a queen (even though it came back without an ounce of help from me). Then I greet it with a torrent of new rhubarb recipes. The plant always produces deep into the summer, and by then I have other things to bake, and so every visitor has to wait as they're walking out to their car while I holler, "hold on! Let me send you home with some rhubarb!" True story. Ask anyone.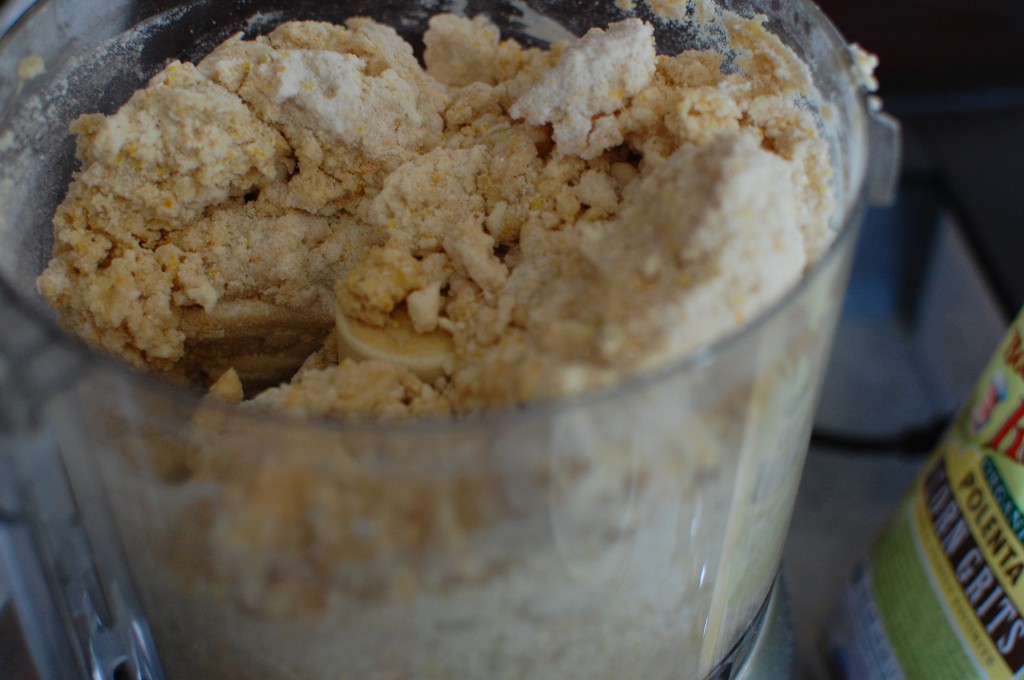 This a good and upstanding rhubarb cake, full of complexity and self respect. It's a cousin to this tea cake that I love, and the batter involves uncooked polenta, which gives the whole shebang a bit of crunch. It's a perfect tea snack and is even better on the second day. Around here, it also served quite nicely as a breakfast. I don't know any mother who would say no to a piece of this with a cup of dark coffee on mother's day morning. (ahem)
I've changed it a bit here, because when it comes to Nigel Slater, I always feel like he would be happy if I adapted it to my own tastes. This cake also doubles beautifully, which I did in my deep 12-inch springform because I have SO many people eating over here. This recipe below makes a smaller cake, as per the original recipe.
Before I launch into it, I want to tell you locals that we're having a party at The Bookstore in Lenox, MA tonight. It's a potluck of sorts, and we're asking people to bring something they made at home. (You can also come empty handed, and we'll be happy to feed you.) Matt has a pretty nice set up over there with a wine bar and everything, and so it should be a good evening. I'll be reading and signing, and there will be prizes! It all starts at 5, and goes until we're done, which I'm hoping will be a bit into the night. I'd love to see you there.
Wherever you are, happy weekend, friends.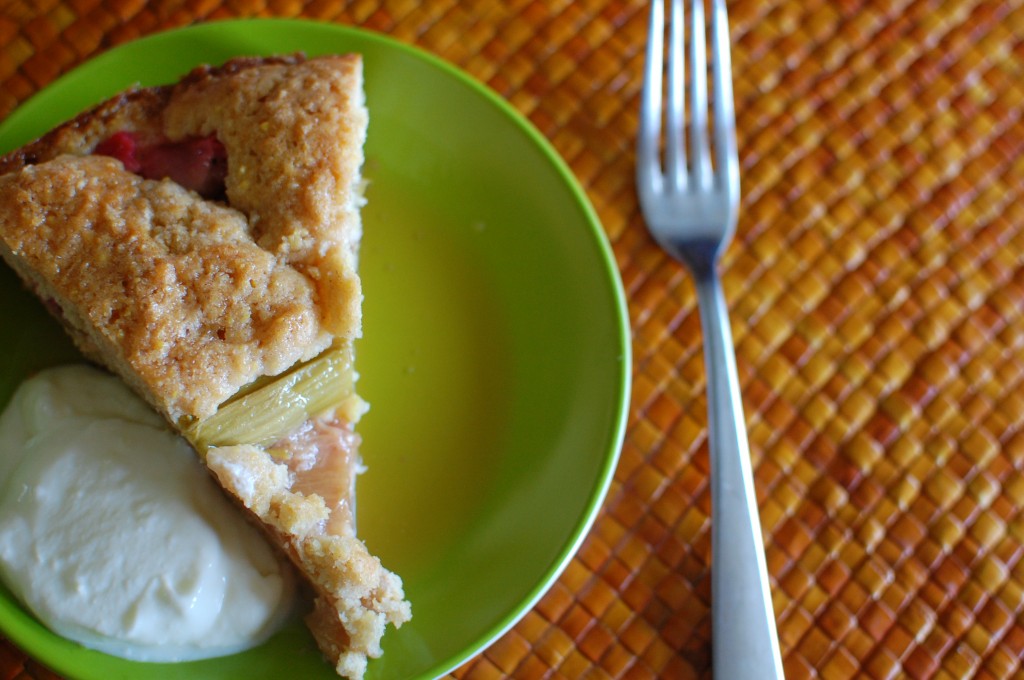 Rhubarb Cinnamon Polenta Cake
adapted from Nigel Slater, Ripe: A Cook in the Orchard
serves 8
for the filling:
1 pound rhubarb
1/4 cup superfine sugar
4 tablespoons water
for the crust:
3/4 cup coarse polenta
1 1/2 cups plus 1 tablespoon all-purpose flour
1 teaspoon baking powder
1 teaspoon ground cinnamon (he calls for "a pinch")
1/2 cup superfine sugar (he calls for 3/4 cup)
grated zest of a small orange
10 tablespoons cold butter, cut into 1-inch pieces
1 large egg
2 to 4 tablespoons milk
1 tablespoon demerara sugar (granulated will do here if that is what you have)
1. Preheat the oven to 350 degrees. Put a baking sheet in the oven. (You want it to get hot, you'll use it later in the recipe.) Butter an 8-inch springform cake pan, then line the bottom with parchment.
2. Cut the rhubarb into into 2 to 3-inch pieces. Put them into a baking dish, scatter them with the sugar and water, and bake for about 30 minutes, or until soft. Drain the fruit in a colander and reserve all of the cooking liquid to serve with the cake later.
3. Meanwhile, put the polenta, flour, baking powder, cinnamon, and sugar into the bowl of a food processor and give it a quick pulse to mix. Add the orange zest and butter and pulse again several more times until the mixture is uniform and the butter is the size of small peas. Beat the egg with 2 tablespoons of milk, and add that mixture to the batter while pulsing again, stopping as soon as you have a soft, sticky batter. Add a bit more milk if it's not sticky.
4. Press about two-thirds of the batter into the cake pan with a wooden spoon or your fingers, taking care not to have any holes. Cover with the drained rhubarb–then put lumps of the remaining batter over the rhubarb, leaving holes for the fruit to poke through. Scatter the demerara sugar over top. Place on the hot baking sheet in the oven and bake for 45 to 55 minutes, or until slightly golden. Allow to cool for at least 20 minutes before removing from the pan. Serve with the cooking liquid drizzled over top, with something creamy on the side (creme fraiche, ice cream, or Greek yogurt).