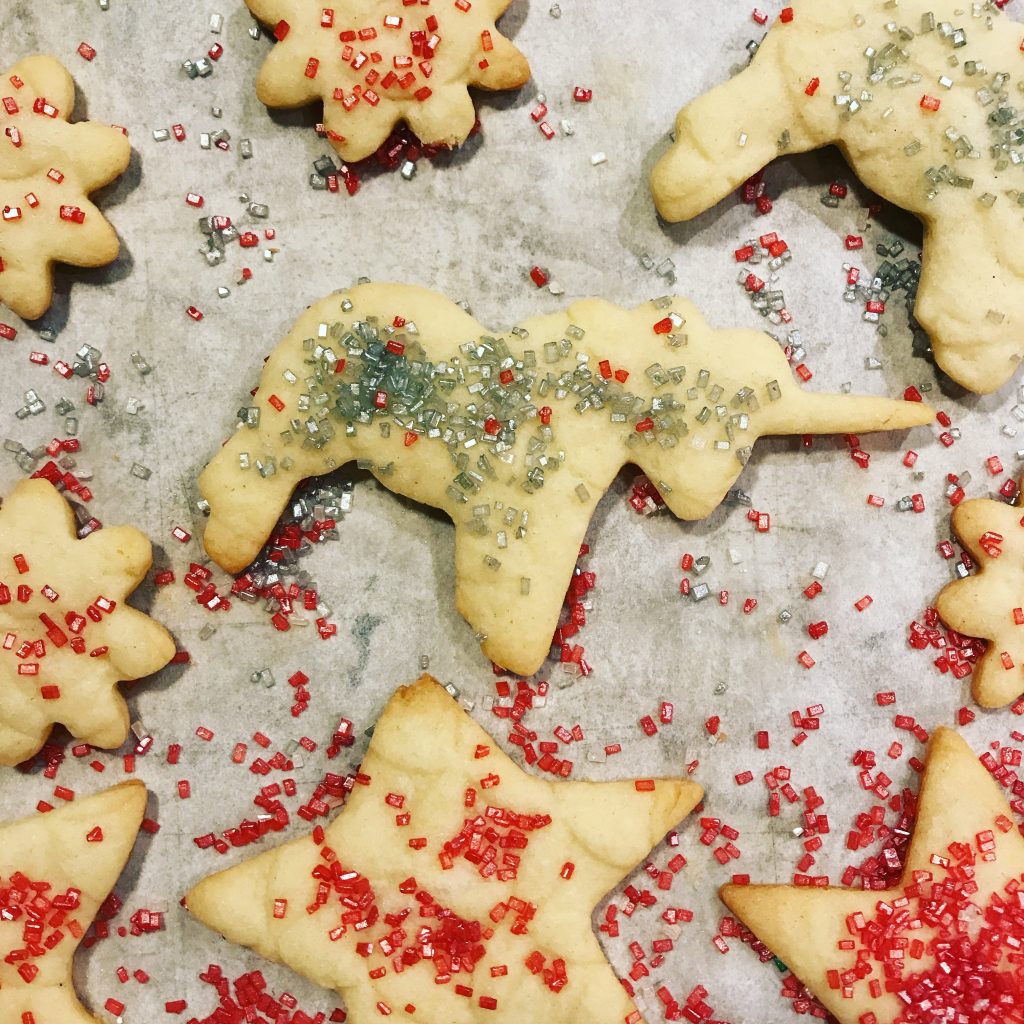 We are now at the moment when all food is holiday food. Even on regular nights when there's still school and work, it still feels like holiday food because we light the menorah (turning off the Christmas record just long enough to fumble through the prayer), we keep the fir candle burning, we have excess chocolate bars with peppermint themed names all of the sudden, that sort of thing.
I've been thinking lately about how the food makes it all feel real, and that somehow it helps me connect one year to the next. Over these years we've developed certain foods that are at once specific to us and general enough to make it feel like we're taking part in a great ritual all around us. There are these sweet rolls (much discussed here over the years), which require advance prep work so that there's no work at all the day of, there is always bourbon in the coffee that goes along with the sweet rolls. There is Chinese Food on Christmas, ordered out exactly once a year. Once we committed ourselves to making it at home and I regretted it, as the bourbon in the coffee seems to slow me down enough on that day to make me want to stay in one place, which doesn't happen very often. There are these funny round pancakes that Joey makes with his special maker he bought. Ruggala, with my grandmother at my shoulder. These cookies, too, which like crunchy clouds are the only ones I come back to every single year. Chili for New Year's Eve, booze throughout at inappropriate times of day (we're New Englanders after all, and only consume alcohol at appropriate times), nuts with a cracker in the nut bowl, and all these little ways we differentiate the few weeks that span those few weeks in December.
While we're on the topic, a note on gifting.
I have nothing to sell you right now, but if that's a disappointment, I'd like to suggest an amazing gift- the promise of my new book, which comes out on February 27. It looks like this. 

Pretty, right? If you'd like to give this promise as a gift, you could preorder here, or simply promise it from your local independent, and I will send you or your lucky giftee a card to take the place of the actual book. If you prefer to give one of my other books, I'm happy to write a card too. Just let me know.
There's a recipe in the new book for sweet potato latkes, and I wanted to make sure that you had that one now, while it was latke time. Of course, you can make them any time of year and they taste just as good. Unfortunately it's one of the recipes that doesn't have a photo, so in its place, I offer you a unicorn Christmas cookie. The substitution is little blasphemous, but also a good representation of how things go around here.
Happy December, friends. Hope your holiday is hitting all the right notes, and including all the foods on your list.



Sweet Potato Latkes with Roasted Applesauce
Makes about 20 latkes and 3 cups of applesauce
Roasted Applesauce
4 pounds crisp apples, such as Galas or Pink Ladies, cut into large chunks
2 tablespoons fresh lemon juice (1 lemon)
3 tablespoons maple syrup
2 tablespoons unsalted butter, cut into small pieces
Latkes
1 cup halved and thinly sliced leeks (from 1 leek, using all the white and the tender part of the green)
2 pounds sweet potatoes (2 to 4), peeled and grated
2 large eggs
1/2 cup matzo meal
2 tablespoons finely chopped fresh sage or 1 teaspoon dried
1 teaspoon kosher salt
1/2 teaspoon freshly ground black pepper
Neutral oil, such as grapeseed or sunflower
For serving: Sour cream or Greek yogurt
Preheat the oven with a rack in the center to 425°F.
Start the applesauce: Pile the apples into a large baking dish. Drizzle with the lemon juice and maple syrup, and spread the bits of butter over the apples. Roast until the apples are soft, 30 to 40 minutes. Remove the pan from the oven, and reduce the oven temperature to 350°F.
Meanwhile, combine the leeks, sweet potatoes, eggs, matzo meal, sage, salt, and pepper in large bowl. Massage the mixture with your hands to combine thoroughly, breaking up the egg yolks as you do.
Heat a large skillet over medium-high heat, and add enough oil to cover the bottom of the pan. (If you have a second skillet, you can use that as well and have two pans frying at once.) Keep two ungreased baking sheets nearby. Heat the oil until it sizzles when you add a drop of water. Use a 1/4-cup dry measure to scoop a mound of the mixture into the skillet and flatten the mound into a 1/2-inch-thick disk with a fork. Repeat with more sweet potato mixture to create enough latkes to fill the pan without touching. Fry each latke until golden and crispy, 2 to 4 minutes on each side. Transfer the cooked latkes to the baking sheets. Replenish the oil in the pan and repeat with the remaining sweet potato mixture, lining up the latkes on the baking sheets as you go.
Transfer the baking sheet to the oven and bake for 20 minutes. Carefully break into a latke and taste to see if the sweet potato is cooked all the way through. If not, return the latkes to the oven for an additional 5 minutes.
While the latkes bake, finish the applesauce. Pass the roasted apples and any liquid in the pan though a food mill, catching the sauce in a bowl below. Alternatively you can puree the apples in a blender or food processor–just peel and core them before you roast them. Serve latkes hot with applesauce and sour cream.