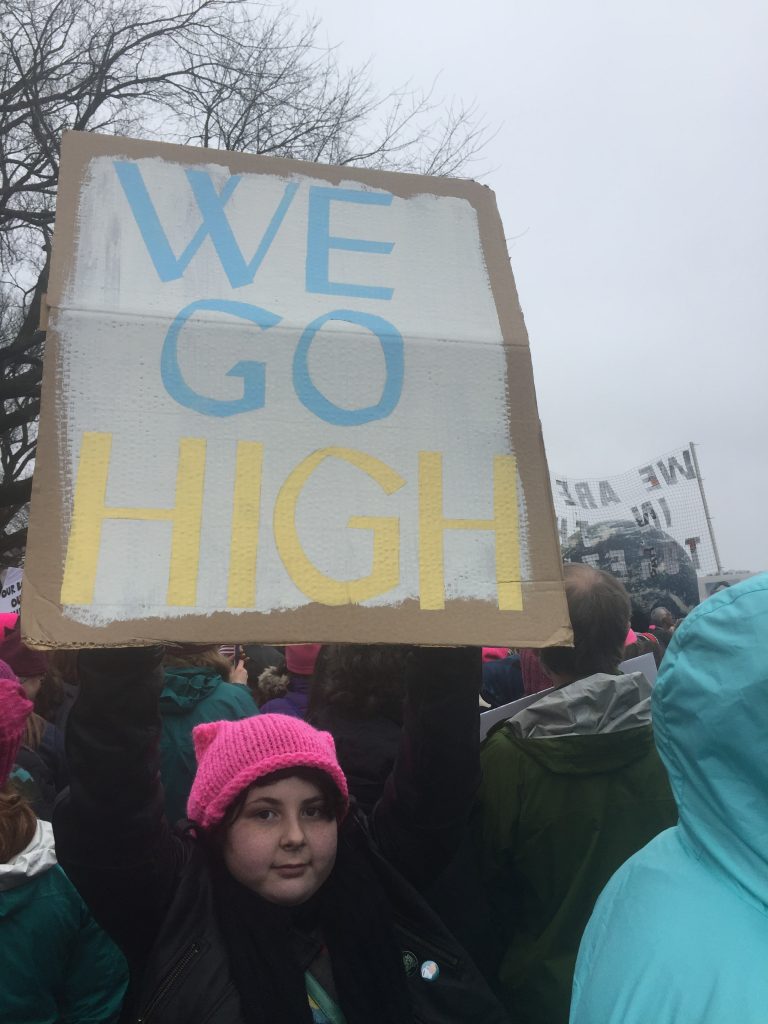 I'm going to say right off the bat here that I've got a recipe for you. It seems I've lost some of you here and on social media with all these march photos, and if you're on the brink of going that way, that's okay–it's your choice to make, whatever your reasons. But if a recipe is what you're here for, I've got one. And if the other stuff is what you're here for I've got that too. Pick and choose. All are welcome here, and I hope that comes across through the screen.

So we marched. Like most of you last week, as far as I can tell. I have a lot to say about the weekend, but I'm actually going to go back to something I wrote and never got a chance to finish and publish before we went. Here goes:
So we're getting ready for the march, heading down to DC tomorrow. We talk about this every day–how do we feel, why are we marching, what will we do, why are we marching.
I try to remember that there are so many people who are celebrating, that there were people feeling panicked and scared when Obama was getting ready for his own inauguration. I try to stand in those shoes and keep perspective.
But this is where I get stuck. It's not the policies that scare me–I've been through administrations I don't agree with, and I know it's part of life and democracy. I'm scared of volatility and the legitimization of hatred. I'm scared of a leader who chooses to use his voice to shout at SNL and Meryl Streep and "losers", taking time away from the essential work of leading this country. I'm afraid of the demonization of the media. I'm afraid of the people who cheer him on, who see the example of such vitriol and decide to emulate it. That's what scares me.
I'm also scared of my own instincts. I find myself thinking that I'm thankful I can pass. Whatever identities I might actually encompass, I can pass for a middle-class, straight, white woman. I don't even look Jewish, as I take after my father. I live in a little liberal county in a liberal state.   I will be ok, I think. My family will be ok. 
I admit this to you, but only because I'm  sure that this–the instinct to keep my head down and hope to pass–is the scariest thought of all, and the surest sign that I need to run directly towards the action and stay there. Whether marching is the best way to do that, I don't know. But's it's a way, and that's enough.
I've had a lot of conversations with people about whether or not they should support the march, how they feel about pink hats, whether privilege (white, middle class, straight, fill in the blank) prohibits them from having a right to march. I think that all these conversations are essential, but that in the end it's also essential to show up and be a body. It's important not to be distracted by reasons why not. It's important to run straight towards it.
The girls have been asking me if we'll be safe down there, and all I can say is I don't know. I give them the choice- to march or not. But Sadie responded in a way that's stuck with me. We will talk about this day all my life, and I'll say I was there. Whatever happens from here, we'll know we were there.
And we were there, and I'm so grateful. Because most of all it was good to have so many examples of good and kind and peaceful humanity packed into such a tiny space. It fueled me. I'm proud of children for being such kick ass protesters. And now, in addition to all of the actions and the calls and the showing up, I've been thinking about an interior revolution.
Obama was an inspiration for me. He inspired me to run for office, to commit fully to my county, and to consider myself a patriot. It was personal. And now, I'm finding our current president is inspiring me in a different way, although it's just as personal. I'm rebelling against my own internal Trump, every day.
When I feel the urge to be petty, or to cut someone down. I rebel. 
When someone doesn't shower me with love or adoration and I feel reactive and want to throw a tantrum, I rebel. 
When I feel scared of things that are other or different than me and feel the urge to push them away, I rebel.
When I feel the urge to speak impulsively on social media, I rebel.
When I start to think of this country as a place filled with hatred and ugliness, I rebel. 
That's where I am with all of this right now.
It's going to be quite a time ahead, and we're going to need each other. Even if you don't agree with me, we might need each other even more, need a place we can find common ground. And today, I want to share a recipe for good luck, because we all need that right now.
Hoppin' John is traditionally New Year's food–good and simple rice and beans that bring luck for the year ahead. I've been making Hugh Acheson's recipe for years, shifting and changing it with what I have. Hugh makes it with a ham hock which I never seem to have at the right moment, so this version is vegetarian. I usually double the recipe and eat it all week, here with a fried egg on top, there with some greens or chorizo mixed in. It's not particularly pretty (especially as I've photographed it–cold, on the kitchen table, packing it up on my way to work), but it's really good. It's fuel in the best sense, and a great recipe to have in your line-up.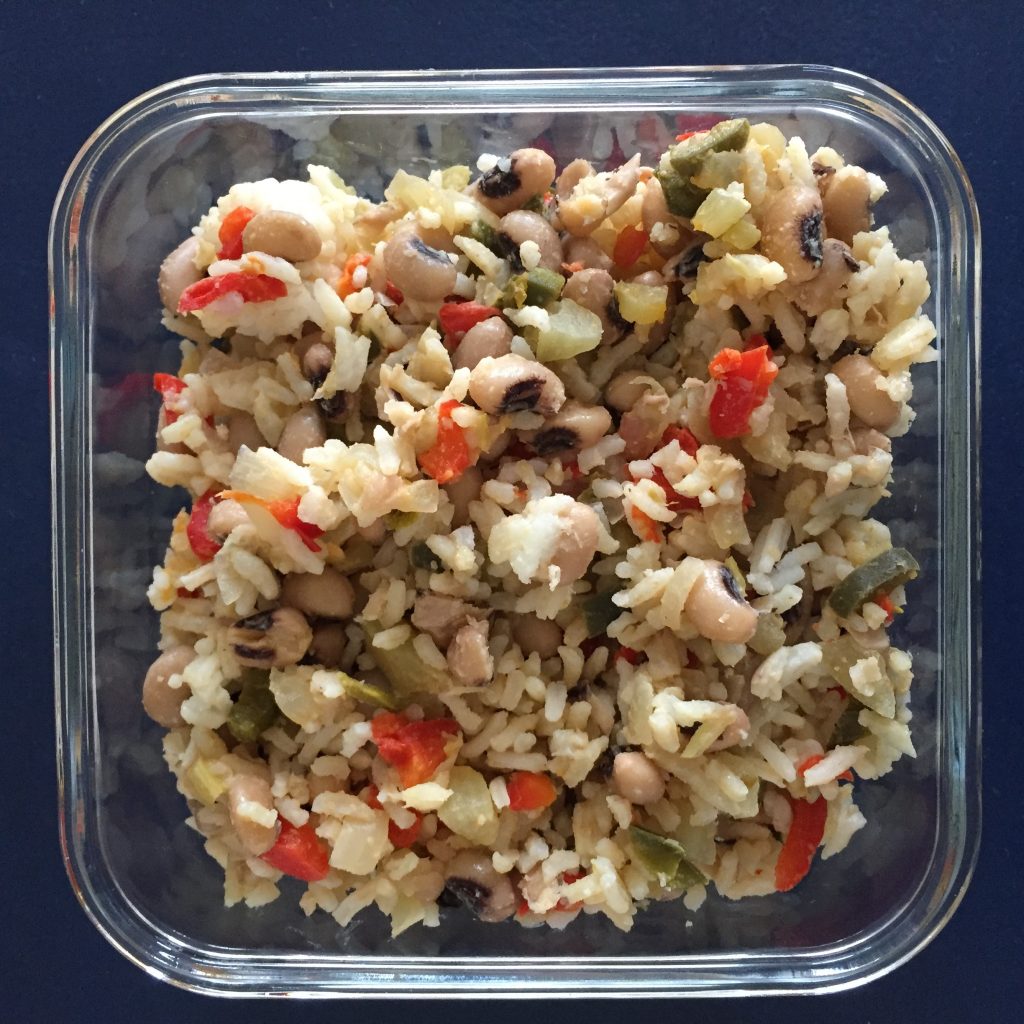 Hoppin' John
Adapted from
A New Turn in the South
, Hugh Acheson
Serves 6
1 1/2 cups dried black-eyed peas
2 to 3 inches Parmesan rind
2 bay leaves
1 cup basmati rice
Salt
3 tablespoons unsalted butter
1 large onion, minced
1 cup minced celery
1 poblano chile, seeded and minced
1 red bell pepper, seeded and minced
1 pinch red pepper flakes
Apple cider vinegar, to taste
Hot sauce, for serving
Combine the black-eyed peas, Parmesan rind, and bay leaves in a medium pot. Cover with at least 3 inches of water. Bring the mixture to a boil over medium-high heat, reduce the heat to medium-low, cover the pot, and cook until the peas are tender, about 25 minutes. Drain the peas and remove the bay leaves and parmesan rind.
Meanwhile, combine the rice with 1 1/2 cups water, 1/4 teaspoon of salt, and 1 tablespoon of the butter in a separate pot. Bring to a boil over medium-high heat, cover, and reduce the heat to medium-low. Cook until the rice is tender and all the water is absorbed, 20 minutes. Remove the pot from heat and fluff the rice with a fork.
While the rice and the beans cook, melt the remaining 2 tablespoons of butter in a large skillet over medium heat. Add the onion and celery and cook, stirring often, until soft, 4 to 5 minutes. Add the peppers, red pepper flakes, and 1/4 teaspoon salt. Reduce the heat to medium-low and cook, stirring occasionally, for about 15 minutes. Remove the skillet from heat and fold in the drained peas and rice, along with a few dashes of apple cider vinegar (if the pan isn't large enough, you can also combine in a large bowl). Taste and add more salt or vinegar if necessary. Serve with hot sauce on the side.