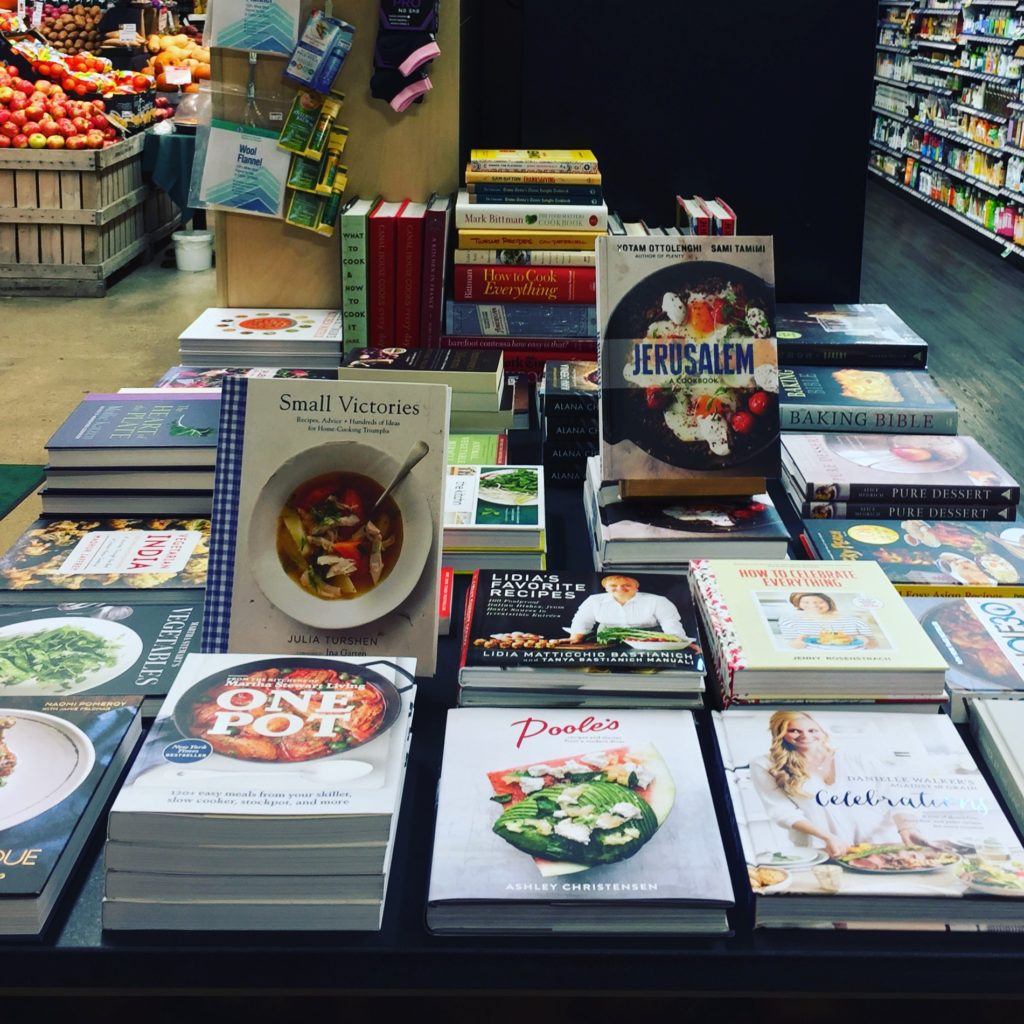 Every year right around this time, I write about cookbooks again. That post becomes one of so many shouting around the internet about THE BEST BOOKS FOR GIFTING, and yet,
here I am again, thinking about books for gifting.
But today I'm thinking about why we give cookbooks in the first place. 
Ten years ago, I owned four cookbooks: The Joy of Cooking, given by my aunt when I was a teenager; Moosewood, of course, from my mother, a falling apart copy of the long ago and far away Common Ground Dessert Cookbook that I swiped from my grandmother's kitchen after she died, and maybe most importantly, a big shiny copy of Nigel Slater's Appetite.
Why the most important? Traditionally I'd think of the inherited books as the most essential, the falling apart, written in by relatives books. But Appetite came to me new, wrapped, right around my birthday.  It was cold and Decembrish, and we'd spent the day with my friend Meg. Right before we headed home as we said goodbye in the parking lot she put the book in my hands, for your birthday. It was heavy and shiny and British and expensive and although I would have certainly gotten it from the library over and over until the librarians gave me the stink eye when I'd try to order it again, I would have never actually bought it for myself. I had no money or shelf space or time for cookbooks.
But then there was Appetite, stacked on my kitchen counter with the other three cookbooks, and it became the first cookbook I really loved that hadn't been part of my DNA growing up. I learned how to roast a chicken from that book, and then I taught my mother how to roast a chicken, and then look ten years later I'd write about roast chicken myself in my second book. Whoosh. (That would be the sound of time, doing that thing it does.)
Appetite was exactly what I needed just then, and Meg knew it. And because it was heavy and expensive and extravagant, I couldn't make it happen myself. In the few years following when I started to inhale cookbooks and write and work through recipes, the collection grew by one at a time, each gifted by a friend with my best interests at heart. There was Jen and The King Arthur Baking Companion, Alice and I Know How to Cook. Then I had a full shelf in the kitchen, all shaping the way I thought about what I did there.
Now the books have taken over, and they cover nearly a full wall. I have to admit that I miss that feeling of specialness, that quality of having so few books that I know my way around every recipe. But those few books are still the most essential.
I've had the lucky opportunity to take responsibility for some of the cookbook selection at my new job at Guido's, and it's been deeply satisfying to think about so many other people's books, to talk about them, prop them up to make them look their best. I've gotten to choose new books to bring in, and as we get into the holidays I find myself ordering books that are big, heavy, expensive–the books that make the best gifts. I'm liking the trend of leaving the photos off the covers, of letting them stay cloth bound with a design embossed into it. I touch the books probably more than I should, but I can't help it. And right now as I scramble to finish my own book, it's a comfort to get to be with all these books in the store.
My favorites on the table right now are, in no particular order:
Fuchsia Dunlop's Land of Fish and Rice
Julia Turshen's Small Victories
Diana Henry's Simple
Naomi Pomeroy's Taste and Technique
Naomi Duguid's Persia
and, I think my favorite
Jenny Rosenstrach's How to Celebrate Everything
I love how Jenny writes and cooks–I always have. (I think you all are probably familiar with her, but in case not, this is the spot to start.) I love how she is realistic enough so I feel included, but kind and creative enough so I feel aspirational. She always seems to be able to satisfy her own tastes and her family's and how her recipes are quick and give me new ideas about how to really eat on on regular days. But this book is the one I want to put in your hands, to give to you. This is the book I'm imagining you might need right now. It's heavy and beautiful, but it it also has the content that might shift things if you need a shift. I can't imagine a better time to think about the power we have to make our own days more meaningful, more full of kindness.  And all that, with Shredded Pork Lettuce Wraps with Pomegranates and Apple Cinnamon Fritters as a bonus.
I've got a book for you, so let's get a giveaway going, shall we? Of course I'll need a story from you, because that's the fun of it.
Leave a comment here, and tell me about a ritual in your own family. It can be big or small, from now or the past. I'll choose a winner on Sunday, December 11, because that happens to be the day I turn 38, and I already know I'll be excited to give this book to you on that day in particular. I can't wait to read. xo
(There are affiliate links in this one- thanks for supporting the site!)

Thank you so much to all who entered with your beautiful stories, and congrats to Kara Lucca, who won the book!