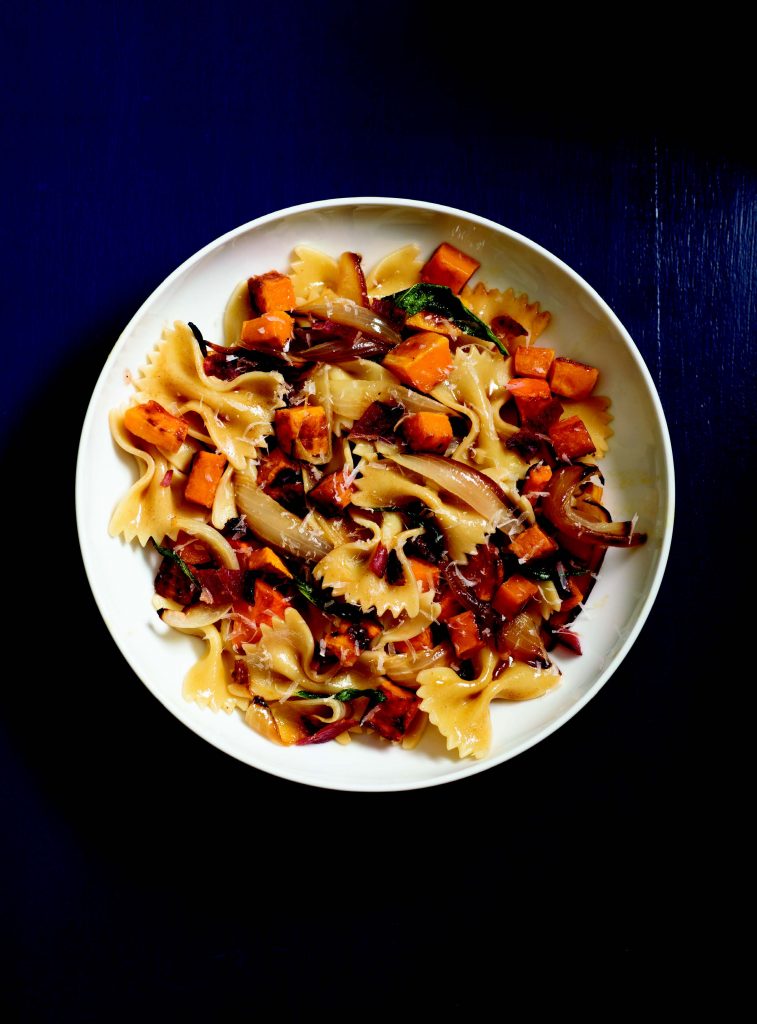 In two weeks, The Homemade Kitchen really truly lands. Can we take another  peek inside the book today? (I'm bursting!).
As I talked about a bit in this post, each chapter of this new book is structured around a way  to reframe the way we relate to food. The essay below is from the chapter Do your best, and then let go, and the recipe is one of four quick and special pasta dishes that follow it. It's getting to be fall around here, so this one is making an appearance in my kitchen on a pretty regular basis.
And before we get to it, how about a little giveaway? I've got a stack of books on my desk, and I'd love to send one of you a book before the release date.

Here's how we'll do it. Lets talk about this phrase: Do your best, and then let go. Is there some stress you'd like to let go of in your life or in your kitchen? What does this phrase spark for you?  Feel free to make it a one word answer or use it as a moment to do some writing. I can't wait to read. I'll choose a winner on Friday the 25th, and the winner will have their book a week early!
So here we go… this is one of the ways I try to do my best and then let go. This is straight from the pages of The Homemade Kitchen: Recipe for Cooking With Pleasure. And that gorgeous photo up there is by the one and only Jennifer May.

For years, I told the same story. It began like this: I have one picky kid and one good eater.
But then, as my two eaters grew and changed, the story got more complicated. I have one picky kid who eats kale now and then, and one good eater. The next week, the story would shift again. I have one picky eater and one good eater going through a picky phase. We've been through times when the picky one would go weeks without touching a vegetable. Even now there are times when a food, once loved by one or both the girls, becomes mysteriously exiled. Sometimes I'm totally fine with it; other days I just want to bang my head on the dinner table. And through it all, I read every article about picky kids, and I even write a few. The experts will tell you that all picky kids can be converted. Get them into the kitchen and have them make dinner. Pull them into the garden and let them discover the wonder of fresh peas. Don't talk about food. Do talk about food. Most of all, enjoy your food! Show them how much you love food. Do all these magical things for thirty days, and then they'll come around.
Some of these gems of advice work . . . sometimes.
But I'd like to throw my hat into the ring of picky kid advice, and here it is:
Don't get wrapped up in the story of what kind of eater your kid is. Feed your family well, but also know that many children have thrived on bread and yogurt, going on to a full and happy adulthood filled with all those foods they'd never eat as a kid.
This is how I got there. My picky child is just as healthy, if not healthier, than my good eater. Rosie's energy is good, her hair is long and glossy, and she hardly ever gets sick—all on a diet of mostly bread, bananas, noodles, and cold cuts. Sadie, on the other hand, will try anything. But the differences don't end there. Rosie never gets ravenous. She's happy to eat (as long as one of her favorite foods is on the menu), but even then, the bites are more of an experience than anything. She closes her eyes and takes the tiniest bit of food. She thinks about its texture and overarching qualities. But Sadie gets so hungry, she needs something, anything, to fill her belly. Luckily, she knows this, and as soon as she starts to feel the need, she eats. But when I framed the story this way for myself, taking into account that my two kids experience taste and texture differently, my thinking on picky eating shifted. My two children are different, and the way they each relate to food is different, too.
Try not to label your children as good eaters or bad eaters—not just to the world, but to yourself. Children are, after all, just small humans, and they have all sorts of loves and preferences that will continue to change as they make their way through life. Know that they'll be okay, that someday they'll eat something else, and that until then, their bodies will tell you when you have to step in. If they're healthy and energetic, trust that they're getting what they need.
Also, know that you have lots of company. There's a noodles-with- butter eater in nearly every family. We speak in hushed tones. We thought our kids would want real food, but we fall back again and again on the tried-and-true bowl. "Noodles. So many noodles! Can a person live on noodles and butter?"
Yes, they can. But a few other ingredients in the mix help keep it interesting, and they might even slowly, over the years, gain acceptance from the pickiest at the table.
Do your best, then let go. And when we're busy, and a little overwhelmed at six o'clock, in need of a true thirty-minute dinner that will make everybody happy, pasta is just the thing.



Butternut Squash Pasta with Bacon and Sage Brown Butter
SERVES 4, WITH LEFTOVERS
 The browned butter and roasted vegetables make this special, but roasting everything in the oven at once makes it easy to prepare.

1 small butternut squash, (1 to 1½ pounds) seeded, peeled, and cut into 1-inch cubes
1 medium onion, cut into ½-inch wedges
1½ tablespoons olive oil
½ teaspoon kosher salt, plus more for the pasta water
4 ounces sliced bacon
1 pound store-bought bowtie pasta or 1 ¼ pounds homemade (see my recipe in The Homemade Kitchen)
4 tablespoons (½ stick) unsalted butter, cut into chunks
10 fresh sage leaves
½ cup finely grated Parmesan cheese
Freshly ground pepper

1 Preheat the oven to 425°F. In a large bowl, toss the squash and onion with the olive oil and salt. Spread on a parchment-lined baking sheet and roast in the upper half of the oven until the squash is tender and the onions are golden, 30 to 35 minutes.
2 Meanwhile, lay the bacon on another baking sheet. Bake until crispy, about 18 minutes. Transfer to a paper-towel-lined plate.
3 While the bacon and vegetables cook, bring a large pot of salted water to a boil and cook the pasta until tender, 7 to 10 minutes for dried, or 2 minutes for fresh. Reserve 1 cup of the pasta water, drain and rinse the pasta, and transfer it to a large serving bowl.
4 Melt the butter in a small saucepan over medium heat. Stir constantly, keeping a close eye on the color of the butter. When the foam subsides and the butter turns slightly brown, add the sage leaves. Remove from heat and as soon as the sage leaves start to curl, transfer them to the plate with the bacon.
5 Add the squash and onions to the pasta, then pour the butter over the bowl, tossing to coat the pasta and vegetables. Crumble the bacon over the pasta and top with the crispy sage leaves and the cheese. Pour enough pasta water over the cheese to create a light sauce. Finish with a bit more salt and lots of freshly ground pepper.
Recipe reprinted from Homemade Kitchen. Copyright ©2015 by Alana Chernila. Photographs by Jennifer May. Published by Clarkson Potter/Publishers, an imprint of Penguin Random House LLC