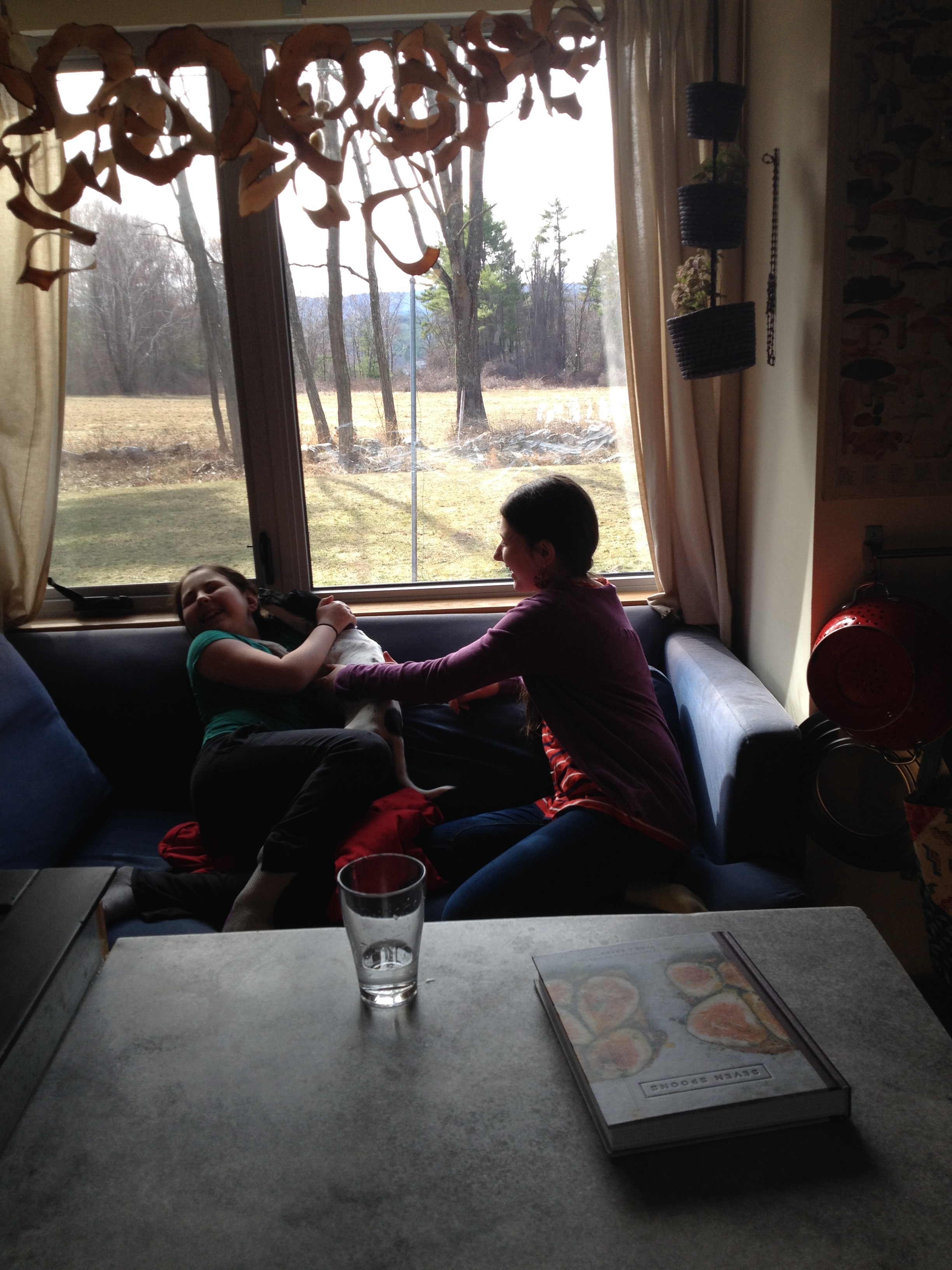 When we showed up at the pavilion at Cheeseman Park in Denver to set up for my father-in-law's funeral last Wednesday, there was a guy in tiny black shorts pole dancing for a camera crew. It was 9 in the morning , and I guess they figured they could shoot a yoga pole dancing video without getting in anyone's way.

That was what we thought, too, except it was a funeral instead of a yoga pole dancing video.  But the pole dancer and his crew said they'd be out of there soon and we were welcome to set up around them. All we had was a truckload of metal chairs our friends had borrowed, so we clanked and scraped and unfolded them as the dancer dipped and grinded to Billy Joel. I tried to be frustrated, but honestly it just seemed like the perfect canvas.
Lenny was a poet, and the funeral was filled with poetry.  He was big hearted and brilliant, with endless love for his family and the community beyond it. Two of Joey's friends stood watch, ready to intercept any police or park patrol who might ask us to disband. People ran up to the front of the pavilion and shouted his poetry: This ain't no Starbucks motha fuckers! (My girls' eyes go wide, and then they cheer with the rest of the big crowd.) I'm gonna live forevaaaaaaa!
And he will.
All week, Joey was surrounded with so much  support. There were constant calls and texts and friends bringing food and comfort and help. The girls sat for hours while Joey sat with the lawyer  or at the bank, they reading the same magazines over again, drawing pictures on scrap paper, staring into space. Our family–Joey's sister and brother, their mother, all the cousins, Lenny's girlfriend and her daughters–all wandered through the week dazed. It's a strange trick that you have to figure out so many logistics and details just in the moment when it's so hard to think straight.
So that's where we've been.
We stayed with Terry and Anita, the parents of one of Joey's oldest friends. Their house was warm and carpeted, and in the hardest moments of each day, Rosie would ask if we could go home, already having adopted Terry and Anita's as where she wanted to be. Every morning, they'd make a big pot of coffee and line up cereals on the counter, and we'd feel whole and good just a little bit closer to being able to move forward with the day.
Anyone who knows Anita knows her chocolate chip cookies. They're sprawling and chewy and tender. She keeps a stack of white cookie bags  in the kitchen, and she pulls dough from the freezer and bakes cookies whenever they're needed, which this week, was often. When Anita gives you a bag of cookies, you know you've been gifted with a real prize. She'd hand us a bag as we were putting on our shoes, and that bag would sit in the white rental car until we'd give in to the girls asking if it was time yet, if they could have cookies now, and they chips would have melted in the warm car and we were grateful for those cookies too. 

On the last day we were there, Anita had a bag ready to go when we woke up. You're going to think I'm crazy, she said. But I tried a new recipe. 
Her daughter (and our friend Liz) had sent her the link to Deb's post on Ashley's cookies, and Anita had gone out and even bought the fancy salt for the recipe. You'd think I'd just be happy with one really good recipe, Anita told me that morning, but I never can resist a new one. I'd seen the post too, and I'd bookmarked it for later. I never can resist a new one, either.
A week earlier, in the world before Lenny died, Rosie had made chocolate chip cookies, too. She'd used Tara O'Brady's recipe from her new book, Seven Spoons, a recipe I'd had the great fortune to test for her book last year.
It's easy to think that the world doesn't need a new chocolate chip cookie recipe. Most of us have a good one under our belt (often a split camp between the recipe on the back of the Tollhouse bag and Kim Boyce's whole wheat ones), and there's really no need to look further.
And yet.
I'd hold that chocolate chip cookies are the best of the best. And although I rarely give in to the temptation of a new recipe, I'm usually happy I did. Because within all the goodness that is a chocolate chip cookie, there is the possibility for infinite and wonderful variation and surprise. Because why not. Why get stuck? Why not try something new?
That last day, we ate those cookies (that Anita made from Deb's telling of Ashley's recipe) when we should have eaten lunch. We had to get to the airport, but we also had to get to the mortuary and to Lenny's apartment, and we stood outside the mortuary shaky and hungry, and I gave Lenny's girlfriend Lizann the biggest cookie in the bag. In that moment, about to go in and pick up Lenny's ashes, we stood outside in the sun and ate Ashley's salty sweet cookies.
Lizann said it was the best chocolate chip cookie she had ever had. I secretly thanked Anita for giving in to the new recipe.
It was a really good cookie. You should make that recipe! I know I will, but I'd also promised Anita that morning that there was one more she should try, that there was a new new my-favorite cookie recipe out there. We hugged goodbye, and I told her I'd get her Tara's recipe.
Tara's book is extraordinary. It's beautiful, satisfying to hold, wonderful to read, and most of all a joy to cook from. Last year when she asked for testers, I also got to make this, which I've made countless times since and has become one of my go-tos. And these cookies. These cookies! They use melted butter, so there's no waiting for the butter to soften, and you mix them all by hand. This is the fastest, easiest chocolate chip cookie recipe I've ever made, and although I seem to be biased towards whatever cookie I'm holding in my hand at the moment, I think it might also be the best. Tara recommends baking half the recipe and freezing the other (they're even better after the dough is in the freezer), so you can have cookies whenever you need them. That's been serving us well, as it turns out we've been needing them a lot lately.
Thank you to Tara for her wonderful book, and to Anita for all the cookies, and to everyone for all your messages, and to Lenny for, well, for everything. Thank you.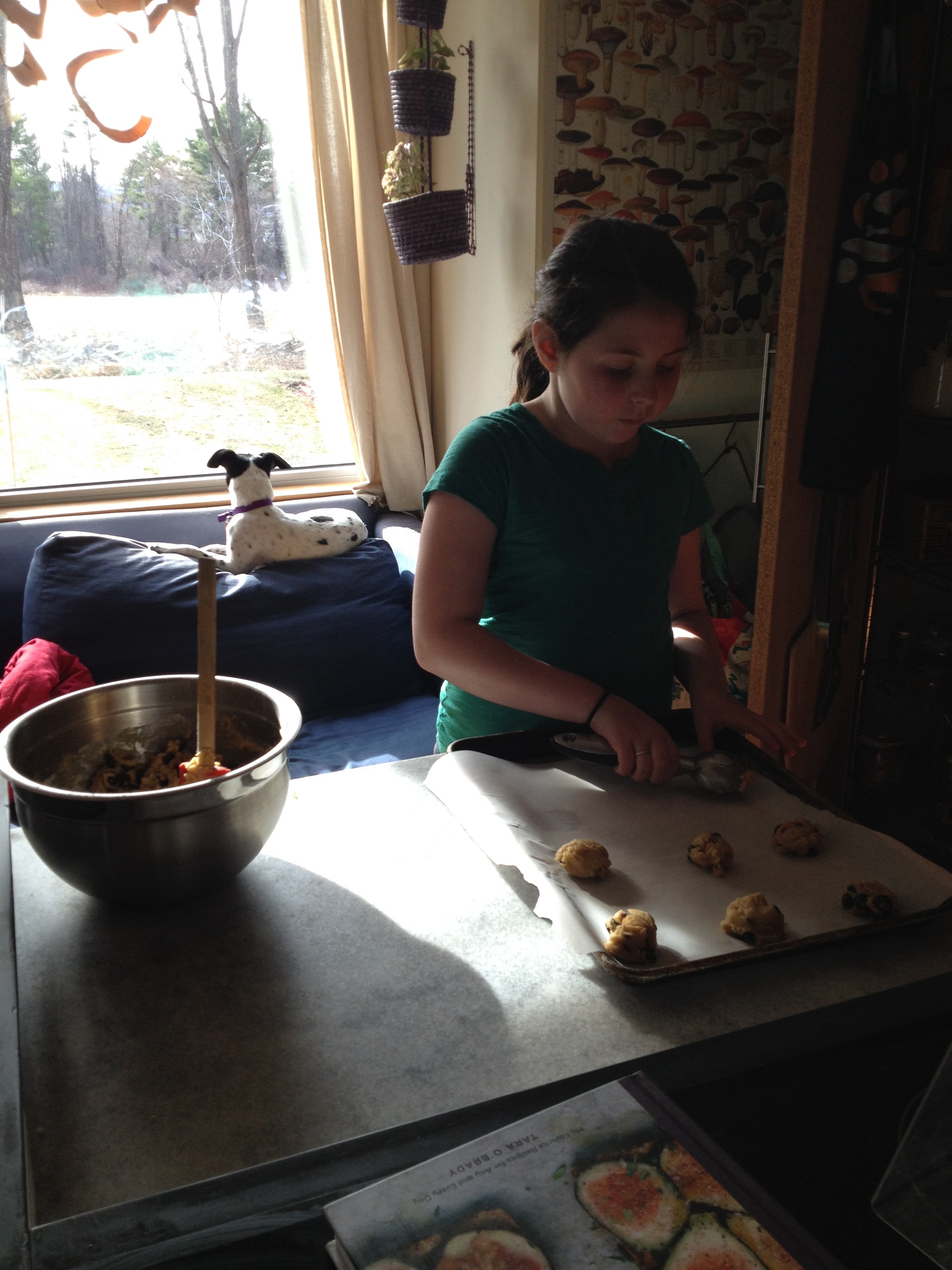 Basic, Great Chocolate Chip Cookies
from Tara O'Brady,
Seven Spoons 
(I love how Tara teaches me through a recipe. I'm keeping it all in her words here.)
1 cup (225 g) unsalted butter, chopped
3 1/4 cups (415 g) all-purpose flour
1 1/4 teaspoons baking powder
1 teaspoon baking soda
1 1/2 teaspoons medium-grain kosher salt
1 1/2 cups (320 g) packed light brown sugar
1/2 cup (100 g) granulated sugar
2 eggs
2 teaspoons vanilla extract
12 ounces (340 g) semisweet or bittersweet chocolate, chopped
Flaky sea salt, for sprinkling (optional)
Preheat an oven to 360°F. Line 2 heavy baking sheets or sheet pans with parchment paper.
In a medium saucepan over over the lowest heat possible, melt the butter. There should be no sizzle, crackling, or pops; let the butter ooze into liquid, without boiling, so minimal moisture is lost. Stir regularly, until the butter is almost completely melted. (This is a good time to chop the chocolate.)
In a bowl, whisk together the flour, baking powder, baking soda, and kosher salt. Set aside.
Pour the melted butter into a large bowl and whisk in the sugars. The mixture may look like it will seize, but it will relax with a few seconds of stirring. Add the eggs, one at a time, whisking briskly after each addition, but only to combine. Stir in the vanilla. Use a wooden spoon or silicone spatula to stir in the dry ingredients. Once mostly blended, fold the chocolate into the dough until the remaining flour is incorporated, and the dough no longer looks dusty. Bring any stray ingredients up from the bottom of the bowl. Do not overmix.
If the dough seems warm or looks overly glossy, refrigerate for 5 minutes. Then roll into balls using 3 tablespoons of dough for each. Arrange on the prepared pans, leaving 3 inches in between each. Sprinkle with sea salt. Bake until the tops are cracked and lightly golden, yet the cookies are still soft at the center, 10 to 12 minutes, rotating the pan halfway through cooking. Leave the cookies on the sheet pan for 2 minutes, then transfer to a wire rack to cool. Continue shaping and baking cookies with the remaining dough, making sure to use a cold sheet pan for each batch.