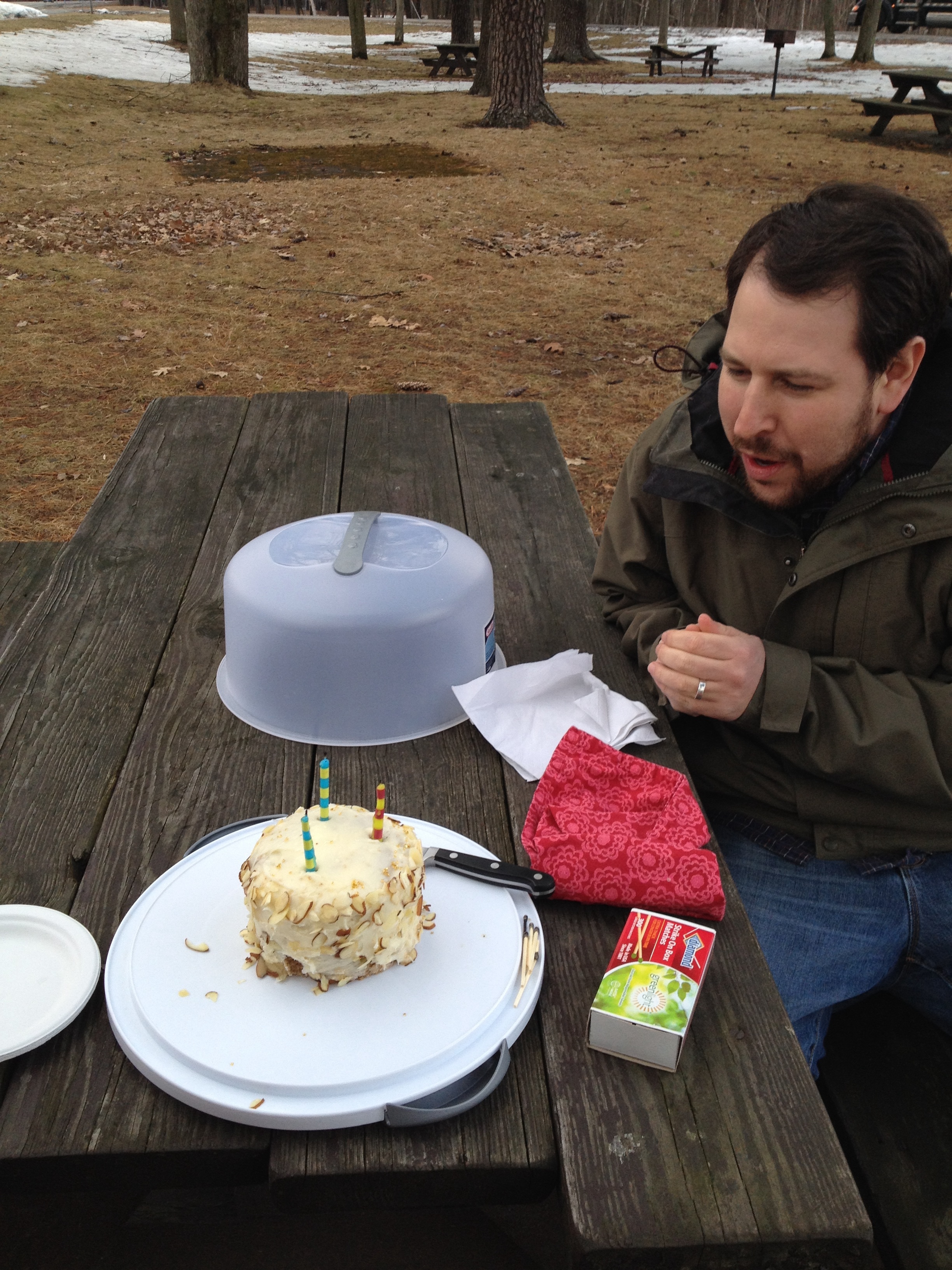 At our house, cake season stretches from February through April, from Rosie's birthday through Sadie's (with Joey's in between). It parallels dirty-piles-of-icy snow season, which is fortunate, because the cake helps.
I'm not particularly good at making birthday cakes, but I love to do it anyway. I like frostings with not much sugar, so often one cake slides and swerves off the other, and no matter whether I do a crumb coat or not, there are always crumbs. I also am no good with the piping bag, even through I've been shown how to do roses over and over. But I think a lot of making birthday cakes is just having the moxie to make the thing, actually pile one on top of the other, stick some candles in it and maybe even sing at the same time as you carry it across the kitchen. Any one can do it.
This year for Rosie, there was a nice plain-Jane vanilla cake with sprinkles, which she said was her favorite cake she's ever had. Sadie's 12th is coming up later this week, and she hasn't decided on her cake flavor yet, although she's going through a brown butter thing so I'm sure that will be involved. But for Joey's birthday I made a little cake, and it was so great to have just enough cake for the four of us. We were on our way out of the house to go to Montreal, and I wanted to surprise him with a cake at a rest stop along the way (which I did, as you can see above. You can't see the snow that was falling out of the sky, but it was).  I didn't want to have lots of cake left over, because I knew it would just end up sitting in the car and getting thrown away. So I did a little hack on a recipe which I think could really be done on any recipe for layer cake when you only want to feed four people.
Of course I have no pictures because I was making a big mess and trying to make a secret cake and pack the whole family and a puppy into the van, but I'll describe it anyway.
I started with a spice cake recipe I've used before–the Buttermilk Spice Cake recipe from Moosewood Desserts. I mess with it–up the spice and lower the sugar–but it makes a really nice spicy cake. I halved that recipe, and I baked it in a 9×6-inch pyrex pan. I cooled it, turned it out on the counter, and I used a 4.5-inch tart ring to cut two circles side by side in the cake. If you don't have a tart ring, you could use a straight sided glass container or bowl, but something close to 4.5 inches is the measurement you're looking for, because you can get 2 of those circles out of the rectangle. Once you have your two circles, cut each through the equator with a knife, so you have 4 separate circles of cake. There will be edges that you've cut away, and you can eat those to make sure you cake is delicious.
I had a few pears on the counter that were one step away from the compost, so I chopped them up and cooked them into a jam with some sugar and a vanilla bean. Then I added a splash of bourbon, a squeeze of lemon, and let it cool.
My frosting was 1 stick of softened butter whipped up with 1 package of cream cheese, all with just enough powdered sugar to stiffen it up, and a hefty splash of maple syrup at the end. (Taste as you go, taste as you go! Too many frostings are made without tasting and that's why people scrape them off and leave them on the side of their plate.)
To assemble the little cake, I started with one round, then piled pears on top. Then there was the second round, and frosting over that. One more round, and then another layer of pears. And then there was the final cake layer, and I covered the whole thing with a thin layer of frosting (a very messy and crumby experience, because you're frosting exposed cake because you cut your rounds. Be patient.) Then the cake went in the fridge while I did the pile of dishes that seemed incommensurate with the size of my cake. Then there was a final layer of frosting, and a layer of sliced almonds because this cake was not winning any beauty contests.
The end result was a nice hefty slice for each of us, plus a little wedge that I was able to force onto our airbnb host when we got to Montreal. Just enough cake, without being mini or cute or anything undignified.
And while we're taking cake, this weekend I made Ottolenghi's Clementine Almond Cake from Jerusalem (with the chocolate icing, of course), and Joey said it was his favorite cake ever. It's dense and pudding-y and orange through and through, and nice to make. I found it needed an additional 25 minutes in the oven, but that seems to be standard with Ottolenghi's books because he must be testing in some very powerful crazy British restaurant oven. Good cake though. Good cake.
Hope it's cake season where you are too.