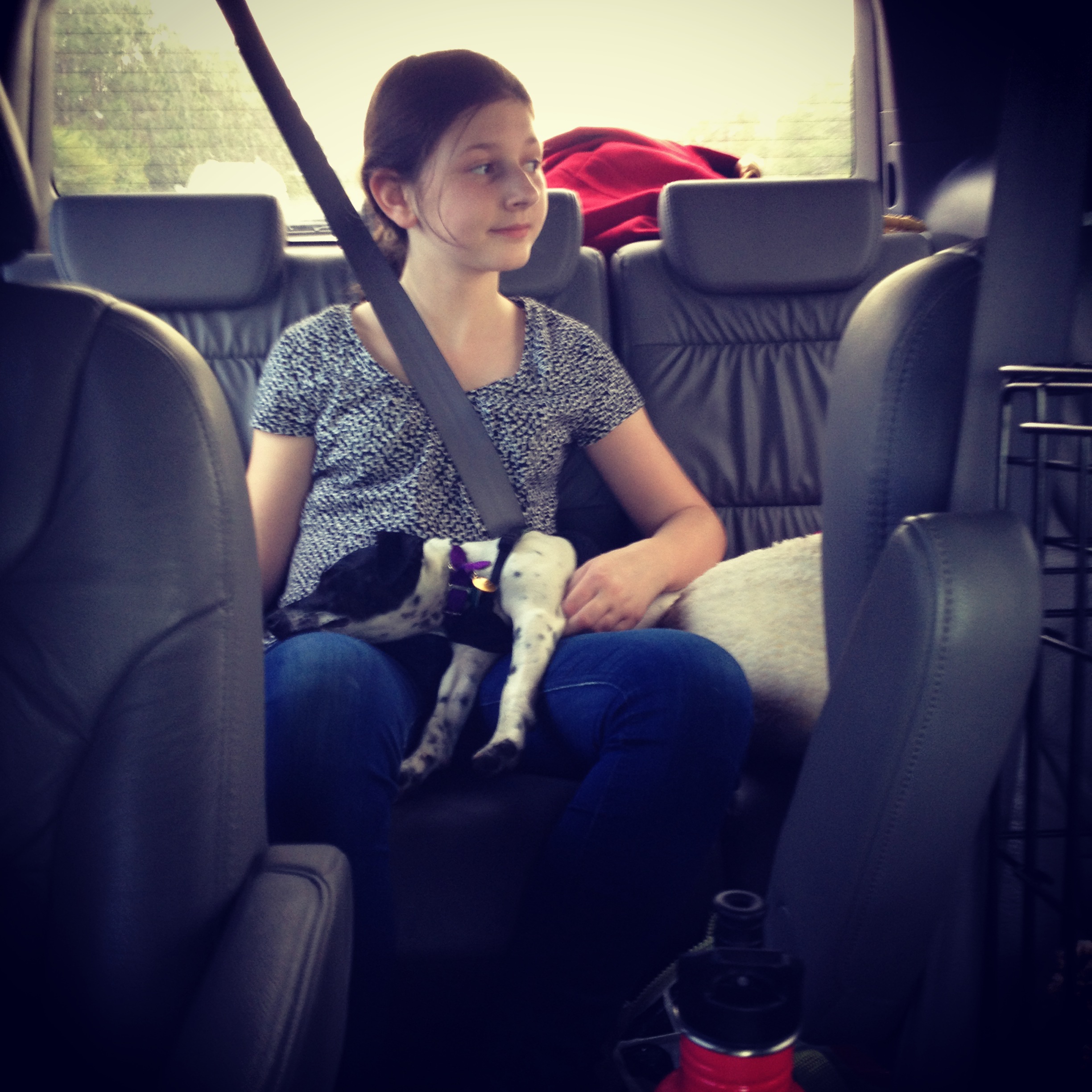 So we drove to Miami.
More specifically, we drove to Miami with a few very poorly packed suitcases, two kids determined to see their first palm tree, a fairly empty bank account, and a not-quite-yet house trained puppy. It was disorganized, not really thought out, and as all adult decisions go, probably irresponsible.
That being said, I'd do it again in a heartbeat.
There were many things that made this trip work. There were our friends, both along the way and down in Miami, waiting for us. There was the fact that when it all came down to it, the girls were up for almost anything. There was the inexplicable reaction from the dog to sleep for hours and hours whenever she was in the car. And then there was Sadie, who turned the back row of the minivan into her own little cockpit, and, armed with a snoring dog and a certain beat-up paperback book, decided exactly where we would eat.
That book, of course, was Jane and Michael Stern's Roadfood.  We have a long history with this book, and although it's never let us down, this was the trip that made me appreciate it more than ever. We have a few copies of it: one beat-up old copy that Joey bought when the Sterns were still writing for Gourmet and two copies of the new edition. One lives in the car and gets loaned out to anyone heading off on a road trip, and the other sits on the bookshelf.  We share a publisher, the Sterns and I, and for a while we even shared an editor. She graciously had the Sterns sign a copy for Joey and it's one of the most precious books on the bookshelf.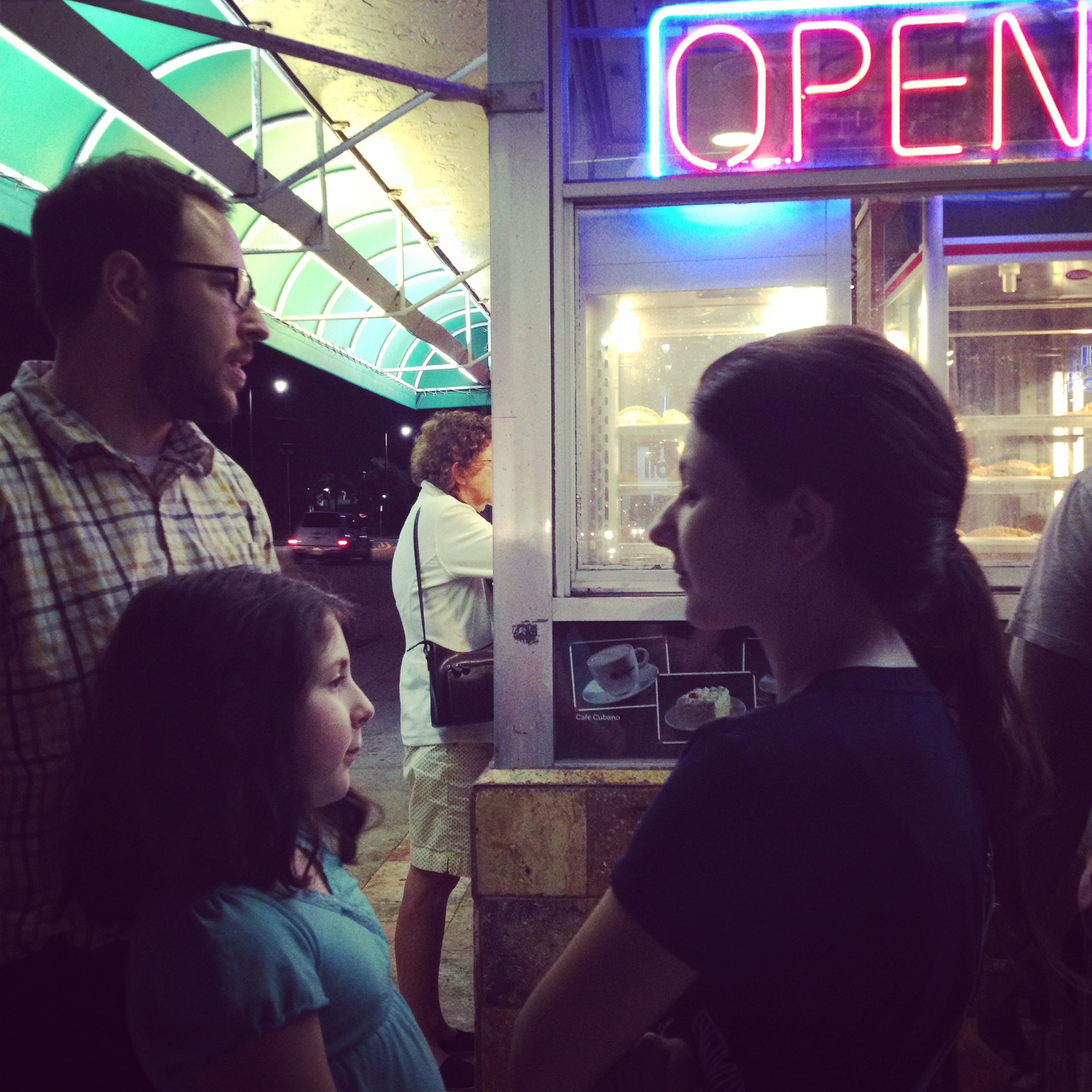 Coming back up through the Carolinas on Monday, Sadie talked through our lunch options from the back of the van.
"It sounds like this place is more North Carolina vinegar-y BBQ than the saucier mustard-based stuff we had in Jacksonville. And apparently the hush puppies are sweeter and denser. It's 30 minutes off I-95, but it sounds worth it!"
Then, quiet enough so she couldn't hear, Joey whispered "This is my proudest moment."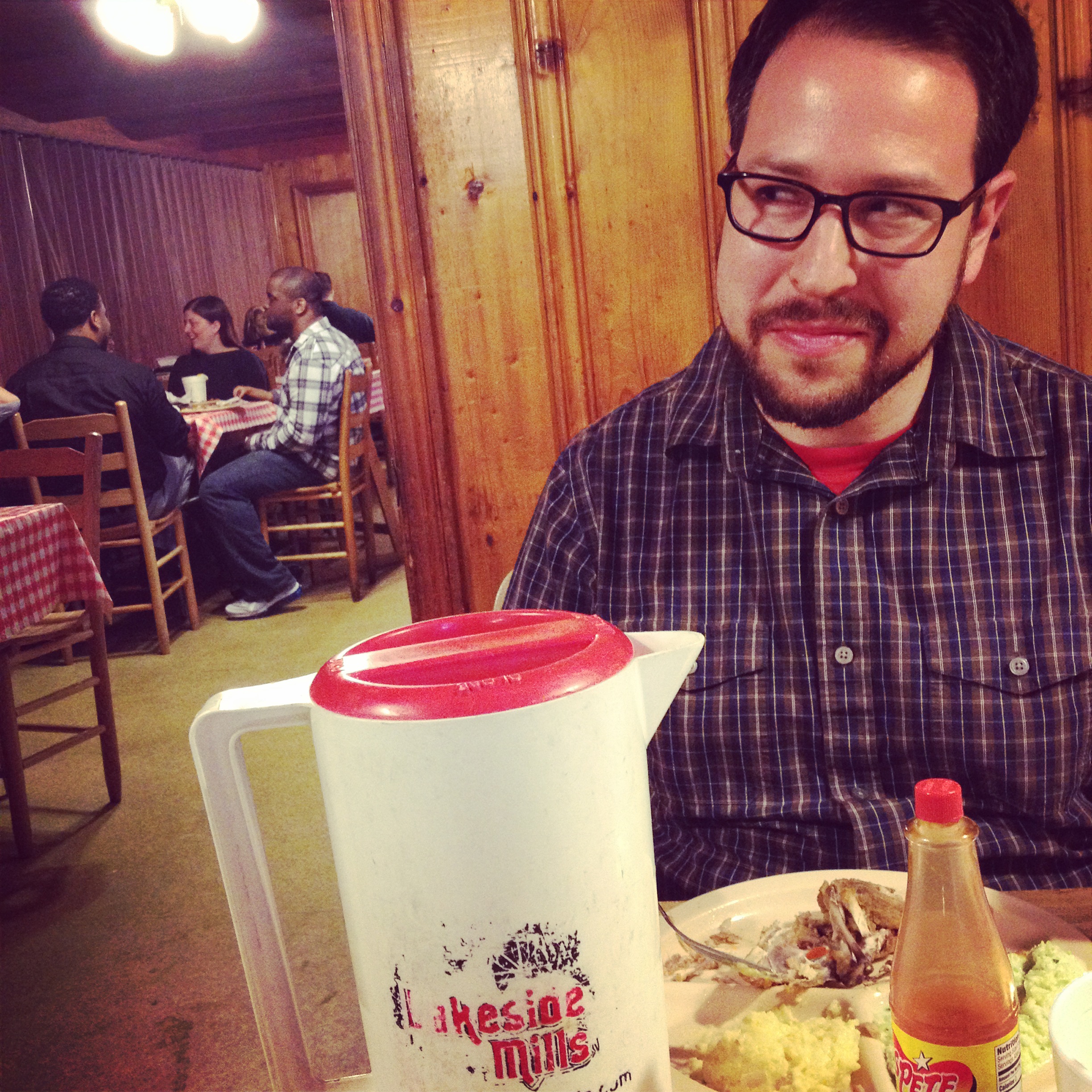 I hate a bad travel meal. They're easy to come by, especially with kids, because usually hunger and overwhelm take over and it's tempting to duck into the first place that shows up. But then you're there in some unfortunate place that smells like dirty mop water, spending too much money and time and most of all wasting the general capital of one travel meal that could have been so good.
But with Sadie in the minivan road food cockpit, this never happened to us. Between her devotion to Roadfood and the good sense and instincts of the friends we visited along the way, every meal was a keeper.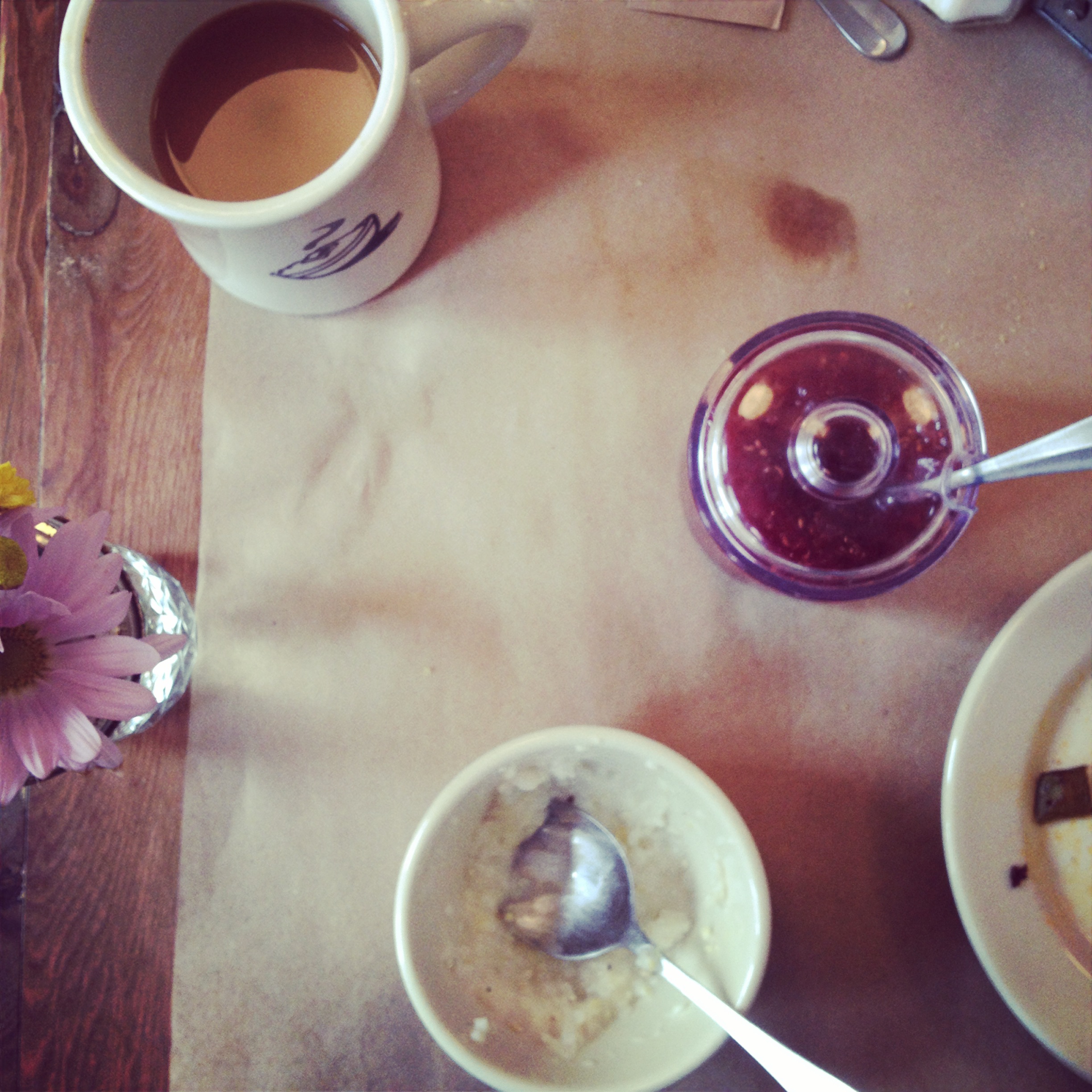 I thought I'd go through some of our favorites here, just in case you might be driving through the South any time soon. But of course if you are, I wouldn't leave home without The Book.
The Union Market, Washington DC: We started our trip out with a visit to my friend Alice in DC, and she brought us to the Union Market for lunch. She warned us that it was  mostly like all of Brooklyn packed into one tiny space. It was, but like Brooklyn, it was worth it to wade through all the plaid shirts and beards for really good pork buns. And sausage. And pickles. And fancy things that taste like cardamom and sea salt. You get the idea.
Mama Dip's Kitchen, Chapel Hill, NC: This was a stop between DC and South Carolina, a luxuriously long lunch with friends and adopted family of Joey's from when he was a kid. It was the girls' first introduction to sweet tea and hush puppies and seeing mac and cheese on the list of "vegetables," and they hopped back into the car transformed into soul food fans. Our original meeting place was supposed to be Dame's Chicken and Waffles, where our friend Simone says the fried chicken makes you cry with joy, so that's first on our list for the next road trip. But Mama Dip's had the best fried catfish I've ever had, so I have no regrets.
Hominy Grill, Charleston, SC: When we asked around about where to eat during our few waking hours in Charleston (so many choices!) we heard mixed opinions of The Hominy Grill. No one argued against the food, and it seemed to be agreed all around that they serve the best Shrimp and Grits in the world. But we heard it was touristy and the wait was long and we might be able to do better. But in the end, this little breakfast might just have been the favorite meal of our trip. And yes, shrimp and grits. Shrimp and grits.
B. Matthews Eatery, Savannah, GA: I'll just say right off the bat here that I fell in love with Savannah. It was a perfect morning on our way back up. It was warm, the sun was out, and the whole city seemed happy. B. Matthews was a pretty classic brunch kind of place, but we all loved it, and it was super affordable. The favorite was the duck and waffles (at 9 bucks), and our friendly smokin' hot waitress, with whom I embarrassed the girls by asking what color lipstick she was wearing, because I wanted to be even just a little bit as smokin'. (Sephora, lusterwear deep plum. On my list, on my list!)
Jenkins Quality BBQ, Jacksonville, FL: So maybe the neighborhood is a little out of the way. Maybe the place isn't much to look at it. But this was some of the best barbecue I've ever had.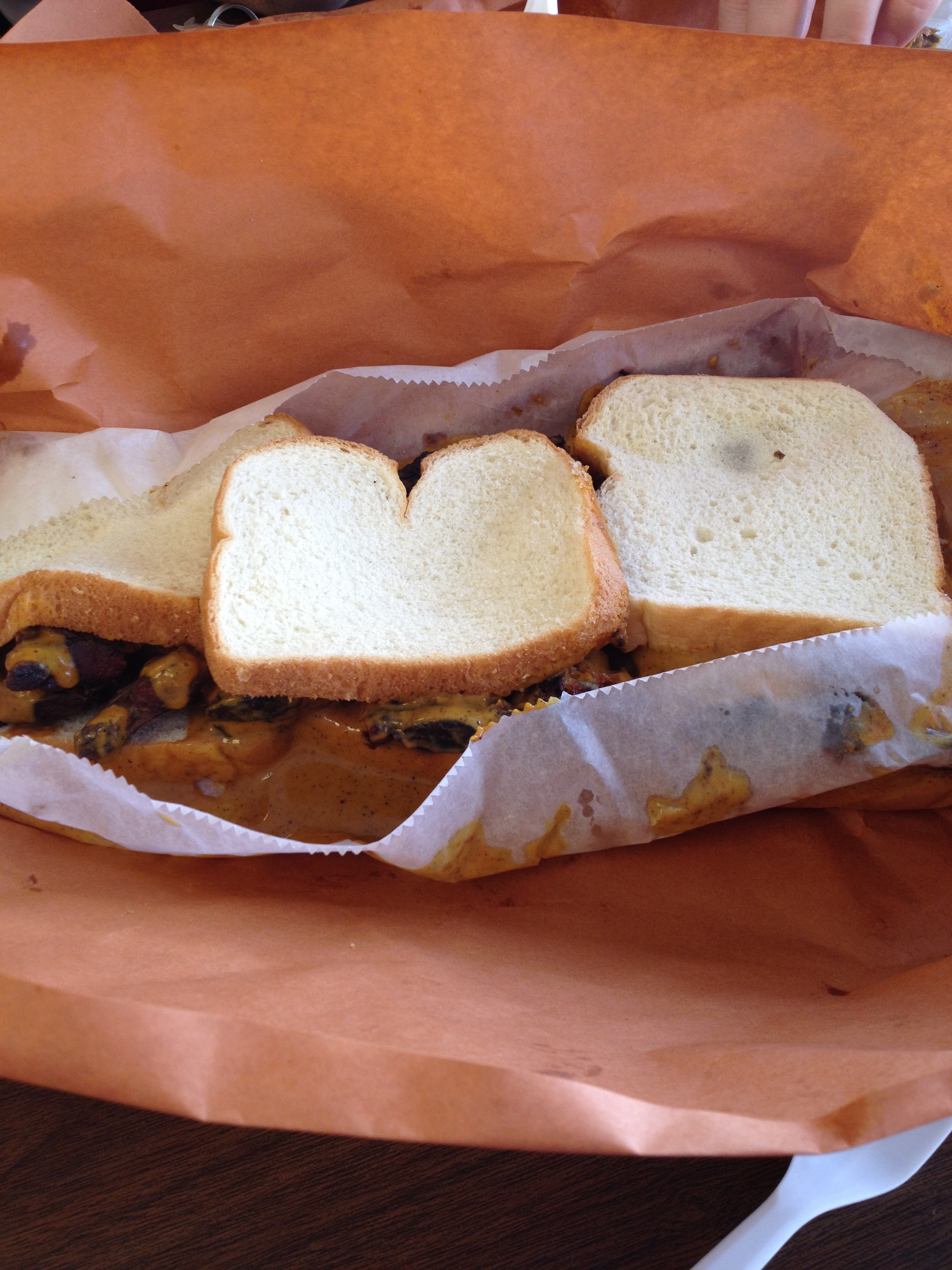 O'Steen's, St. Augustine, FL: Yes, you'll drive 20 minutes off the interstate. Yes, then you'll end up in historic St. Augustine, which (especially if you've been driving since New England and are still wearing your winter boots) will feel like some sort of strange vacation party that you fell into like a disconcerting dream. Keep going, and sit in traffic on the Bridge of Lions while the drawbridge goes up to let through a few ships that lost their way from the Pirates of the Caribbean ride at Disney. Keep going to the strip where the real people are, and pull into O'Steen's, where hundreds of elder Floridians are waiting for a table. People are chatty outside, and they'll tell you about how they've been coming for shrimp for decades. The Sterns told us this was the site of the best fried shrimp possible, and they were right. Get a double order of shrimp. It will generously feed two, and it comes with hush puppies and  2 sides (I recommend the sweet potato casserole and pickled cucumbers), all for 22 bucks. Also, lots of vintage pyrex in the antique shop next store. Cash only, so come prepared.
Surf and Turf, Miami, FL: On one of our Miami days, we went to go pick up our friend Alejandro from his fancy downtown Miami job. He hopped in the car and directed us towards lunch. Joey laughed when he turned us into a parking lot behind an office building. "There's a gate! We can't get in!" But Alejandro told him to pull up to the key pad. Sure enough, there was a tiny hand-written note: for surf and turf, press 6. Every thing we ate here was fantastic, but the prize went to the grouper: fresh, crispy, and perfectly cooked. A close second goes to the key lime pie. There are two grandfather types who run the place–one who makes the key lime pie and the other who wouldn't let us leave the parking lot until we agreed to move to Miami. And all in the back of First Presbyterian Church parking lot.
El Mago de las Fritas, Miami, FL: Chase (other half to the afore-mentioned Alejandro) was bursting to take us to this hole in the wall Cuban burger place. The burgers are so well seasoned, but then there's a pile of crunchy little shoestring fries on the burger. The Cuban father of it all was watching silently from the stool on the end of the counter while his son took care of us like we were his own houseguests. Chase had actually been telling us about their batidos (fruity Cuban milkshakes) for over a year now, and my Papaya batidos was as good as my burger.
El Palacio de los Jugos, Miami, FL: Yup, the palace of juices. Also, the palace of these amazing boiled sweet corn tamales, and fruit, and Cuban sandwiches…
We're already talking about making this trip a tradition, so if you have favorite places along the route, I'd love to hear about them.