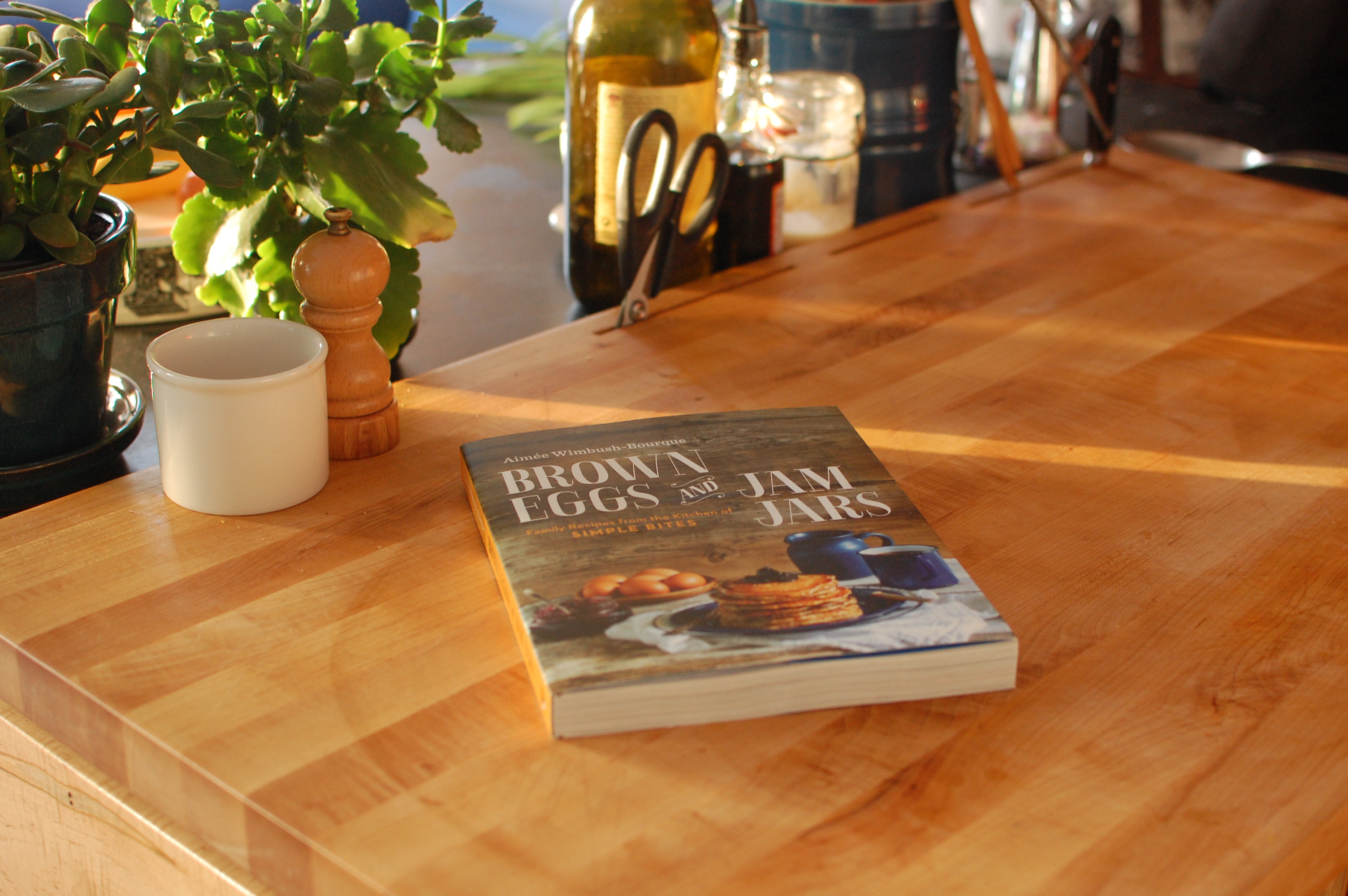 Today, a different kind of love story.
Last spring, we were on our way home from Montreal, and we had plans to stop at Aimée Wimbush-Bourque's house. She and I had never met in person before, but we'd corresponded over email a bit when my first book came out, and I'd sent her a note asking if she might want to meet.
I try to do this when I travel, even through it always feels a little scary. I don't tend to go to blogger conferences because they're always so pricey, and when I have managed to get myself to them once or twice, I just spent the whole time in the corner clutching a drink and not networking. I consider myself an extrovert-absolutely! But a conference cocktail hour makes a shrinking violet out of me. So I seek people out when I travel, and I go in search of conversation with writers I admire. It feels a little riskier, because meeting face to face with someone new can be such a vulnerable experience. But I've been grateful for every coffee, lunch, and walk that's come out of it, and I'm always so happy I got it together to reach out.
We'd been in Montreal all week, and that last day, it poured. Aimée had told me she'd like to get a little lunch together to fuel us for the long ride home. I was a little nervous, because, well- the whole vulnerable first meeting thing, but also because we were throwing our families together. We got lost on the way to her house, and we were late and the girls were eager to get home, and I thought maybe this was a bad idea.
I was wrong. It had been a really good idea.
I got out of the van and Aimée came to meet us, boots on, spade in her hand. And then within a minute, I was behind her little house harvesting ramps with Clara. Back inside, the kids were playing, Joey and Danny were already sitting and talking, and the prep for one of the most wonderful meals I've had in a long time was underway. Aimée was in the final stages of finishing her book, and she'd taken the opportunity to test some of the recipes from Brown Eggs and Jam Jars. The table was set for nine of us, and we sat there for hours–eating, talking, drinking good beer from Quebec (they make my favorite beer in Quebec!) eating some more. We had slow cooker cider ham; maple cider baked beans; cabbage, carrot and cashew slaw with maple soy vinaigrette; and sticky maple pudding for dessert. For our second dessert, Aimee pulled out sheet pan of snow from the freezer and we made maple taffy right then and there. And then as it was getting dark, hours after we should have headed home, we said goodbye, promised more meals together in the future, and drove back to Massachusetts.
In the car, we couldn't stop talking about the meal, the afternoon, and the family. We buzzed and blushed warm and recounted the dishes and marveled over how happy we were that we'd been able to finish our trip with such an amazing day. In truth, we fell in love with Aimée and Danny and their kids.
We've stayed in touch over the year since then. Next month, Aimée and her family will be down on this side of the border for a US leg of the book tour, and I get to feed them on their way home. The bar is high, and I'm hoping I'm up to the task. But luckily, I have a new cookbook.
I've been cooking from Aimée's book since it arrived in the mail a few weeks ago. It's a gorgeous book, and it has that hard-to-put-your-finger-on-it quality that makes me want to cook every thing in it. The book is both aspirational and accessible, and the recipes are so solid. I had the big pleasure of being able to see the book last year, and to share my love for it then, too. As I said then (now on the back of the book!), Aimée shows us that any home can be a homestead if we choose to see a space's potential and possibility. I think this is a book you're going to need in your kitchen.
We're heading off on vacation tonight. The girls have never seen palm trees, and we've been itching for a road trip, so we're driving down to visit friends in Miami. Freida's coming too, and we're taking lots of stops along the way, and if you have any road food recommendations, send them my way. But I'll be mostly away from the computer for the next 10 days, so if I'm slow to answer yogurt questions, that's why. (I will, however, be keeping up with instagram, so feel free to join me over there if you need a few palm trees yourself.)
But before I go, I've got one copy of Brown Eggs and Jam Jars to giveaway! In the spirit of the season, and inspired by what my friend Sarah calls AKOL (all kinds of love), leave a comment and tell us an unexpected love story. It can be long like mine, or just a few words about someone or something you love. As always, it's all fair game, and I'm just excited read the comments. Your comment will enter you to win this wonderful (very love-filled) book, and I'll chose the winner when I get back.