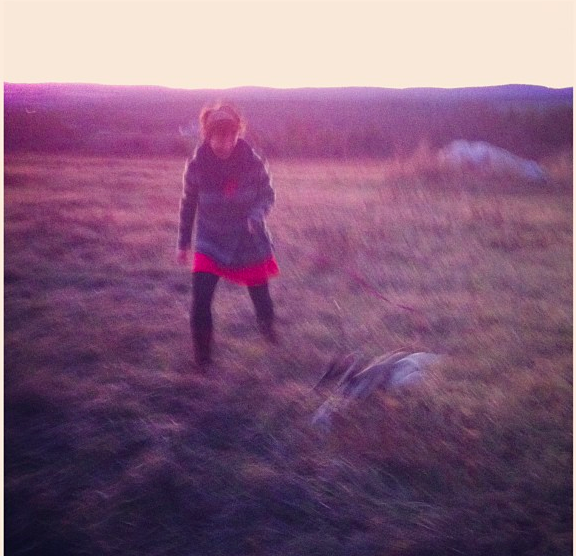 I want to tell you a little bit about Freida.
I've never had a dog, and I've never really wanted one. I like cats because they're soft and beautiful and independent and smell faintly of hay.
But over the last few years, I started to change without even realizing it. I'd ask people on the street about their dogs. I'd say hello to the dogs at the farmers' market, whereas before I'd just asked their owners to stop them from peeing on the market table sign. And sometimes, late at night, I'd lurk on petfinder.com, reading about different breeds. 
Joey got in on it with me, and we'd sneak petfinder sessions, trying to keep it from the girls so they wouldn't think we were really serious. And when we really talked about it, we'd just go around in circles with all the reasons why not. Our life is good. It's easy. It's too much responsibility. Too expensive. We don't even know to raise a dog. We like our independence. We want to be able to travel without thinking too hard about it! (This one is only a dream, as we hardly ever travel and always think a lot about it.)
I laughed about how we sounded like people thinking about having kids. Oddly enough, we'd never thought about those things when we were actually having kids. Maybe it's because we were young, or maybe it's because I had a sense of how to take care of a baby, but back then, we just didn't think too hard about it.
This fall, we finally started talking about it for real. We share a house with my parents and my sister, and my mother especially took some time to come around to it. Honestly, I think she struggled her way through it.  But in the end, this is what she said to me:
I'm willing to admit that there's something out there that could bring me happiness that I just can't know or predict.
We began to look for dogs. We'd mention it to friends who had dogs, and for the most part they'd laugh or look surprised, and say they'd never figured us for dog people. I felt a little defensive, like I had to prove that I really was a dog person. What was a dog person anyway? I started reading books and articles and learned that there might be more opinions out there about how to raise dogs than there on how to raise children. I researched breeds and had thoughts about what I wanted and I felt unclear and panicked and like I was doing something wrong and I was going to make a huge mistake.
And then we met Freida, and she jumped into my arms and, overwhelmed, fell asleep. That was that. She wasn't anything we had looked for. But, like a lot of things seem to do, she just happened.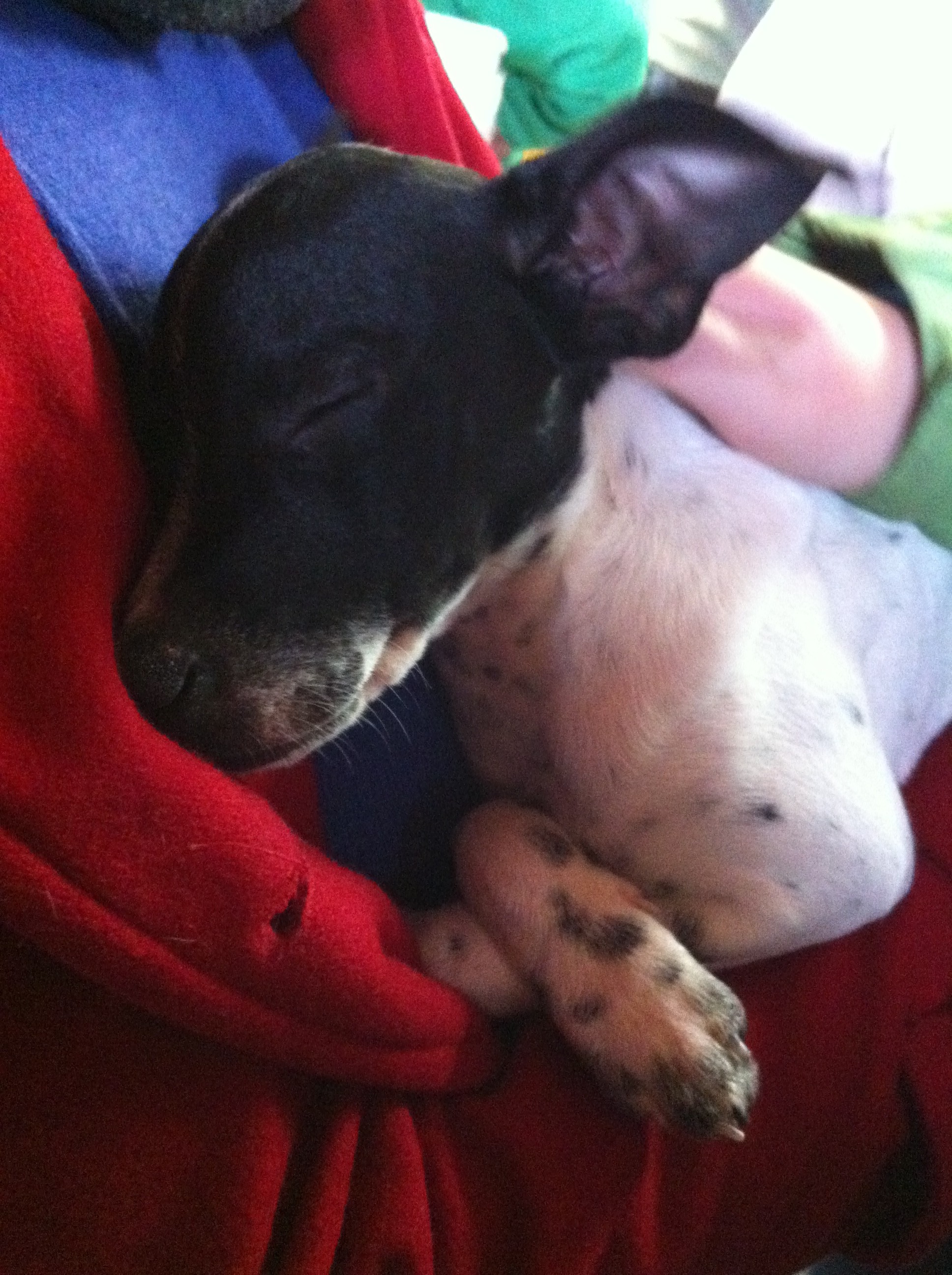 There's been a lot of waking up late at night and figuring things out and saving slippers from destruction and cleaning poop off the floor, but through it all she's already become a  very loved member of our family, and she's definitely the right dog for us. Even my mother loves her. And I felt it only fair that I should officially introduce her, here, as she'll be the blur running through most of my photos from now on.
Friends, this is Freida.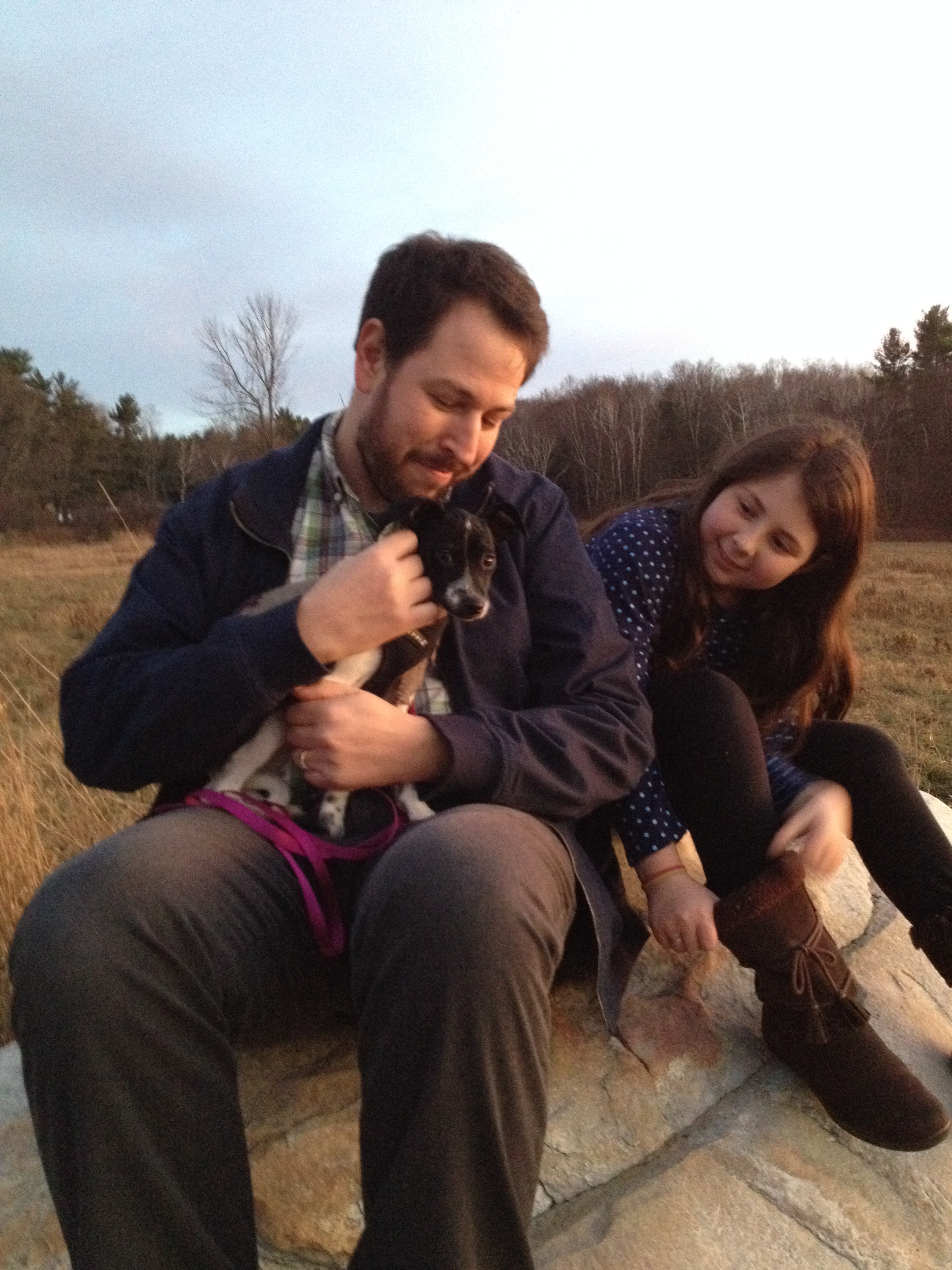 But there's something else, too. In this first post of the year (Hello 2015! So good to meet you!), I thought my mother's words were especially fitting. In fact, in place of a resolution, this seems to be the sentence setting the tone for my 2015. I like it.
I'm willing to admit that there's something out there that could bring me happiness that I just can't know or predict. 
Happy new year, friends. I'm grateful to be starting off this year, here, with you. Here's to all the unknowns of 2015, and the good things that might just come along with them.