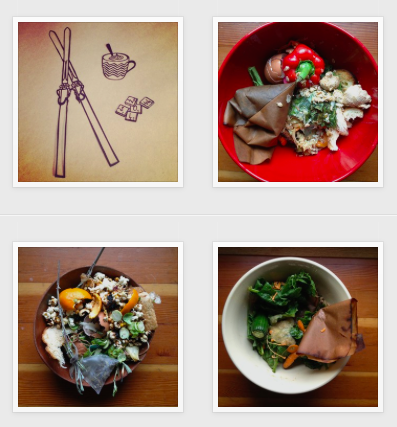 Lately, most of my instagram posts have been of my #compostcandids. There's just something about these bowls of scraps that have inspired me lately. But there's more too–chronicles of the girls' baking, the occasional quick recipe, and whatever I see that I want to catch. It continues to be the place online where I post the most, so I just wanted to give a little update of the goings on over there.
I have to admit it's also the platform where I really love looking through my feed. It can be hard to find people there, so I thought I'd share a few of my favorite posters in case you want to take a peek.
Cheryl Sterman Rule (@sternmanrule) mostly food, all in her own style, lots of witty good things tucked in there.
Karie Reinertson (@shelterprotectsyou) little cabins, lots of wood, pretty people with beards and sweaters
Tara Reese (@_Tarareese) woods, lakes, beautiful moments (She contributed the photograph for my last piece in Taproot Magazine (@taprootmag), and I've been loving her images ever since.
Erin McDowell (@Emcdowell) was the food stylist for the book I'm working on now, and she works over at Food52  (@food52). Her feed is mostly gorgeous baked goods (lots of pie!) with occasional glimpses of her very cute dog.
Donovan Delafield (@hicockalorum) is an artist in the PNW (also, I'm happy to report, my friend for decades) Her feed is amazing–lots of moss, mushrooms, and art.
Lisa (@woodshedcoffee) food, coffee, babies, life. I always enjoy the way she captures the moments of her day.
Joey (@aoristtargaryen) I'm biased, yes- as this is my  Joey. But I really do love his feed. It's mostly art, with some of us here all mixed in.
Andrea Gentl (@andreagentl) gorgeous, gorgeous, gorgeous. Travel, food, rotting flowers, and everything in between.
Valerie Vago-Laurer (@nettleandquince) food, London, more good things
And me! I'm over there at @alanachernila.
There's more, of course, but I think this is a good start? And I'd love to hear who inspires you over there on insty. Also, your handle! Share in the comments if you like, so I can find you there, too.