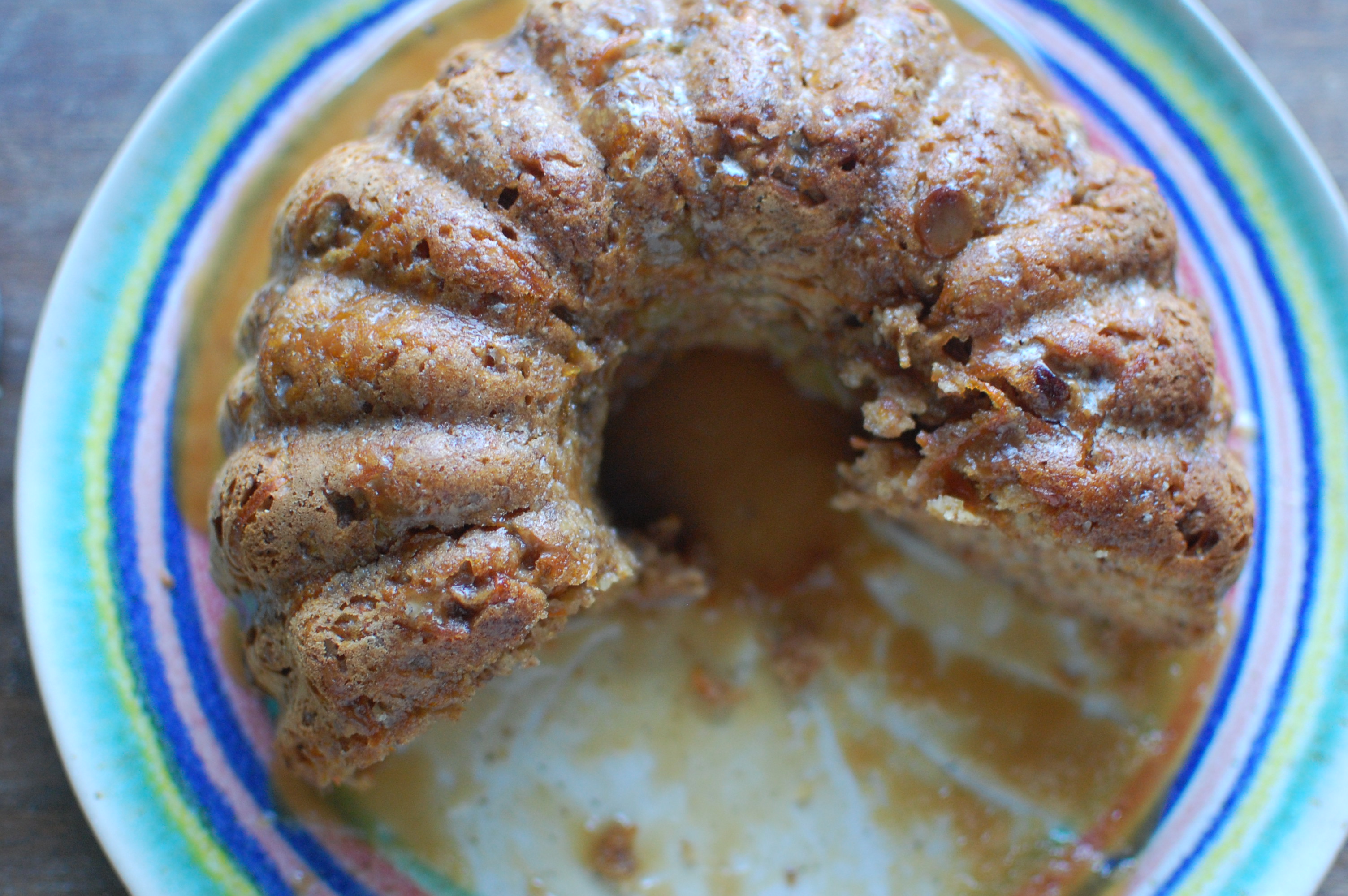 There is a moment when the cake has cooled, the dishes are done
(or at least soaking)  and the time has come to
breathe the cake out of the pan. Breathe being the only useful verb I can find for this process, which is
the scary moment of bundt cakes (silly as it feels to say bundt, it doesn't make them less terrifying)
or really any thing that turns out of its pan, but especially bundts,
with their dips and grooves and textures, each
an opportunity for beauty, I suppose,
but more a place for batter to stick, for an
afternoon of today-we're-making-a-cake! to become
well-that's-what-frosting-is-for! outwardly optimistic,
but quietly making another admission that perhaps it's time that I accept that

Pam spray has its merits, which don't outweigh the hole in the atmosphere and polar bears and god knows what particles and I know I know. I'll never learn.
That's why I'll never be a great baker.
I only buttered. Stubborn (and optimistic about the merits of good, real, food when used correctly) as I am, I only buttered.
And so I tuck a chopstick in the side, and I ask the cake how it's feeling about coming out.
It doesn't answer. But I spread my hand as wide as it will go over the surface of the cake, and I hold the residual warmth there. And then I (this time to myself) tell the cake I'm not afraid, and I turn it over, pan and all. Then,
breathe it out.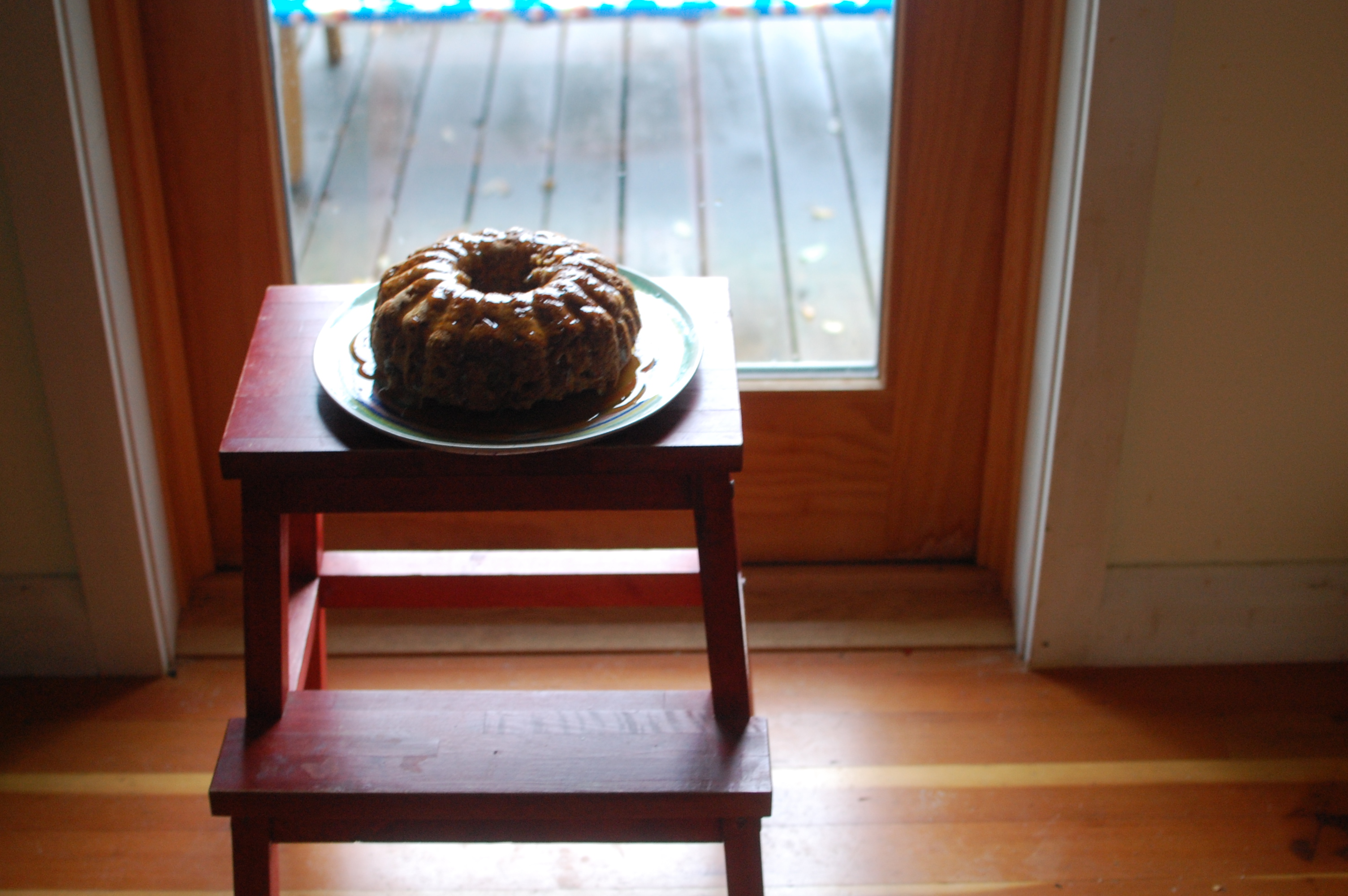 What could make me wax poetic about bundt cakes of all things? Oh yes, it must be Mighty Nest giveaway time! It's a good one. Here's what I've got for you:
1. A Simax Glass Bundt Pan. I have to be honest–I didn't know how this all would go. But it's fantastic, it works, it doesn't stick, and it's a great alternative to all those non-stick pans with teflon. (I have, in fact, been using only butter with my new glass bundt pan, and every cake has come out perfect and intact.) Even more, I'm told that it's made with borosilicate glass which can withstand temperatures up to 932°F. I'm not sure what I'd bake at that temperature in a bundt pan, but I'm glad to know I bake a bundt on the surface of Mercury or some other equally hot place. It's good to have options. Also, this means it doesn't crack and explode in high heat like tempered glass can.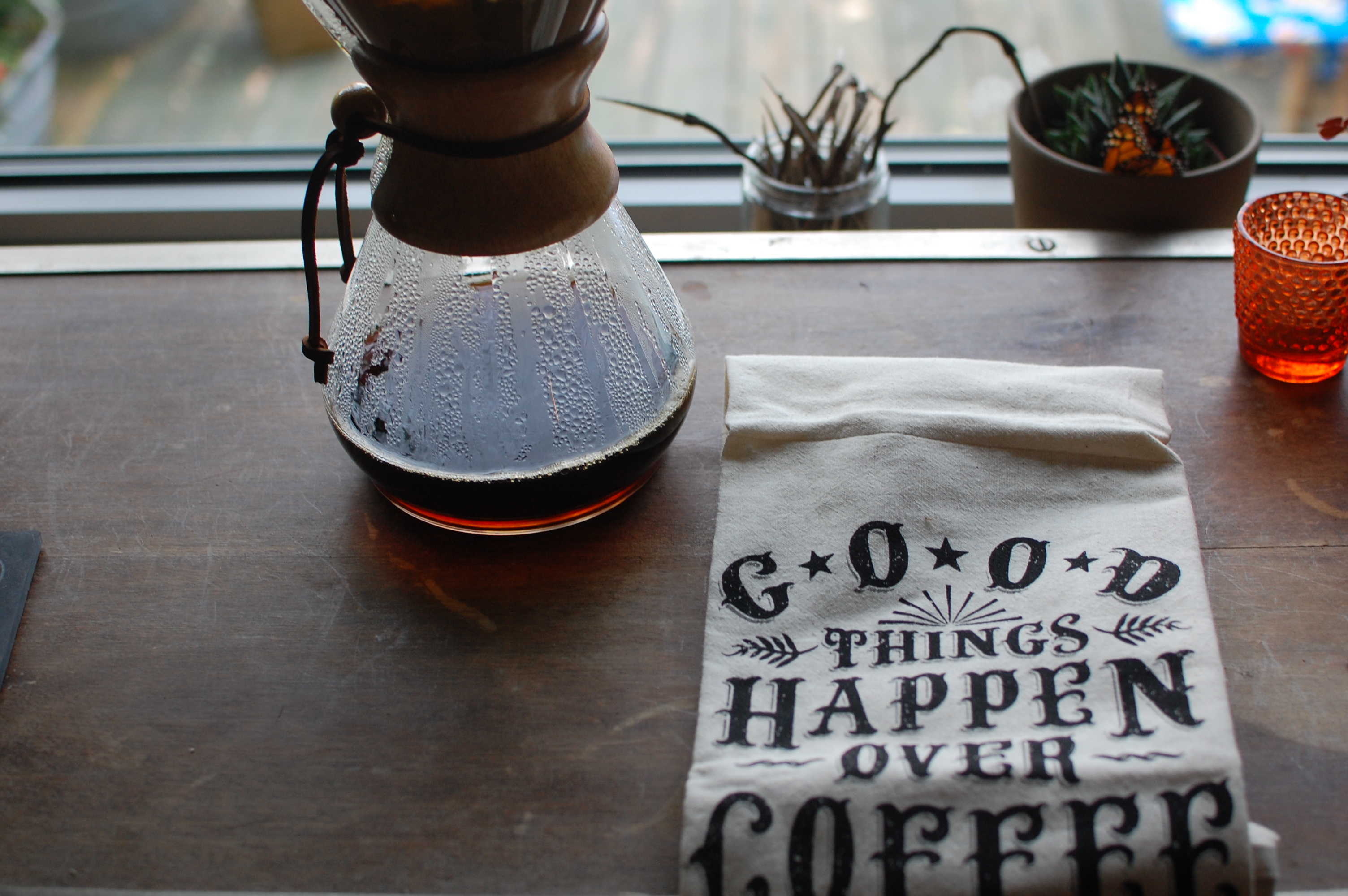 2. A Chemex Coffee Maker. I know these are the new hip thing, but I'm going to claim my one hipster "I've known about that forever" card (okay, actually I'll claim one more, since I did see The Shins at the Launchpad in Albuquerque before they were famous, and I was making out with Joey behind the building just at the right time to see James Mercer get into his parents' minivan) but I bought my first Chemex when I was 18 and it's the only way I like to make coffee. The company is based near me in Western MA, and they've been making coffee makers since 1941. It's a simple system–just a glass carafe and a filter, but it makes coffee without any bitterness. I love the Chemex for the coffee it makes, but I also love it's democratic classiness. It's gorgeous, it's hip, it's utterly functional, and it's affordable. (And yes, it's also made of borosilicate glass! So you can make coffee on the surface of the planet Mercury, too.)
3. A box of Chemex filters. You'll need these for your new coffee maker.
4. Four Simax glass coffee cups. Big, classy, and really nice to hold in your hands.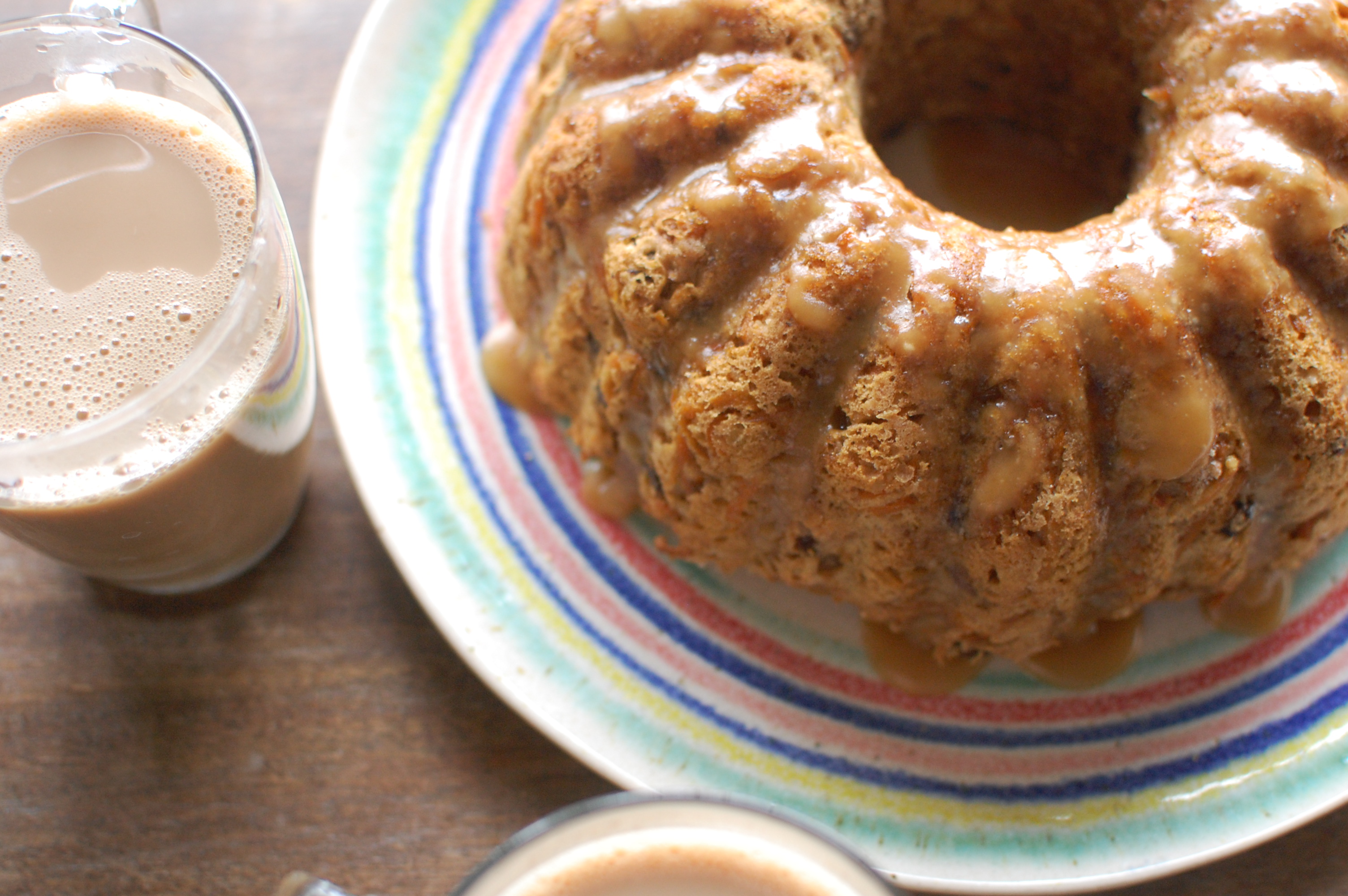 5. A witty tea towel. (Or coffee towel, rather.) Organic cotton. Speaking truth!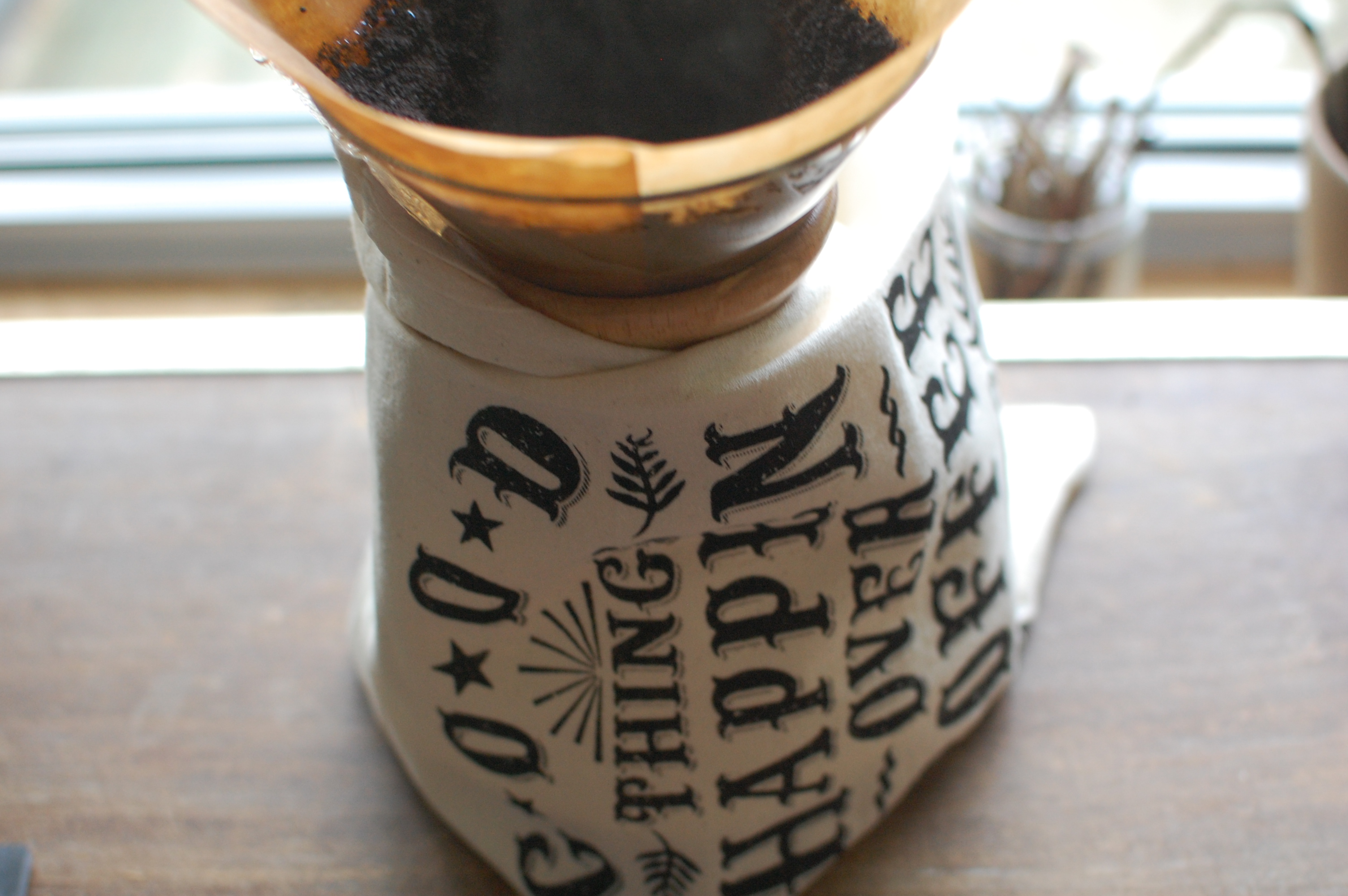 6. 100 bucks to your school. All you have to do is enroll in the Mighty Nest for Schools program (enter any school you're connected to), and anything you buy through Mighty Nest results in 15% going back to your school. That's already a given. But on top of that, the winner of this giveaway gets $100 towards their school.
And why Mighty Nest? They're one of the few companies I work with here on the site, and I have lots of good reasons. They're a small online company, and they're all about non-toxic, functional, beautiful products for the kitchen and home. Especially if you're trying to transition to more reusables and safer products in the kitchen, Mighty Nest is an amazing resource. And their schools program is great, too–it's available to anyone from any school, and it provides an opportunity to raise big bucks from your school in partnership with a company with a lot of integrity. The schools program is a big part of Mighty Nest's mission, and when you sign up, 15% of the money you spend there goes right back to the school of your choice. Win win!
To enter the giveaway, just go through the widget below. And, if you like (not required, but you know how I love a good conversation), leave a comment about some part of baking that terrifies you. Let's face our fears in the service of eating more cake. Big thanks to Mighty Nest for supporting the site and sponsoring this giveaway. I'll choose a winner on November 10.
So… baking fears. I'll start. Bundts! Bundts are terrifying. (But less so in a glass bundt pan, it turns out.) Enter to win through this widget, and then keep scrolling down for my new favorite bundt of choice.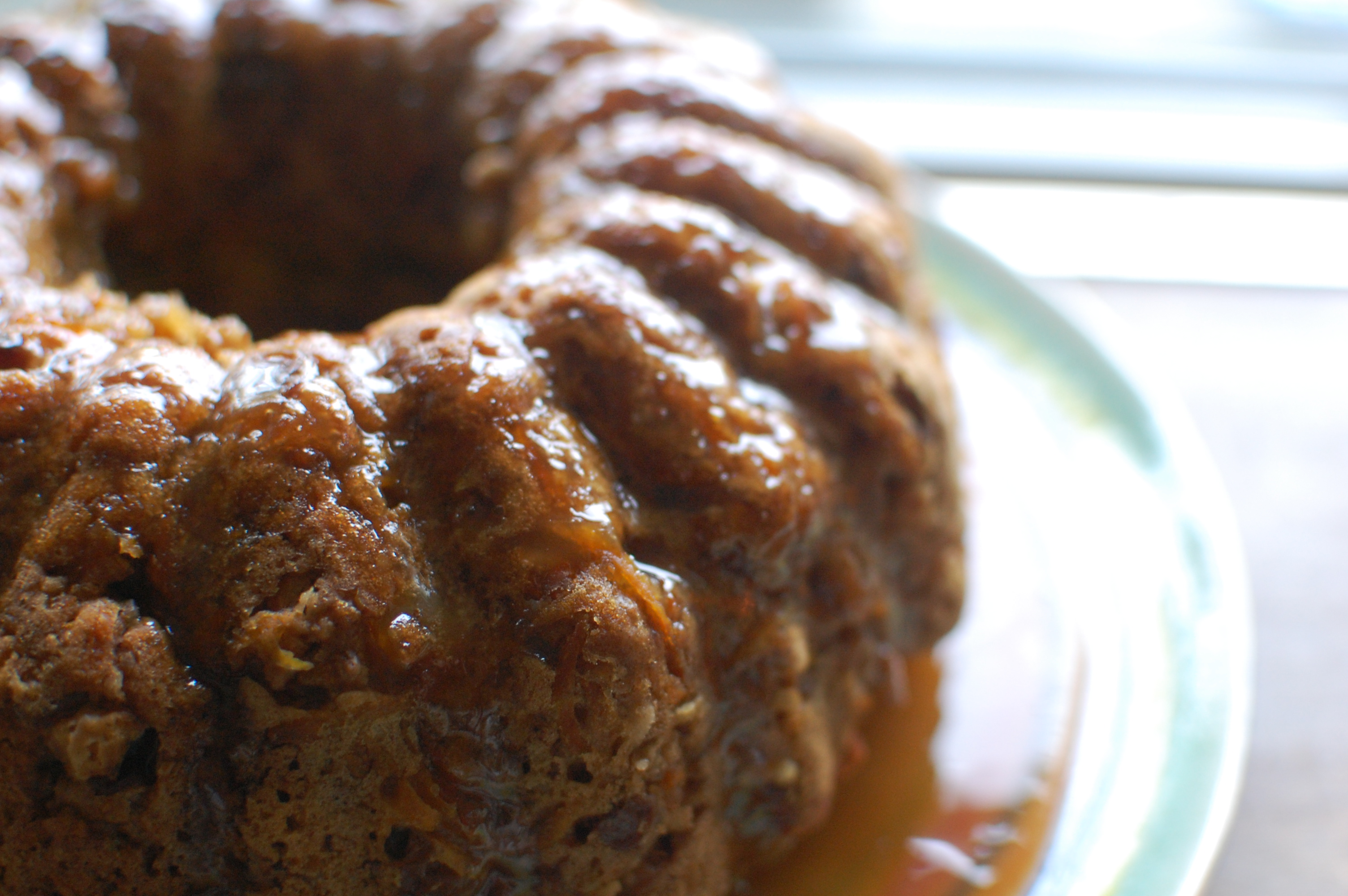 This is one of those useful cakes that just plain good, but at the same time satisfies a few other categories. It's vegan, and save for the glaze, it's free of any fats or oils, and it seems to be all the better for it.  (I myself am a big fan of fats and oils, but sometimes I bake for others who aren't.) It's dense and moist and packed full of carrots, so it's basically a vegetable. Except it's a cake. A really, really good cake. Note that the cooked carrot mixture has to cool for about an hour, so you want to allow enough time for that to happen.



Carrot Cake with Maple Glaze
(loosely adapted from a cake from Moosewood Desserts)
Makes one 10-inch bundt cake
3 cups grated carrots (just under a pound, peeled before grating)
1/2 cup (packed) dark brown sugar
1 cup golden raisins
1 1/2 cups water
3 cups all-purpose flour
1 teaspoon cinnamon
1/2 teaspoon cardamom
1 teaspoon ground ginger
1 teaspoon salt
1/2 teaspoon baking soda
2 teaspoons baking powder
1 cup ground nuts (any combination of almonds, pecans, walnuts, cashews…)
1/2 cup applesauce
For the glaze:
1/4 cup coconut oil
1/3 cup maple syrup
1/2 cup confectioners sugar
1/4 teaspoon salt
Make the cake:
1. Combine the carrots, brown sugar. raisins, and water in a medium saucepan. Bring to a boil, cover, and lower the heat to medium low. Let the carrot mixture cook, stirring occasionally, for 10 minutes. Remove from heat, uncover the pot, and let the mixture cool for about an hour.
2. When the hour is nearly up, preheat the oven to 325°F. Butter a 10-inch bundt pan. (How about a nice glass one?)
3. Whisk together the flour, cinnamon, cardamom, ginger, salt, baking soda, baking powder, and ground nuts in a large mixing bowl. Fold the cooled carrot mixture into the dry ingredients, then stir in the applesauce until just combined. Transfer the batter to the prepared pan and bake until a toothpick, when inserted in the cake, comes out clean, 55 to 60 minutes. Let the cake cool in the pan on a wire rack 30 to 40 minutes, then gently turn the pan over and breathe the cake out.
While the cake cools, make the glaze:
4. Combine the coconut oil, maple syrup, powdered sugar, and salt in a small saucepan. Whisking constantly, bring just to a boil. Remove from heat, and pour the glaze over the cake.
Store tightly wrapped at room temperature for up to 3 days.