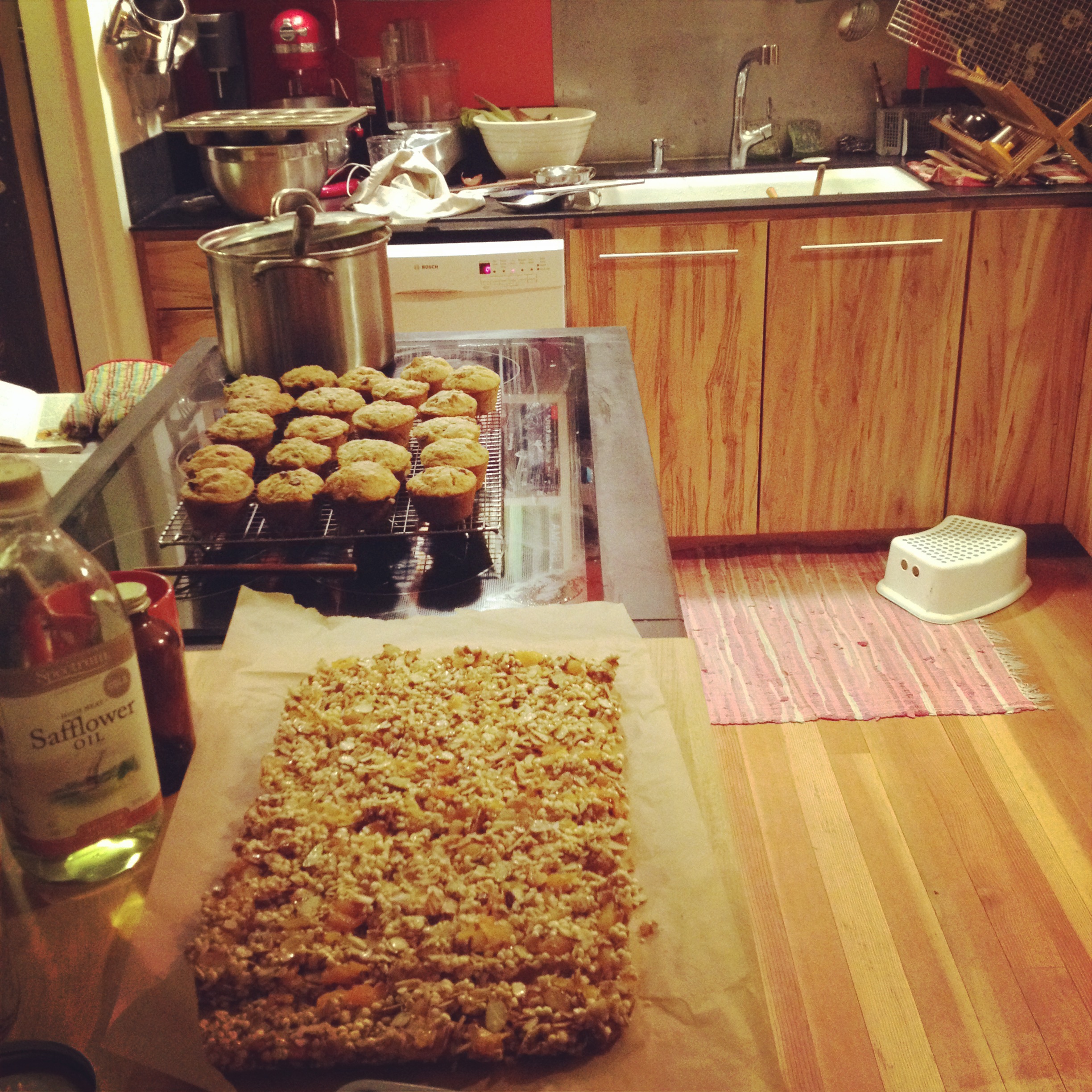 (Okay, okay–middle of the month. Happy middle of the month!)
I'm just getting deep into my second week of cooking for my friend Diego's film. I'm not on set, but twice a day, someone comes and picks up meals that I've carefully packed and labeled: gluten-free, contains dairy, not vegetarian, put this sauce on this chicken! I've cooked for friends' films before, and I really love it. It feels like I'm cooking for a big family. But over the course of the last week, something surprised me.
I'm not a morning person. I'd sleep ten hours if I could. Every day, I get up 6:22, the latest possible time that I can drag myself out of bed and still get everyone off to school in an orderly fashion. Joey hands me coffee, draws me into his chest with an "it will be okay, honey", and knows not to ask me any questions about anything until the coffee cup is empty. So when I found out I needed to have both breakfast and lunch for 10 people ready at 5:45 a.m., I agreed very reluctantly.
The first day, I popped out of bed at 4:15. I made muffins. I warmed up the soup and transferred it to thermoses. I set out a tray of sandwich fixings, cut up the bread, and tucked the just-cooled chocolate chip cookies into a bag. Those meals went out into the world, just as Joey and the girls were waking up. Then I packed lunch boxes, fed the girls muffins, and sent them out into the world, too. I sat for a few minutes. And although I was prepared to fight the urge to climb back into to bed, what I really wanted to do was exercise. This is not like me. It was too cold to walk outside, so I went down to the basement, turned on my mother's clunky treadmill, and walked- for an hour. 
The rest of the day continued on, and I just felt different. I had more cooking to do for the movie, but there was no drag in my step. I got things done. I wrote. I felt great. I drank a lot of water. And at 9:00 that night, I fell into bed, ready to start again the next day. And the next, and the next after that.
I thought I wasn't a morning person, but I think the truth is that I'm not a 6:22 person. I've had times in my life when I baked professionally, and I always loved the quiet dark of the pre-sunrise kitchen. It's easy to see that I should be getting up earlier, and I'll try to continue the habit even after this movie shoot is over. But the big surprise has been that one small change can immediately create so many others. Who knew that waking up so early could make me want to exercise or drink more water? I don't know if it's because I'm waking up at a different time in my sleep cycle, I just have a few more hours in the day, or I just need to begin my day with baking, but whatever it is, it's been a good week.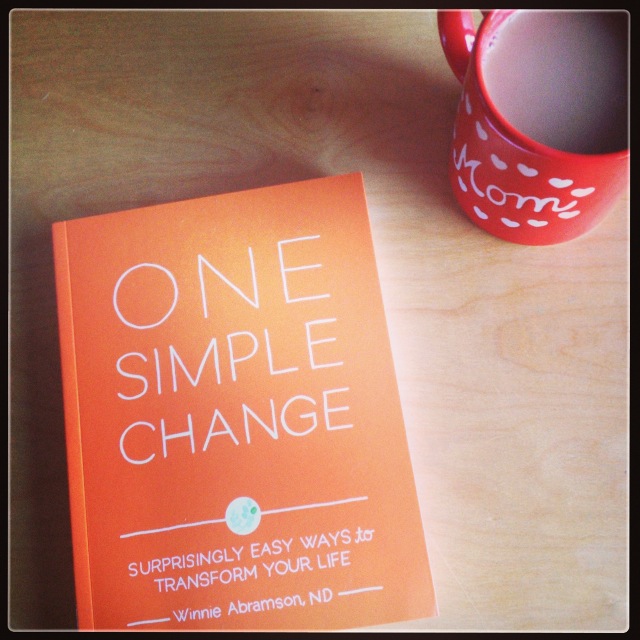 I've been wanting to tell you about this book, and my week of surprising new habits has made me bring it to the top of the stack on my desk. You might know Winnie from her blog? I've always appreciated her take on nutrition and food, and I'm happy to have her calm, balanced and encouraging words in a book I can pick up and read and give to friends. I've never been one for self-help or diet books, as I tend to find that we're all just too different for any one path to be the right one for everyone. And I think that too often, any promise of massive transformation/ weight loss/ eternal happiness / (fill in the blank) can be overwhelming and disempowering. One Simple Change is constructed around gentle, accomplishable shifts. Get a little sunshine. Cook more. Drink water first thing. It's not dogmatic at all; Winnie offers helpful advice, but it feels like she's in the trenches with the rest of us. And I think the core of it really is that no small change happens a vacuum. It always leads to others.
I was hoping that we could talk about habit and change today. Have you ever experienced something similar to my strange morning transformation? A funny habit that sets the tone for the rest of the day? Or is there a habit you wish you could bring into your day that you just haven't been able to stay with? Or if you have Winnie's book, has it helped you bring new habits in? I'd love to hear how this all works for you.
Oh, and Fire Cider! Thanks so much for all your comments. The winner of the Fire Cider goodies is Margo Burton. Margo- let me know where you are and you'll be drinking your Fire Cider soon.