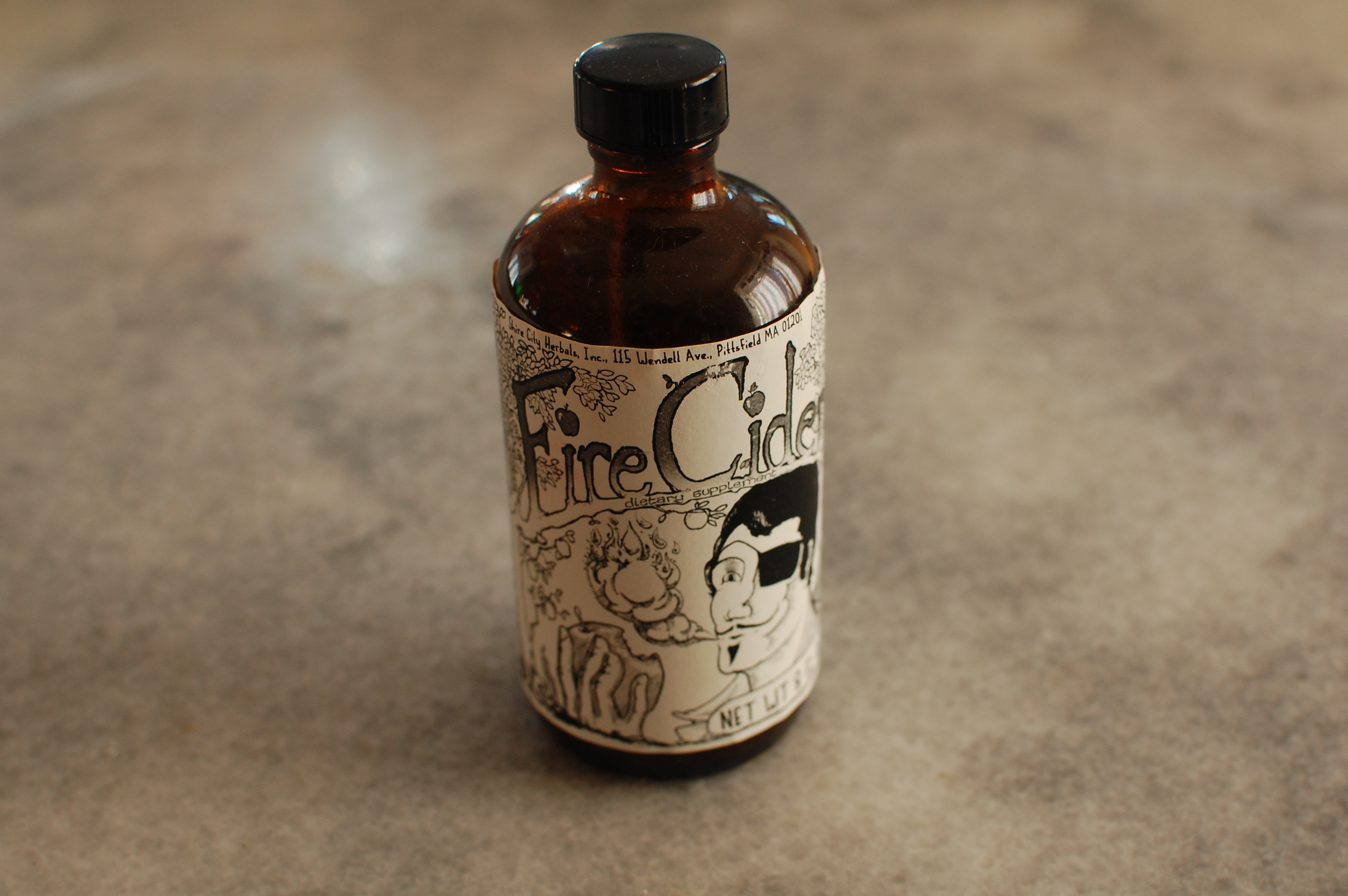 Oh, Fire Cider. Where to begin?
Let's start in the Fall of 2011. My friend, Gina, asked me to be a judge at Hancock Shaker Village's Harvest Festival farmers' market, which basically involved wandering through the shortbread and local honey, trying to take myself very seriously. Sadie helped, trailing along after, whispering about this and that product over my shoulder, peering at my scribbled notes.
I found Amy, Dana and Brian at their little card table, sandwiched on either side by the cloth-wrapped soaps and homemade jams and jellies one usually finds at such a market. I was drawn right to the table for so many reasons–that there were three people under 40 I did not recognize (laugh if you will, but anyone who's grown up in a small town will understand) and they had this relaxed and glow-y rockstar effect going for them. They were surrounded by little bottles with the most amazing label, and yes, yes, I'm a sucker for a good label. And in the air around their stall, I could pick up notes of ginger, and lemon, and… was that horseradish? Whatever it was, it all came together to create a sort of tractor beam that pulled me in. I was transfixed.
"Try some Fire Cider?"
Dana poured me a little shot, and without even asking what it was, I knocked it back like a freshman trying to impress the cool kids at a party she has no business going to. I didn't hesitate. I didn't smell it first. I just drank it down.
When I caught my breath again? I swear, my cells were humming so much I was pretty sure I could fly if I had the balls to try it. And I almost did. But my kids were there, and I didn't want to set a bad example. So I did the next best thing, and I gave Fire Cider the blue ribbon. They earned it, fair and square.
After that, it seemed like everything was Fire Cider this, and Fire Cider that. People started bringing it over instead of wine when I invited them over for dinner. Everyone seemed to think they had discovered it first, and I guess in our own ways, we all did. It's technically a drinking vinegar infused with all sorts of spices and herbs, and a shot every day will cure whatever ails you- really. But then, mixed into other ingredients, it becomes a secret weapon in recipes. Here in the Berkshires, Fire Cider cocktails popped up on every restaurant menu. There were salad dressings and meat marinades a whole lot of recipes in between. And all along, this little local business has been growing–you can find their Fire Cider all over the Northeast and beyond. We even saw it on the shelves of a hip little coffee shop in Denver,  and we couldn't quite contain ourselves.
"We know them! That's from where we LIVE!"
"Cool." The Denver hipster was unmoved, but we kept going. We told him about Amy and Dana and Brian, and about how they've grown this wonderful little company, and how excited we were that these bottles had traveled so far. That's the thing about supporting small local businesses, spreading the word, and feeling proud as they grow. Buy a bottle, talk about it, give one to a friend, see Dana at a party and tell him how much you love it–all these little actions make a difference, and you can have a direct impact on the growth of the business. And when it's a great people making such a great product, it feels so good to help it grow.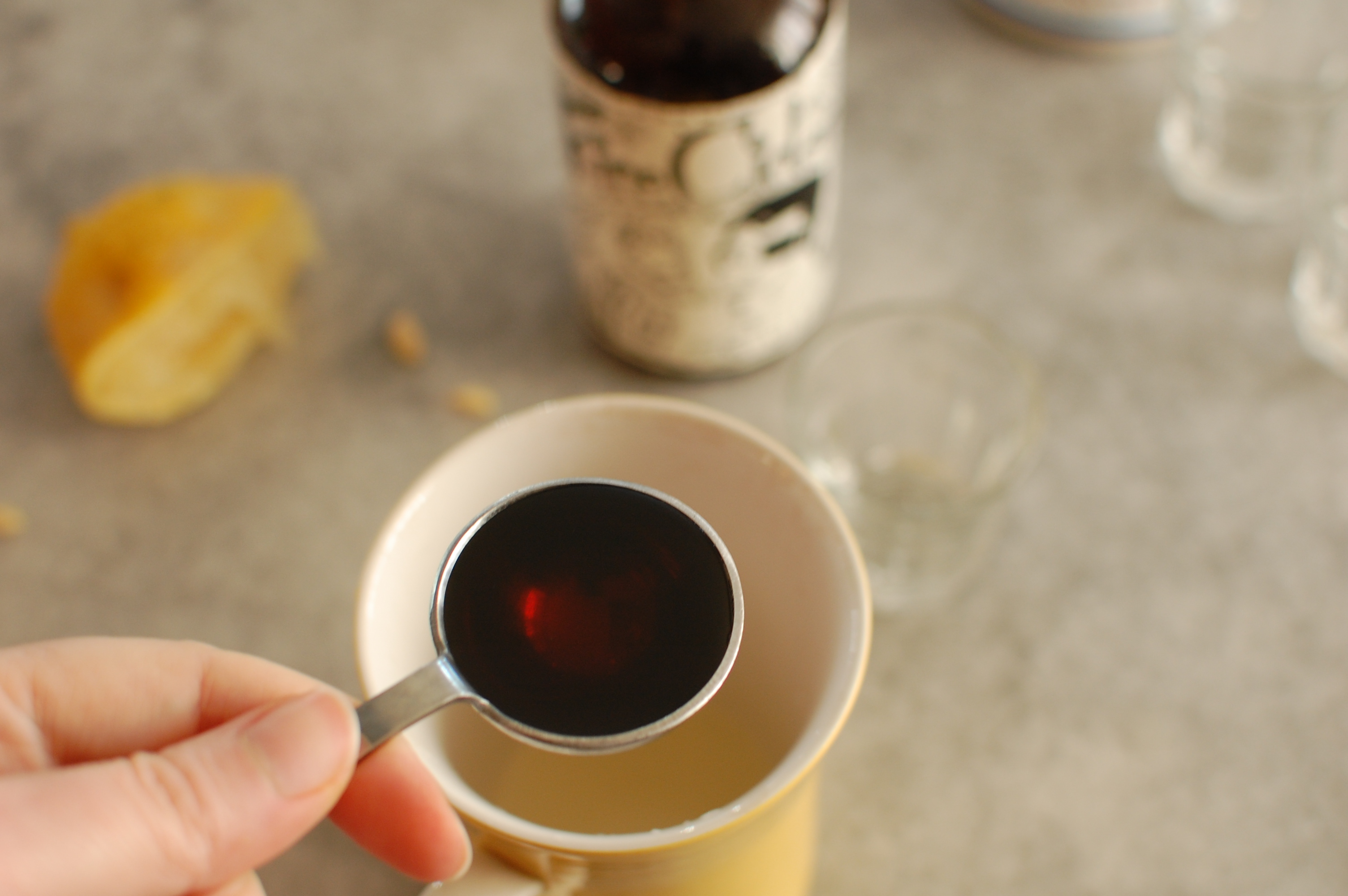 I'm pretty excited that Fire Cider is one of the first official sponsors of this site. I love having that bottle over in the sidebar. And today, to celebrate, those rock stars over at Fire Cider are giving away an 8-ounce bottle of Fire Cider, a rock star T-shirt, and a shot glass to one of you. All you have to do is leave a comment telling me about a local business you love right where you are. I'll choose the winner on Sunday, February 9. In the mean time, let's have a drink.
Fire Cider Maple Toddy
serves 1
juice of 1/2 lemon
1 tablespoon maple syrup
1 ounce Fire Cider
1 ounce Scotch whisky
3/4-1 cup hot water
Combine the lemon, maple syrup, Fire Cider, scotch, and 3/4 cup hot water in a mug. Taste, and add a bit more water if it's too strong.
(Visit Fire Cider's website here)
I want to send a huge thank you to Amy, Dana, and Brian for helping to support the site. Remember- you support them, and that helps me too! So thank you. And yes, if you're interested in sponsoring the site, I have spaces available in the coming months! Let's talk. I'd love to have you here.