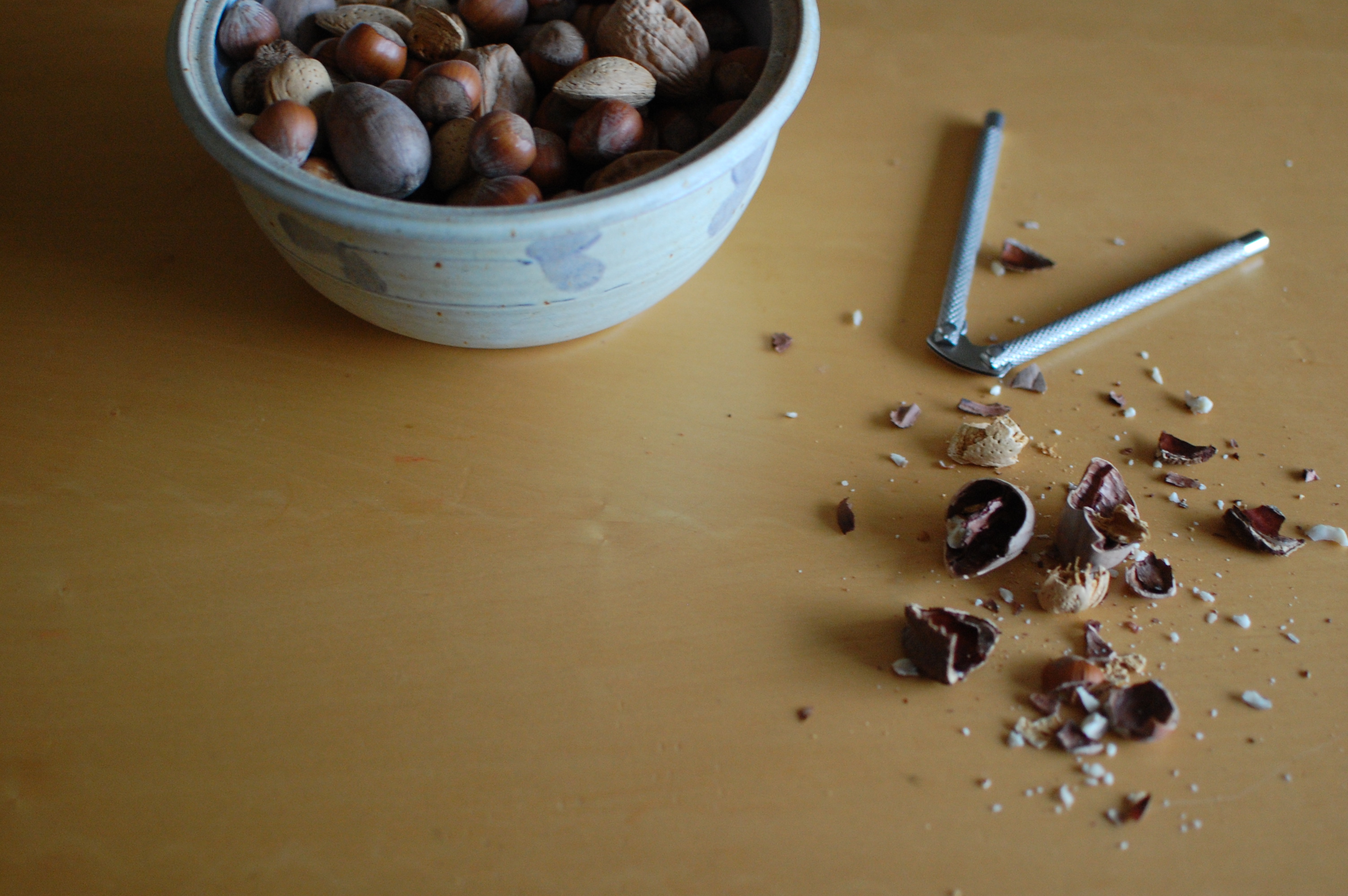 In December, I bought nuts. I bought them for stocking filler, because somewhere I got the idea it was the sort of thing people do. When I saw them at the grocery store, all mixed and in their shells, I threw them in the cart. I got that little zing that I get when I do something I've never done before. Nuts in their shells. How novel! 
I also bought a cheap nutcracker at the hardware store, and I put that in Sadie's stocking, too. And on Christmas morning, we had a lot of nuts on the floor. We cracked nuts. We ate some nuts. They were good. I didn't think too hard about it.
But by the end of the night, I remembered that, in fact, my Grandmother had put nuts in my stocking when I was a kid. Not only that, but there was always a nut bowl on their coffee table. Always. It was made of some of that 70's pottery they loved, and in the center of the bowl, ready to be used by anyone who had the desire, was a nutcracker exactly like the one I had bought at the hardware store for Sadie's stocking. My grandparent's nut bowl lived on top of a cedar chest they used as a coffee table, and, when I was cold, I'd take the bowl of nuts off the chest, open up the lid, and breathe in the smell of the chest. Out would come the scratchy orange wool blanket, which I'd tuck around my legs before lowering the lid of the chest, putting the nut bowl back on it, and cracking a few nuts.
I'd thought this whole nut bowl thing was my bright idea when really all along I was working from memory. So much for originality.
From Christmas on this year, we had the nut bowl, and every time someone would stop by, they'd remark on the nut bowl.
"My grandparents used to have a bowl of nuts on the coffee table!" they'd say. I'm serious. Everyone was happy to see the nut bowl, but most of all, the it was a favorite of the younger set. Kids who would have normally been antsy while their parents sat and had a beer with me and Joey sat contentedly by the fire, cracking nuts for hours. "Why does no one have nuts on the coffee table any more?" their parents would ask.
My question exactly. Because there are so many good things about the nut bowl. It means there's always something reasonably healthy and protein-filled on which to snack. It means there's always something to do with your hands. It's an activity, a treat, and a nervous habit all at once. It's the new thing in snack food. It's out and ready for guests- always. And the satisfaction when you crack the shell and dig out the glorious meat inside? Well, you'll have go back in your own memory for that one. Grandparents? Coffee table? Ringing a bell?
Either way, I move we bring it back. Come on by! I just refilled the bowl.