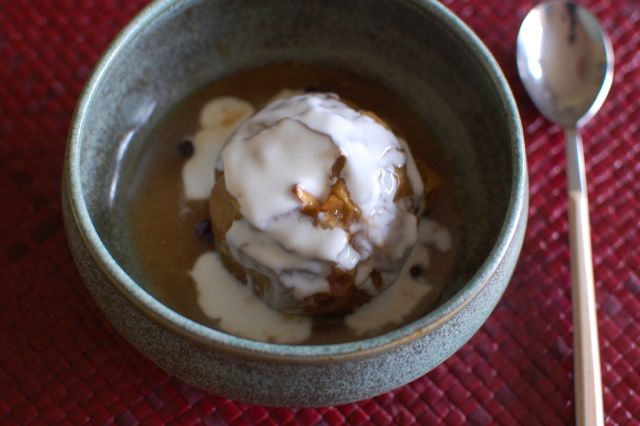 When Sadie was tiny, we took her to visit our friends in Cambridge for her first big weekend away. We were all less than a year out of college, but our friends (on the brink of marriage and children themselves) were good enough to embrace the seismic shift in our identities along with massive amount of parenting supplies we deposited in their living room to get us through the weekend. We had another friend from school who lived in the city, and he promised he'd drop by to say hello.
At least, he thought that's what he would do. But what really happened was that he walked in the front door, took two steps forward, and froze at the sight of Joey and the tiny human slung over his shoulder.
"I'm sorry. This is too much for me." And he ran away.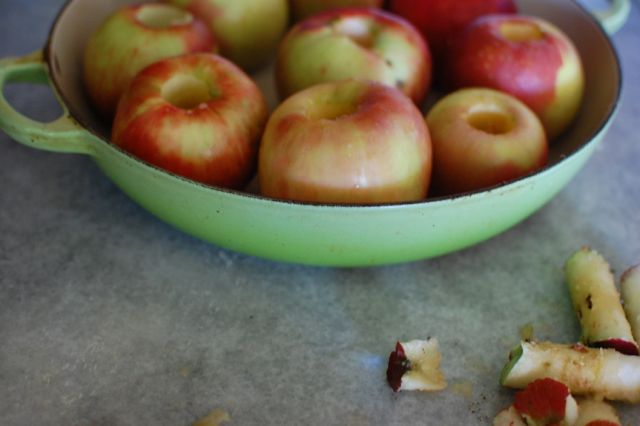 That night, Joey and I walked around the city with Sadie sleeping against his chest in the front carrier.
"When we're 35," I said, "everyone else will start having kids, and then we'll be the smug old folks who have already been around the block. People will stop feeling freaked out by the fact that we've had a child, and instead they'll ask for diaper advice."
I'm a few months from 35, but it seems I did predict the future after all. Just last week, I delivered two dinners to the families of two separate babies, each just six days old. They got warm flats of mac and cheese, and baked apples with maple yogurt. Those babies join others who arrived last month and are just starting to smile. The summer babies are just starting to laugh.  There is a baby to hold at every party, and I am always happy to open my arms and throw them over my shoulder, rocking, rocking. I am Auntie Alana, and just the sound of the name ("Na-na", "La-ma") from one little friend who's already running around gives me the tiniest hint of what it might feel like if my own girls have kids. Sadie's even started her first mother's helper job.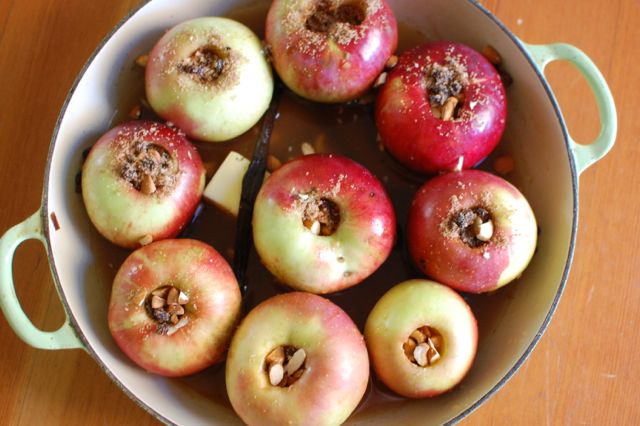 The other day, Rosie was doing her dance moves in the living room, and she hopped up on the couch and did that thing where she kicks her legs up in a headstand while the couch cushions support her legs. She was wearing a stripy shirt and blue leggings and somehow the color combination and her exact position on the couch sent me entirely into a polaroid that lives in one of our dusty top-shelf photo albums. In the photo, Rosie is upside down, looking through her own legs (can you see it?). She's wearing a stripy green pair of those Hanna Anderssen wiggle pants, the only pants that actually fit over a cloth diaper. I just had gotten my first computer when Rosie was born, and I'd spend hours with Rosie at the boob, me obsessing and scouring ebay for those pants. Anyway, this kind of flashback doesn't happen to me much, but with that firework in my peripheral vision, she was a year old again, rascally, not talking, cheeks twice as big as they are now. And I was so glad for the moment of being back there, because most of the time, when a friend hands me their tiny newborn and asks me how I got the girls to sleep, or whether cloth diapers or disposable diapers are better, I try to make something up so I can be good and helpful. But I have to admit that I have absolutely no idea. I don't remember.
I do remember that every challenge and issue and new stage felt big and permanent. But where my predictions have failed me is that I haven't, in fact, smugly been around the block. Mostly all I've learned is that children change faster than the weather. That no one's joking when they say that time flies. Still, to this day, when friends, raw and open from the start of their new families, ask for advice, Joey and I offer the same words that came to us just before Sadie was born. It's all we have.
No one can tell you how this is all done. Avoid the dogma, and do what's right for you.
But in this wave of babies, with every meal I bring to a new family and every sweet- smelling, yawning baby I get to hold and rock to sleep while their exhausted mom takes a shower, that simple attempt at advice has shifted and changed. In my story, parenthood has become some sort of forest. At the entrance to those wild and tangled woods, there is a wooden sign. And the following message is written with nail polish, and band aids, and calligraphy pens.
Welcome to the world of the lost. There is no path, but there are endless ways to travel through it. Just keep your eyes locked on theirs, and somehow the way will become clear. At first, those eyes will be like a mirror, and you'll see yourself reflected. But then, slowly, day after day, you'll see less and less of yourself, and more of who they always were, and have grown to be. And as they can, and as they emerge, they'll tell you where to go.
That's all I have. That, and a flat of mac and cheese and a few bursting, spiced baked apples for your dinner.  But I promise the moment I figure the rest of it all out, I'll let you know.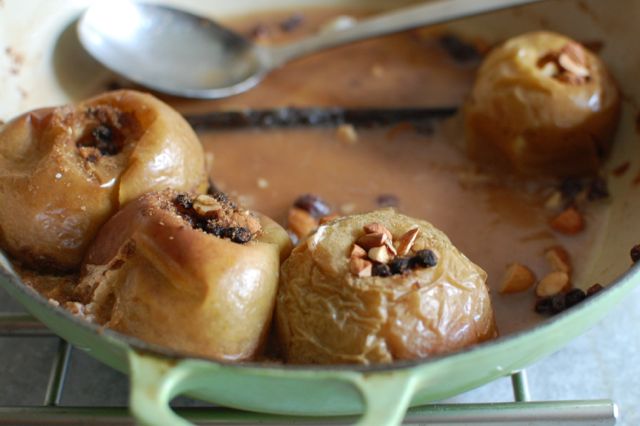 Baked Apples with Cardamom and Vanilla
serves 4
Baked apples are forgiving in every way. Double or triple the recipe for a dinner party, or just make a single apple for yourself. Swap out the almonds for another nut, the currants for whatever you have in the pantry, or the liquid for wine, port, juice, or just water. Just make sure you serve it with something a little creamy. The one tool that makes this easy is an apple corer, which at first glance might seem like a useless tool in your drawer, but once you have it, you can make baked apples all the time, which is a good thing. (It makes quick work of your maple apple chips, too.)
1 vanilla bean
2 tablespoons brown sugar
3 tablespoons currants
1/4 cup chopped, toasted almonds
1/2 teaspoon ground cardamom
1/2 teaspoon cinnamon
1/4 teaspoon salt
4 large apples, cored
1/2-2 cups apple cider (depending on the size of your vessel)
5 cardamom pods
squeeze of lemon
splash of maple syrup
2 tablespoons butter
1. Preheat the oven to 350 degrees. Use a small paring knife to open up the vanilla bean lengthwise. Then, use the tip of the knife to scrape the sticky inner seeds of the bean into a small bowl. (Save the vanilla bean pod for the next step.)
Add the brown sugar, currants, almonds, cardamom, cinnamon, and salt to the bowl and stir to combine.
2. Set the apples up in a baking dish or roasting pan with the holes facing up. Stuff the holes to overflowing with the fruit/nut mixture. Pour the apple cider into the pan so that it comes about an inch up the apples. Throw the vanilla bean pod into the liquid, along with the cardamom pods, the splash of lemon, the maple syrup, and the nob of butter. Bake the apples, uncovered, until they are soft and bursting, about an hour. Remove the cardamom pods and vanilla bean pod from the liquid. Serve with lots of the baking liquid, topped with maple yogurt, whipped cream, or vanilla ice cream.