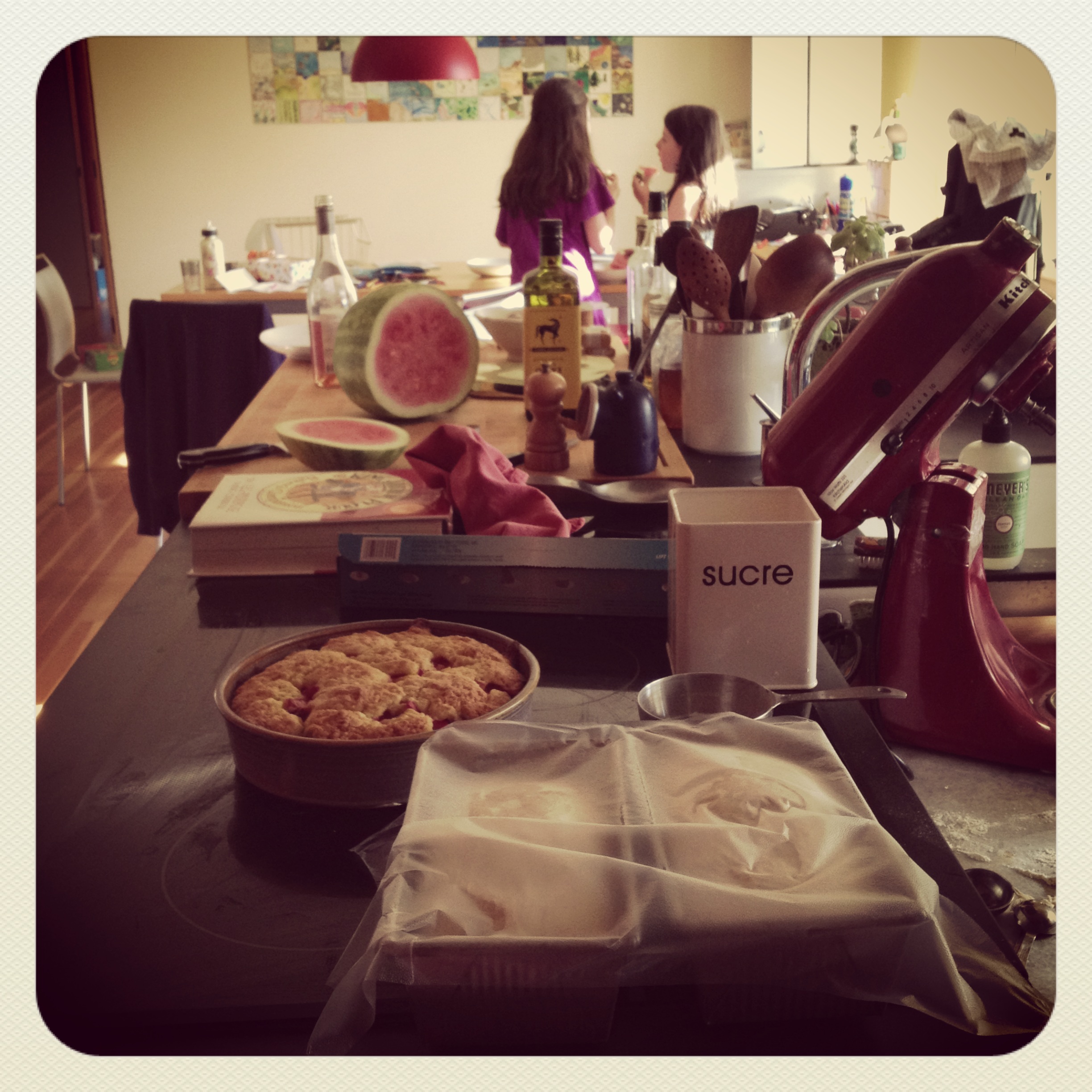 (Time for first(ish) of the month. In honor of the first day of school craziness, it's a bit late like everything else this week. Happy September!)
I was picking up my farm share yesterday and I got a peek of a friend who was there with his daughter in the midst of the sunflower forest in the lower fields. She was holding a little bouquet of cosmos, walking in front of her dad, telling stories. I heard snippets as I picked cherry tomatoes and zinnias in the parallel rows. There were details from the first day of what I gathered must have been kindergarten, but also just an ongoing commentary on the flowers in her hands and those towering all around her, the herbs and the painted stakes that defined them, the cherry tomato rows that had intertwined so tightly that only someone that little could get through them without pushing the vines back. At one moment we came upon each other, and she stopped talking for just a moment so she could take me in.
Her dad piped up from behind her. I think he'd heard me laughing at her ongoing monologue from the next row. "She narrates her whole life." 
I know what that's like. I've always told a story in my head through the day, through the night, and every space in between. I suppose that's how I started writing–so I could get some of the words down and out of my head to make room for more of them. I've seen both of my girls pulled to narrate each and every moment, and they both seem to find some calm in the process of writing it all down.
I know there are a lot of different conversations we could have about social media. We choose to participate or not, or we do so willingly or with a heavy sigh. Sometimes it's for work, sometimes it's to keep family in the loop, or sometimes it's just to feel more connected. We can curate, or report, or comment. In its best moments, I think social media has the ability to stretch our community far beyond the limits of those we meet in person. It makes the world smaller, and it can make our support network much larger. And I think most of us have tools we like (for me, instagram), and tools that don't feel as natural (twitter, where I usually feel like the awkward girl in the corner at a party).
But my question today is pretty specific. I've been thinking about how we tell stories. For me, I think the process of being present in the moment and creating stories from those moments has fundamentally shifted with the ability (and, I'll admit,  sometimes the pressure) to constantly report on each social media worthy event. Sometimes I find that instead of actually being there, I've already fast forwarded to shaping it into a brief sentence or one image that I can send out into the world for feedback, support, criticism–whatever comes. I don't have any answers about this, but I'd love to hear your thoughts on how social media is (or isn't) shifting the way you experience and narrate your way through the world. How does all this add to your life? Take away from it? Or if you've decided to disengage or not participate, what brought you to that decision?
Thank you, as always, for participating. These conversations have become my favorite posts of the month.