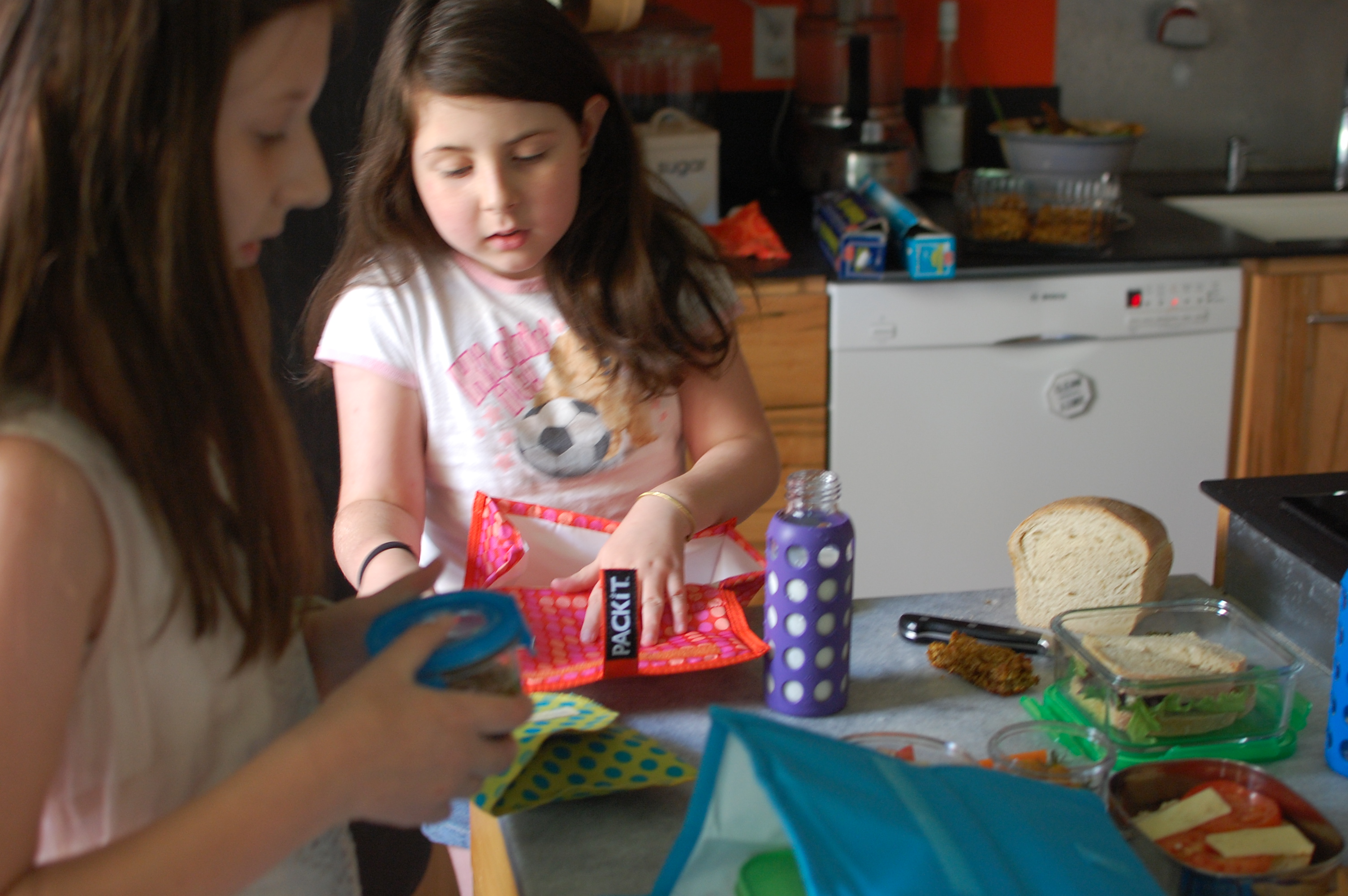 And like that, the conversation turns from popsicles to lunch boxes. It must be that moment of the summer when it instantly becomes clear that the end is near. Happy ides of August.
I took these pictures the other day. The girls put down their comic books and let go of being bored for a few minutes so they could pretend school had actually started. Rosie even put on clothes. And this–this scene of two peaceful girls and their dad happily packing lunches, sharing treats and homemade goodies? This is not actually what making lunch tends to look like in our kitchen. This is a set-up. Nice though, isn't it?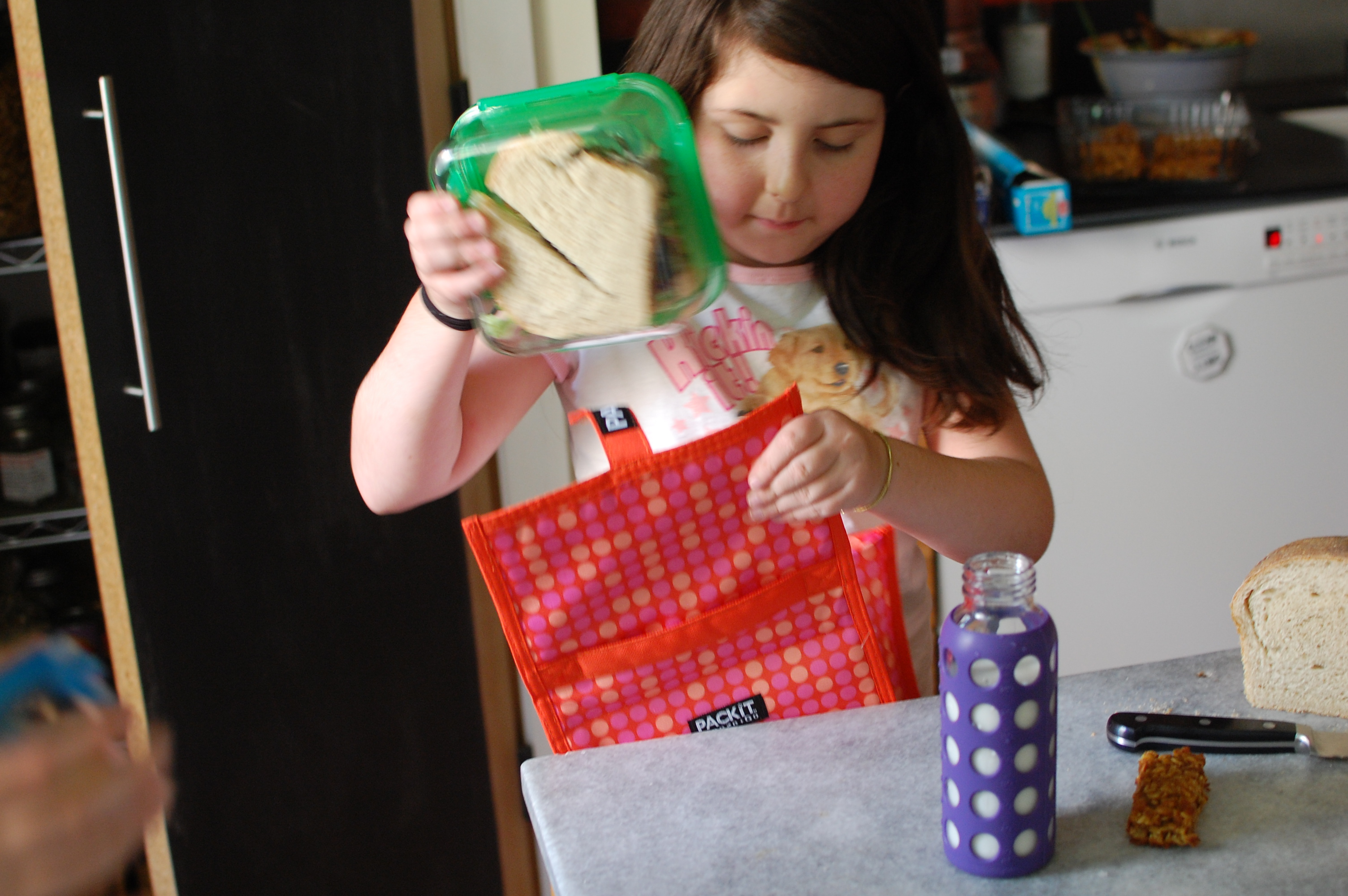 There are a few truths about school lunch around here. And although I'm anything but a school lunch supermom, I'll do my best to turn these truths into bits of helpful wisdom as we all move into the school year. Maybe I'll even take my own advice.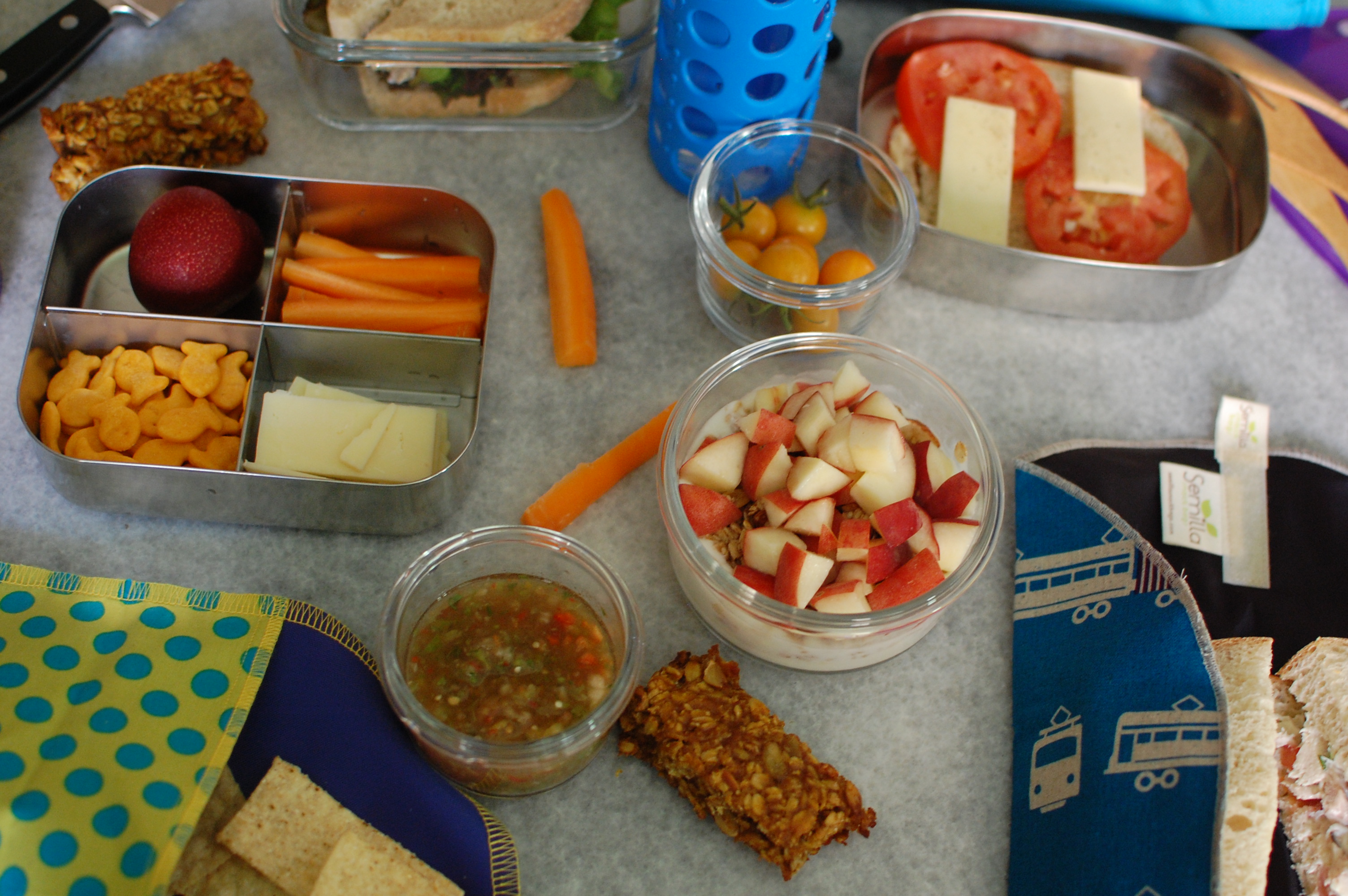 On most mornings, I pack three lunches. And although I'll tell you you should pack your lunch (es) the night before, I USUALLY DON'T. More likely, I'm at the counter with one eye open and a big mug of coffee while I turn out sandwiches and toss apples into lunch boxes like a one-woman assembly line. Joey's frying, poaching, boiling, or cracking eggs into cute little shapes in toast to try to entice the girls to get out of bed. And as I mutter profanity and search through the drawer that once was organized so that every container actually had a lid, one child (but never two- they're good about that) is upset about something we cannot possibly control or give help to, and there is at least one binder/ permission slip/ shoe/ hair elastic that we just can't find. They all leave by 7:00, and I shoo them out the door before then sprinting after the car in my bathrobe  with the thermos of coffee/ wallet/ cell phone that Joey always forgets.
Helpful tip #1:   How about packing lunches the night before? It's a good idea!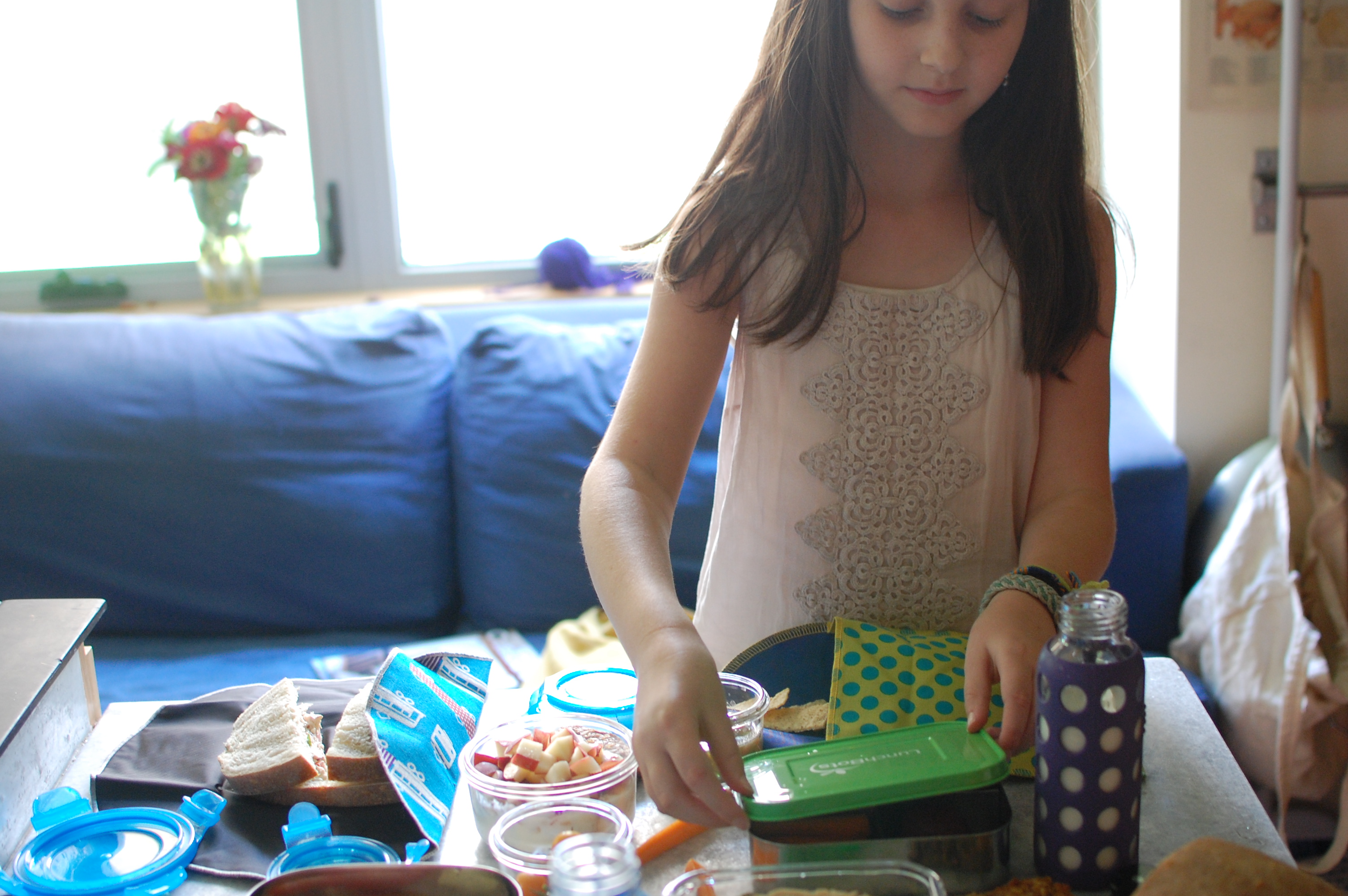 My kids don't like leftovers–they only have eyes for sandwiches. Joey eats the leftovers, but only if they're easy to eat while sprinting after twenty 3-year-olds, which is how he spends his lunch time. And because my family never tires of sandwiches, I'm a slave to cold cuts. I should probably own shares in Applegate Farms, since I give them most of my grocery money every week. Sometimes I just buy the cheap nitrite-laden stuff when the money runs out, too. I tell myself I'm countering the bad meat/ chemicals situation with the fact that I've made or grown every other ingredient in the sandwich with my own hands. (Right? Right?)
Helpful tip #2: Don't worry about repetition unless your kids actually request a change. Sometimes we get caught up in the need to be creative and Pinterest-worthy, but if your kid is happy with a sandwich and a piece of fruit every day, don't stress it.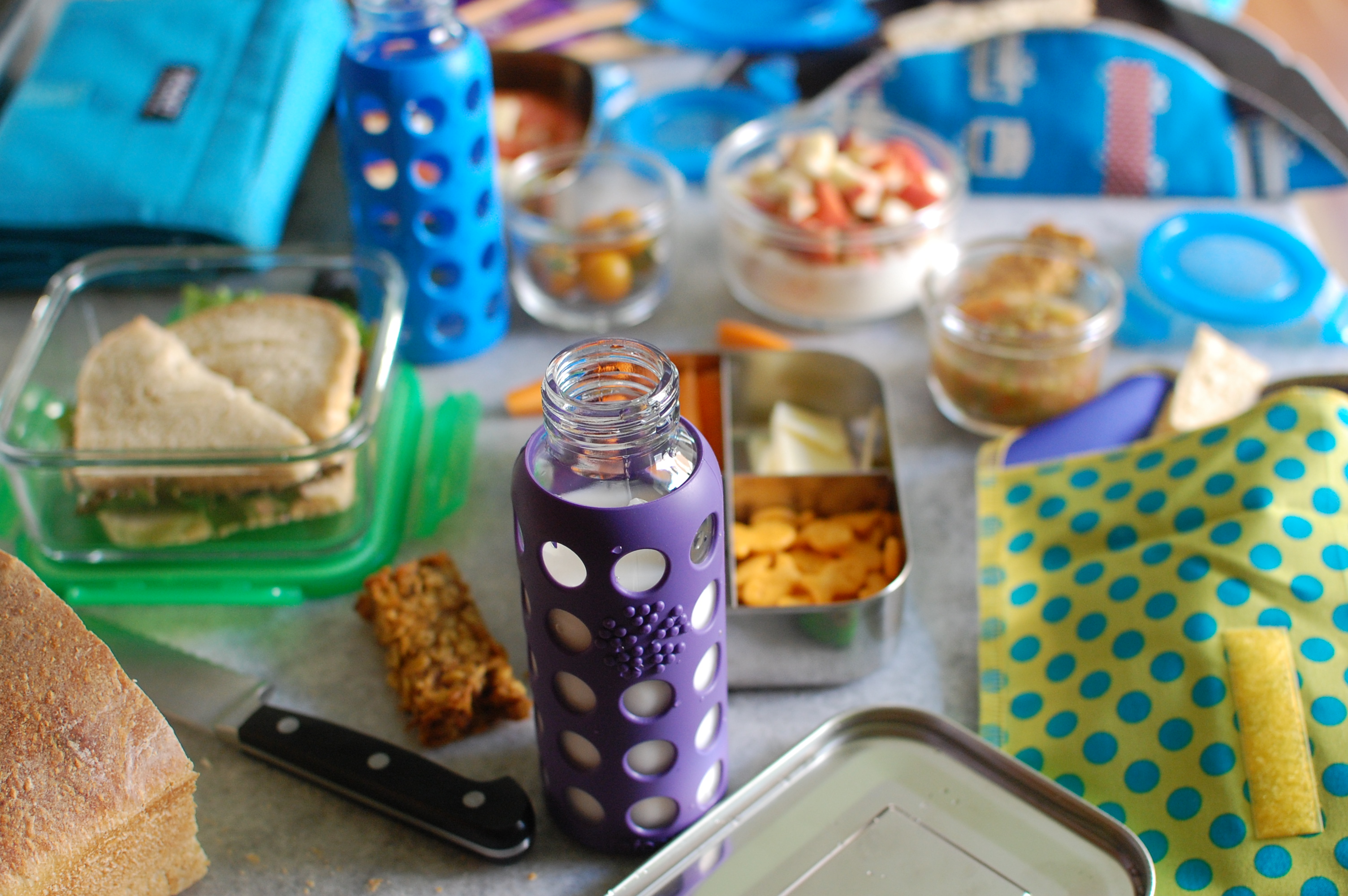 There are times when my girls have gotten really into making their own lunches, and when this happens, everything is great. I have less to do and they're more inspired about what they're taking for lunch.  The key is to find the moment in the night when it makes sense, which in our house is during dinner clean up. Sadie has already decided I'm not making her lunch any more this year, and I'm going to do everything in my power to keep that going past the first few weeks of school.
Helpful tip #3: Have them make their own lunches! It will make life better for everyone.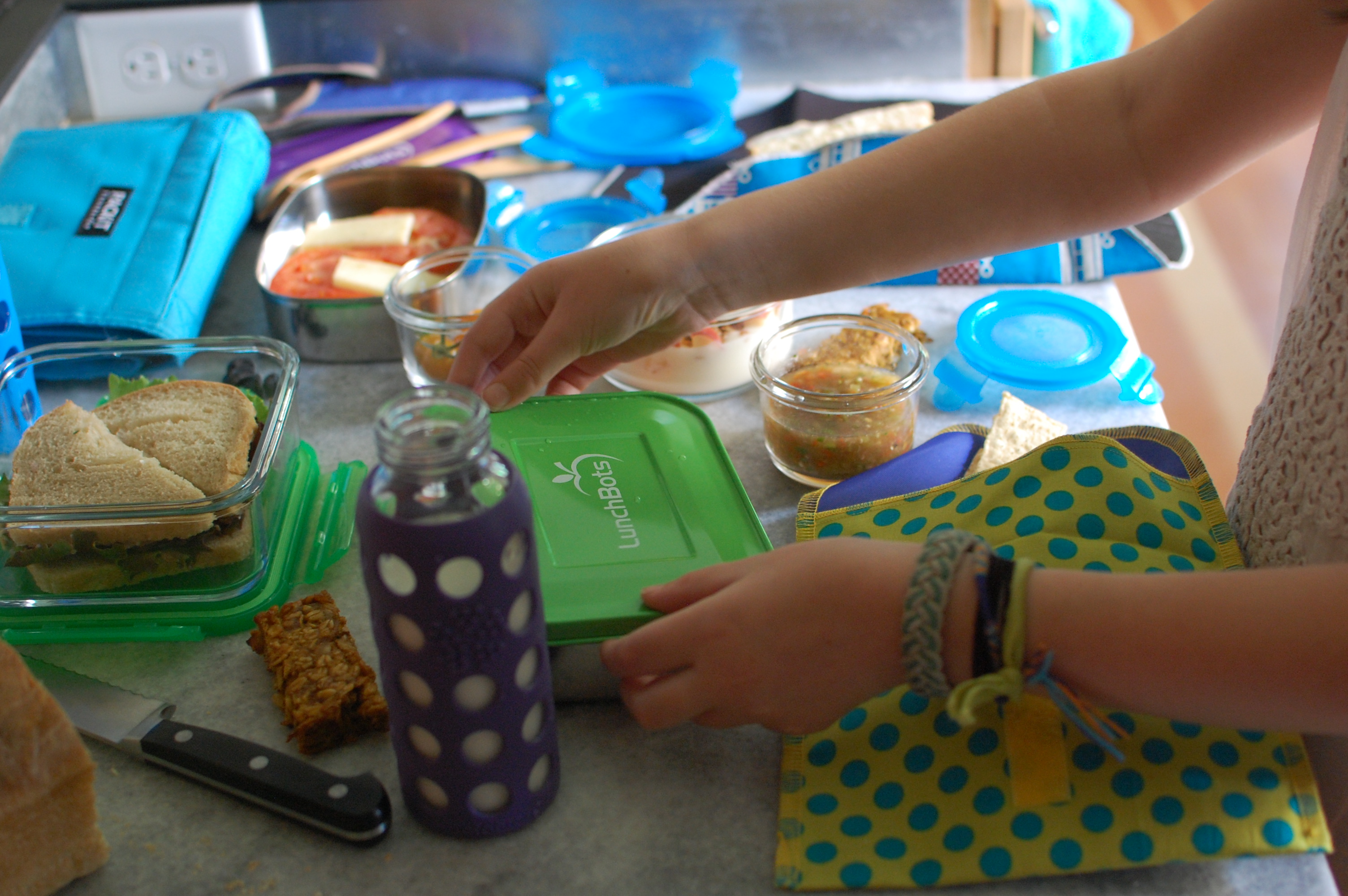 Yogurt parfaits with homemade granola and yogurt are my secret weapon, especially when put into a mason jar or similarly cute container. Maple custard is an even more exciting option, and really anything creamy and in a jar is a good idea. If you're the type to make things (and I'm guessing you might be), set aside just a bit of time in the week to make a few exciting lunchbox options. Fruit leathers? Crackers? Some thrilling dip that can go along with veggies? Fruit tapioca? Jello? All excellent contenders. And car snacks! 1, 2, 3 (that one's only in the book), 4 and now… 5. And this one is nut free!
Helpful tip #4: Make a few simple homemade treats at one point in the week. There are lots of options that come together quickly, and then you have a store of convenient, pre-made goodies to throw into lunches. (Try Car Snack 5! The recipe is right here in this post.)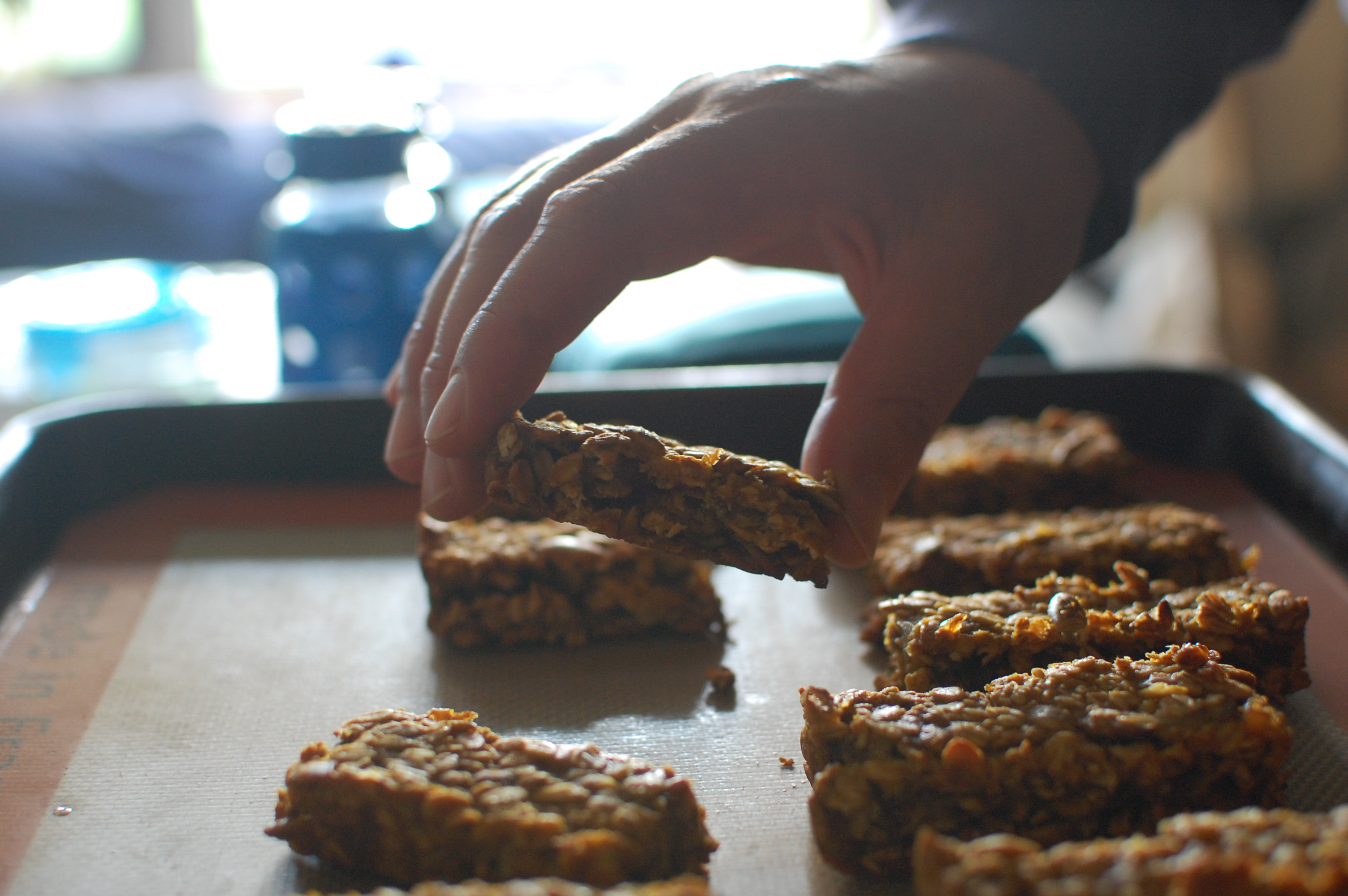 With all the craziness around the lunchbox, the balm that soothes me is the container and everything else that is not the food. I seek out lunch boxes. I've always gone all stutter-y at the sight of a well-crafted water bottle.  I love containers that fit perfectly in the lunchbox, the folded cloth napkin, and the cloth snack bags filled with chips. Water bottles, little utensils, glass containers with lids–these details turn chaos into order, and they make us all love lunch more.
Helpful tip #5: Invest in a good lunchbox, a few containers that work well, and any other little details that bring joy to the creator or the eater of the lunch. (Enter this giveaway!)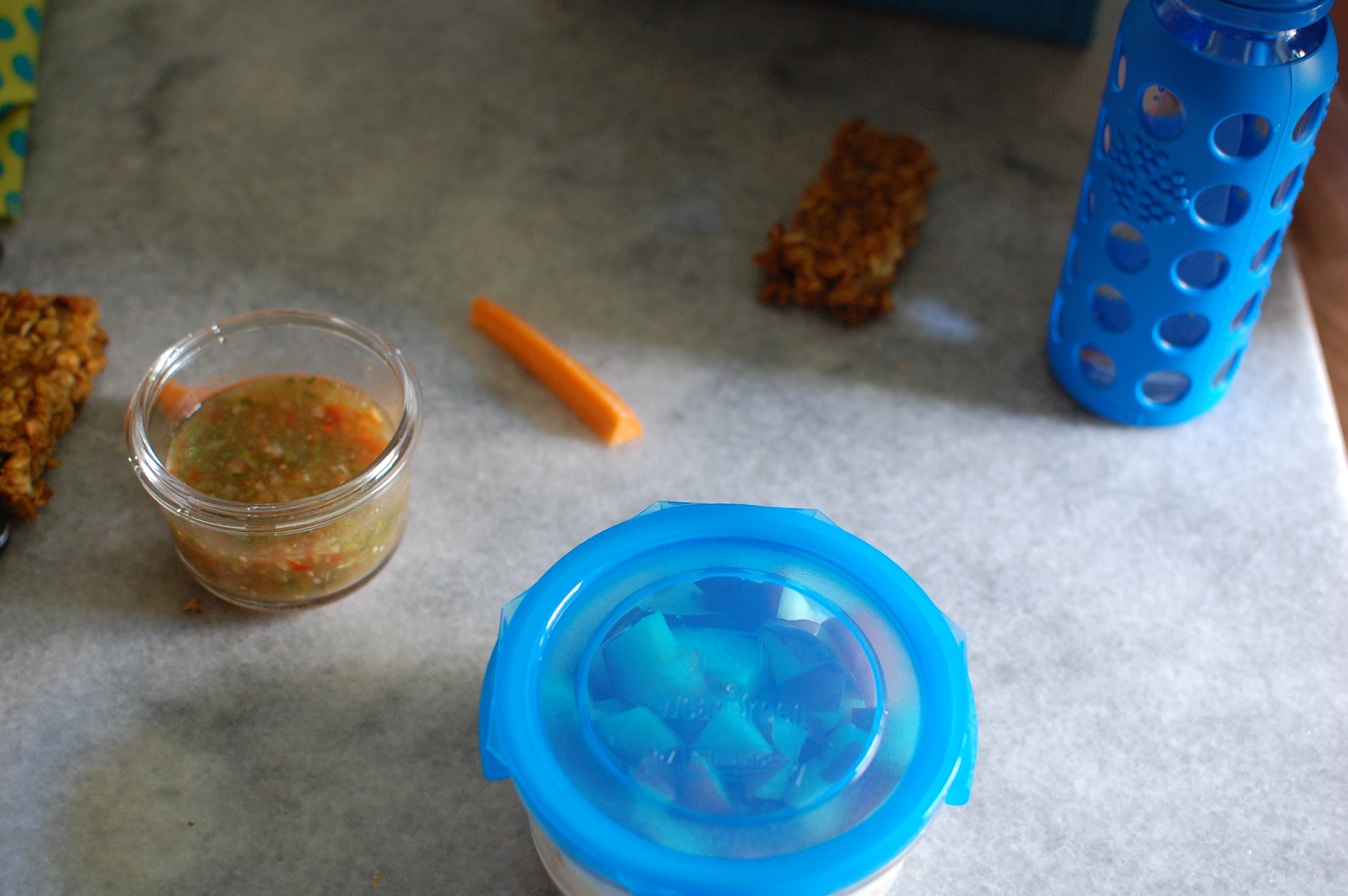 So there's good news on all fronts here. Although the helpfulness of my helpful tips might be debatable, I've teamed up with Mighty Nest again, and this time, we're giving away a lunch box jackpot: a freezable lunch bag (no more ice packs) and a bunch of beautiful reusable containers and snack bags to go inside it. Stainless steel, glass, cloth–it's all there. And there's more! Finally, I've got a nut-free-gluten-free-can-be-vegan-if-you-exchange-the butter-for-something-else CAR SNACK 5!
So here's how it works: Either offer a helpful lunch hint or a lunch problem that needs solving. Your comment puts your name in the hat, and I'll pick a winner on Monday, August 26. In the mean time, whip up a batch of car snack. I think you'll like it.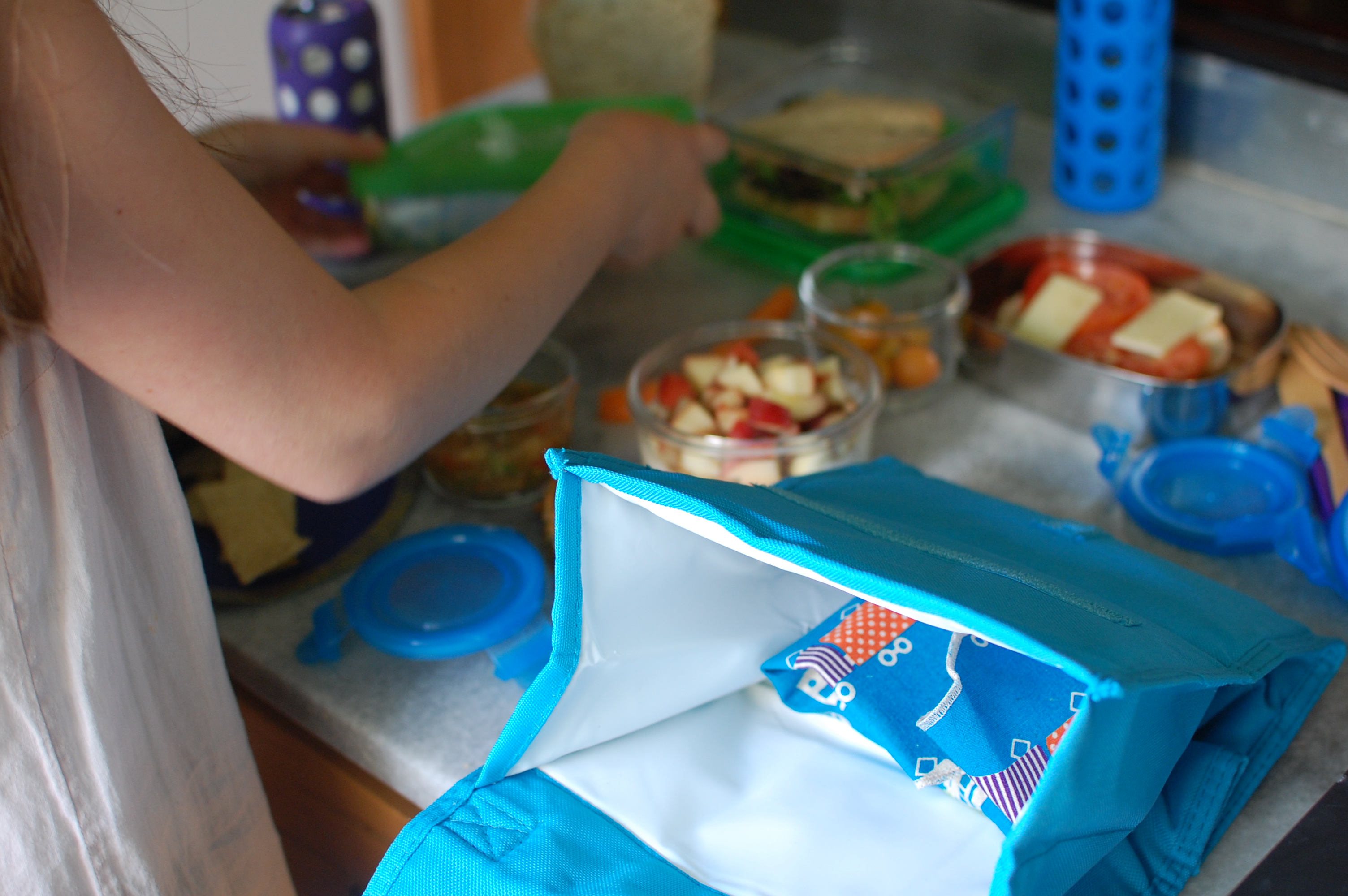 Big thanks to Mighty Nest for sponsoring this giveaway. They've got a ton of wonderful reusable lunch gear for kids, big kids, and even bigger kids who take their lunch to work. So even if you're a grownup, this giveaway is for you, too.
A few links to get you started on the path to lunch…
Get inspired by Mighty Nest's lunch gear. (I think they're pioneering the field of lunch box porn. If cloth snack bags make you weak in the knees, make sure you're sitting down.)
Follow Mighty Nest on Pinterest (they have a whole board dedicated to lunch!)
Sign up for the Mighty Nest newsletter.
Thanks, friends. Here's to a year ahead of delicious lunches, peaceful mornings, and beautiful containers that always have matching lids right when you need them.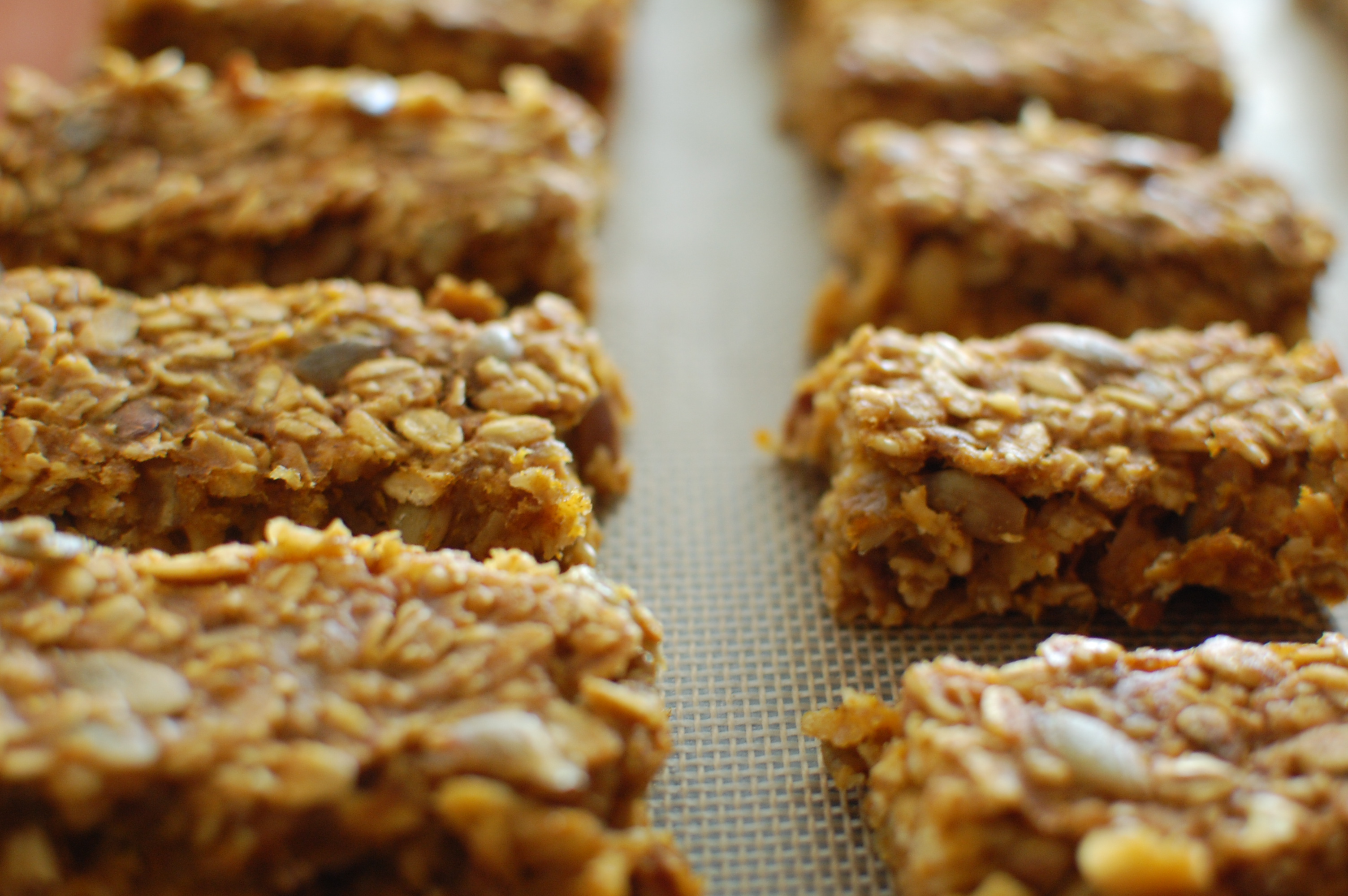 Car Snack 5  (The Pumpkin Spice Bar)
makes 16-20 bars, depending on your preferred size
4 tablespoons (1/2 stick) butter
2 cups pumpkin puree (or one 15-ounce can)
1/2 cup packed light brown sugar
3 cups rolled oats
3/4 cup pepitas
1/2 teaspoon salt
1 teaspoon cinnamon
1/2 teaspoon nutmeg
1/2 teaspoon powdered ginger
optional: 3 tablespoons roughly chopped crystallized ginger
Sugar or maple sugar, for sprinkling
1. Preheat the oven to 350 degrees. Line 9×9 (or similar size) pan with parchment paper, leaving a bit of overhang over the sides of the pan. Combine the butter, pumpkin, and brown sugar in a large saucepan over medium heat. Cook, stirring constantly, until the butter melts. It's okay for the mixture to be a bit lumpy. Remove from heat.
2. Add the oats, pepitas, salt, cinnamon, nutmeg, powdered ginger, and crystallized ginger, if using, to the pan. Stir until there are no pockets of dry oats and the mixture is fairly uniform. Transfer to the prepared pan and pat it all down with a silicone spatula or your hands. Sprinkle with sugar or maple sugar. Bake for 35 minutes. Remove from the oven and let the bars cool enough to handle, at least an hour.
3. Preheat the oven again to 350 degrees. (This will probably happen quickly, as the oven will still be warm.) Use the parchment to pull the entire square of pumpkin bar out of the pan. Cut into bars, and then lay them onto a baking sheet lined with parchment or a silicon liner. Bake for an additional 25-30 minutes, or until the bars are golden at their edges.
Store in a covered container at room temperature for up to 5 days (also, totally freezable)
p.s. Big congrats to Kate, the Berkshire Four Poster Winner! I'll be in touch, and then the summer poster is on its way…