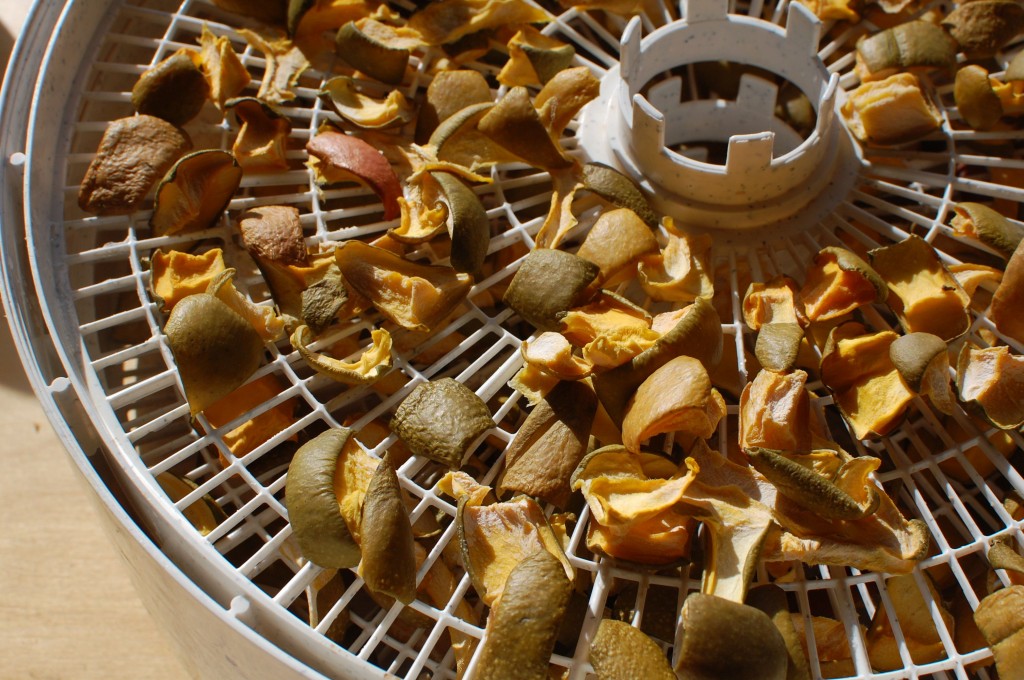 Yesterday, Joey told me I was the "Don Quixote of food writers."
I demanded an explanation, but once he saw the challenge/panic in my eyes, he shut up and changed the subject. But what he meant was that I bumble about and make hilarious mistakes so that other people can gain insight from laughing at me.
All he could really say was, "Don Quixote is one of my favorite books!"
If you're one of the seven people who follow me on Instagram, you've witnessed some of the adventures of the last few weeks. Joey's birthday cake, delicate and exactly what he asked for–until it was 5:00 and I had a few minutes before I had to run out to a meeting, and I thought, "how about I spiff this up with a little mango filling?" Which of course I didn't finish making in time, and so when I got home at 9:30 and got to work filling the cake, it was too late to effectively act on the realization that although mango puree+ricotta=delicious, it does not have nearly enough heft to hold up cake layers. I fought with those layers as they slipped and slid, and then we just ate great mounds of cake and called it a trifle. There was also a birthday cake of a few weeks earlier for Aurel, a recipe I've started working on for the new book, which although in previous incarnations had been chocolatey and luscious and wonderful, was this time dense and not so yummy, covered in what I can only describe as curd-y chocolate water. But of course, since I was late to the party, I served it anyway. One six-year-old guest said "I hate this cake." And then let's not even talk about the the 1st round of eclairs.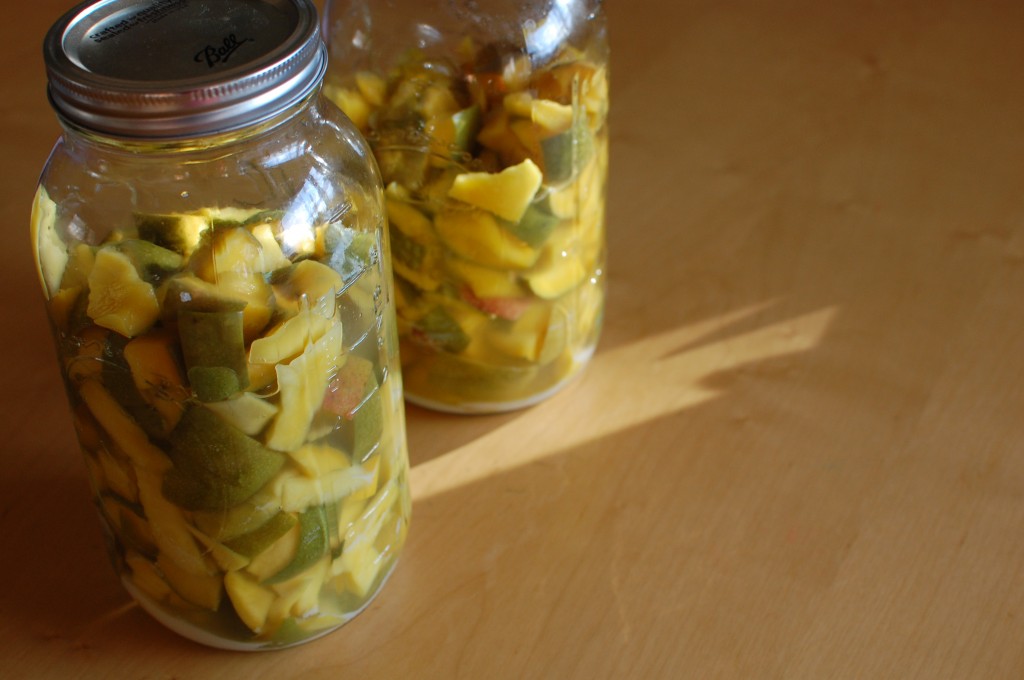 This whole mango condiment thing started off innocently enough. Last year at our Farmers' Market, the lunch options drastically increased with the arrival of Aba's Falafel, a family affair from somewhere in New York State who would arrive pita-ready to serve the hungry masses. My friend, Ilana, admitted she was dreaming of the falafel all week long in between markets, a confession I heard quite often, but in her case it was because of the spicy mango sauce perched on the side of the stand for self-service. Ilana has spent time living in Israel, and said she had never had that hot sweetness outside of Israel until now. "I don't even know what it is! Can you find out? Can you make it? I'll do anything!"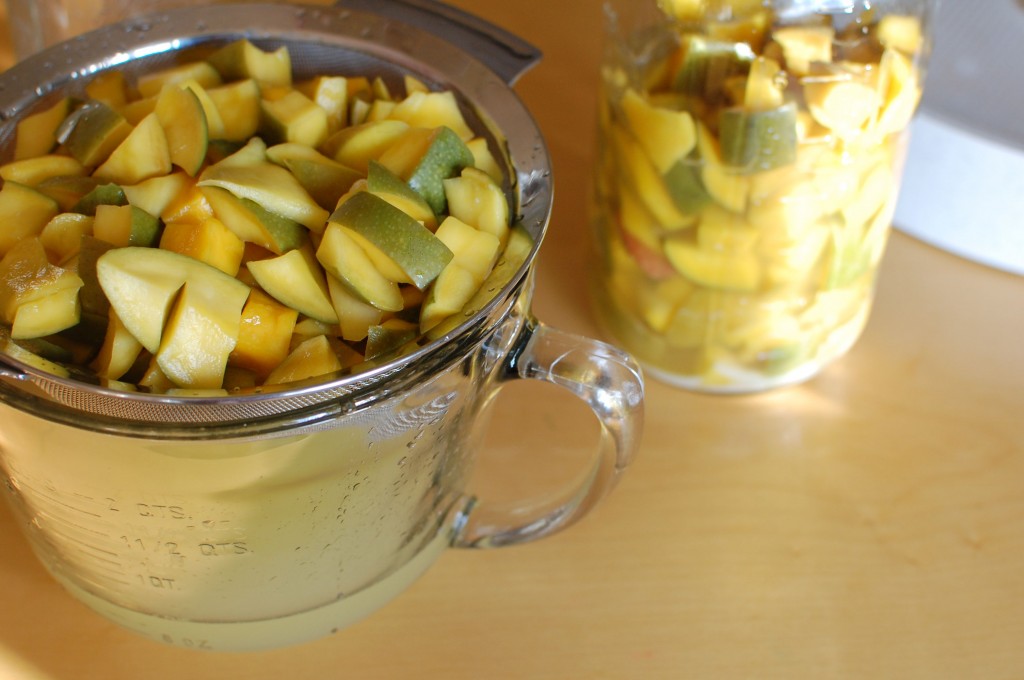 Can I find it? That's what Google is for! And can I make it? I'm Alana Chernila, and I can make anything!
If Cervantes was telling my story, this chapter would be called In which our cook does not read the recipe and gets overzealous with the salt. Beginning, of course, with the amassing of many recipes on the internet for Amba, most certainly the magical condiment in question. Then, the purchasing of many beautiful perfectly ripe and on sale (!) champagne mangoes before going home, opening up the recipe again, and realizing that the mangoes should be hard and green. (See above, where our cook decides to make a failing mango filling for said birthday cake.) The purchasing, again, of 10 hard and green mangoes, which proceed to sit on the counter while I'm too busy to make Amba. Every day the girls say, "Can we have a mango?" and every day I say, "NO! Those are for my magical mango condiment, which I will absolutely start making after you go to bed." (Except then Joey says "How about an episode of The Walking Dead?" and then, well…) And then there is Easter morning when Joey makes waffles as a way to honor the holiday (often a challenge for we in our Jewish-ishness), then proceeds to cut up two mangoes for waffle topping, while Sadie, the great truth teller of our family, hollers "Daddy! Those are for mommy's magical mango condiment!" And of course he rolls his eyes and carries on, because he's heard this all before and he's trying not to swear around the kids. And although I'm down from 10 nice green mangoes to 8 semi-ripe mangoes, I tell Sadie it's okay, and Joey says to me "You're damn right it's okay! Eat your waffles." And I do.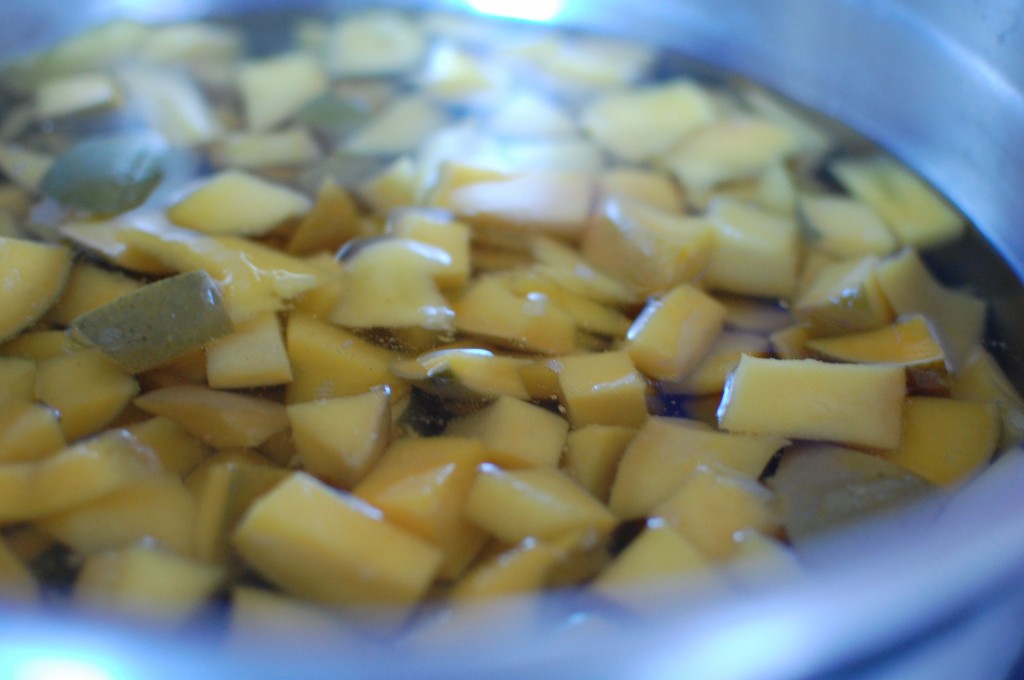 I love the idea of this condiment. The process involves preserving mangoes in salt (a lot like lemons) so they can release all their juice. The salted fruit is separated from the liquid, so it can be dehydrated a bit. The dried fruit then gets cooked with lots of garlic and hot pepper and fenugreek (yes! I even bought fenugreek!), and then the salty fruity liquid is added back in. It has all the elements and processes I love, and just thinking about it made me feel triumphant.
So when the recipe said to "salt well" I filled the jar as I would with preserved lemons. I packed the mangoes in lots of salt, dropping great snowstorms of David's Kosher in there. I scanned the recipe for some sort of salt quantity, but I didn't see it. So between 2 half-gallon jars, I used a few cups of salt, just as I would with preserved lemons. And the next morning, the mangoes had released so much luscious juice that again, I felt triumphant. I started posting pictures of my gorgeous jars on Instagram, excited and a tiny bit smug about this exotic awesome condiment fermenting on my counter. Amba, Day 1. Amba, Day 2. And so it went.
On day 5, I strained the mango from the juice, carefully reserving every drop. The recipe said to dry the mango in the sun for 4 or 5 hours, but with current New England weather conditions, that was a silly thought, so I put them in the dehydrator. I popped one in my mouth, just to see what salt-cured, skin-on mango tastes like.
It was so salty, it pickled my tongue. It burned and pinched as it went down the hatch, and then it instantly started to pickle my stomach, too.
But this is my weakness when it comes to fermentation and new kitchen projects in general: I am always hopeful.
I told myself that condiments are salty, that the drying might help, that this would all turn out well! I rinsed the mango, I spread it out on the dehydrator, and I envisioned the beautiful final product that was so close- I could taste it! That night, I tried a piece of the dehydrator mango and again it burned the taste buds right off my tongue. "Try this," I said to Joey, and good sport that he always is, he ate it without question. Or at least he put it in his mouth before spitting it out again.
"What kind of batshit crazy fermentation is this? How on Earth did you make mango taste like fish?"
We shared a beer to get the taste out of our mouths, and we talked about the food misadventures of the past few weeks. "You're just getting really experimental, and that's awesome," Joey tried to console me. "You've come a long way from granola and crackers. Like, what is that big slab of meat that's been curing in the fridge for the last 2 weeks?"
Let's not talk about that big slab of meat. It's going fine. We'll talk about it later.
And still, I was hopeful. I soaked the mango in water overnight to draw the salt out of it. I put it back in the dehydrator. I felt triumphant for being able to be resourceful and to follow a project out until its end. I imagined the instagram pictures of falafel with my very own Amba. I thought about the look I would see on Ilana's face when I brought her a big jar of the magical mango condiment. The dehydrator buzzed and whirred.
After a few hours, I tried another piece. It was just as salty, but with every ounce of mango flavor soaked and salted and dried right out of it. I considered inventing a cocktail with them. I thought about grinding them into a salty spice mix. And then I lovingly transferred every last salty square into the compost. I'm a little nervous about what they're going to to do the pH in there, but there's no way in hell I'm THROWING THEM AWAY.
Over the course of this condimental journey, I referred back to the main recipe I was working with many times. But it wasn't until the mangoes were dead and gone that I saw that line in the recipe that I swear hadn't been there before: 5 tablespoons salt.
Let me know if you find any mangoes on sale. I can't wait to start again.